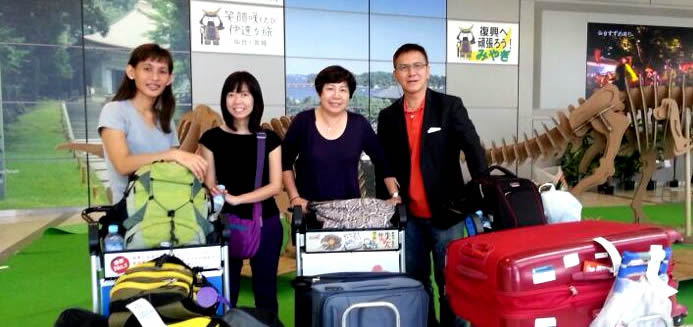 FCBC's very first Gideonite team, made up of former Team Pastors, Pastors Caleb and Christina Chan, as well as Liu Pek Kuan and Victoria Lim departed Singapore to serve the people of Kesennuma City, in Japan's Miyagi prefecture on 25 August 2013. They will serve at Kesennuma Hope Centre for a period of three years.
This city was completely devastated by the Tohoku earthquake and tsunami in March 2011 that took many lives and caused massive damage to the land and its people.
Our Gideonite team has been released to offer relief while introducing the Gospel of Jesus Christ to the people of Kesennuma. Their goal as pioneers of the Gideonite church-planting mission is to pave the way for future Gideonite teams and fulfil Jesus' Great Commission – to go and make disciples of all nations!
Read how Japan's catastrophe in 2011 was a blessing in disguise for Ms Sumiko Chubachi
GET INVOLVED!
Be our prayer warrior to intercede for Japan.
TIME:
5.00pm - 6.15pm
Once a month, every 2nd Saturday
LOCATION:
TOUCHCENTRE, Haven (Basement)
Trip Reports:
Make A Trip
Be our go-er to impact Sendai, Japan physically, if you have the heart to serve the Lord in this nation.
2017 Trip Schedule
| | | |
| --- | --- | --- |
| Trip Dates (tentative)   2017 | Teambuilding Sessions | Deadline for Sign-up |
| April 22(Sat) - 30(Sun)  | Mar 21, 28, Apr 4, 11 | Registration Closed |
| Jun 17(Sat) - 25 (Sun)  | May 7, 14, 21, Jun 8 | Registration Closed |
| July 22(sat) -30 (Sun) | Jun, 20, 27, Jul 4, 11 | Registration is full |
| Sep 23(Sat) - Oct 1(Sun) | Aug 23, 29, Sep 5, 12 | Registration is full |
| Nov 18(Sat) - 26(Sun) | Oct 17, 24, 31, Nov 7 | Registration is full |
Pre-Requisite: 
All participants must attend 80% of the team-building sessions before the trip. (Team-building sessions' dates will be available upon the successful formation of teams)
Note: Trip dates furnished are subject to change. They are dependent upon the successful formation of teams and favourability of on-site situations.
If you are interested to make a trip to Sendai, Japan with us, please download the form above and submit your completed form in the dropbox at TOUCHCENTRE or FCBC Suntec. We will be in touch with you once a trip is planned.
For more information, please contact Pastor Kang Ying (kang.ying@fcbc.org.sg) / Esther Seah (esther.seah@fcbc.org.sg) or call us at 6424 9400.
Stay connected with the FCBC Sendai team by visiting their Love Miyagi blog below for all the latest news and developments!