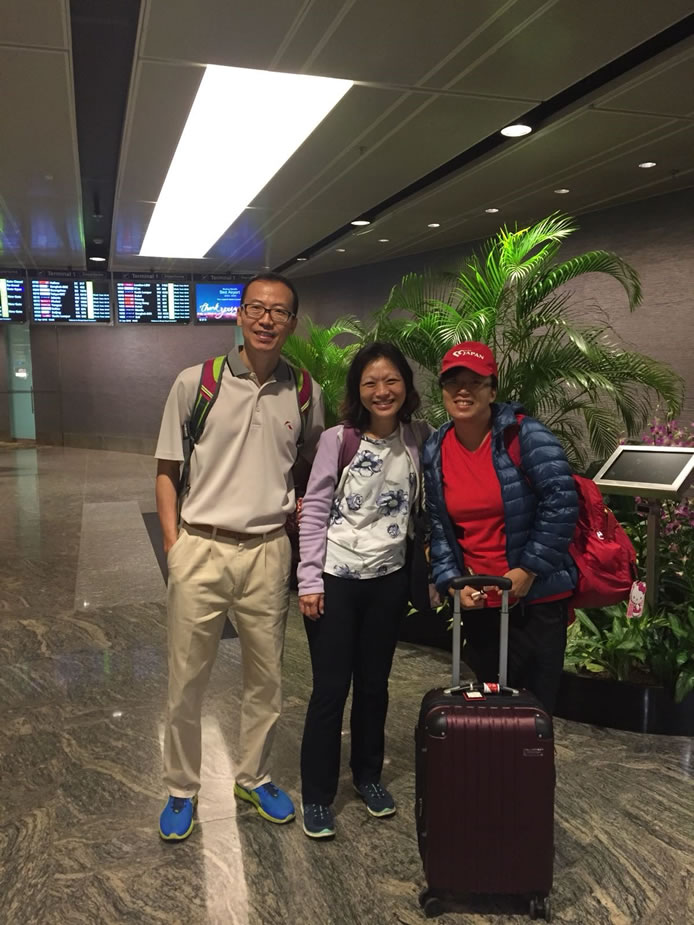 The first LoveJapan team of 2018 was very small. We were coined The Three Musketeers by Pastor Caleb. The Lord prepared each of us for this trip.
Lynn had waited seven years to visit Sendai. She is a devoted and loyal prayer warrior of the monthly Prayer for Japan meetings. She worked hard studying Japanese so she would be able to communicate and minister in Japanese. Like others in the prayer group, she has a heart for Japan.
Ken decided to go for this trip because he wanted to visit and support the work of FCBC Yokohama. Ken is a veteran volunteer for the humanitarian and mission works in Timor Leste and Nepal. I believe God wanted Ken to see and participate in the church planting works in Japan.
As for me, my love for Japan was ignited when I went for my first LoveJapan trip in 2017. Working with the team and watching our pastors labouring with love in the field touched my heart and stirred up my passion and compassion for Japan. It was also timely to visit FCBC Yokohama as she celebrated her first anniversary.
There were some who perceived missions in Japan as 'holiday missions' with the pleasant weather and beautiful cityscape. However, during our trip, we worked hard prayer walking in the cities under the sun and in the rain, sharing testimonies, cooking, and praying and ministering to the Japanese. We supported our pastors in every possible way.
We had several tasks for this trip:
Support the work at FCBC Yokohama
Prayer walk in Nagoya – Plough the land with prayers and ask God to bless it for His people
Support church at Sendai
Support church at Kesennuma – Pastor Christina would be preaching at Kesennuma First Bible Baptist Church
Yokohama
Upon arrival, our first stop was Landmark Tower. We prayed over the city in all four directions, calling down God's blessings, and releasing mercy and grace for His people. 
Sunday Service at Yokohama 
Besides testimony sharing and a song item, we also helped to prepare a simple meal of miso soup and onigiri (rice balls) to feed the homeless at Kannai Station after service. Kannai Station is a linkway tunnel housing about 20 homeless individuals. They are mostly men, with the exception of an old lady, and mostly aged. They would sleep or rest on cardboard boxes and paper cartons. We distributed the food we had prepared and engaged them in conversation. Most of them were on social support but either gambled or drank the money away. Some of them have families but refuse to live with their next of kin due to broken family relationships. A small miracle happened that night when an elderly gentleman told us the sole of his only pair of shoes had dropped off. Miraculously, we happened to have a tube of leather glue as one of the trippers' boot sole had dropped off on our first night in Yokohama. Without hesitation, our leader bravely used his bare hands to glue the sole of the unwashed worn shoes. The rest of the team was floored by such selfless servanthood. It was a reminder of how Jesus served those around Him.
The congregation of FCBC Yokohama has grown since 2017 and the members are actively involved in servanthood ministry. Praise the Lord.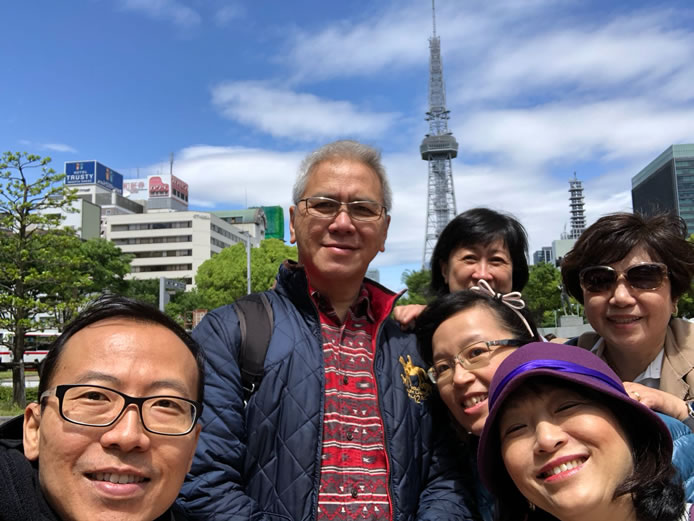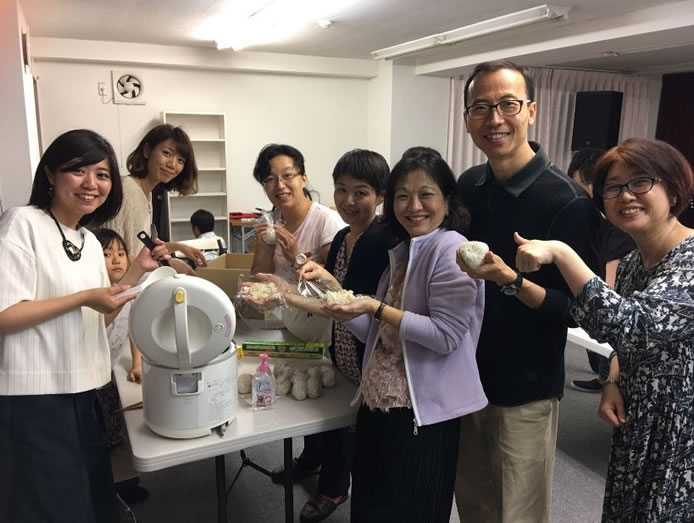 Nagoya
Nagoya is the third busiest city after Yokohama and the fourth most populous in the whole of Japan. It is the birthplace of Toyota and pachinko (arcade-style gambling). It is also the city where the seat of control or stronghold of the infamous Tokugawa Ieyasu Shogun (1543-1616) built his castle. He was the founder and first shogun of Japan. He was one of the most powerful Christian persecutors during the Edo period (1603-1868) and he closed the doors of Japan to foreigners.Nagoya is the seat of Shintoism, where the two most powerful Shinto shrines are located.
Our first destination of prayer walking was Nagoya Castle. That day we fasted a meal and focused on prayer walking. The castle was destroyed during World War 2 in 1945 and rebuilt in 1959. We prayed at the highest point, an observation deck on the seventh floor, and prayed over the city in all four directions, blessing the seven gates of the nation. We prophetically sang our way down all seven floors, walking and worshipping Jesus. We enthroned Him in the city of Nagoya. Like the walls of Jericho, we declared that the powers and principalities over Japan would fall.
God showed us signs:
At one of the exhibition halls, the display depicted an olden time village and the dynamic display showed dawn approaching. There was a bridge built towards the sky from the walkway and a crowing cockerel directed our attention to the sun rising near the bridge. We stood at the head of the bridge as gap standers and saw that Jesus is the bridge towards heaven. God showed us a watchmen's post at the bridge right where we stood. It was like divine arrangement. 
The government was represented by a courthouse and education by a library filled with books. We stood in front of these places and claimed that they would belong to the Lord, and Jesus would be enthroned in these places for Japan. The library would be filled with bibles with a sign on the wall that read House of Eternal Joy. Praise the Lord.
While we were at the castle, it rained cats and dogs outside. This was also no coincidence as that morning before setting out for our prayer walk, during devotion, our leader shared Ezekiel 36:25-27 with us: "I will sprinkle clean water on you, and you will be clean; I will cleanse you from all your impurities and from all your idols. I will give you a new heart and put a new spirit in you; I will remove from you your heart of stone and give you a heart of flesh. And I will put my Spirit in you and move you to follow my decrees and be careful to keep my laws."
This coincidentally corresponded to what I received while preparing this report in Ezekiel 34:25-26: "I will make a covenant of peace with them and rid the land of savage beasts so that they may live in the wilderness and sleep in the forests in safety. I will make them and the places surrounding my hill a blessing. I will send down showers in season; there will be showers of blessing." And indeed, it rained till dusk. Truly God was showing us His redemptive work in Japan.
The rain did not discourage us as we proceeded to our next destination – Atsuta Shrine. It is the second most powerful spiritual spot in Shintoism after Ise Grand Shrine at Mie near Nagoya. It houses the kusanagi-no tsugi (sacred sword) of the imperial throne. The other two imperial treasures are a bronze mirror and jade amulet also housed in the shrine. The shrine was established between 71-130BC to house the imperial treasures of Emperor Keiko. Folklore believed that the sword was a gift from Amaterasu, the Sun goddess. She gave the sword to royalty to protect the land. This is why the Japanese emperor is not given a crown during coronation, but the sword, mirror and necklace that symbolise authority. They are guarded by Shinto priests. This sword was presented to the reigning emperor Akihito during his accession in 1989. He reenacted the daijosai, a Shinto coronation rite, and a spiritual transference took place when the emperor ceremonially received the sword and performed the marriage ceremony ritual with the Sun goddess. We welcomed the rain as we believed it cleansed the land of its sins. We stood at the gates of the shrine and shouted Jesus' name three times in Japanese.
We noticed that the people in Nagoya are wealthy and it is a young city. Our local contact in Nagoya, Goi-san, is a Singaporean from FCBC who is currently teaching in a local university. We connected with him and God brought us there on his birthday. We celebrated his birthday. Goi-san later helped us to locate a room-sharing premise near the city. It was located next to his university and we have plans to start a prayer cell or run Alpha course there.
On our last day in Nagoya, we went up Nagoya Broadcasting Tower. This is the first broadcasting tower built in Japan after the war. We stood at the top level, 90m high, and proclaimed the Lord's goodness over Nagoya, and for the gospel to be broadcasted here and change the spiritual atmosphere.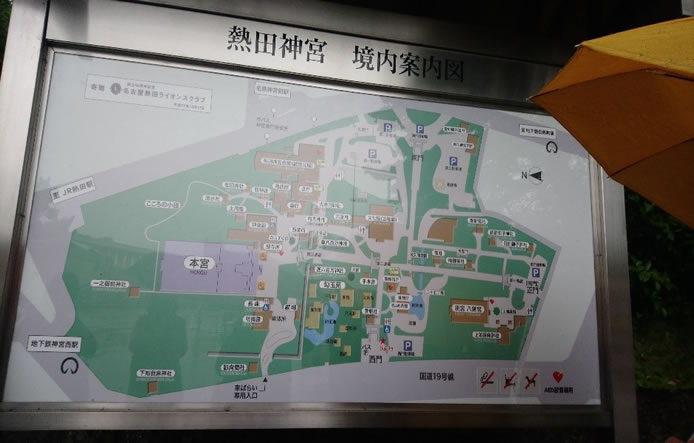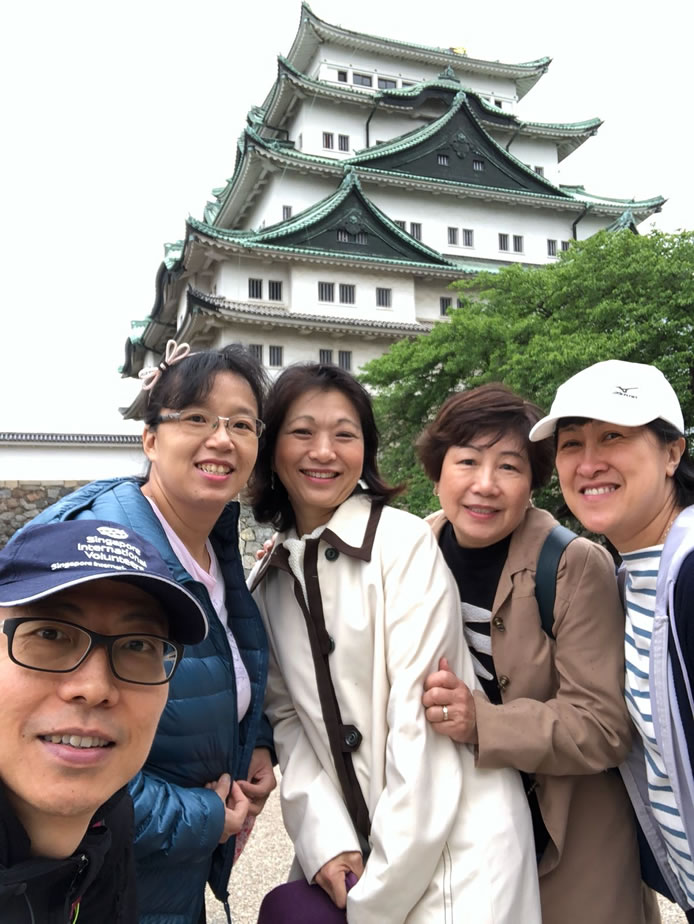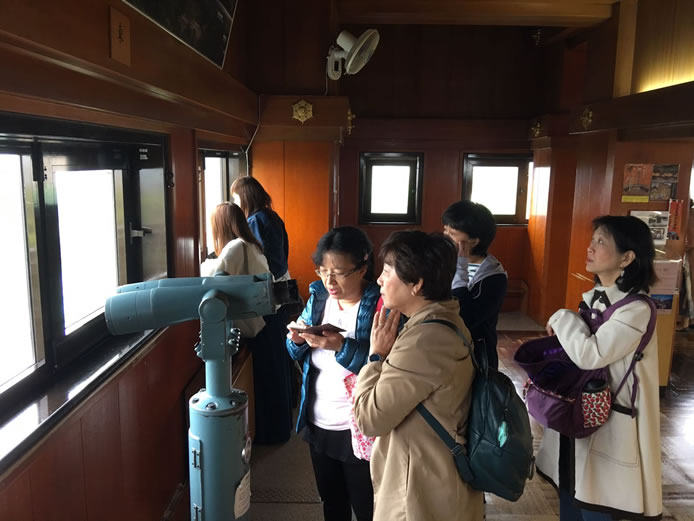 Sendai
Our first day in Sendai was spent praying over Hirose River, where early martyrs were submerged in freezing river till they died. We ascended the high ground of the remaining castle wall and walked towards various destinations. Three eagles were soaring. An increase from the two I saw last year, which I believe was the Lord showing us as a reminder of the Holy Trinity. That night during the prayer meeting in FCBC Sendai, God's presence was so palpable. As we sang the lyrics "heal my heart and make it clean… break my heart for what breaks Yours", we wept for Japan.
During the discussion, we discovered the young generation of Japan were guilt ridden about Japan's invasion of Asia and the atrocities during World War 2. They shared about their shame and told us they were taught not to sing their national anthem or pray for their country. We were shocked and wept with them. Later, one of the Japanese members confessed and asked for forgiveness from the Lord for themselves. Truly God is moving in Japan. We felt that there was a spiritual breakthrough and that the Japanese would arise. God is calling the Japanese and they will hear and respond to the gospel.
The Sendai church members have also increased. They shared that there is a softening in the ground and the spiritual climate is changing. Hallelujah. God be praised.  
Pastors Caleb and Christina encouraged and reminded us that the prayers and work of the mission trippers coming to Japan and those in Singapore have watered the earth and opened up the hearts and minds of the Japanese.
Our last assignment took place early Sunday morning, and started with a two-hour drive to Kesennuma. Pastor Christina was scheduled to preach at First Bible Baptist Church. We presented a song item and Lynn shared her testimony of forgiveness. The journey for Lynn and Ken was very meaningful as they had been volunteers there during the 2011 and 2014 crisis aid. The Lord is restoring Japan. We had fresh strawberries from the land there. Kesennuma is fruitful. Praise the Lord.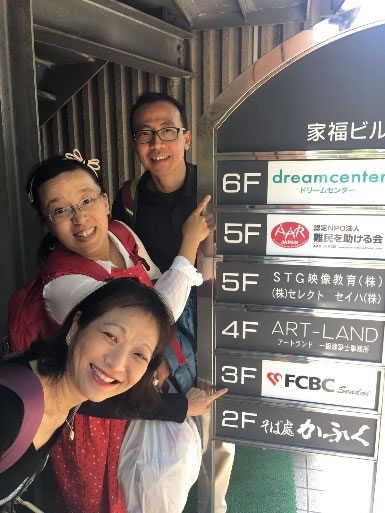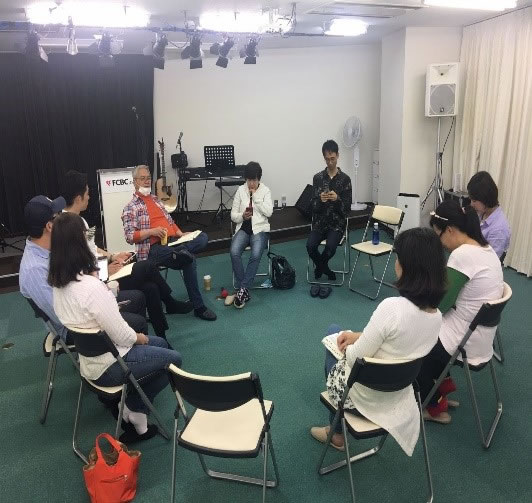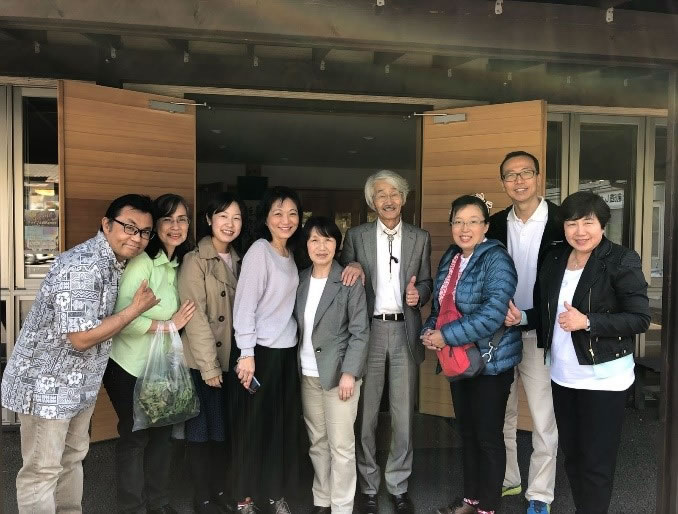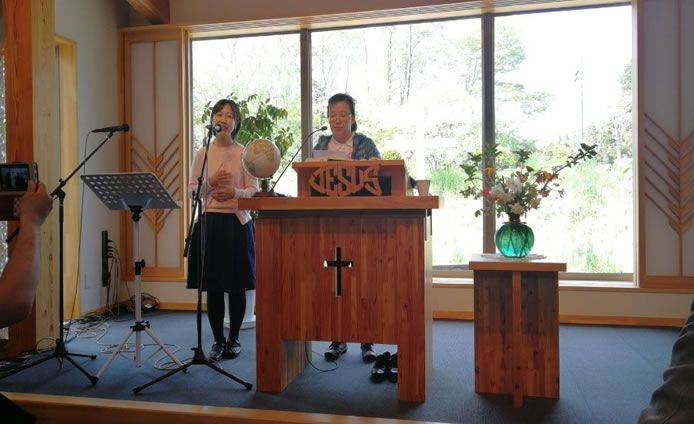 The last lap of our journey was a night stopover in Tokyo before returning home. As it was their golden week, we saw multitudes of Japanese and pachinko halls packed with long queues. We walked through Izakaya and we felt we should pray. We also went into Toho Cinema and saw families and crowds of young and old; we decided to pray and bless them and the place. We prayed that God would open their eyes and hearts to the gospel.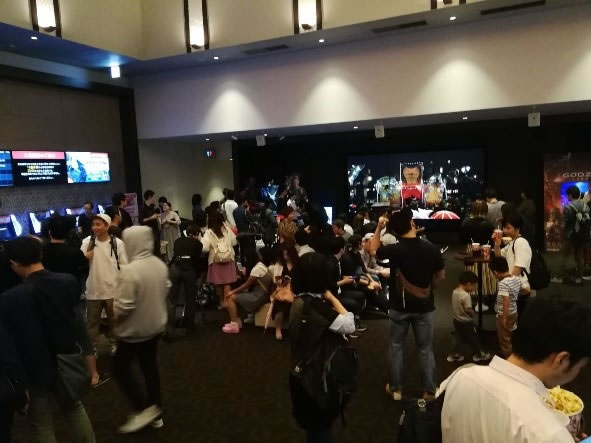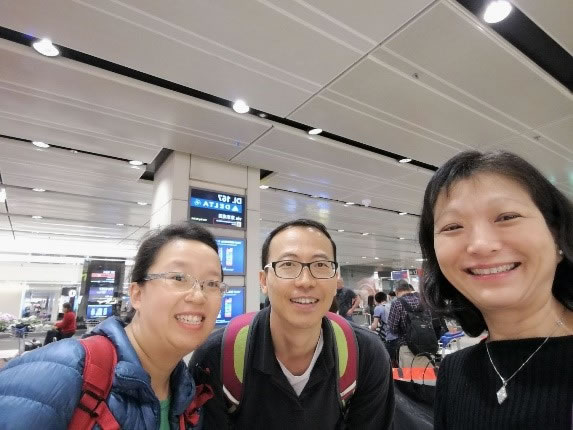 God was gracious and merciful throughout the trip. His presence and promises were evident. Japan is most certainly opening up.
"till the Spirit is poured on us from on high, and the desert becomes a fertile field, and the fertile field seems like a forest. The Lord's justice will dwell in the desert, his righteousness live in the fertile field. The fruit of that righteousness will be peace; its effect will be quietness and confidence for ever. My people will live in peaceful dwelling-places, in secure homes, in undisturbed places of rest." (Isaiah 32:15-18)
These were the very verses Pastor Christina confessed during last year's LoveJapan trip. Yes, revival is coming to Japan. Hallelujah!
Written by Hweena Ng