This LoveJapan team consists of two members, Joyce and I, Bernice. The purpose of our trip to Yokohama and Nagoya was to support Pastors Caleb and Christina, and Charlotte in their outreach and to encourage the believers. 
Sharing of Testimonies at Church Services
Joyce and I took turns to share our testimonies during the church services at FCBC Yokohama and FCBC Nagoya for the two weekends we were there. We shared how we became Christians and how God helped us through our struggles. Our fellow believers were encouraged by our testimonies as it is not common for Japanese to share their struggles openly. We also brought snacks from Singapore to share – pandan cake, pineapple tarts, kaya-flavoured Pocky, salted egg fish skin and more. 

Joyce sharing her testimony at FCBC Yokohama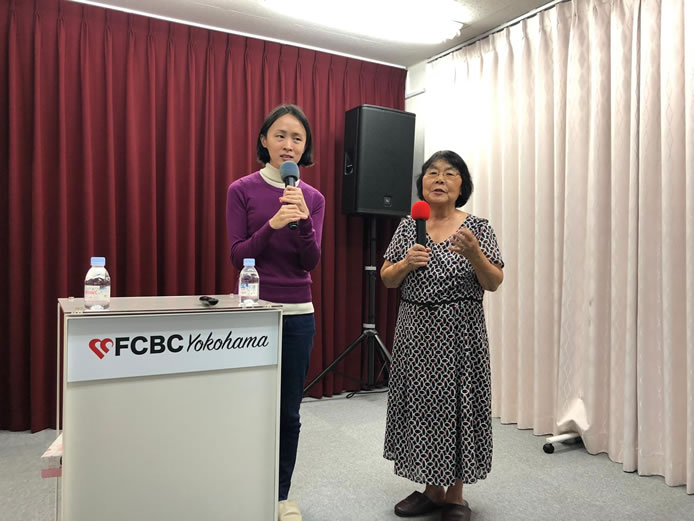 Bernice sharing her testimony at FCBC Yokohama
Pastors Chin Kwang and Hsiu Chin who were in Japan for their wedding anniversary came to FCBC Nagoya to teach them how to conduct 幸福小组 (XFXZ).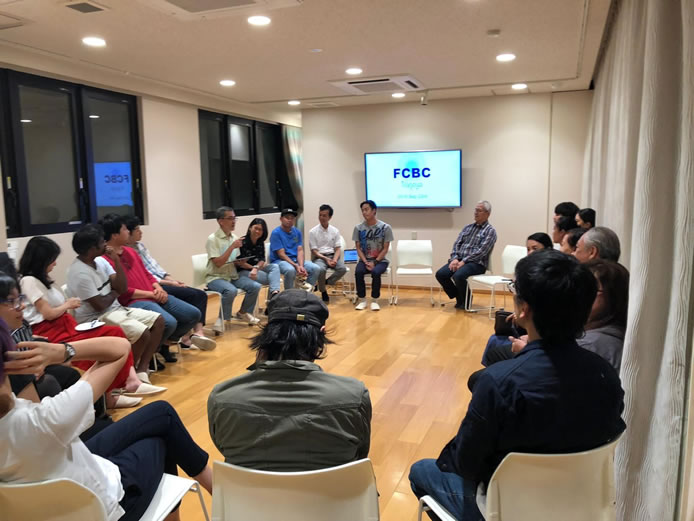 Pastors Chin Kwang and Hsiu Chin modelling a XFXZ in FCBC Nagoya
After service at FCBC Yokohama, we joined the church members in preparing food for distribution to the homeless people who live in cardboard boxes at Kannai Station's underpass. FCBC Yokohama serves the homeless in this manner once a month out of obedience to God's command in Proverbs 19:17 to remember the poor, "Whoever is kind to the poor lends to the Lord".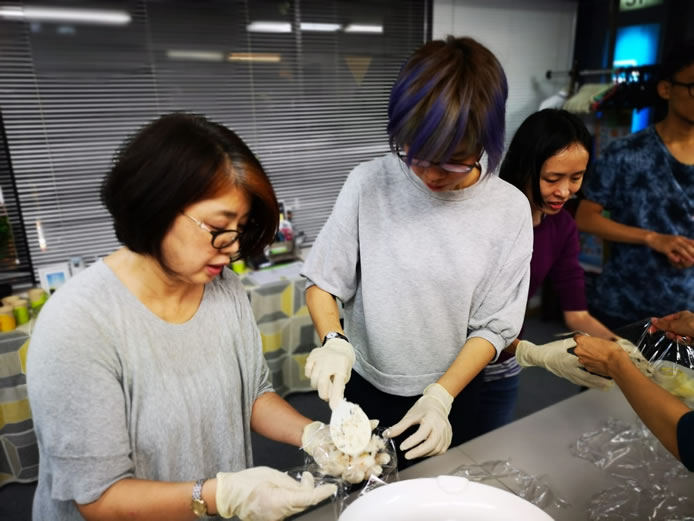 Shizuko, Charlotte and Bernice making origiri to distribute to the homeless at Kannai Station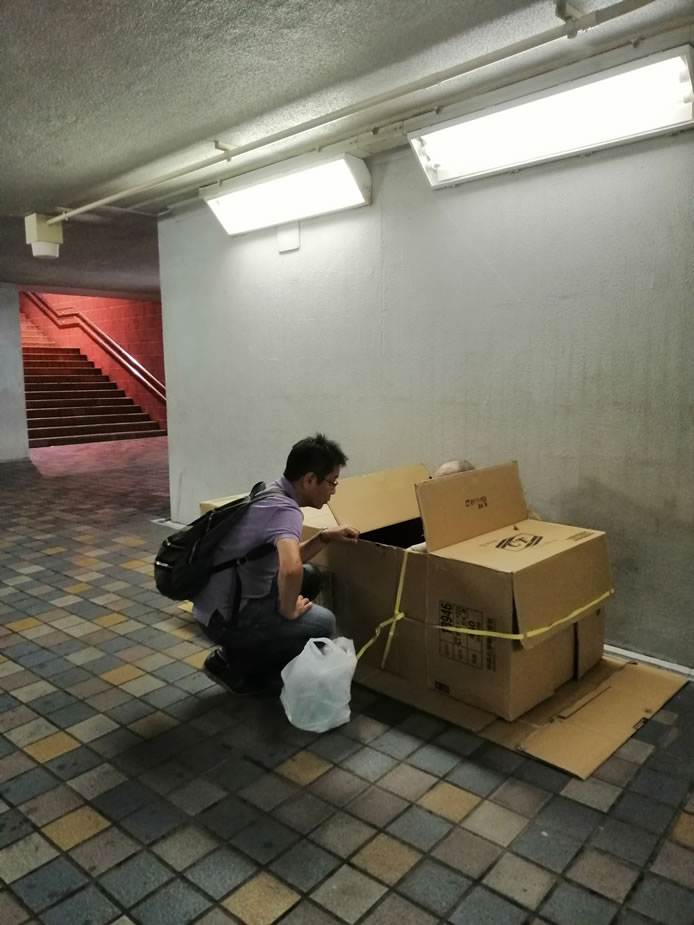 Ryutaro distributing food and chatting with the homeless at Kannai Station
Engaging Pre-believing Friends
We engaged Charlotte's friends through various activities: 
a.    Over coffee or a meal
b.    English conversation
c.    English debate
d.    Calligraphy session
e.    Watching the DVD musical of Touken Ranbu
f.    Participating in lessons conducted by a church member
Through these activities, Charlotte deepens her relationship with these friends and awaits the opportune time to share the gospel and invite them to church or cell group. When appropriate, we shared our testimonies with these friends. The profiles of these friends vary from high school students to middle-aged homemakers. In observing Charlotte's interaction with these friends, we witnessed how she lives out 1 Corinthians 9:22, "I have become all things to all people so that by all possible means I might save some".  
As we watched the DVD recording of Touken Ranbu's musical performance at a stadium, Charlotte observed that Japanese fans would fill stadiums to support their favourite artists. Her vision is to see these Japanese filling stadiums to worship God.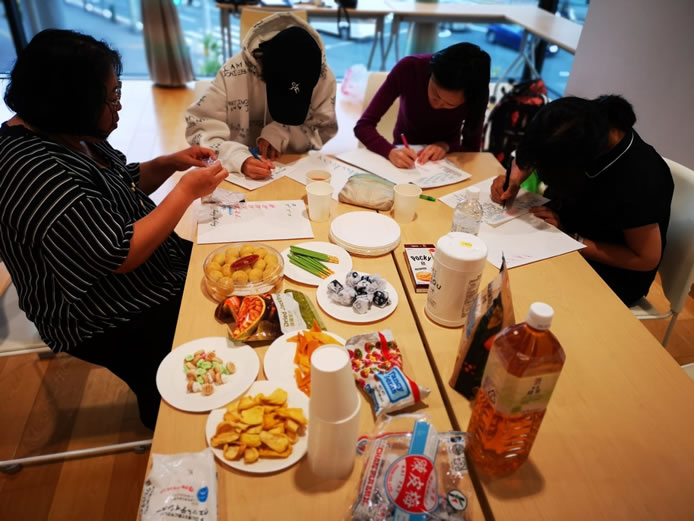 Engaging friends over calligraphy session in Nagoya
Prayer Walking and Understanding Japanese Culture
To help us better understand the Japanese culture, Charlotte brought us to the Atsuta Shrine in Nagoya. It is believed that this shrine houses the sword, which is one of the three items necessary for the coronation of the Japanese emperor. Charlotte explained that going to the shrine is a daily routine for some Japanese. Among the Japanese youths, going to the shrine to pray before exams is also a popular activity. We sensed that there is a spirit of idolatry and deception over the land. We prayed that God will bless the people and open their eyes to the truth. 
We also visited the Yokohama Kaigan Church, the first Protestant church in Japan. We prayed for unity among the churches in Japan, for God's strength and wisdom upon Pastors Caleb and Christina, and Charlotte, as well as success and salvation for the upcoming launch of XFXZ in Japan. 
Joyce sensed and prayed for the Holy Spirit to do His work in Japan:
"Not by might nor by power, but by my Spirit" (Zechariah 4:6)
Charlotte sensed and declared Psalm 90:17 and 127:1 over Japan:
"May the favour of the Lord our God rest on us; establish the work of our hands for us— yes, establish the work of our hands" (Psalm 90:17)
"Unless the Lord builds the house, the builders labour in vain. Unless the Lord watches over the city, the guards stand watch in vain." (Psalm 127:1)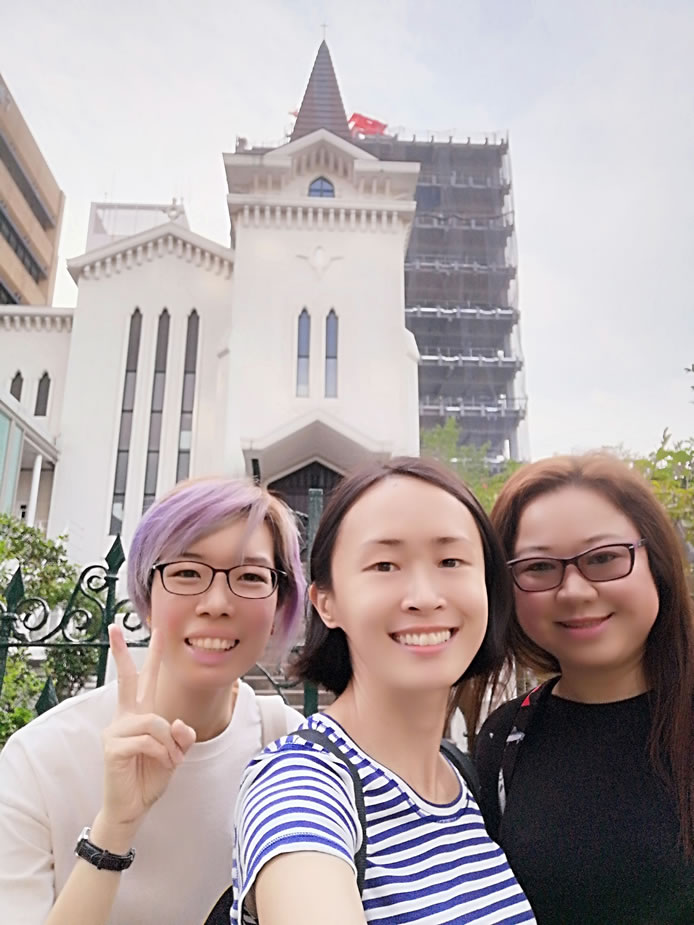 Charlotte, Bernice and Joyce in front of Yokohama Kaigan Church
We learnt that Pastors Caleb and Christina's weekly routine includes travelling between Sendai, Yokohama and Nagoya. This means they are living out of their suitcases half the week. Preliminary discussions on starting a fourth church in another part of Japan are ongoing. Let's remember to pray for the joy of God to be their strength, and for God's wisdom and anointing to be upon them as they minister to the Japanese. 
Thanksgiving 
Through this trip, we learnt that it is more blessed to give than to receive. We received many prayers of blessings from Pastors Caleb and Christina, Charlotte and the church members. We have made many friends and will continue to keep them in prayer.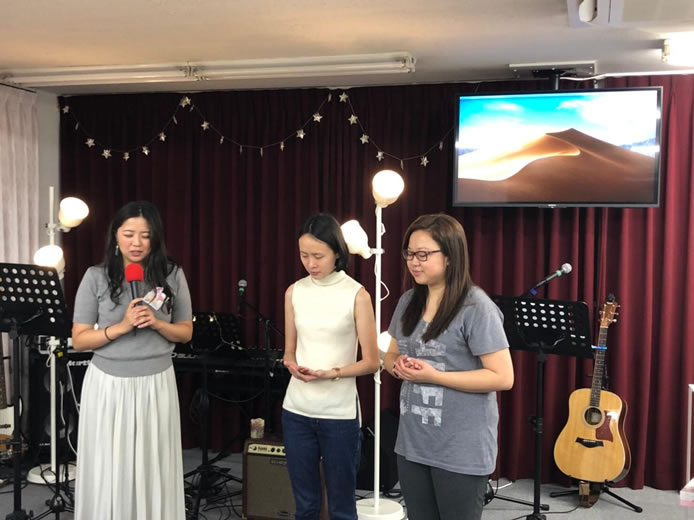 Prayer of blessing by Mayuko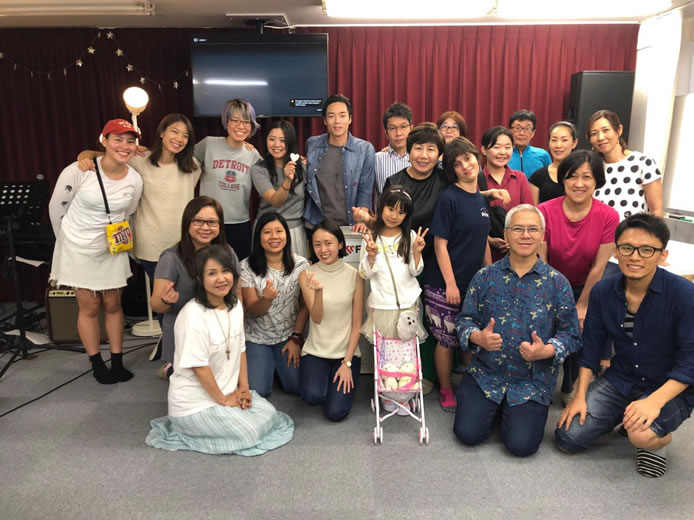 FCBC Yokohama family