Day 1
Following a month of thorough planning and preparation, our team of 14 was ready to serve the nation of Timor Leste. Filled with anticipation, the team met at the airport in the wee hours of the morning. Pastor Sor Kim and some of our family and friends were there to pray for us and send us off.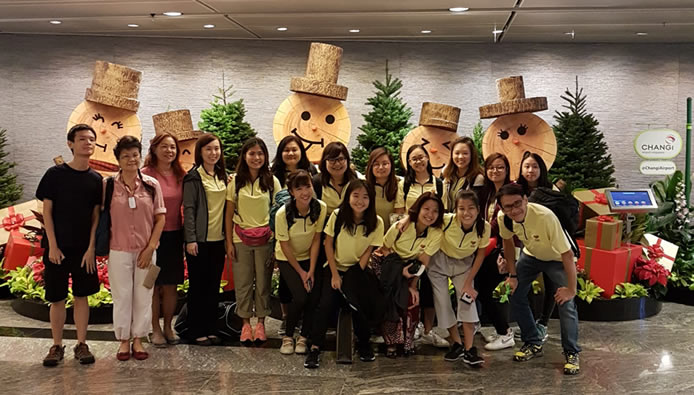 Group photo at Changi Airport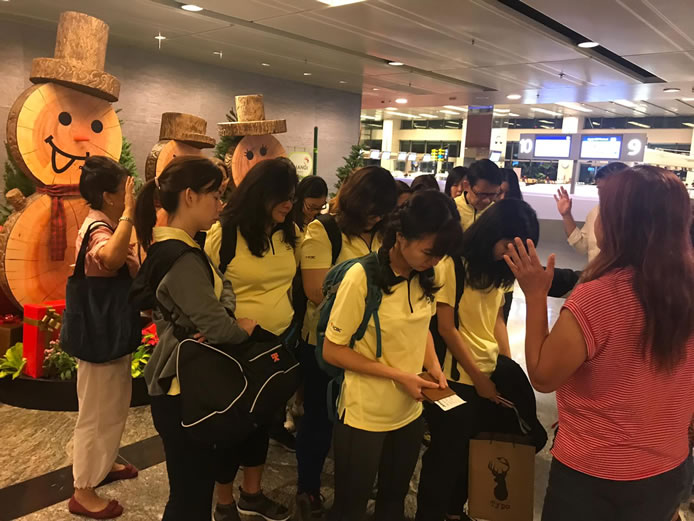 Praying for God's covering and protection
After a smooth transit at Bali, we touched down at Dili Airport and were warmly received by Pastor Catherine and Ai Kit. We headed to Faith House to set down our luggage, then made our way to a Chinese restaurant for a late lunch.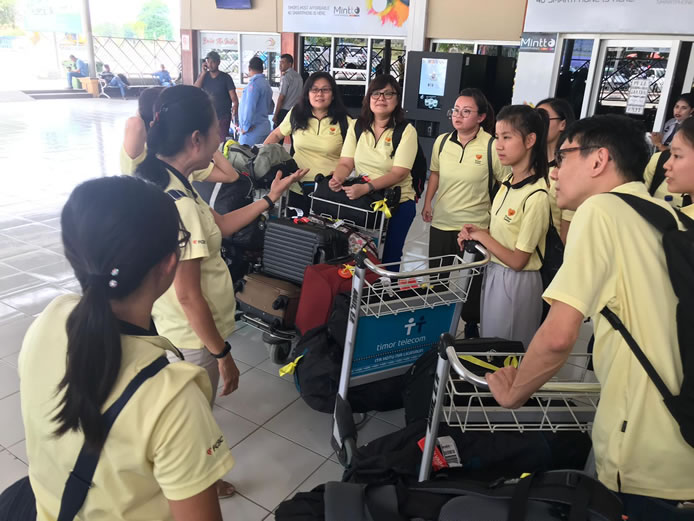 Receiving instructions upon arrival at Dili Airport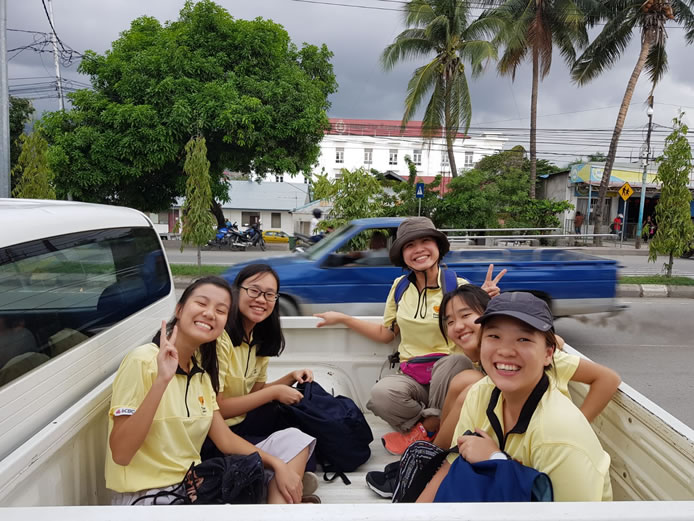 Heading to lunch!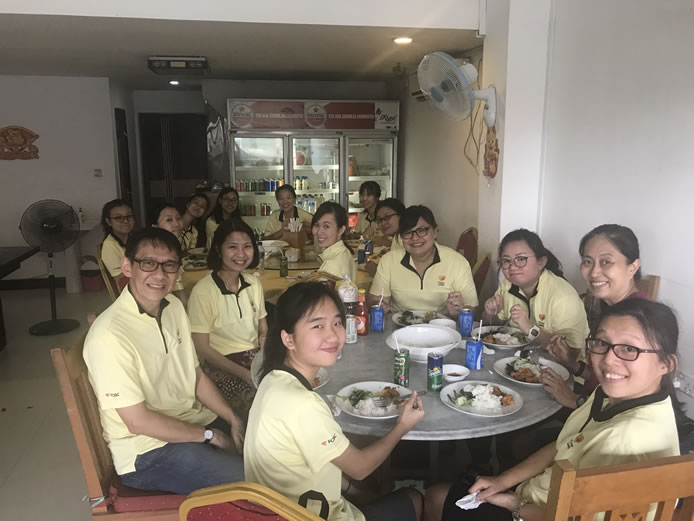 Lunch at a Chinese restaurant
Back at Faith House, we got to know one another better and made final preparations for the carnivals. We also rehearsed our skit, which tells the story of how everyone, no matter how small or seemingly insignificant, can be used by God.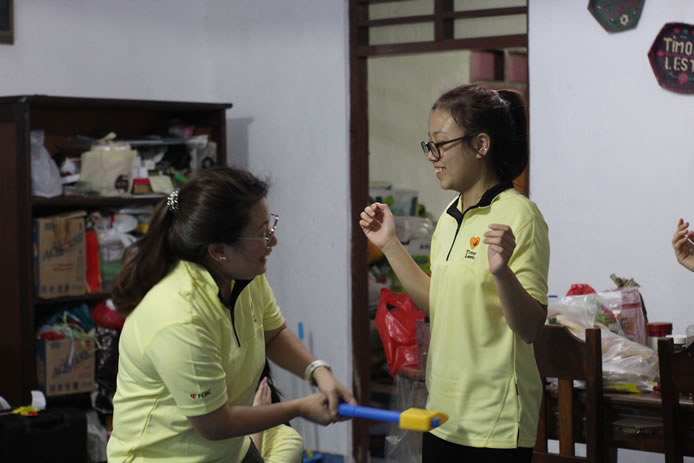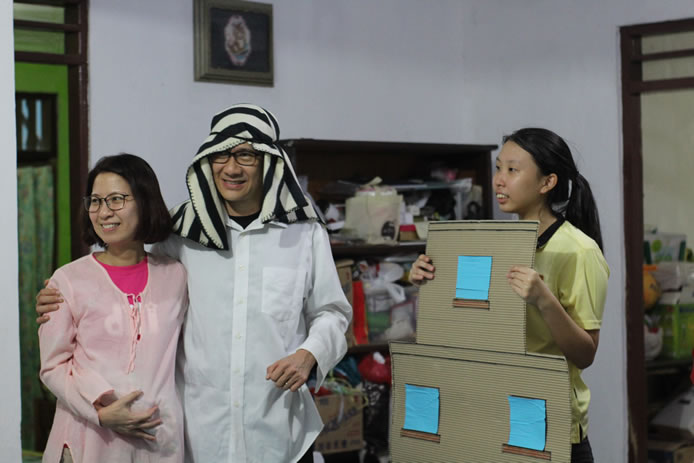 Rehearsing our skit
As a little treat, Pastor Catherine ordered pizza for our dinner. Well-fed and worn out from our long day, we tucked in early.
Day 2
We left for Viqueque early that morning. Despite some delays due to landslides caused by the heavy rain, we reached our first stop safely by the grace of God. We paid a short visit to Heart Friends Training Centre in Manatuto before resuming our journey. About two hours later, we stopped at Baucau for lunch.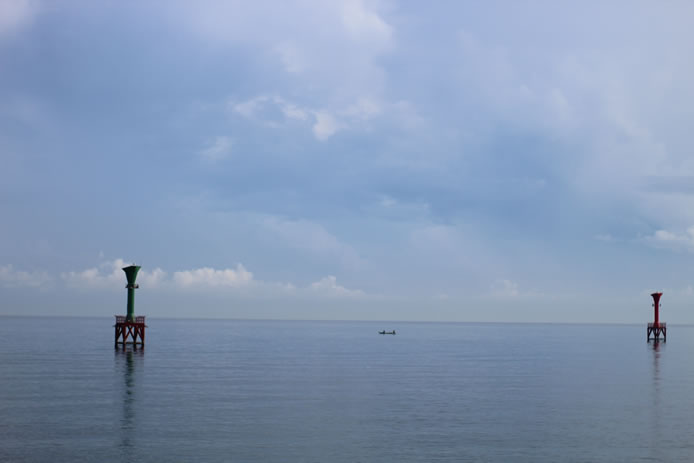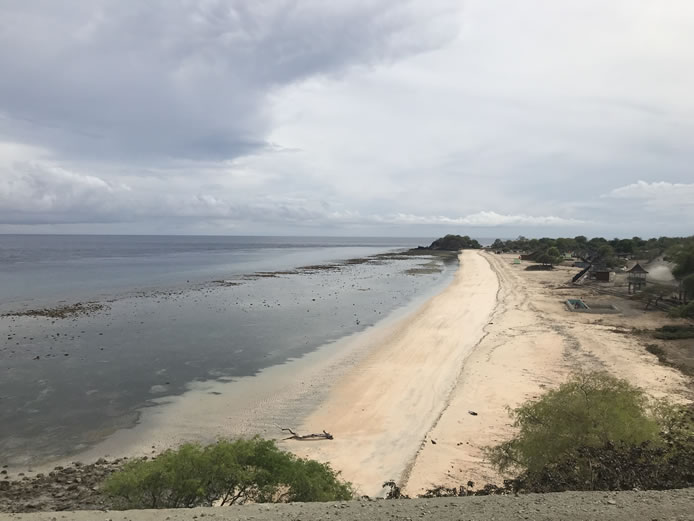 Scenic views along the coastal road on the way to Viqueque
After one last bumpy ride, we reached Viqueque and checked into Borala Motel, where we would be staying for the next five nights.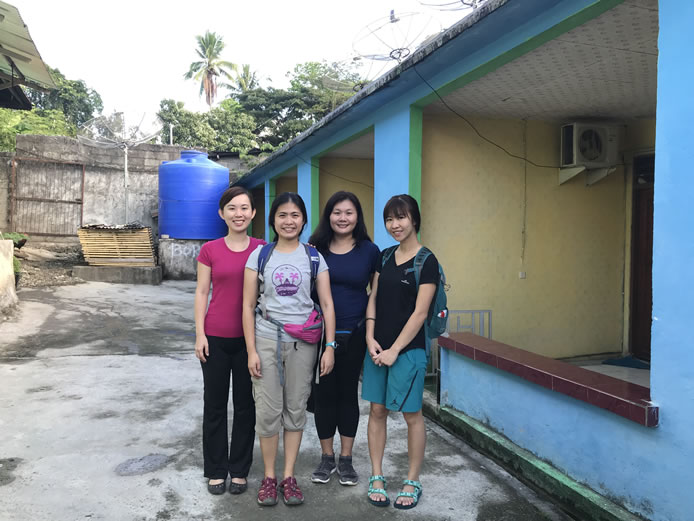 Borala Motel
We then proceeded to Dream Centre to prepare our carnival logistics for the next few days. Finally, to end off the long day, we had dinner at Moris Mesak, the restaurant where we would have our lunches and dinners for the rest of our stay in Viqueque.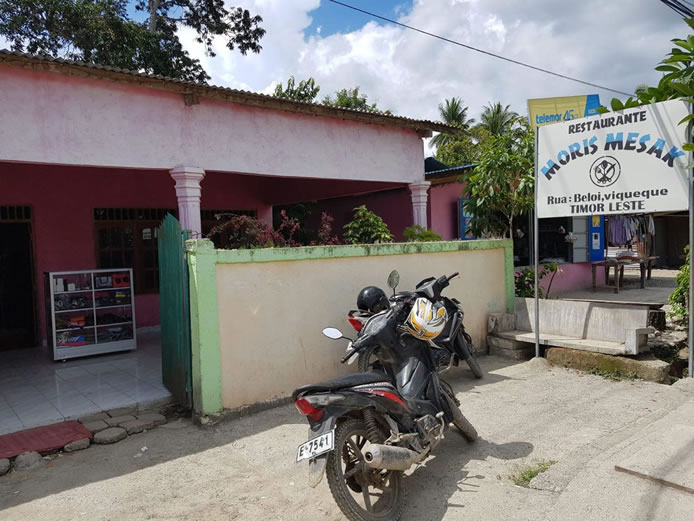 Moris Mesak Restaurant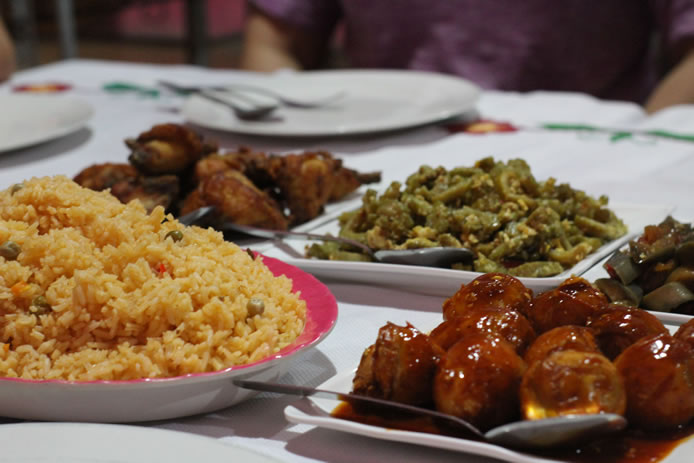 Great food!
Day 3
After breakfast and devotion, we headed to Bibileo together with youths from Faith Youth Club (FYC) to run our first carnival.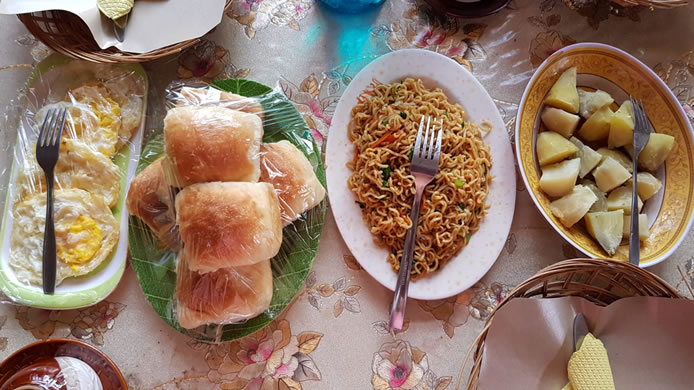 Breakfast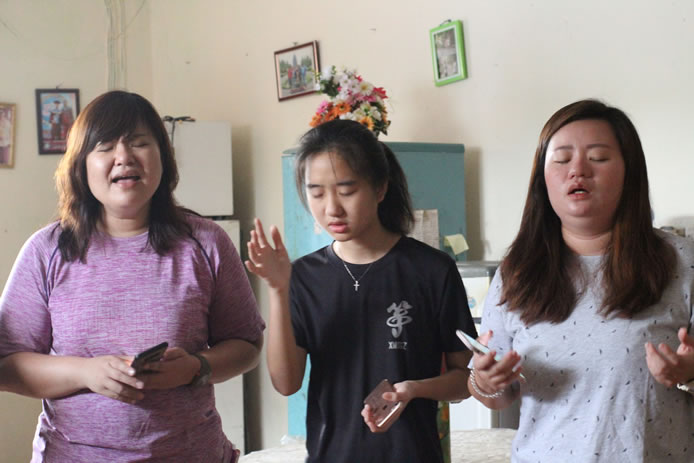 Worship and devotion
However, we were unable to carry out the carnival there owing to the downpour. Instead, we made our way to the second location, Christian Vision Luca Church. This turned out to be a blessing in disguise, as we were able to spend more time getting to know the youth before setting up for the carnival, which went off without a hitch.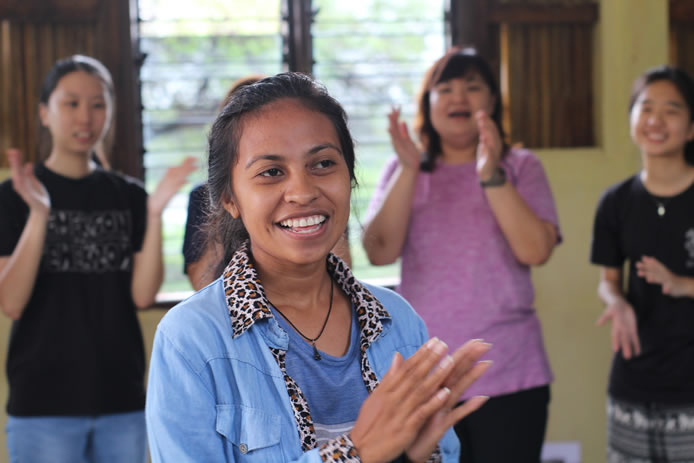 Playing icebreakers with the youth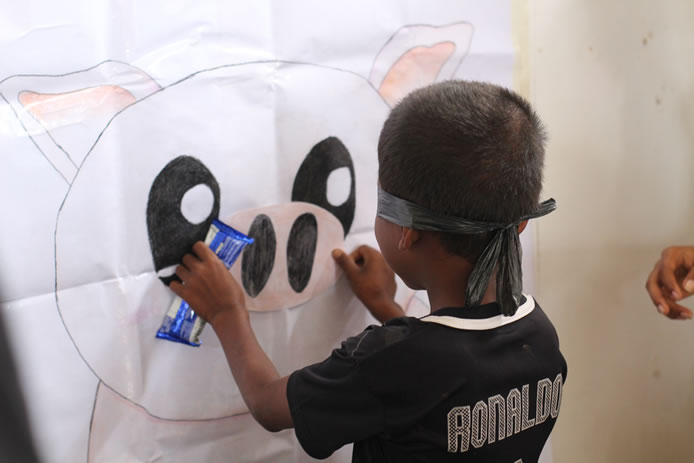 "Pin the Nose on the Pig" game
After running the various game stalls, we played icebreakers with the children. Then, we performed our skit, which led up to an altar call. We ended off with a rendition of "Feliz Navidad".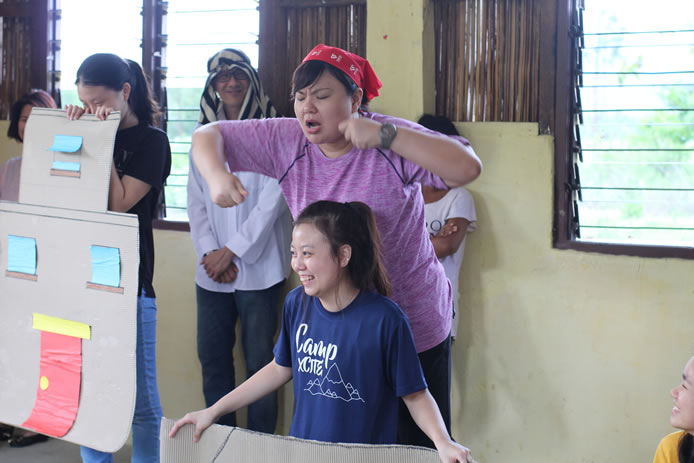 Performing our skit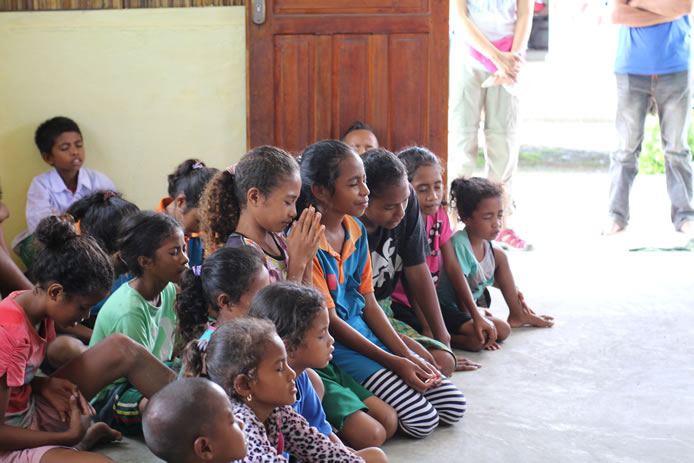 Children praying to receive Jesus into their hearts
We returned to Dream Centre later that day to rehearse with the youths from FYC for the upcoming Christmas concert.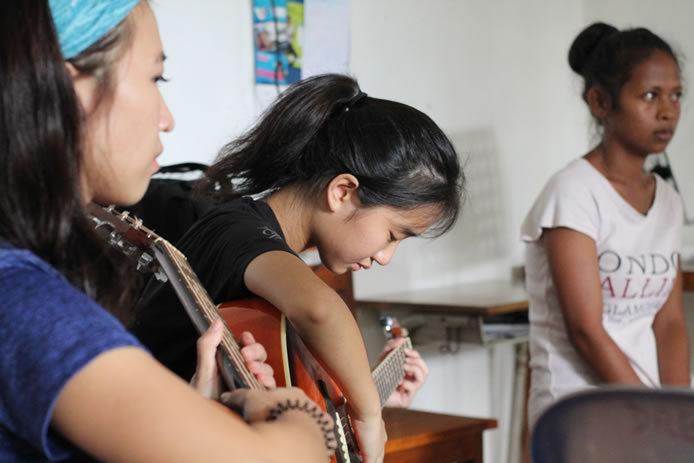 Team members providing musical accompaniment on their guitars
Day 4
We made for Luca to conduct our second carnival. In addition to the games and skit, we prayed for children who were unwell to receive healing.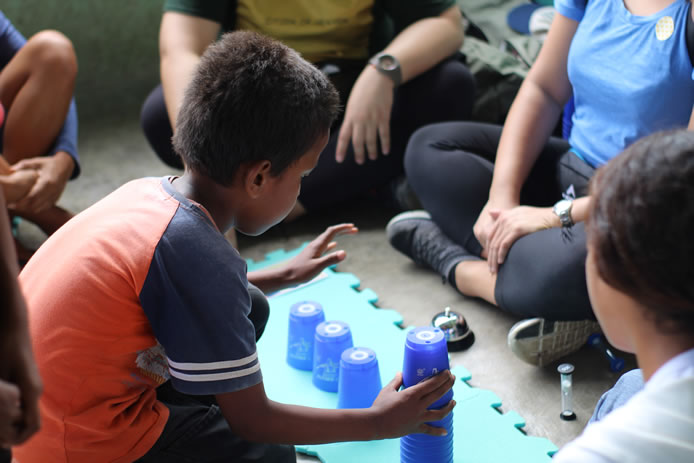 "Cup Stacking" game

Playing icebreakers with the children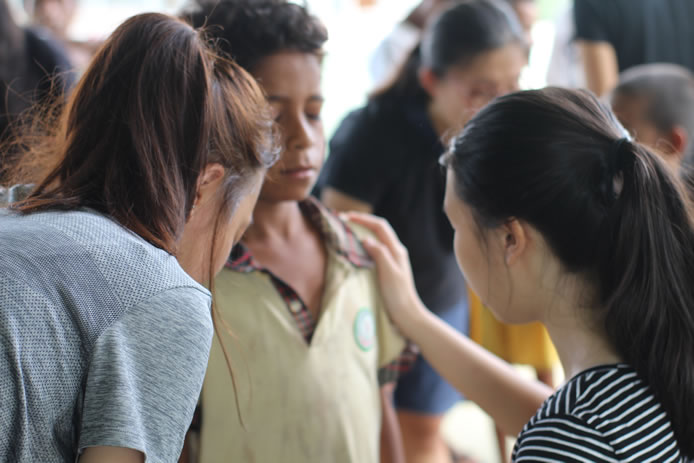 Praying for the sick and injured to receive healing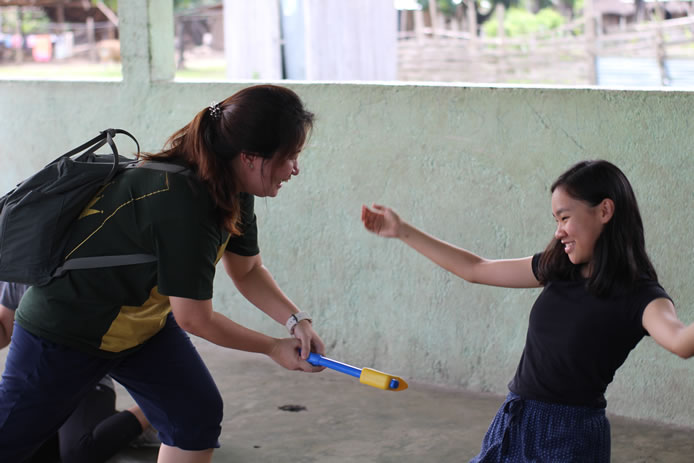 Second performance of our skit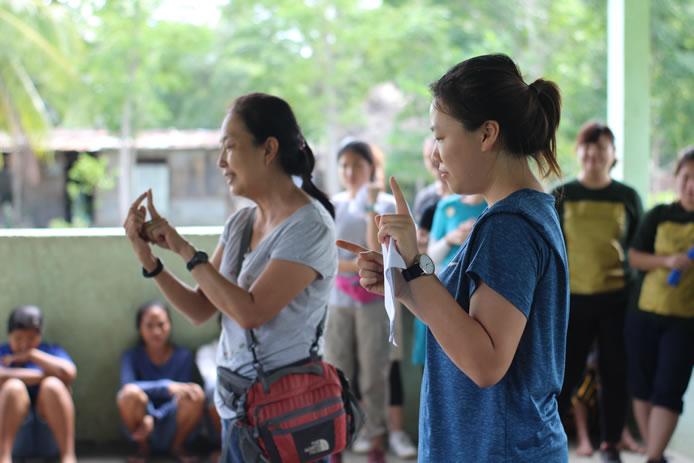 Pastor Catherine helping with the translation of the altar call
In the afternoon, we were back at Dream Centre to rehearse for the Christmas concert, this time not only with the youths from FYC, but also with the children from Faith Children Club (FCC).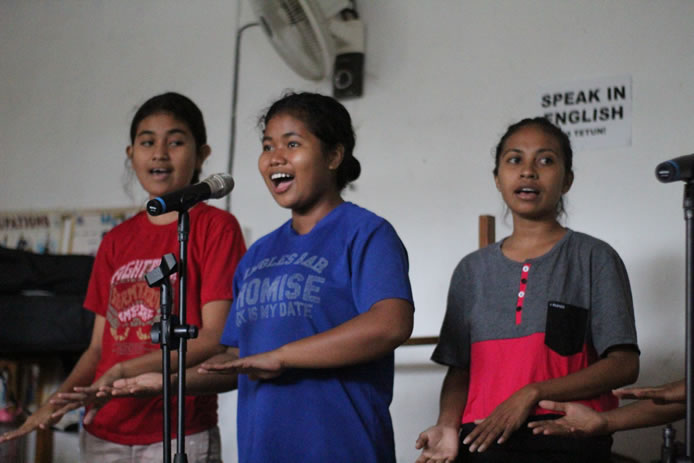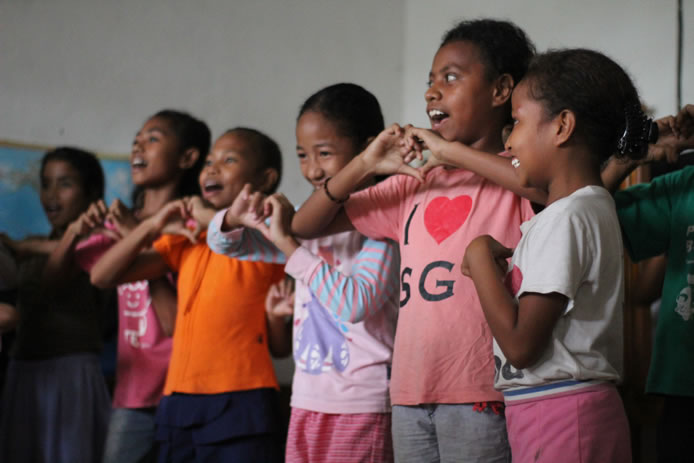 Rehearsing for the Christmas concert
Following the fruitful rehearsal, we accompanied the children to their homes to invite their family members for the concert the next day. Subsequently, we returned to Dream Centre to pack goodie bags for the audience of the Christmas concert. As we had some extra time, we started on our decorations for the concert.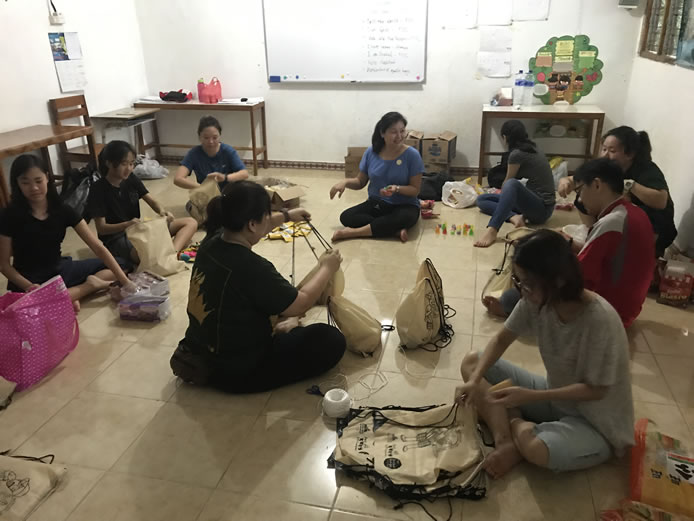 Packing goodie bags
Day 5
That morning, we attended service at Christian Vision Church, during which we presented a short song and dance item – "More, More, More". A few members of our team ran the concurrent Sunday School programme for the children.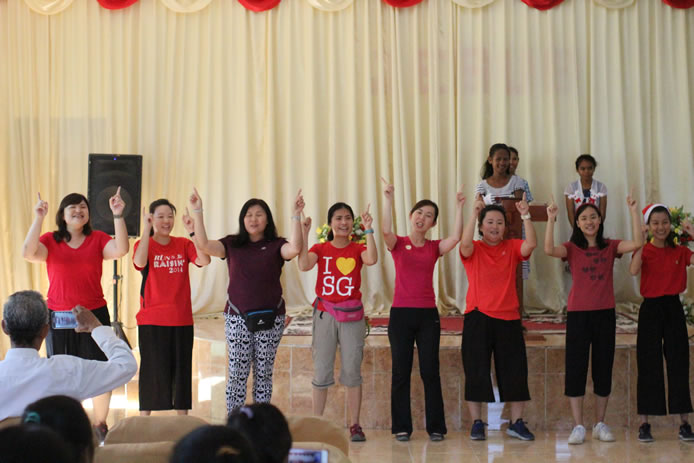 Team's performance of "More, More, More"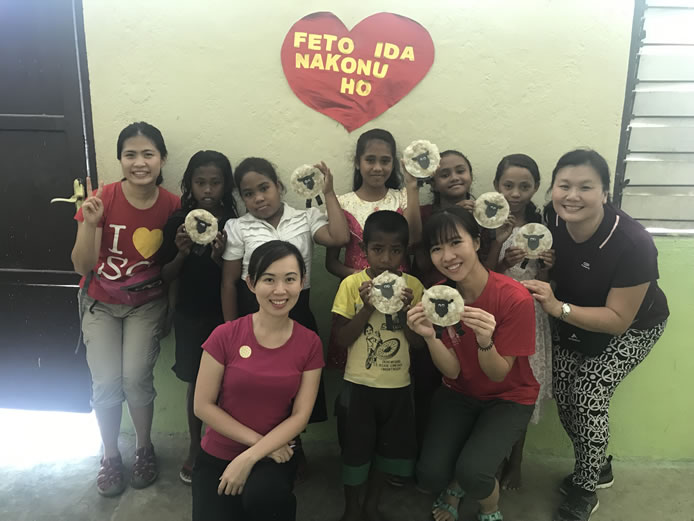 Children from the Sunday School programme with their completed handicrafts
After lunch, we continued decorating Dream Centre for the concert, adorning the porch as well as the tentage Pastor Catherine's landlord had set up for us. We also cleaned and arranged chairs in anticipation of a good turnout.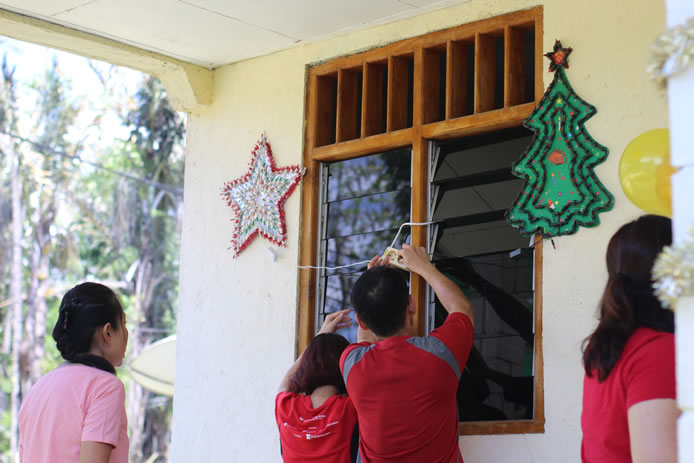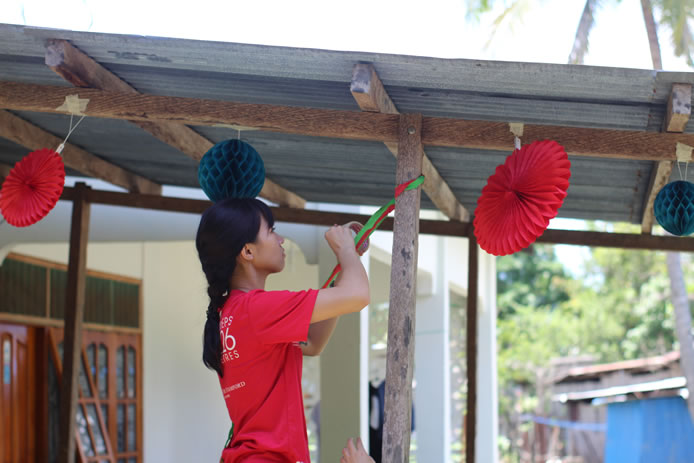 Decorating Dream Centre
The youths from FYC and the children from FCC arrived early to prepare for their items. After they had changed into their costumes, the team helped to style the children's hair into lovely braids, and put on makeup for them.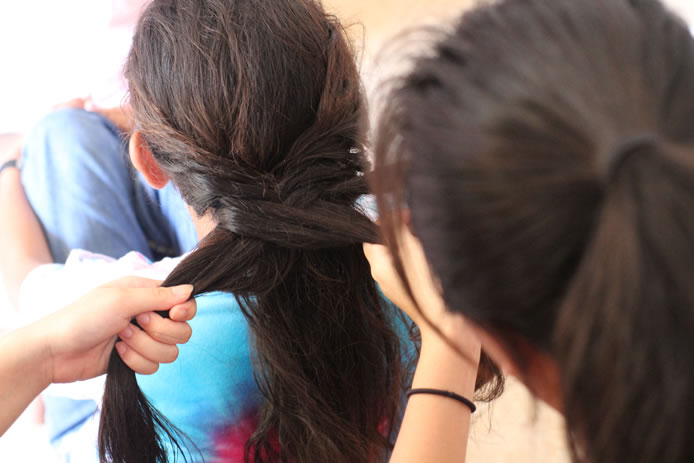 Tying a fishtail braid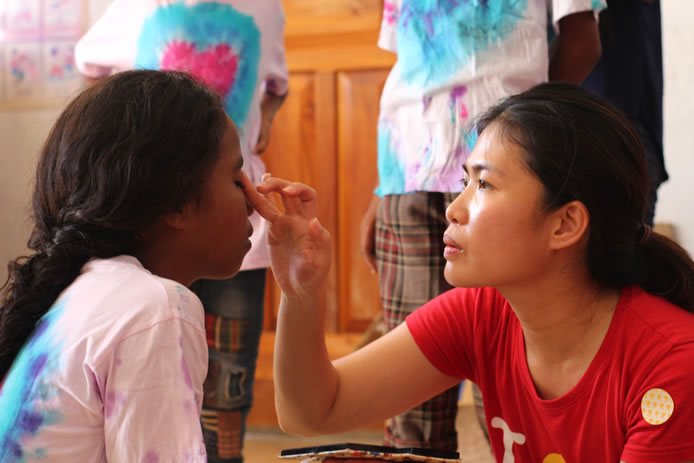 Helping the children put on makeup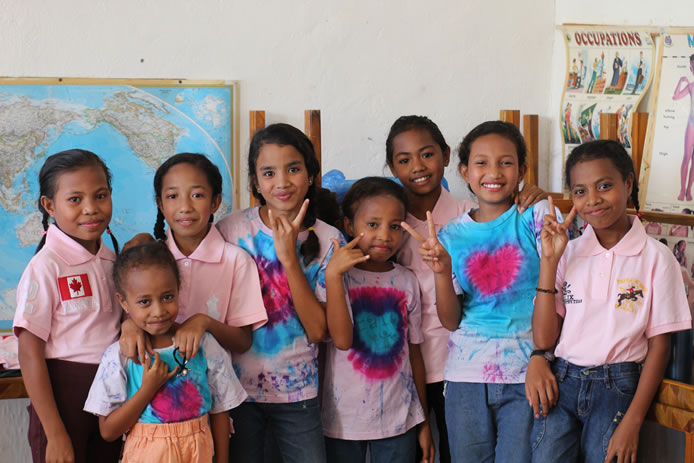 All ready for the concert with makeup and hair done up nicely
After a time of icebreakers, the team kicked off the Christmas concert with our song and dance item – "More, More, More". Following that, we presented our skit.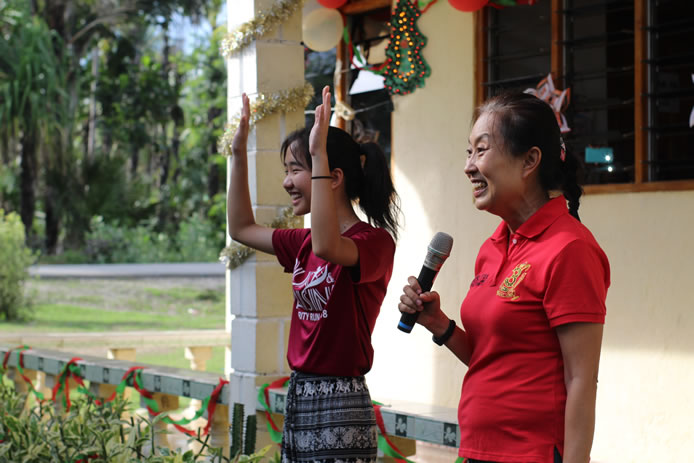 Leading icebreakers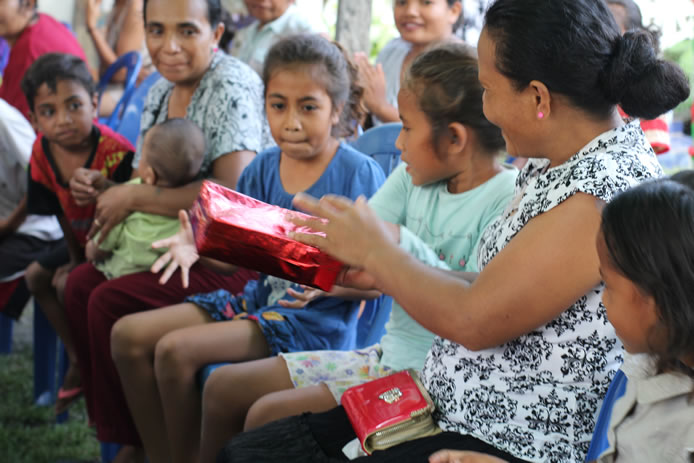 Playing "Pass the Parcel"
The children performed a dance item entitled "Tell the World", and sang the song "I am Special".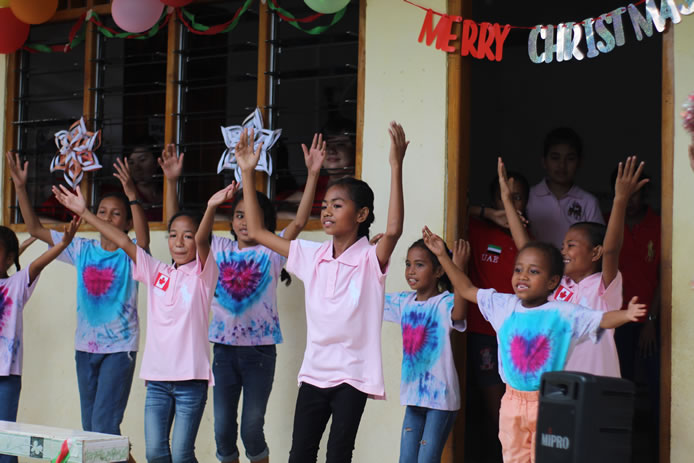 Children from FCC having fun performing
The youths also presented two items, singing the song "Our God" with accompaniment on the guitar and cajon, and performing a song item entitled "We are the Reason".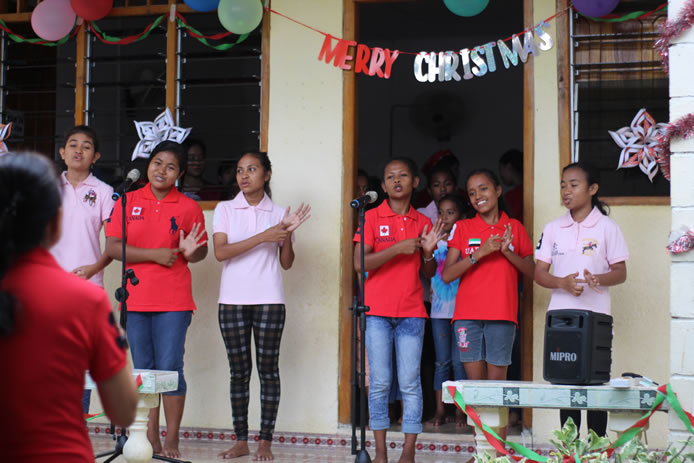 Youth from FYC singing and doing actions in sign language
For the grand finale, the team, along with the youth and children, sang and danced to "Feliz Navidad". The concert was a success, and everyone wore a smile as the goodie bags were handed out. The youth and children performers also received special goodie bags as a reward for their hard work.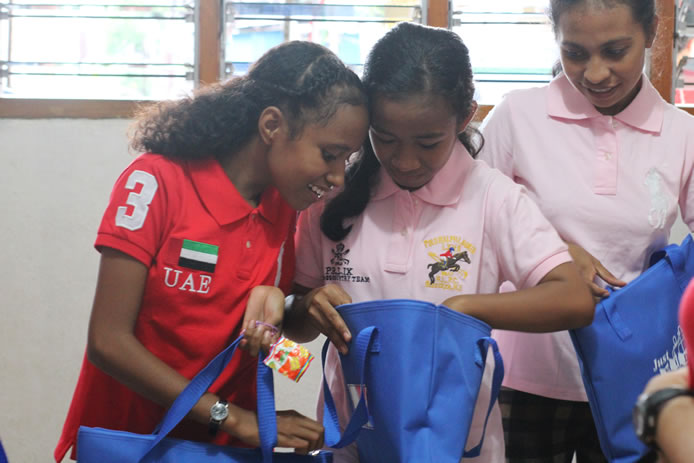 Reaping the rewards of their hard work
Day 6
We ran our third carnival in Fatudere, before heading to the beach for a brief time of photo taking.

"Ball Toss" game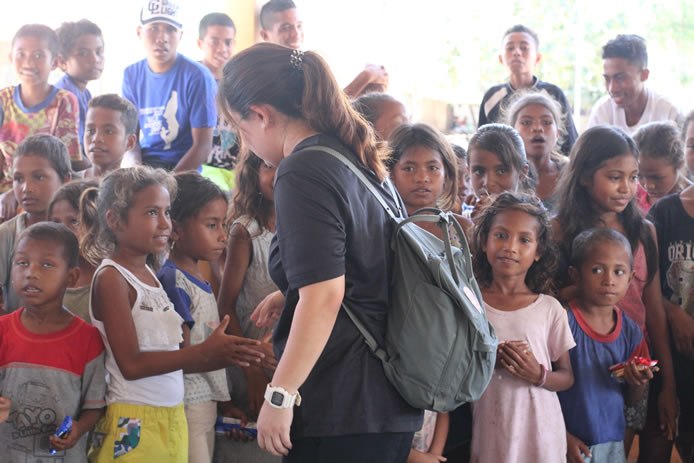 Shaking hands of the children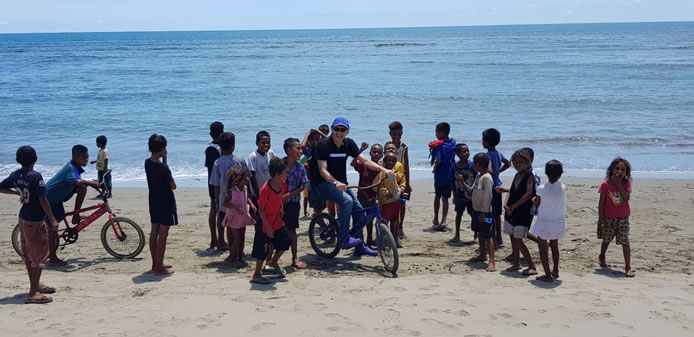 Playing with the kids who followed us to Fatudere Beach
Back at Dream Centre later that day, we ran a mini carnival for the children staying in the area.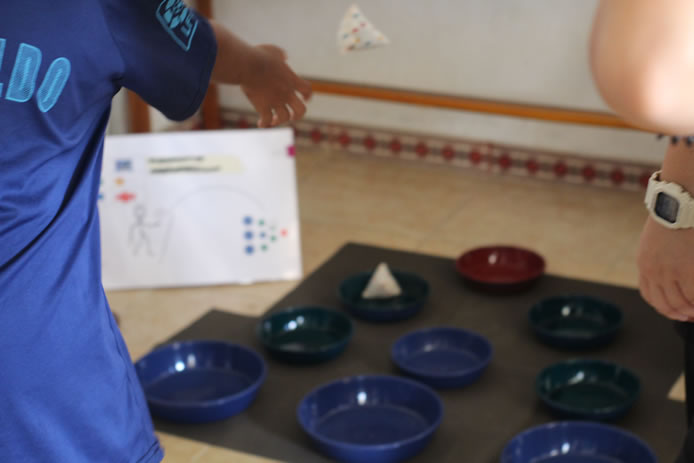 "Hit It to Bag It" game
Day 7
We said goodbye to Viqueque as we set off early that morning for Dili. We had to take an alternate route as some roads along the usual one were closed due to the landslides. Along the way, we stopped to purchase organic avocados and pure honey, both were produced of the local land.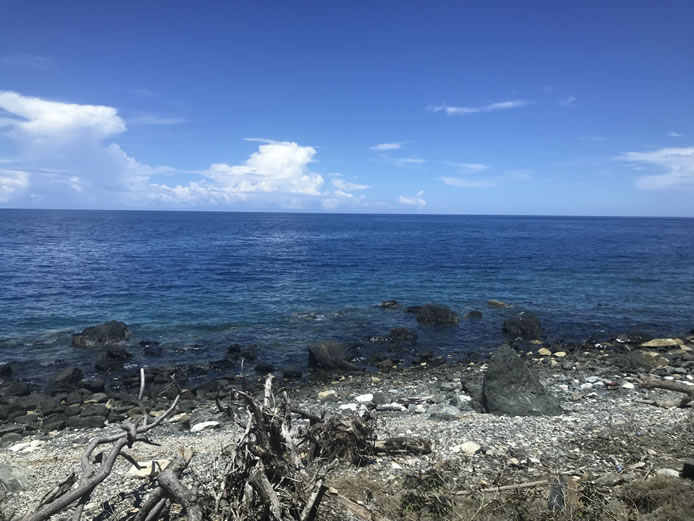 Picturesque route through the mountains and along the sea
In Dili, we had a late lunch at Temasek Enterprise, a Singaporean-owned restaurant. After returning to Faith House for a short rest, we drove out to begin our mandatory ascent to Cristo Rei.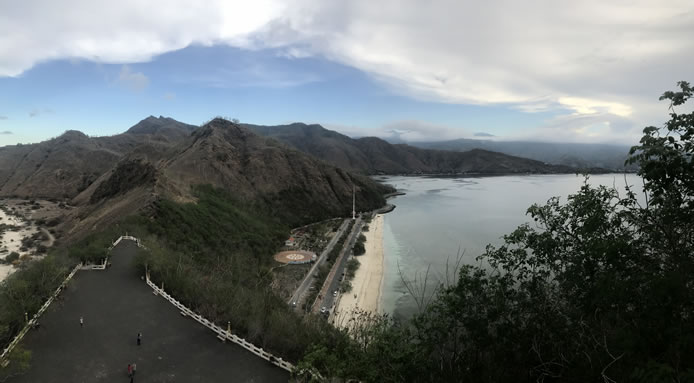 View from Cristo Rei
Ravenous from our 590-step climb, we had dinner at a Turkish restaurant.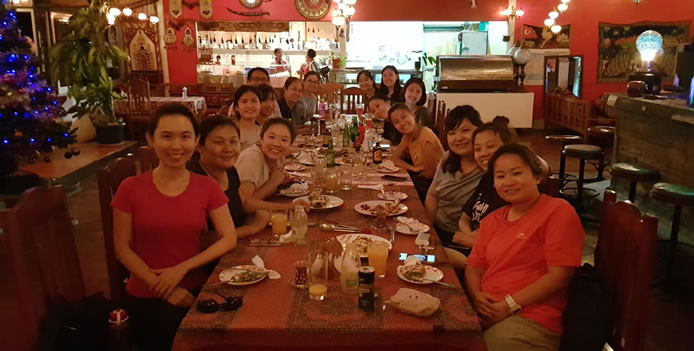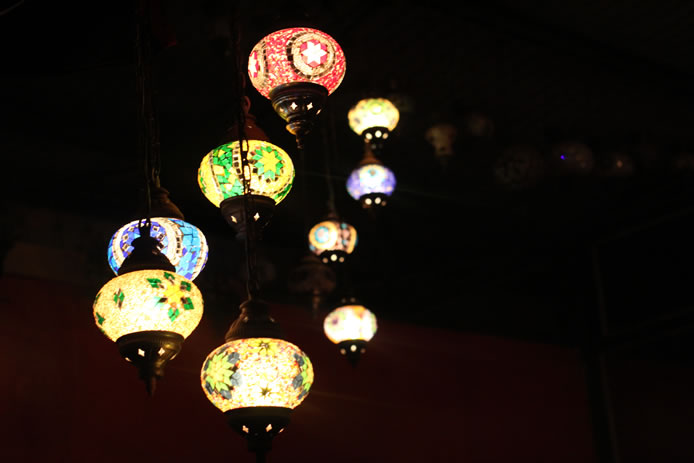 Last dinner in Timor Leste
Day 8
We got up early for breakfast at Timor Plaza, after which we spent some time shopping at local stores and supermarkets. With heavy yet full hearts, we bid farewell to Timor Leste, as well as Pastor Catherine and Ai Kit.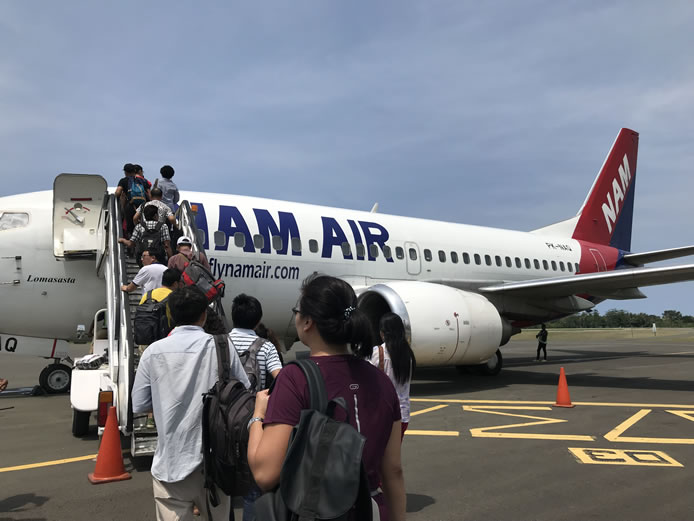 Boarding the plane at Dili Airport
Through this trip, we experienced for ourselves that it is truly more blessed to give than to receive. Every single one of us is immensely grateful for the opportunity to not only serve the nation of Timor Leste, but also learn from Pastor Catherine and Ai Kit, whom we can certainly call women after God's own heart. Witnessing their complete surrender of their lives to God, as well as their incredible love and sacrifice, inspired many of us. We pray that the Lord will bless them and keep them as they continue their good work. We claim 1 Kings 18:44 – "A cloud as small as a man's hand is rising from the sea." As the Church faithfully ploughs and sows, we believe that God will send His rain on Timor Leste and bring in the season of harvest.