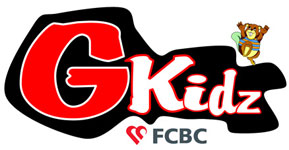 ---
Pastor-in-charge: Pastor Cheong Pui Leng
---
Mission Statement
GKidz seeks to reach out to children in the 2/14 window and develop them towards excellent character so that they can be an exemplary influence in their community and in other communities beyond Singapore.
Our experienced GKidz pastors and staff are trained to teach your children good Christian values.
Passion - We teach them to love God passionately 
Purpose - We guide them in finding their destiny and purpose in life 
Peers - We teach them to grow in the Christian community 
Personal Growth - We help them in their spiritual walk with God 
Piety - We put families first 
People-minded - We teach them to have compassion for others 
Put in the best - We guide them to excellence in whatever they do
During the weekend services, parents can leave their children at the following GKidz clubs. David Club (for 18 month - 4 year olds); Timothy Club (for 5 - 9 year olds); Barnabas Club (for 10 - 12 year olds).
GKidz - Our Ministry Name
GKidz or G代儿童 (in Chinese) hails the beginnings of a great FCBC children ministry era – which God has in store for us.
"G" signifies God-fearing – the very spiritual fibre that makes up this exciting new generation of young mighty warriors, which GKidz intends to raise up for the Lord. Not only will our FCBC children be God-fearing, they will also be of excellent character and well-equipped to reach out to other children and families, and transform communities – just as Psalm 127:4 (NASB) declares, "Like arrows in the hand of a warrior, so are the children of one's youth."
"庚" (pronounced as geng1) – the Chinese character denoting the letter "G" coincidentally proclaims this revolutionary age of GKidz that is to come. "时代" – represents time, as a promise from God that the GKidz ministry will be ever timeless, and where a mighty and victorious generation of children will be birthed according to God's promises.
This ministry name truly echoes our burning desire to build up not only good kids, but GREAT kids who can do GREAT deeds for our GREAT God! Just as Apostle Lawrence Khong encourages our children to "be bold and daring in your faith, speech and conduct; to believe that God can use you to be a blessing to your family, grandparents, cousins, friends, teachers and even other children", let us seize God's timing to shape our young ones into His mighty warriors today!
Be a GKidz Leader 
Serving our little ones is not only a great blessing; you'll also reap tremendous satisfaction in shaping them into young mighty warriors of God! Discover the tremendous joy of volunteering through the eyes of some of our GKidz leaders today!