Day 1: English Conversation Circle (Yokohama) 
Our team was made up of two university students, Matthew and Sarah. As this mission trip's focus was on campus outreach in Yokohama and Nagoya, it piqued our interest to sign up for it so that we could learn about how campus outreach was done in Japan. We also wanted to serve Japan with what we have learned from our university's campus ministry.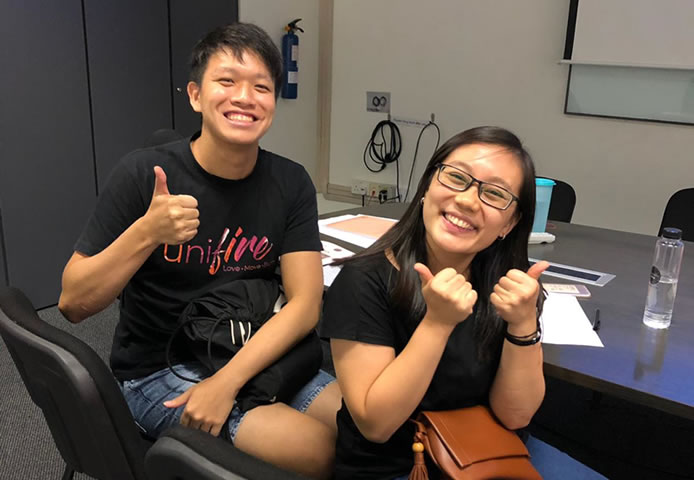 Upon reaching Tokyo on the morning of 6th July, we travelled to Yokohama to meet Charlotte, the Gideonite serving in FCBC Japan. For the rest of the trip, we followed Charlotte around to the various ministry opportunities and assisted her.
After a short lunch, we prepared for the English Conversation Circle conducted by Charlotte every first and third Saturday of the month. As this is open to the public, we had participants from diverse backgrounds. Usually, the sessions start with a round of self-introduction and an icebreaker. After which, participants will break into smaller groups of four to five people to discuss the topic for the week. We helped to conduct one session where we played "Two Truths and One Lie" and had a discussion on the topic of "A Happy Life". At the end of the discussion, Sarah taught the participants an English song "So You Would Come", a song that she really likes and relates to her life's turning point. She shared with everyone that in the past she felt very unhappy in life because of her inadequacies and other things that happened in her life, but she found someone who would accept her as she is and love her – God. Matthew played the accompaniment in the background as Sarah led the participants to sing the song. After the session ended, everyone stayed back to chit-chat with one another over some snacks.
Day 2: FCBC Yokohama Church Service
We joined the church service at FCBC Yokohama today. Sarah shared her testimony on reaching out to the international students in her campus. She encouraged everyone to press in to listen to the Holy Spirit's voice, ask Him to lead them to the people and the places to share the gospel, as well as ask God for guidance on how to share the gospel. A guest speaker from another church came to preach a powerful sermon on evangelism. After the service ended, everyone mingled around over snacks and we got to know the church members better as well.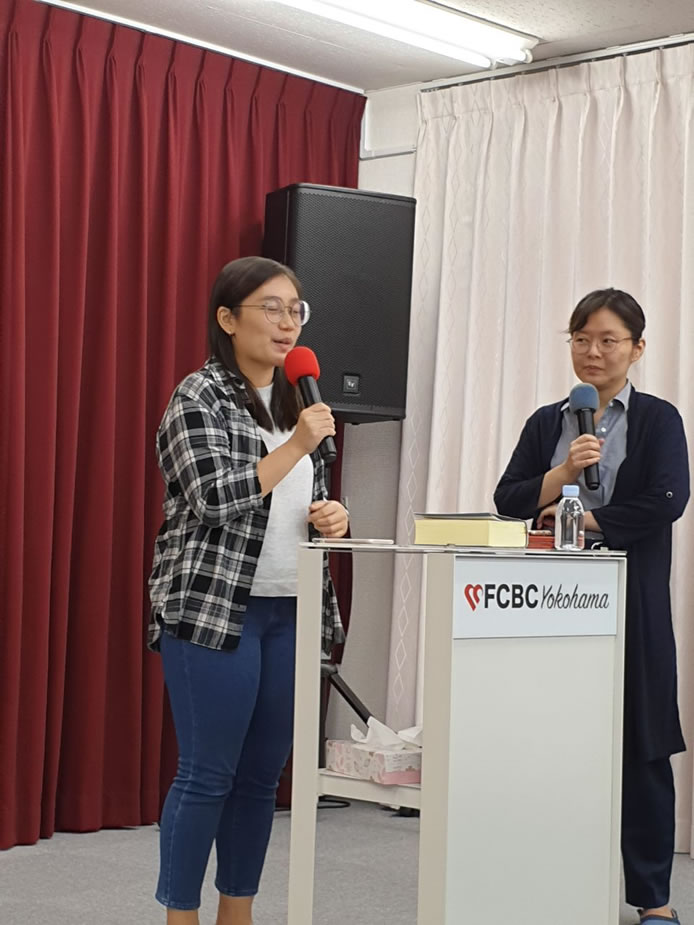 Day 3: English Conversation Circle (Nagoya) and FCBC Nagoya Church Service
We travelled to Nagoya in the morning, reaching there at noon. Charlotte, Pastor Christina and Sarah headed to a women's university to see if there was an opportunity to connect with the English club and submit a proposal to help them with their club activities. However, we were unable to find the students of the club. Though we were a little disappointed that it was a closed door, we prayed blessings over the campus and asked God to open doors in the campuses so that we can reach them.
In the afternoon, we headed over to FCBC Nagoya. After setting up for the English Conversation Circle later that afternoon, we went out to the streets near the church to give out flyers promoting the concert of a gospel singer, Migiwa, which FCBC Nagoya will be hosting one week later. 
For the English Conversation Circle this week, the topic was "What makes you excited?". We had two participants, who are both university students. One of them shared about death metal music, and we learned from him what this genre of music is truly about. It was an eye-opener for the rest of us because we thought that this music genre was all about screaming and loud music. Another participant is an avid artist who also draws comics; she shared with us her artworks, what she loves about drawing, and her aspirations in this field. She also shared with us other artists whom she respects and draws inspiration from. Matthew shared about breakdancing and taught us about the basic moves in this dance genre. While many of us thought that breakdancing was all about spinning on our heads on the ground, Matthew showed us that breakdancing is so much more! Sarah shared about her passion for singing and did an impromptu performance of the song "So You Would Come" for the group. Through this session, not only did we learn more about one another, we also broke some stereotypes that we held.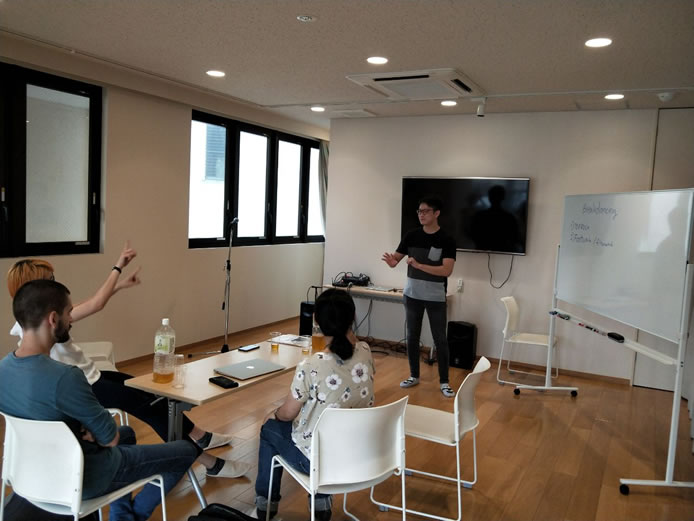 At night, we joined the church service at FCBC Nagoya. Sarah shared her salvation testimony and how she found true love and satisfaction in God, which cannot be achieved through striving.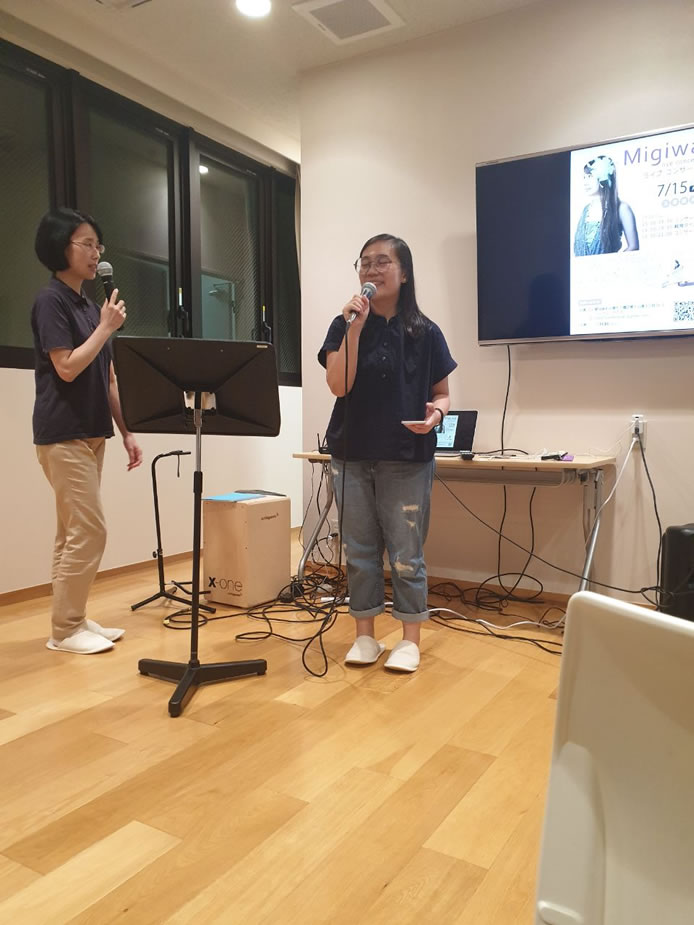 Day 4: A Day in Goi's University
We spent a day with Charlotte and Goi in the university that Goi teaches at. Goi is a member of FCBC Nagoya. At the university, we spent some time doing devotions together and prayer walked the campus. 
In the afternoon, we joined in Goi's class on design thinking as guests. In today's class, the students were tasked to test out the prototypes of a product that they made for this module. Matthew and Sarah played the role of "end users" to whom the prototypes would be tested on. We had the privilege of giving each group specific feedback on their prototypes, which the students could use to improve their products before their final presentation the following week.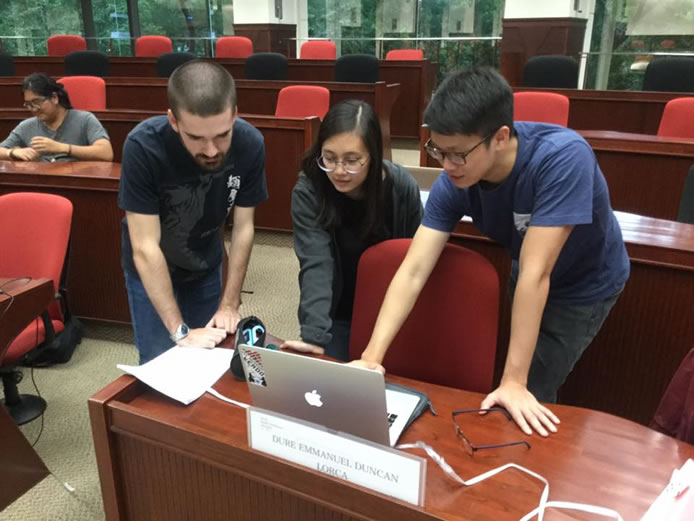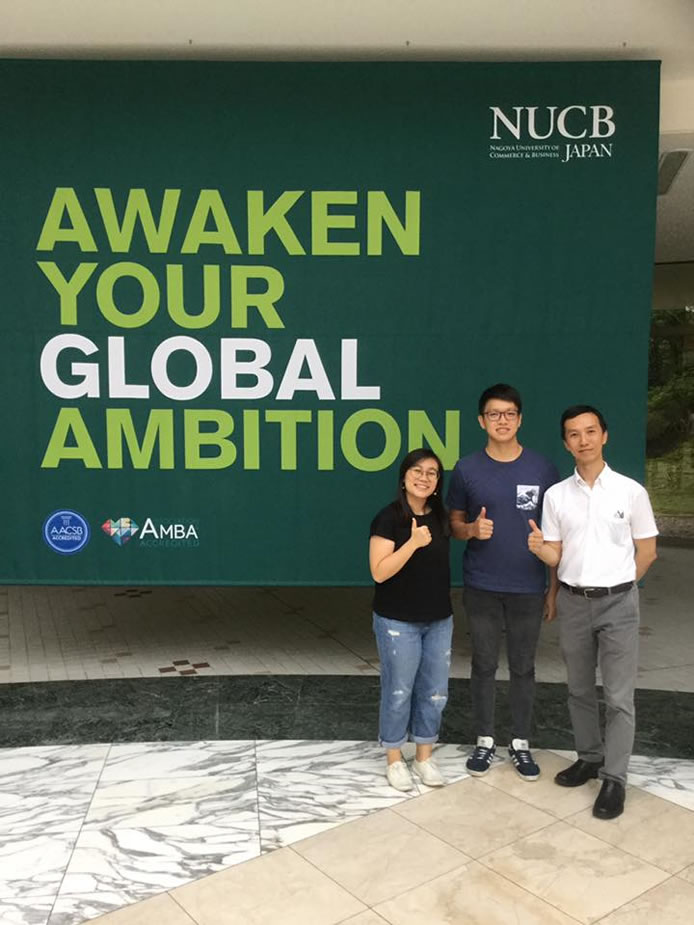 Day 5: Karaoke Outreach and YCU Debate Club Meeting
In the morning, Goi brought us (Charlotte, Matthew, Sarah) to another campus site of his university to prayer walk together. 
Following that, we went for a karaoke session with two of Charlotte's friends. Many Japanese love singing karaoke, so it is a great way to connect with them! 
In the afternoon, we travelled back to Yokohama and met up with Yuko-san, the only full-time staff of FCBC Japan. Though she is based in Sendai, she joined us for the next one week to learn about campus ministry as she wants to start a campus ministry in FCBC Sendai. Together, we headed to Yokohama City University (YCU) to join in the English Debate Club, where Charlotte has been assisting and supporting their club activities. 
At the debate club meeting, we divided ourselves into groups of three for a warm-up activity – sharing with one another about our plans for summer, in English. We got to learn about one another's lives and the culture in Japan and Singapore. Our groupings were then rearranged into juniors and seniors pairings to prepare for the debate topic for the day's practice. Charlotte was one of the judges for the debate practice round, while Matthew and Sarah were advisors for the two pairs of juniors. Yuko-san participated in the debate practice with one of the seniors. Overall, our role was to help the students prepare for the upcoming debate tournament amongst the universities in Japan. Although speaking in English is not easy for many Japanese students, the students at the debate club were very determined and they put in a lot of effort to do well in the debate.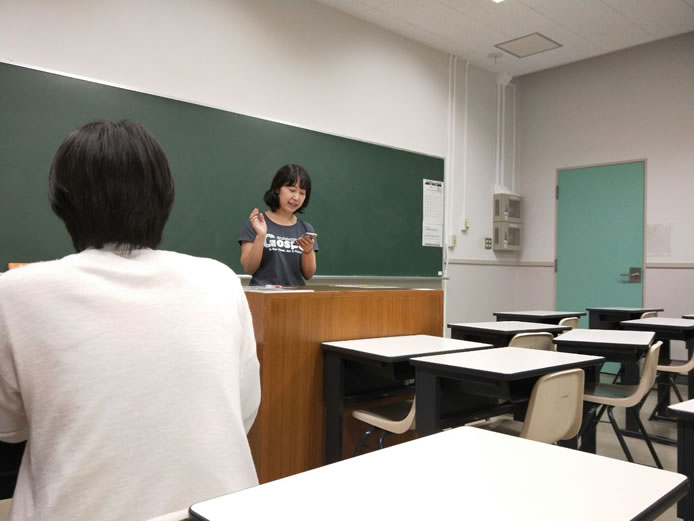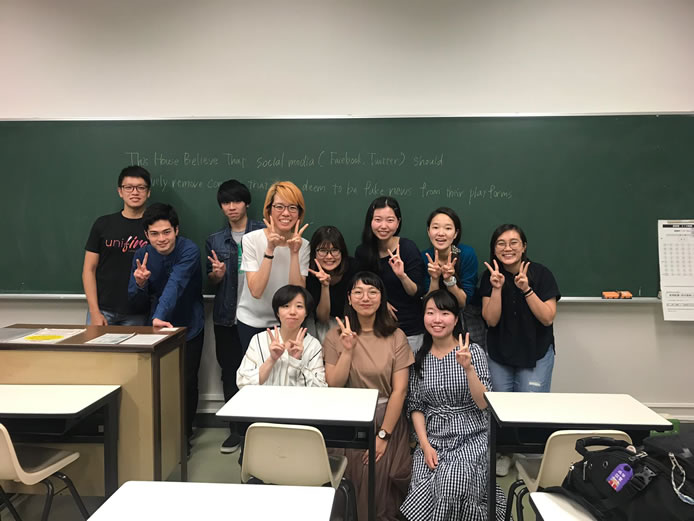 Day 6: Karaoke and Dinner Outreach
We had our second karaoke session today with friends from Yokohama National University (YNU) and Ferris Women's University! It was quite a big group of people, including an exchange student from Madagascar and another exchange student from Taiwan. We sang not only Japanese songs, but English and Mandarin songs too. It was a very fun time where we sang together. Though we come from different countries and speak different languages, music is a common language and it unites us together.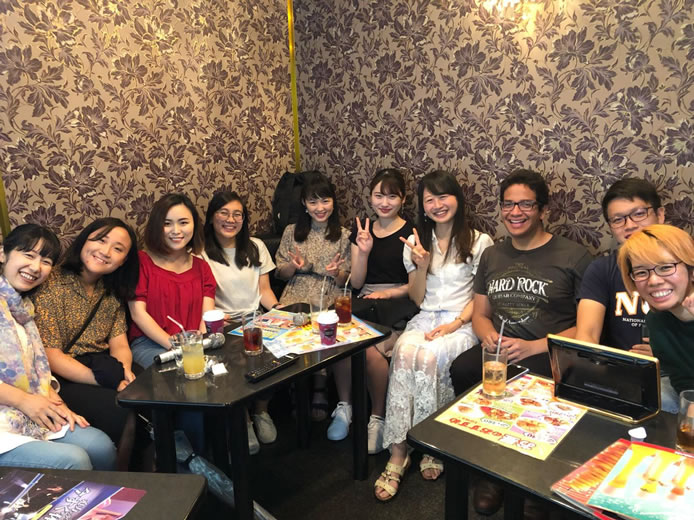 Afterwards, we headed to a yakitori restaurant for dinner, where more friends joined us. Over dinner, we shared more about our lives and our stories. It was also a farewell for our friend Bethany, who was going to return to her home country.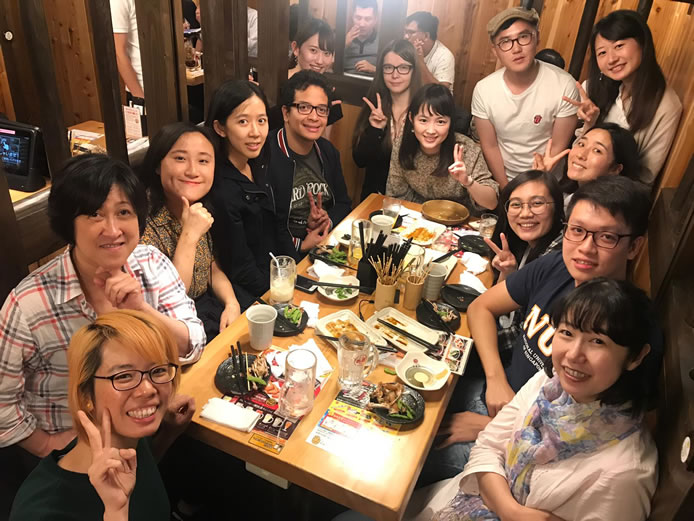 Day 7: Prayer Walk around FCBC Yokohama and YCU English Club Meeting
We were supposed to join in an English Guides Club meeting at YCU, but due to some changes in the schedules of the students, they cancelled the meeting. Hence, we did a prayer walk around the area near FCBC Yokohama. God showed us many things about the land, including reconciliation in families, idol worship, work culture in Japan, the needs of the elderly, and the safety of the neighbourhood. We prayed for each of these things and blessed the land. 
In the evening, we travelled to YCU to join a combined English club meeting where all the sections gather together. At the meeting, we met other club members through the games organised by the club committee. We also got to meet the English Debate Club members we recently befriended.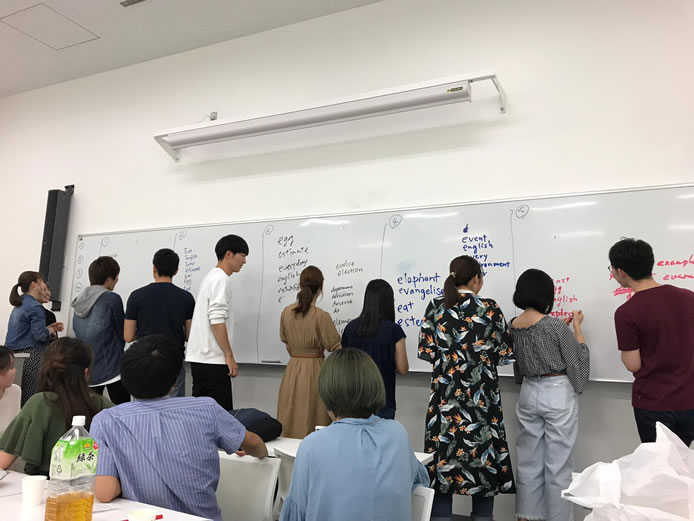 After the meeting, we went out for dinner at an Indian cuisine restaurant with some of the debate club members. We had a great time conversing over delicious food. It was difficult to part ways after dinner because we were starting to grow closer to one another despite spending only a short time together. Moreover, this was the last time that we would see one another before our trip concluded. We exchanged contacts on social media and took photos to remember our time together.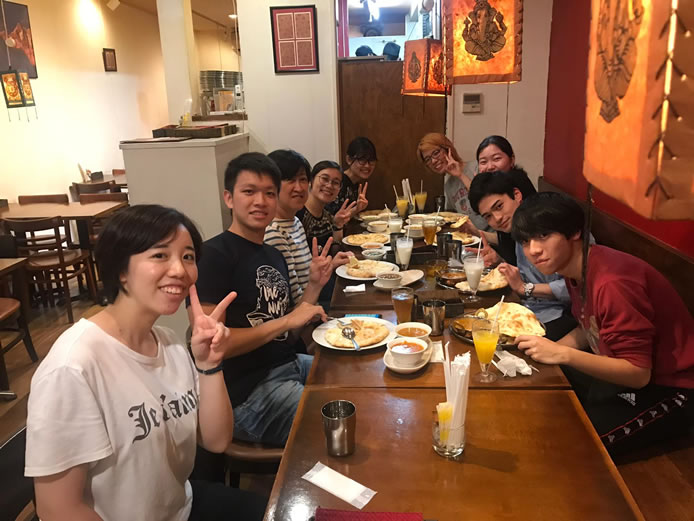 Day 8: Discussion Party with YCU, YNU and Ferris Women's University
In the morning, we travelled to Ferris Women's University for a full-day Tanabata Discussion event organised by the English club for the three universities. As Tanabata is a Japanese festival, all of the participants donned yukatas for this event. Wearing the yukata was a brand new experience for Matthew and Sarah! 
For the first part of the event, all the participants watched a movie, "The Notebook", in the auditorium. After the movie, we were divided into smaller groups of five to six people for discussions in the classrooms. Each group had a mix of students from each university. The discussion topics included family, love, our dreams and our future. Since the event was organised by the English club, the discussions were done in English. Although most of us were meeting one another for the first time, we shared openly during the discussions, and through it, we got to know more friends. As the students shared their experiences, hopes, and dreams, the excitement in their voices showed they were concerned about the future and while they have many aspirations, they were also seeking for guidance to walk the path to a bright future. After the discussion, we wrote notes of encouragement to our group members, encouraging each other to achieve our dreams, not just in the future but in the present too. 
We gathered back in the auditorium for the last segment of the programme. We had a game of bingo, where Charlotte won the top prize! We also watched a photo montage put together by the organising committee and took photos together as the programme drew to a close.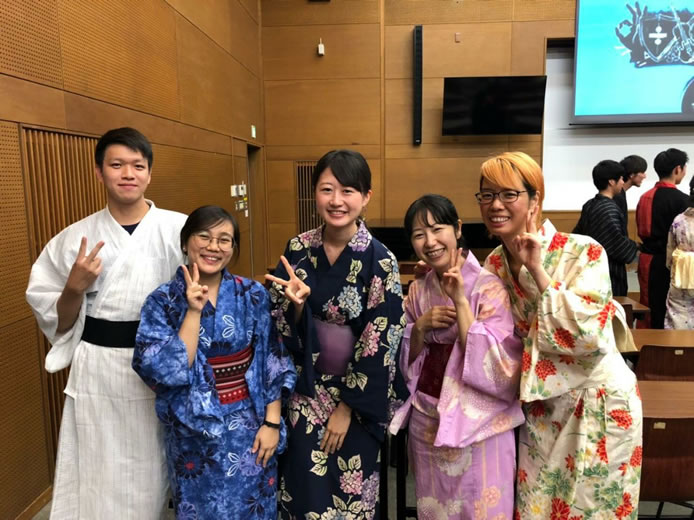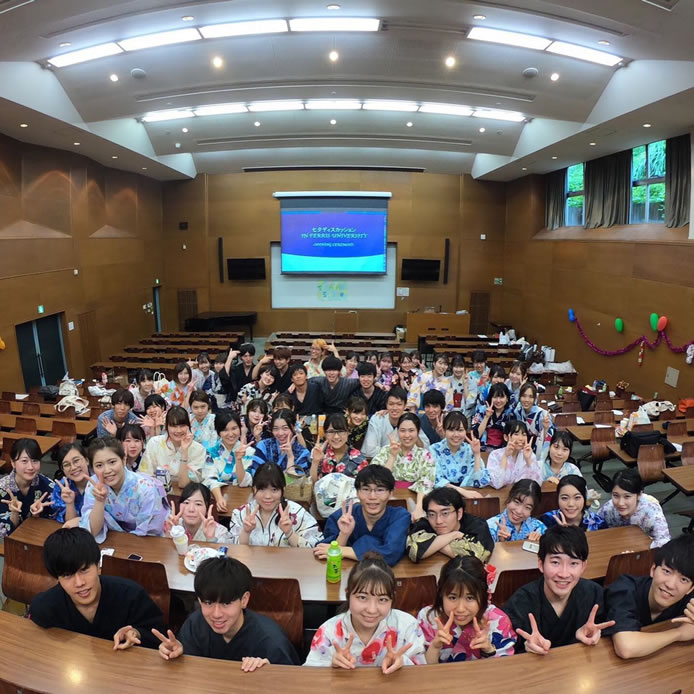 Day 9: FCBC Yokohama Church Service and Homeless Ministry
We met Miki, a language partner of Charlotte's, for lunch. We got to practise speaking English together, and through the conversation, got to know about one another's lives.
Then, we headed over to church for service at FCBC Yokohama. Matthew had the opportunity to share his testimony of how he encountered God personally, and it greatly encouraged those in the church who had yet to encounter God for themselves.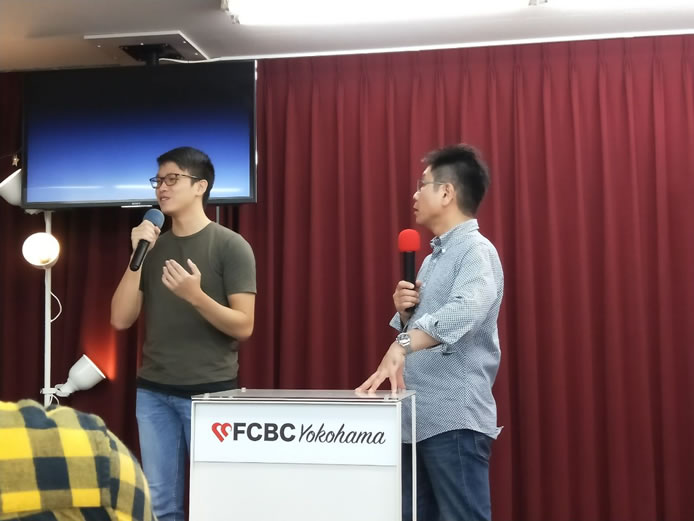 After service, everyone had dinner together – Michelle, one of the church members, cooked a delicious meal of Singaporean curry chicken served with rice and bread. It was a great and cosy time of fellowship. We also celebrated the birthdays of those born in July. Matthew, Sarah and Yuko-san shared what they learnt from the mission trip with the church members. 
After dinner, some of us prepared food and drinks for Homeless Ministry at Kannai Station while the others cleaned up the venue. We headed over to Kannai Station shortly after and gave out food and drinks to the homeless staying there. We also got to talk to some of them, find out how they were doing, and even prayed for some of them. One of the groups spoke to a homeless man who had just recently moved to Kannai Station and found out that he had no spare sets of clothes. One of the church members, Kishi, volunteered to buy him a set of new clothes and pass it to him. Meeting the tangible needs of the poor and needy is a crucial part of bringing the kingdom of God everywhere we go, and Kishi's act of kindness demonstrated God's love to the homeless man.
Day 10: Migiwa's Concert at FCBC Nagoya
We travelled to Nagoya once more. After reaching FCBC Nagoya, we prepared for Migiwa's concert, setting up the venue and buying refreshments for the guests. Migiwa is a gospel singer who has travelled all around Japan to hold concerts. There were two shows today, one in the late afternoon and one at night. People from other parts of Nagoya came to attend the concert. During her concert, she shared vulnerably with the audience her testimonies and personal stories behind the songs. Many in the audience were touched by her stories, music and beautiful voice.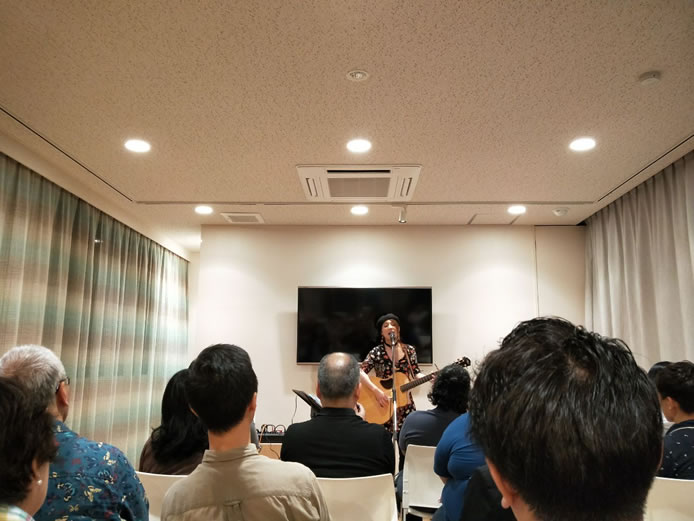 Day 11: Back to Singapore
It was finally time for us to return to Singapore. Through this short trip, we learned many things (Japanese culture, food, reaching the campuses by using English as a tool) and we made many friends. Here are our takeaways from the mission trip:
Sarah's Reflections:
"One learning point for me is that music is a great way to bring people together – it is a language that transcends all boundaries. Days before the trip, I felt the Holy Spirit speaking to me that music is a trump card to reach the Japanese, and during the trip, I saw that it must be true. There is not one person whom I met who disliked music. A challenge I faced was not being able to speak Japanese. It was difficult for me to make conversation or join in conversations with the Japanese. However, I learned that that does not mean I cannot make connections with the people that we met. I just needed to be bold and take the first step towards them; simple English is generally understood, and even if that does not work out, I can use my body language, a translation app, or find someone who can speak English and Japanese to be the interpreter. More than speaking, actions speak louder than words; we can show that we love them through the things we do for them, big or small. God's love for them is made visible and tangible through our actions. Overall, I am very thankful for this opportunity to participate in the campus outreach work. Many of the things that the church is doing are still in their early stages, but I saw how God's hand has always been over them and I am certain that there are greater things in store. The land of the rising sun is the land of the Risen Son!"
Matthew's Reflections:
"This was my first mission trip and I wanted to see how outreach was done in Japan, especially on campus as I am connected to my university's campus ministry. This trip made me see how opportunities to befriend and outreach are all around us. I think I learned a little more about what God means when He asks us to use whatever we have in our hands. In all of the campuses that we visited, we used English as an entry point into the student circles. Thinking back, I can see how God had been using every experience I had to break down the barriers between the Japanese students and myself. There was joy in using some of these skills to connect with them. One example would be having knowledge of the Japanese language and using it to explain myself clearer. With this ability, it also seemed that the students would lower their guards around me, allowing us to talk about each other's lives and become friends. Skills that I never considered useful, such as English or dancing, allowed me to meet a need in their lives, and also break the ice. All the experiences really taught me how to go beyond the four walls of the church, using whatever we have to meet the needs of the community, befriending and evangelising in the process. This was quite a challenge for me, as I am not used to socialising with so many people in one day. However, after stepping out of my comfort zone, I found befriending the Japanese people really enjoyable. As the days progressed, it became more of a natural instinct to talk to the people I meet and to find out more about their lives. Now, I see that opportunities are really all around us and I am appreciating the many connections that I will have as a student in Singapore. In Nagoya, I saw how Professor Goi kept creating opportunities to bring the church into his class to first, contribute to the students' educational needs and then, do outreach. This left an impression on me as I have never seen this being done in Singapore. I learned how to be bold and wise in creating opportunities for outreach. I also learnt how we can tap into the skills of everyone in the body of Christ to do greater work for God's kingdom. Charlotte also brought us to a combined university English club event which she knew little about. She brought us there as she wanted to meet people and give her pitch to be able to help out in another university. I learned that we are able to also open more opportunities for ourselves. Indeed, it is both man and God working together. While we can pray for open doors, we have to take the step of faith even when we do not know what to expect sometimes. I saw how God was able to also play His part in using her connections to bring everything together. In conclusion, this mission trip showed me how to move out in faith. It showed me that God can use skills that we did not even consider to be skills. He only asks that we go forth and obey. God, who is with us, will provide for us."