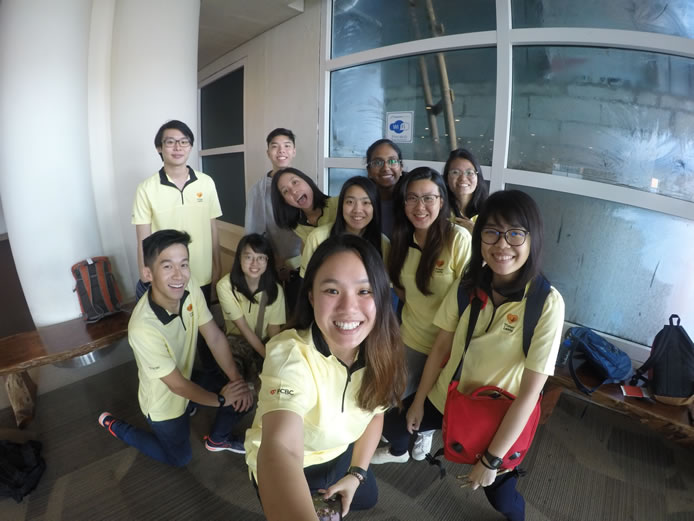 Our team of 11 set off on 6 June (Day 1) to Timor Leste, excited to see what God wants to do in us and through us. Although travelling took up the bulk of our time, we were thankful that God brought all of us to Timor safely, protecting us every step of the way; from our transit flight in Bali, to our arrival at Dili airport, and in our day-long bus journey to Viqueque. Although the roads in Timor were rocky, which made the bus ride bumpy, the team had a great time of bonding as we travelled. Two things were apparent to us:
1) Timor is such a beautiful country and God's hand can be seen through the beautiful scenery that we caught while we were on the roads.
2) God's heart is for this nation – Love Timor is the effort of many churches of various countries coming together. In our stopover at the training centre in Manatuto, we recognised that FCBC is playing that small part in the big works God is doing in this land.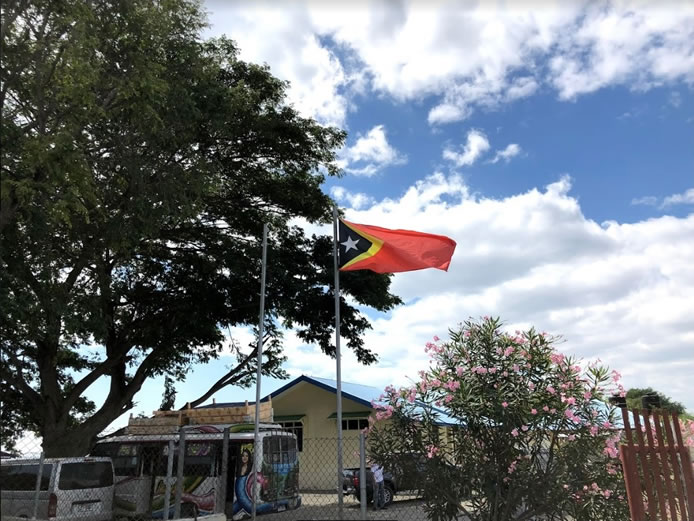 Training centre in Manatuto
We reached Viqueque in the evening of 7 June (Day 2) and moved the logistics to Dream Centre to do some final packing and preparation for the various programme segments.
Sports day (8 and 11 June)
Faith Youth Club outreach (8 and 9 June)
Service presentation (10 June)
Sunday School (10 June)
Faith Children Club (10 June)
Jamming/bonding time with youths (11 June)
The travelling took its toll on us and we rested that night, eager to begin our work the next day. 
Sports Day, 8 June (Day 3) & 11 June (Day 6)
We went to the schools in two villages, Fatudere and Bibileo, on 8 and 11 June respectively to run sports day for the students. On both days, we split the students by their levels and into four different teams to compete in a race. God was really good and the weather on both days was superb for the races to happen. Everything ran according to what was planned and we enjoyed the brief interactions we had with the children.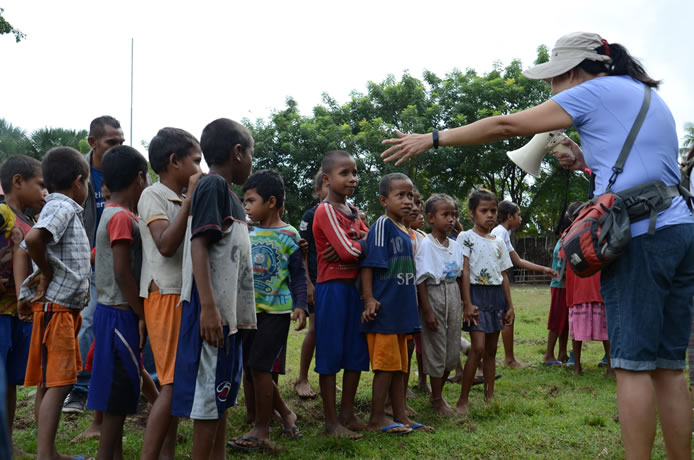 Pastor Catherine splitting the children into teams at the village of Fatudere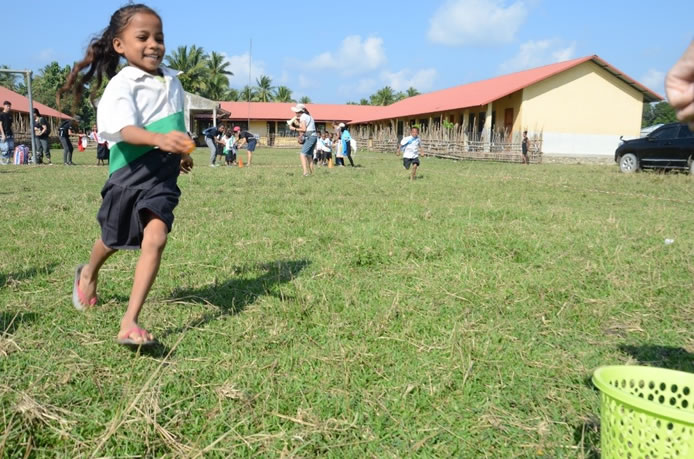 Activity for lower primary at the village of Bibileo
Having ran sports day once in Fatudere, we were clearer on our individual roles when it came to our second time in Bibileo. We were also very thankful for the good turnout at the school. However, due to time constraints, we were unable to go to the third village as we would have hoped.
Faith Youth Club Outreach, 8 June (Day 3) & 9 June (Day 4)
Faith Youth Club (FYC) was set up by Pastor Catherine to disciple the next generation of local leaders and missionaries for Timor Leste. Going in, our role was to help the youth leaders succeed in running their own youth outreach. We met up with some of these youth leaders on 8 June to get to know them and run through the station games that we would be using for the outreach.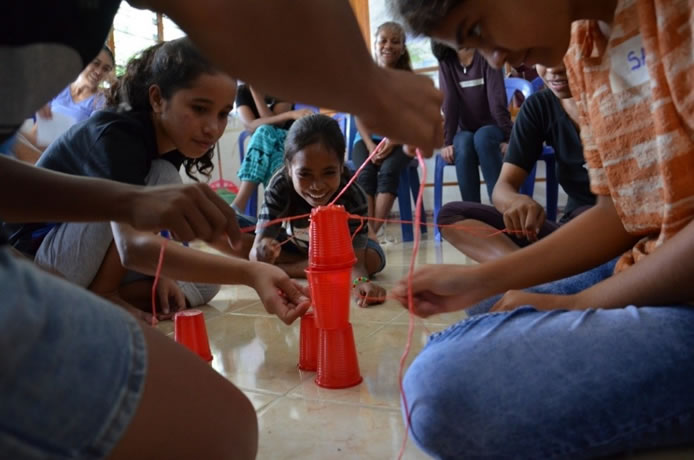 The youth leaders trying out the various station games
On the actual day of the outreach, God's hand was so evident. While we were waiting for the arrival of the youths, it started to rain, we prayed and the rain stopped! The youth leaders whom we briefed from the day before took the lead and oversaw the running of the different stations. It was heartening to see these local youths rise up and lead their own generation, a dream that Pastor Catherine and Ai Kit has for Timor. We also shared with the youths the importance of dreaming for God and pursuing their God-given dreams.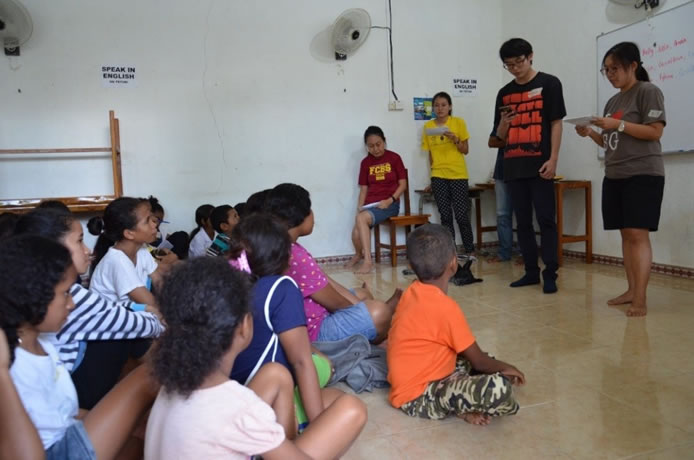 Testimony sharing by one of our team members, Daniel, of how his life was transformed when he realised God's dream and destiny for himself
The outreach ended with a time of ministry and many of the teens were touched by God. Although we did not understand Tetum, and prayed and ministered in English, the Holy Spirit moved powerfully and many of them started crying. As we prayed, we ourselves were awed by the strong presence of God. We know that God loves these young lives and He is moving powerfully in their hearts.
Service Presentation, 10 June (Day 5)
Sunday morning came and we visited the local church. We saw a few familiar faces from FYC and this sense of familiarity made us feel even more welcomed in this family of God. We then proceeded to present a short and simple song item together with actions for the congregation.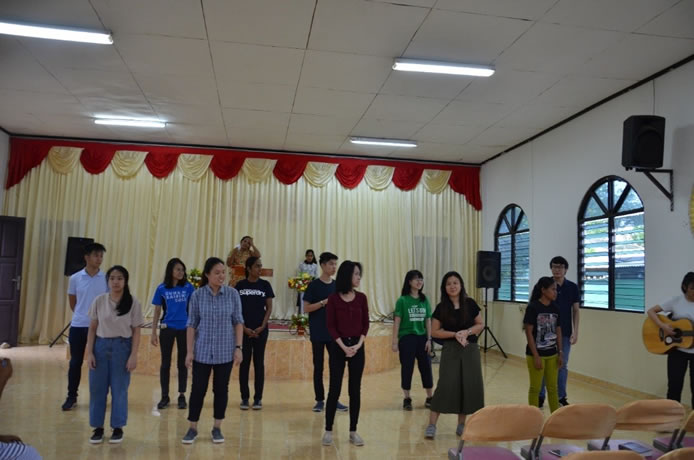 Singing to the tune of "He's the Lord of the Sunshine"
Sunday School, 10 June (Day 5)
As the service proceeded, a small group of us went over to the Sunday School to run some activities for the children. We gave thanks for the good turnout as we were expecting a smaller number, but God always manages to exceed our expectations. We had such a blessed time playing and interacting with the children.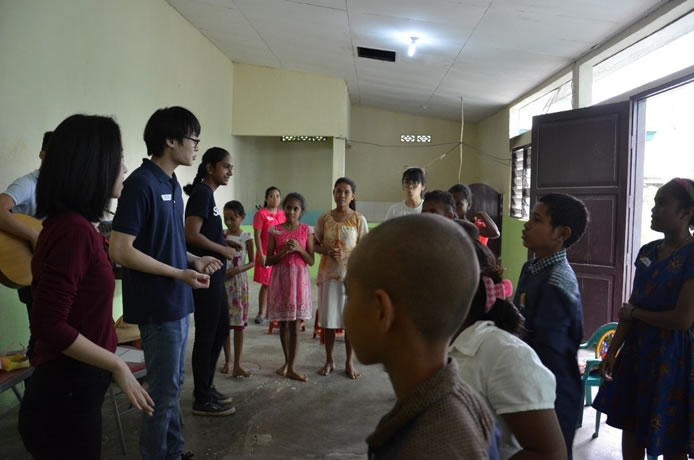 Teaching the children some songs with actions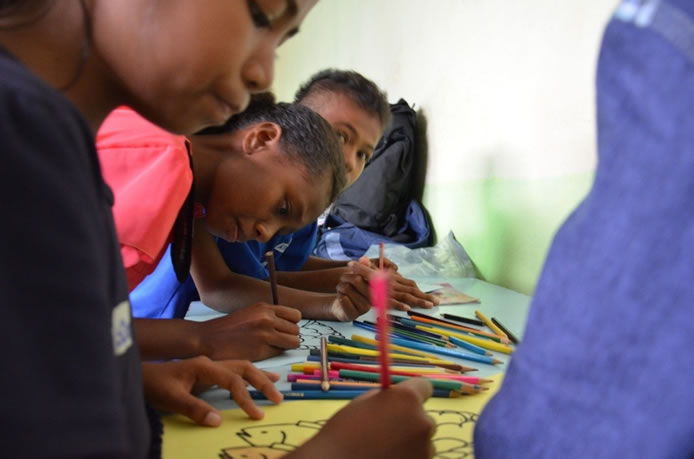 We ended off the time with a colouring activity, where the children coloured printouts of a basket of loaves and fishes – remembering how God can always do immeasurably more than all we can ask for or imagine!
Faith Children Club, 10 June (Day 5)
Like FYC, Faith Children Club (FCC) is a platform that Pastor Catherine uses to reach out to the children in the community and impart Kingdom values. Many children came for FCC that day and we were thankful to see the joy they exuded even before the programme started. We played icebreakers, sang songs, and taught the children through a skit that they are all very loved by God. Just as how Jesus calls all the little children to Him, He delights in them coming before Him and loves them dearly. We spent some time on a colouring activity and spoke God's love over each child.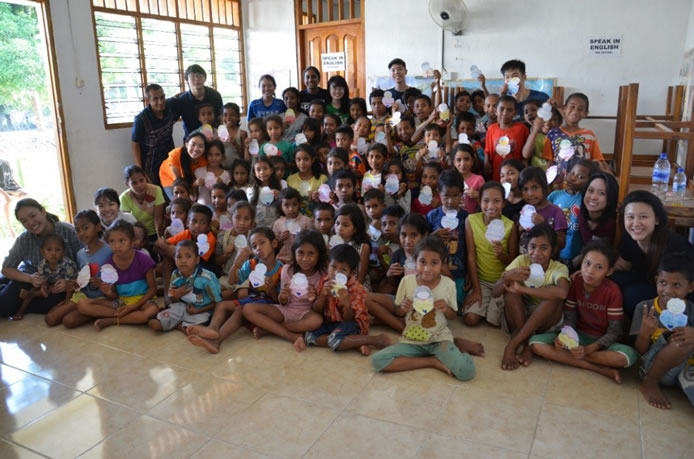 After we ended our programme indoors, we moved out of Dream Centre to play some games with the children. Pastor Catherine took the time to greet each child and as they were moving out, spoke a simple blessing over them. She also handed each of them milk to bless them with physical nourishment.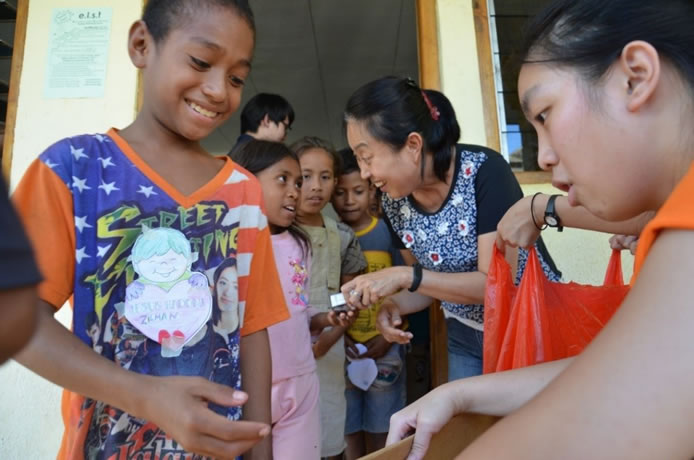 Pastor Catherine interacting with the children
The children had boundless energy and it felt as though the games could go on forever. Through the simple games and activities we carried out, they were engaged for hours and played with such vigour. We were so blessed through our time with them, and this too served as a reminder for us of what it means to have child-like and simple faith when coming before our Heavenly Father. Some of the youths from FYC came to join us too, helping to give instructions in Tetum to facilitate the games for the children.
Fellowship With Youths, 11 June (Day 6)
On our final day in Viqueque, after conducting sports day for a school in the village of Bibileo, we spent the rest of the day back at Dream Centre, where we got the opportunity to interact and fellowship with the youths.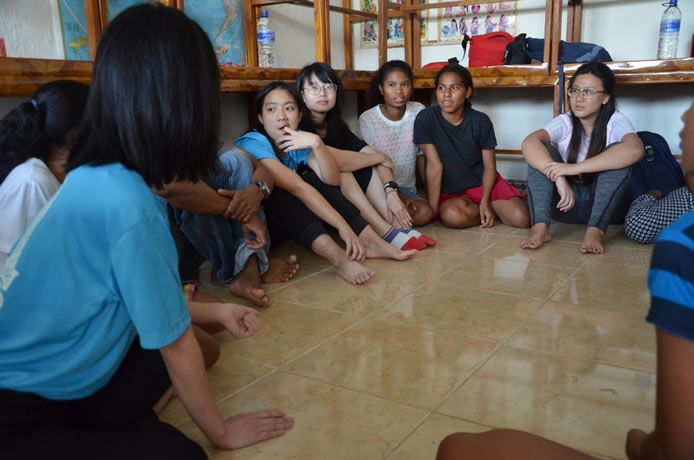 Playing some games and icebreakers through an informal bonding session
One of our team members, Vila, shared a word on trusting God for your needs and believing that God can do miracles in our lives. Each of us then paired with a youth to pray over their lives for a specific miracle they wanted to claim. We spent some time worshipping as well, enthroning Him as Lord in our lives.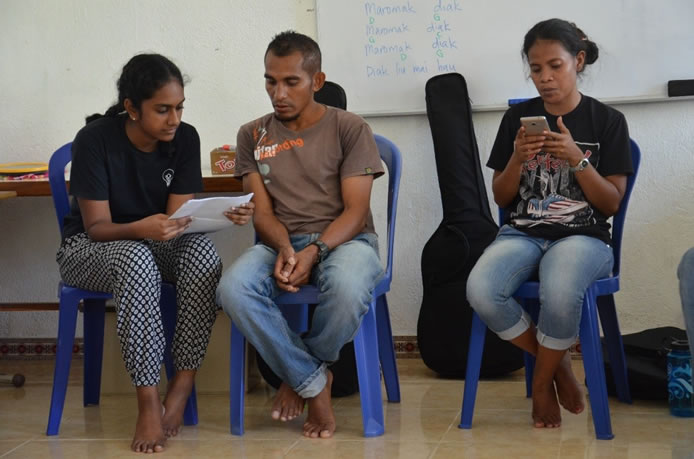 Sharing a simple word with the youths
Saying Our Goodbyes…
That was the last activity that marked our final day in Viqueque and we had bittersweet emotions having to leave. Nonetheless, we were still thankful for the experience we had and even more thankful for God's presence that was with us throughout the trip.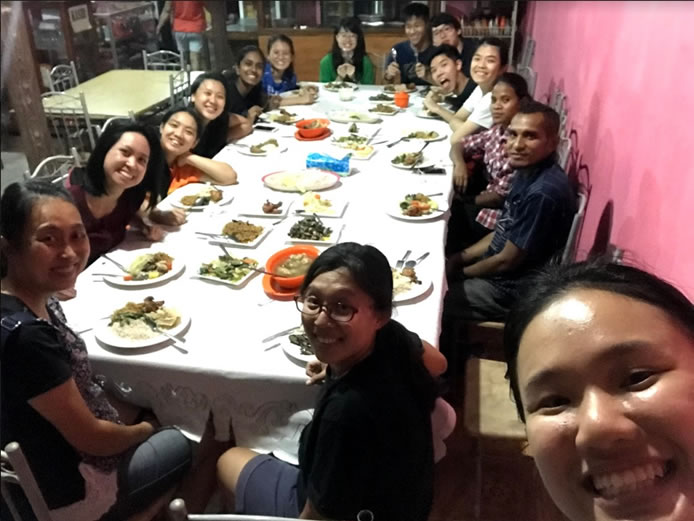 Our final dinner in Viqueque
We travelled back to Dili and bid farewell to our two translators, Abeto and Jihna, who worked tirelessly throughout the trip to help us not only with translation work, but also with logistical preparations and the running of programmes. They were such big blessings to us and we are excited to see how God will continue to use them as ministers in their own rights in the land of Timor.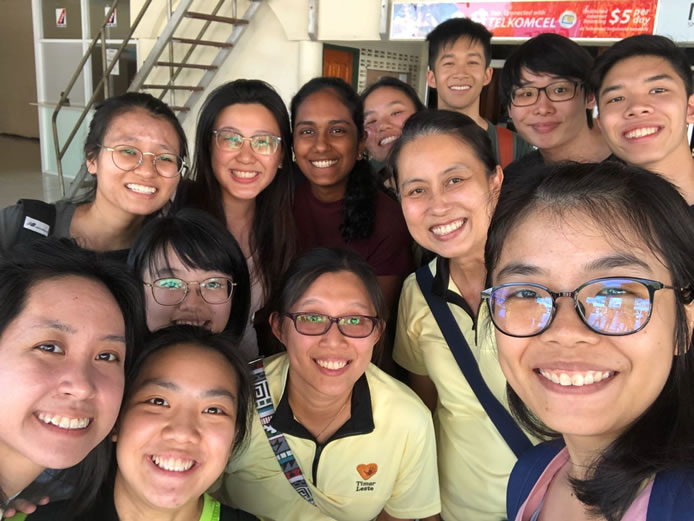 Final photo with Pastor Catherine and Ai Kit at Dili airport
Both Pastor Catherine and Ai Kit were great blessings to us throughout the trip. Teaching us about the culture of Timor; guiding us through the details of our programme and planning; and modelling for us what it truly means to have a servant heart – to love the people that God has called them to love. Even greater than the privilege to serve, was the privilege to learn from these two ladies, and especially from Pastor Catherine, who has been labouring and ploughing in Timor for so many years.
In our group debrief, we spent some time sharing our reflections and one highlight for us during the trip. God loves not only the people in Timor, but He cares for each one of us too! Speaking and ministering to us in our own individual ways. We are thankful that God brought this team together; each with our unique talents, yet working as a cohesive unit to serve and love the people of Timor Leste. We recognise that this is nothing short of God's grace at work in our lives.
As we depart from Timor, we pray that God's good work will continue to abound and He will call more people to plough in this beautiful country that He loves.