by Pastor Loke Mun Tai
The theme of this year's G12 International Conference 2013 was "Breath of Life" and the team went with great anticipation of receiving this breath of life. We were expecting and asking that the Lord would breathe life into our personal lives, our families, our ministries, our church – FCBC, our nation – Singapore and the entire world.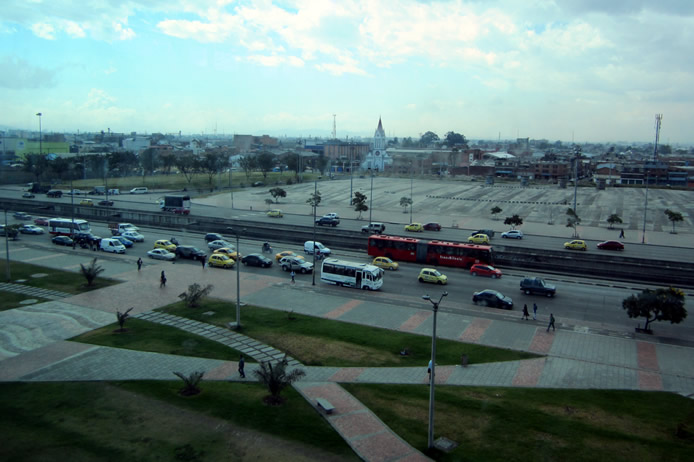 Beautiful city of Bogota
True to His promises, throughout the five-day Conference, the team received greatly in our spirit, despite the physical tiredness that came from jet lag.
Pastor Orlando Castellanos shared on the topic of "Awaken To Your Calling" taken from Acts 20:7-9. This passage talks about a man named Eutychus, who was a committed Christian. As Paul gave important instructions to the people, Eutychus fell asleep and from the window he was seated, to his death. Like many of us in FCBC, we may love God and the church, yet when it comes to our calling, we fall into slumber.
Pastor Orlando Castellanos then shared that in order to take the church to the next level, it is important that we awaken and take on our responsibilities – to work hard in the G12 Vision and reach out to the lost. We also need to awaken and be focussed – fully and unwaveringly committed to the G12 Vision. Finally, we need to awaken and not surrender – go the extra mile to carry out the G12 Vision in alignment with our leaders, and not give up even when setbacks come along. 
Pastor Cesar Castellanos followed by sharing on "Receiving Life By Faith" taken from Romans 4:17-22 on the life of Abraham. He shared that firstly, Abraham recognised God's kairos timing and was not limited by his physical age. He was 75 years old when God told him to leave his country to fulfill His calling, yet Abraham recognised that as God's timing for his life.
The next lesson we learnt from Abraham was how he claimed God's promise by faith. Though Sarah was barren, and Abraham did not have an offspring yet, he claimed God's promise as seen from Genesis 15:5-6 (NIV), "He took him outside and said, "Look up at the sky and count the stars—if indeed you can count them." Then he said to him, "So shall your offspringbe." Abram believed the Lord, and he credited it to him as righteousness." 
Abraham also had great enthusiasm. Even when faced with difficulties and obstacles, he did not allow discouragement to enter his life. Instead, Abraham chose to persevere on and conquered in God, as seen in Romans 4:19 (NIV), "Without weakening in his faith, he faced the fact that his body was as good as dead--since he was about a hundred years old--and that Sarah's womb was also dead."
Through the lessons from the life of Abraham, we learnt that faith is the way to see the multitudes reached and attain our destiny in the Lord. We need faith, to be still and trust in God's timing, and we need to persevere till we see FCBC grow and Singapore impacted.
From the sharings of the various pastors throughout the five-day Conference, we found that the struggles we were facing were similar to what Mision Carismatica Internacional (MCI) experienced. Yet they chose to press on in the G12 Vision, resulting in the fruit today. We also learnt that our destiny is found in our cells, and in order to bear fruit in the different areas of our lives, we must be committed to the G12 Vision and our cells.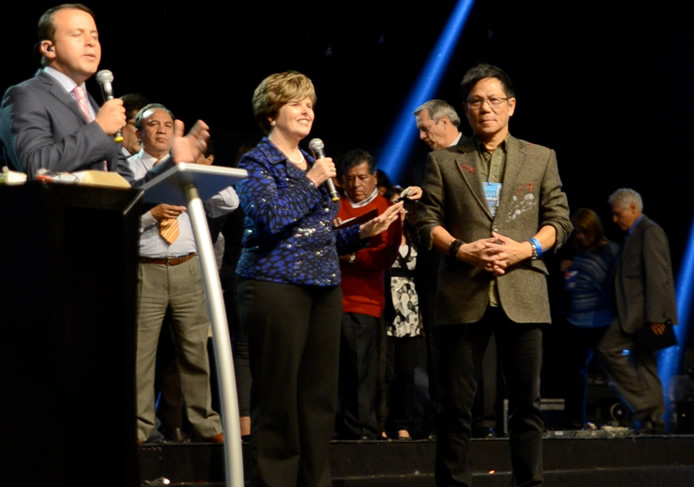 Prophetess Cindy Jacobs with Senior Pastor Lawrence Khong
Another impactful moment at the Conference was witnessing the reconciliation between the churches of Bogota. Senior Pastor Lawrence Khong, together with Prophetess Cindy Jacobs, facilitated this reconciliation as they prayed for a spirit of unity over all the churches of Bogota. What once seemed impossible, was orchestrated and brought to fulfillment by God at this Conference! It was truly mind boggling and miraculous how God could use Senior Pastor Lawrence and the LoveSingapore Movement in this kairos moment, and we believe that with this renewed spirit of unity, revival will come upon the nation of Bogota. The team would also like to bring this spirit of unity back to FCBC, as we believe that with unity, greater revival will come to FCBC, and through FCBC to the nation of Singapore and the world.
The team also had the privilege to speak with one of Pastor Lorena Castellanos' 12, Nelly, who was also our guide. She shared how she spends two hours praying each day, in spite of being a working mother. Although she gets barely four hours of sleep each day, she does not view praying as a struggle, as by God's grace, she has strength for the day. Time with God is one thing she will never compromise. With humility, she shared that the success she achieved in her ministry – birthing 40 new cells in two years, came from prayer where she found dependence in the Lord. Through her, we saw the power of prayer and realised that to accomplish the impossible, we have to rely on God alone.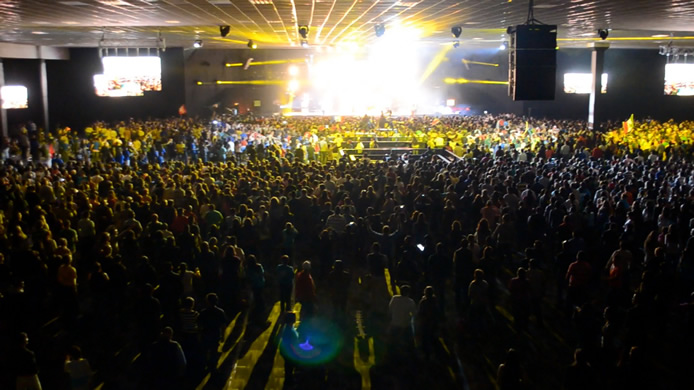 The Multitudes
At the G12 International Conference 2013, the Lord breathed new life into our hearts and minds, and we recognised that upon receiving this breath of life, we need to bring it back, such that the dry bones in FCBC and Singapore will be revived!
In faith, we claim the vision written in Ezekiel 37:5-6 (NIV),
"This is what the Sovereign Lord says to these bones: I will make breath enter you, and you will come to life.  I will attach tendons to you and make flesh come upon you and cover you with skin; I will put breath in you, and you will come to life. Then you will know that I am the Lord.'"