Day 1 – Yokohama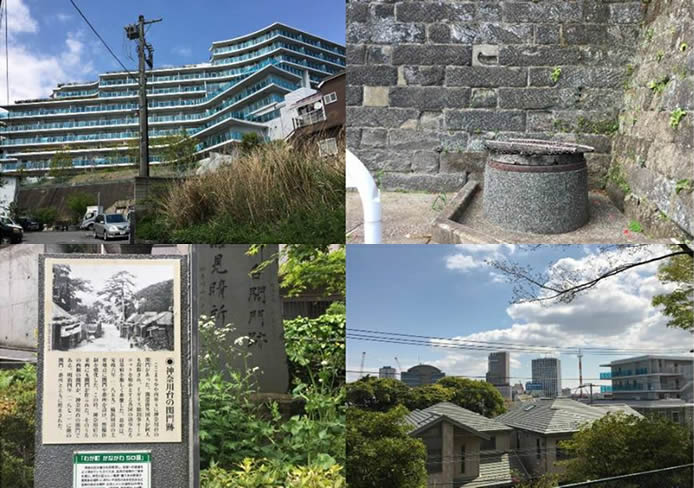 We arrived at Haneda International Airport and checked into Hotel MyStays. We first visited FCBC Yokohama and met with Pastor David from Kesennuma, Rose (interpreter), Shizuko-san and Ryutaru-san (Japanese couple), and Yee Hoon (Singaporean). Pastor Caleb shared about how God divinely provided the new church premise through the help of Esther, a Singaporean working in Yokohama. This premise is an office space above a Christian bookstore. Our team split into two groups to do spiritual mapping and prayer walking around the vicinity of the church.
Observations
One team prayer walked on the right side of the church building and came across an old covered well which depicted spiritual inheritance. A map that showed the history of the surrounding area told us that this place was a historical checkpoint, which dated back to the Edo period in the 1600s. It was a place where foreigners stayed and were checked. In the days of Tokugawa, Christianity was banned and Christians were persecuted. In its place now is a big and beautiful condominium. At a driveway to the condominium, we declared Psalm 27 – "The Lord is our (Japan's) light and salvation, whom shall I fear (no one)!" We saw a spiritual centre where there was a word about peace. Indeed people need to find true peace, which is found in Jesus (Prince of Peace) and true unity, like us (this LoveJapan team), disciples of Jesus who love one another. We prayed that God would bless this neighbourhood including the North Koreans who worked in the building directly opposite our church. We spoke peace upon them and that God's purpose for North and South Korea would be done. Just as the Great Revival of 1907 in Pyongyang, we declared that revival would happen both in Sendai (1 million people) and Yokohama (3.7 million people). We stood at a high point to pray for God to impact the marketplace sectors in the vicinity of FCBC Yokohama.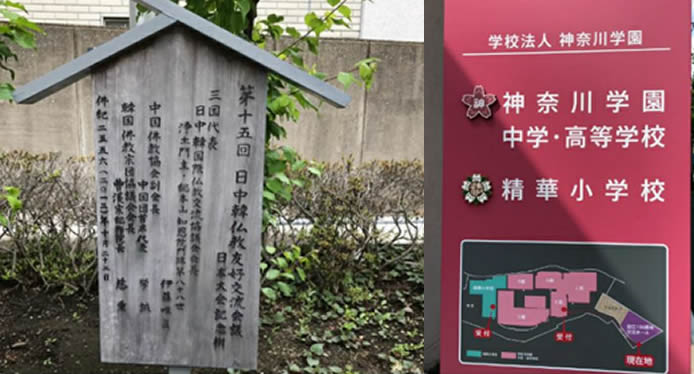 The other team prayer walked on the left side of the church. In the vicinity was a Japanese elementary and high school, and just behind FCBC Yokohama was a building dedicated to Buddhism. We prayed for protection for Yokohama amidst the current North Korean nuclear threat. We prayed for opportunities to reach out to children and youths in Yokohama. We declared that the church will be a lighthouse to those in darkness and an outreach centre to the next generation.  
With the onset of spring, we were intrigued with the beautiful cherry blossoms and fruit trees budding with olives, gingko, oranges and plum. As Yokohama is fertile and fruitful, we declared that the spiritual ground would be soft and yield good fruit.
Day 2 – Yokohama
We prayer walked and discovered Yokohama Kaigan Church (founded in 1872). The first pastor was Rev Ballagh who arrived in Yokohama with his wife in 1861 as one of the earliest Christian missionaries, after studying at New Brunswick Theological Seminary. Rev Ballagh encountered considerable difficulties in his initial missionary activities in Japan. He and his 11 Japanese disciples established the first Protestant Church for the Japanese. In 1872, Christianity was still banned by the government and was virtually unknown to most Japanese. But towards the end of 1871, a few Japanese who developed personal contact with Christian missionaries in Yokohama started to gather on this site for daily prayer meetings. After four months of earnest and unceasing prayer, Rev Ballagh stood up one day and read from Isaiah 32:15 – "till the Spirit is poured on us from on high, and the desert becomes a fertile field, and the fertile field seems like a forest."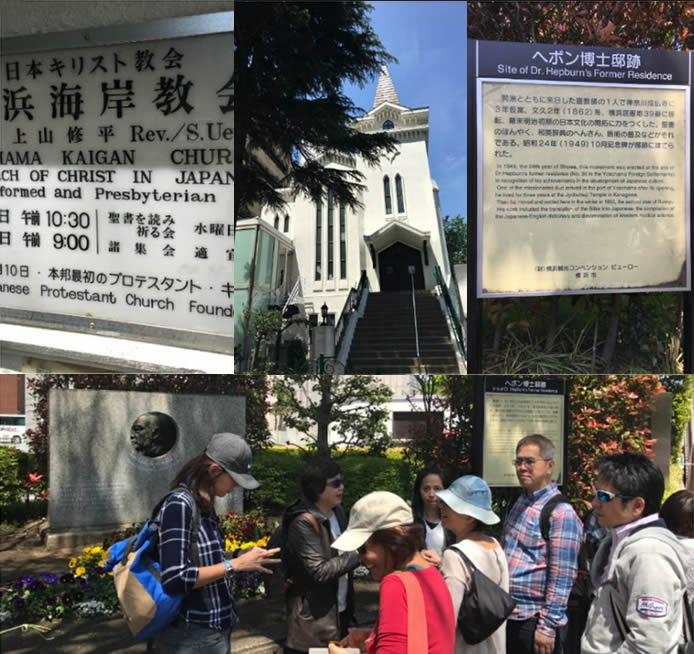 This marked the beginning of this church, and this occasion is still remembered as the Pentecost in Japan. The faith in our Lord has remained with this church since then. Even during the Second World War when Christians were put under severe suppression and persecution, the weekly worship was maintained without interruption by God's grace. The total number of Japanese who have been baptised at this church amounts to no less than 6000 since its establishment in 1872.
God's manifested presence was strong during our debrief session as we worshipped Him with "Let Your Glory Fall In This Place" and "Divine Exchange". The Holy Spirit released seamless rhema words through us as we declared God's anointing on the Yohohama team. We prayed for Samuelle Soong, a Christian singer-songwriter born in Korea and raised in Japan, to have an impact in the Japanese music industry.
Day 3 – Sendai
We took the JR train from Yokohama to Tokyo, and rode the Shinkansen to Sendai.
E-Kids (English for Kids) at Yaotome Community Centre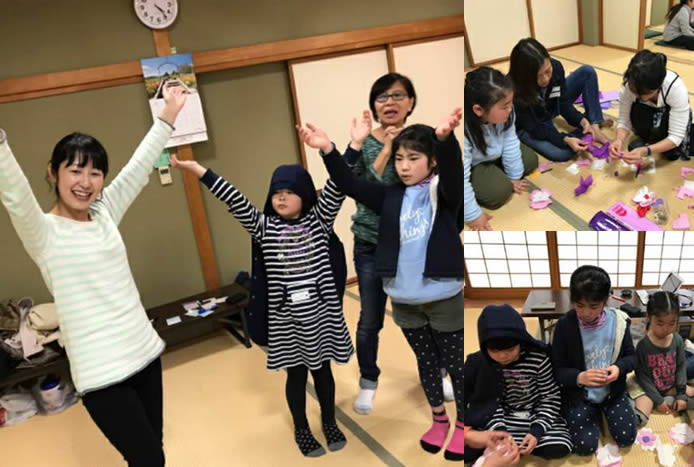 Our interpreter, Yuko-san, teaches English to children between 5 to 8 years old using Christian sing-along videos. We joined in and sang, taught crafts and prayed for the children. We distributed small gifts to the kids and also interacted with the mothers present. E-Kids is one of the platforms to reach out to the community. It is held once every fortnight.
By dinner time, we were famished. Pastors Caleb and Christina brought us to the soba shop on the second floor of the same building as FCBC Sendai. We were so thankful to God for providing yummy soba and tempura for us!
Sendai House Of Prayer (SHOP)
Lai Fong led worship with "赞美主", "How Great Is Our God", "Jesus At The Centre" and "People Need The Lord". Lai Fong also shared her testimony of being a disciple and disciple maker.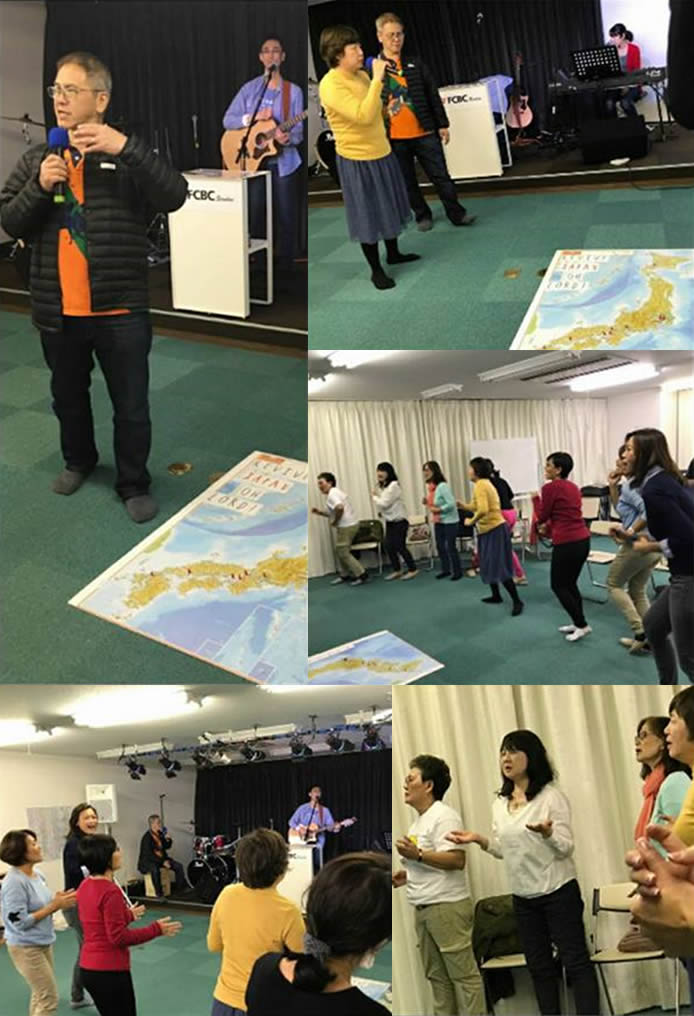 Following that, Pastor Caleb led us in prayer intercession. He laid the map of Japan on the floor and instructed us to walk around it seven times as a prophetic act to break down the walls and to declare victory:
Wall of alienation – between God and man, and within the family
Wall of oppression, idolatry and injustice
Wall of silence – that believers would arise to proclaim and share their faith
Wall of poverty – both spiritual and economic
Wall of suspicion
Wall of pride
Wall of prejudice
Pastor Caleb then assigned us into groups of threes to intercede for one another.
Day 4 – Sendai
Prayer Walk (Historical and Cultural Observation)
We visited the Christian Martyrs' Monument and learned that the Tokugawa Shogunate banned Christianity in 1613, and by 1620, persecutions of Christians began to be seen in the fief of Sendai. In the winter of 1623, a Portuguese priest named Dioge de Carvalho and eight Japanese men were arrested in the Ou Mountains and sent to Sendai. They were half-sunk in the freezing water of the Hirose River. Two of them drowned on the last day of the year and the rest died near where the Ohashi Bridge now stands on 4 January, 1624.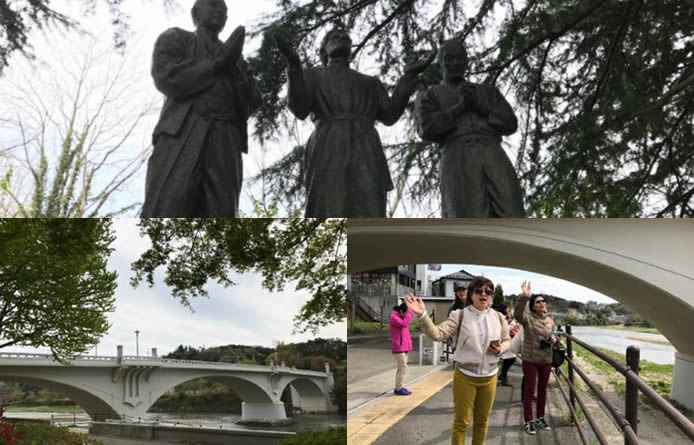 We declared Isaiah 32:15-18 over Sendai – "till the Spirit is poured on us from on high, and the desert becomes a fertile field, and the fertile field seems like a forest. The Lord's justice will dwell in the desert, his righteousness live in the fertile field. The fruit of that righteousness will be peace; its effect will be quietness and confidence forever. My people will live in peaceful dwelling places, in secure homes, in undisturbed places of rest."
We prayed 2 Kings 2:20-22 over the Hirose River, that its water may be made pure – "'Bring me a new bowl,' he said, 'and put salt in it.' So they brought it to him. Then he went out to the spring and threw the salt into it, saying, 'This is what the Lord says: "I have healed this water. Never again will it cause death or make the land unproductive."' And the water has remained pure to this day, according to the word Elisha had spoken."
We prayed on the hilltop for Sendai. Sendai was the closest major city to the epicentre of the earthquake on 11 March, 2011. The tsunami devastated the city's coastal outskirts but did not cause major damage in the city centre. The huge statue of the goddess of mercy (Sendai Daikannon) is visible from the hilltop. It is 100 meters tall.
Day 5 – Sendai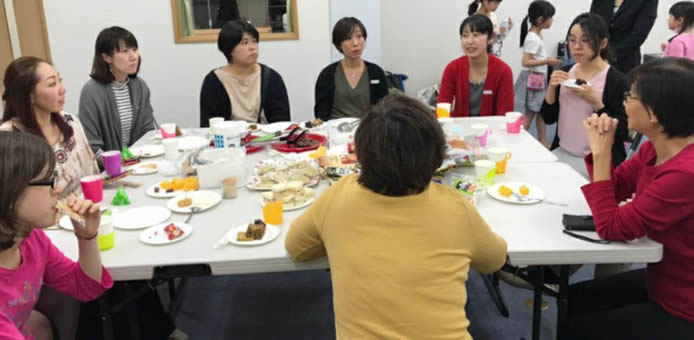 In the morning, we baked banana cake and brownies, and prepared chicken and egg sandwiches to host the ladies tea party at Dream Centre. We had fun icebreakers with our new Japanese friends at the tea party. We shared about our favourite fruits and hobbies while our guests enjoyed the yummy tea snacks. Hweena shared her testimony on how she was granted favour to join this mission trip and how God extended her part-time job to a full-time one.
Day 6 – Sendai
In the morning, we prepared food for 60 people. The menu included Kazakh chicken stew, beef tacos and sea coconut jelly dessert.
In the afternoon, we participated in the English Circle, where we read scripts with English learners and role-played the parable of the Prodigal Son.
Evening came and it was time for FCBC Sendai's church service. Pastor Caleb screened a video on affection in the series called "Be A Hero To Your Kids – The Six A's Of An Effective Father". Ellen then shared her testimony on parenting children with the five love languages. Pastor Caleb was prompted by the Holy Spirit to line up the men and women in front of him. Together with Pastor Christina, they gave each person a hug. Many members and visitors were visibly touched by the affection shown.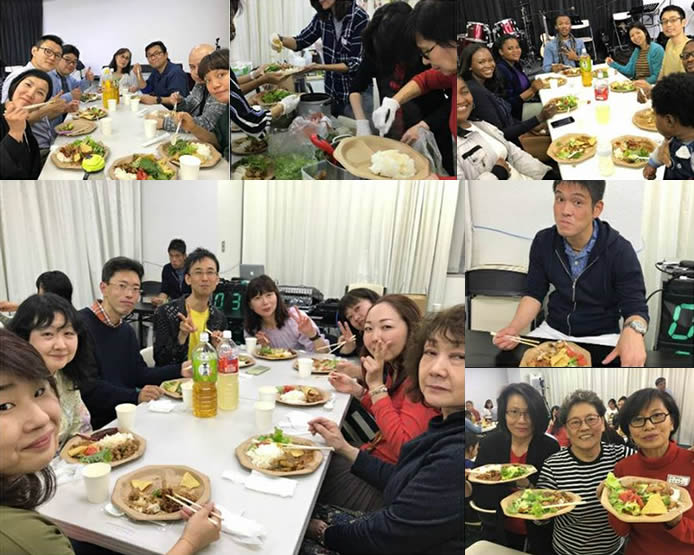 After the service, everyone enjoyed the food we had prepared with love.
After dinner, it was time for our "Musical Night". Everybody danced with delight to the tune of "By The Rivers Of Babylon" led by "Sister Acts" from Singapore.
We were then treated to a night of rhapsody by Cho Kosaka, who belted out gospel songs in English and Japanese.
To wrap up the evening, Nira shared a powerful testimony of how the Lord set her free from a gambling habit and a life of debt to a transformed life of giving and stewarding clients' money.
It was truly a night of fun and entertainment that everybody will remember for a long time!
Day 7 – Yokohama
Back to Yokohama we went for the afternoon service.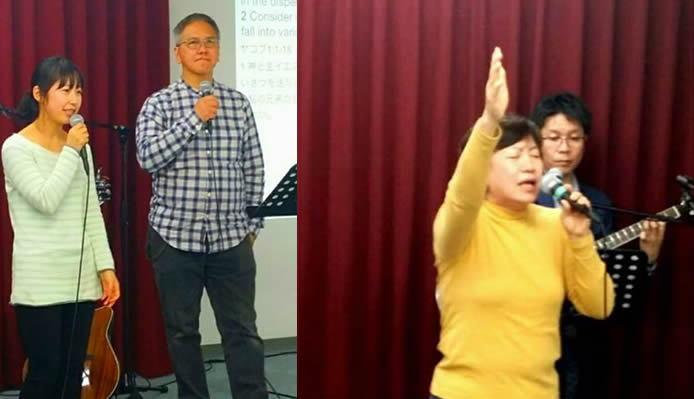 Pastor Christina led worship and Lai Fong led all to sing "赞美主" and dance to "When The Spirit Of The Lord Is Within My Heart". Pastor Caleb shared a timely word from James 1:1-18.
"Blessed is the one who perseveres under trial because, having stood the test, that person will receive the crown of life that the Lord has promised to those who love him."
Newcomers were welcomed. We witnessed the power of the Holy Spirit as we prayed and ministered to the members and new visitors.  
Anne shared a candid testimony of her difficult childhood and God's abundant financial blessing in her career. 
Day 8 – Tokyo
Team Bonding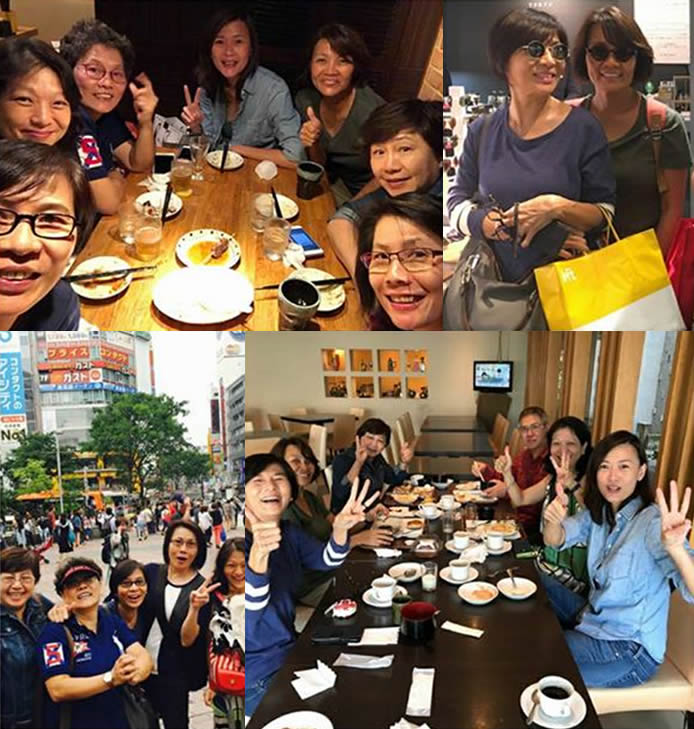 Everyday they pass me by,
I can see it in their eyes.
Empty people filled with care,
Headed who knows where?
On they go through private pain,
Living fear to fear.
Laughter hides their silent cries,
Only Jesus hears.
People need the Lord, people need the Lord.
At the end of broken dreams, He's the open door.
People need the Lord, people need the Lord.
When will we realise, people need the Lord?
We are called to take His light,
To a world where wrong seems right.
What could be too great a cost,
For sharing life with one who's lost?
Through His love our hearts can feel,
All the grief they bear.
They must hear the words of life,
Only we can share.
People need the Lord, people need the Lord,
At the end of broken dreams, He's the open door.
People need the Lord, people need the Lord.
When will we realise that we must give our lives,
For people need the Lord.
Day 9 – Yokohama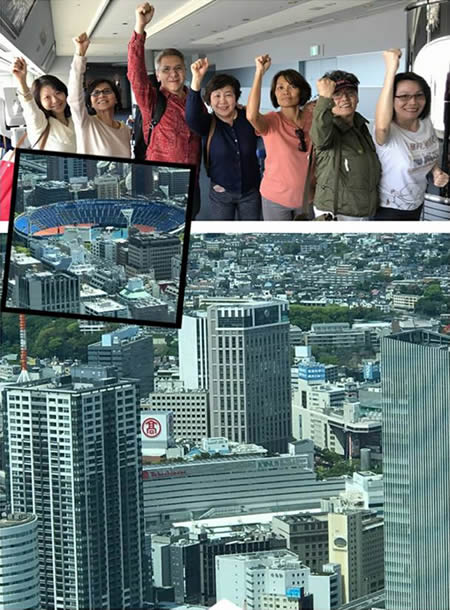 We visited the Landmark Tower and the bay area to pray over whole of Yokohama.
Psalm 24
"The earth is the Lord's, and everything in it, the world, and all who live in it; for He founded it on the seas and established it on the waters. Who may ascend the mountain of the Lord? Who may stand in His holy place? The one who has clean hands and a pure heart, who does not trust in an idol or swear by a false god. They will receive blessing from the Lord and vindication from God their Saviour. Such is the generation of those who seek Him, who seek Your face, God of Jacob. Lift up your heads, you gates; be lifted up, you ancient doors that the King of glory may come in. Who is this King of glory? The Lord strong and mighty, the Lord mighty in battle. Lift up your heads, you gates; lift them up, you ancient doors that the King of glory may come in. Who is he, this King of glory? The Lord Almighty— he is the King of glory."
We declared that Yokohama stadium would one day be filled with people attending the G12 Asia Conference.
Finally, it was time to return home. We headed to Haneda International Airport and arrived safely in Singapore at 11pm.
REFLECTIONS
Words can't sufficiently describe this experience. We were excited for Japan, we sensed an open heaven there. We were touched by God's love for the nation. We felt the awesome presence and glory of the Holy Spirit whenever we came together. We worked together as a team – there was no such thing as a person's job; everything was our job together. We saw and were inspired by the hard work and dedication of Pastors Caleb and Christina and their team. We loved, served, ministered, learned, received and laughed so much. Whoever thinks that Japan is not a go-to place for mission, I challenge you to join a LoveJapan trip. It is one life-transforming, heart-changing, spirit-stirring experience. I am thankful for this opportunity and look forward to my next one.
Nira Tanoko

While language is a constraint, it is more than compensated by the freedom to flow with the Holy Spirit, the partnership in love and unity of the team. We came, we saw and we participated in the works of God in Japan. We will be back!
Nira – thanks for being such an inspiration and an excellent leader, you have always been
Anne – thanks for bringing so much laughter and the abalone porridge 
Hweena – thanks for always smiling, always looking out for those in need
Ellen – thanks for being ever ready to impart faith and to minister with such enthusiasm
Lai Fong – thanks for always stopping to smell the flowers, to capture the moments 
Yuko and the team in Sendai and Yokohama – thanks for partnering us and making our trip a memorable one
Pastors Caleb and Christina – thanks for allowing us to experience the unconditional love of God in and through you, and for simply believing in us
Heavenly Father, thank You for putting together such a beautiful team! Not forgetting the cherry blossoms You reserved for us and the garden full of flowers  We were super blessed!
Georgina Woo
Japan is a beautiful land with beautiful people who are gentle and polite, always ready to serve. The weather is beautiful and food is good. God loves the Japanese. We can see His hand again and again drawing near to people there. I see the love in the hearts of our pastors. The love, unity and obedience in the team. Each time the pastors changed programme, the reply is always "yes, sure".  Even when we were pressed for time, my sisters kept their cool. Every dish, meal and activity was prayed over and delivered in love. Thank you God for giving us the privilege to be Your vessel, and thank you Holy Spirit for partnering us throughout the whole journey. I thank God for everyone who took time to make this trip possible. 
Ng Hweena
I have learnt much on this trip. I saw the beauty of teamwork, helping each other tap on their strengths, praying, worshipping and ministering in one spirit. And of course, having fun, eating together and laughing at some of our blunders and bloopers.
Anne Chng 
Prayer walking and spiritual mapping took on a whole new experience for me. As we walked and surveyed the land, I realised God had raised people in the past to sow seeds of the gospel and those people even gave their lives as martyrs because of their faith. There are many emotional needs in Japan. People are lonely, outcast, fearful and purposeless. There are many avenues where these needs can be met. Only Jesus can give them a future and a hope. Japan needs labourers. Lots of them. To share the good news so that they too can encounter Jesus and experience the joy of the Holy Spirit. I witnessed firsthand how Pastors Caleb and Christina worked relentlessly to cultivate friendships and invite people into their oikos. They need extra hands and willing hearts to run interest groups and Dream Centres in Sendai and cell groups in Yokohama. Truly, Japan is ripe for the harvest. Let's ask the Lord of the harvest to send in the labourers.
Ellen Leong
God showed me in this LoveJapan mission trip the power of: 
Forming a team. He gathered us so the members in FCBC Sendai and Yokohama could see the Vision of G12 at work, authenticated by the team formed by Pastors Caleb and Christina. 
Fun as a language. We had so much fun working as a team and God used us to bring fun to the Japanese. Fun melted ice instantly and we could connect with the people, breaking our language barrier. 
Holy Spirit our companion. He made work easy and light in everything we did. God imparted faith in and through us when we ministered to the people. God revealed and released words for us to pray as we walked the land. We trust that there is a change in the spiritual atmosphere in FCBC Sendai and Yokohama.
Testimonies are fragrances of God. Each one carried an amazing story God wrote in us to inspire others. I caught the meaning of "Thanks be to God who always leads us in triumphant possession. Through us, spread the fragrance of the knowledge of Christ everywhere."
Unique experience installed for everyone. I have gained so much, especially a new understanding on Japanese heritage and culture. Japan is indeed a desert in need of springs of living water. They need the Holy Spirit to reveal their true identity.
I encourage many of us to join the LoveJapan team to experience firsthand the joy in sharing what we have here with those in Japan. When we refresh others, we ourselves are refreshed.
Leong Lai Fong 
A Word from Pastor Christina
Dear LoveJapan Team,
What a wonderful blessing each and every one of you have been to Pastor Caleb and I. We enjoyed the time at work and rest thoroughly. We appreciate all your hard work and your spirit of excellence and enthusiasm!   I cherish the time you spent here and walked the land. Greater things are yet to come! Towards the 2020 Olympics in Japan! 
"Expect great things from God and attempt great things for God." - William Carey