21 to 25 November 2016
Head of trip: Pastor Simon and Pastor Marilyn
Members: Chun Han and Serene, Sam and Lisa, Eadwine and Jen
Our resident marriage expert, Pastor Simon Yee, conducted his annual international Marriage Encounter Weekend in Medan, Indonesia, together with Pastor Marilyn Yee and three other couples. Over the years, we've received many reports of how the Marriage Encounter Weekend has made significant positive impact and brought about transformations in marriages both locally and abroad. This year, 20 couples from Elim Church and Elim Karos Church were the beneficiaries. We're happy to know that through this encounter, not only were the couples who attended blessed, but also the couples from Singapore who served. Below are the experiences of two members of the team – Jen Tey and Lisa Wong.
Personal Reflection by Jen Tey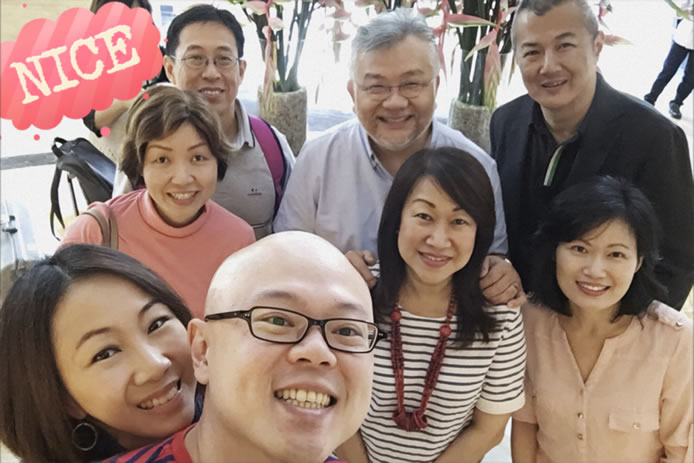 It wasn't long ago that I was excitedly looking forward to the trip to Medan, seeing both pastors at work and serving alongside t­wo other couples. The five days came and went in a flash; as always when we're having a good time and in good company.
Day 1
The moment we touched down in Medan, we were greeted by Pastor Ezra and his wife Pastor Janice, who came from Berastagi (Elim Karos Church), and their friends Mr Foong and his spouse Indah. These were the familiar faces that accompanied us throughout the trip. If there is only one takeaway from this trip, it would be the sincere generosity of our hosts, who always went the extra mile, making sure we were well taken care of, especially in the area of food. I do not recall any one moment our team or I went hungry : )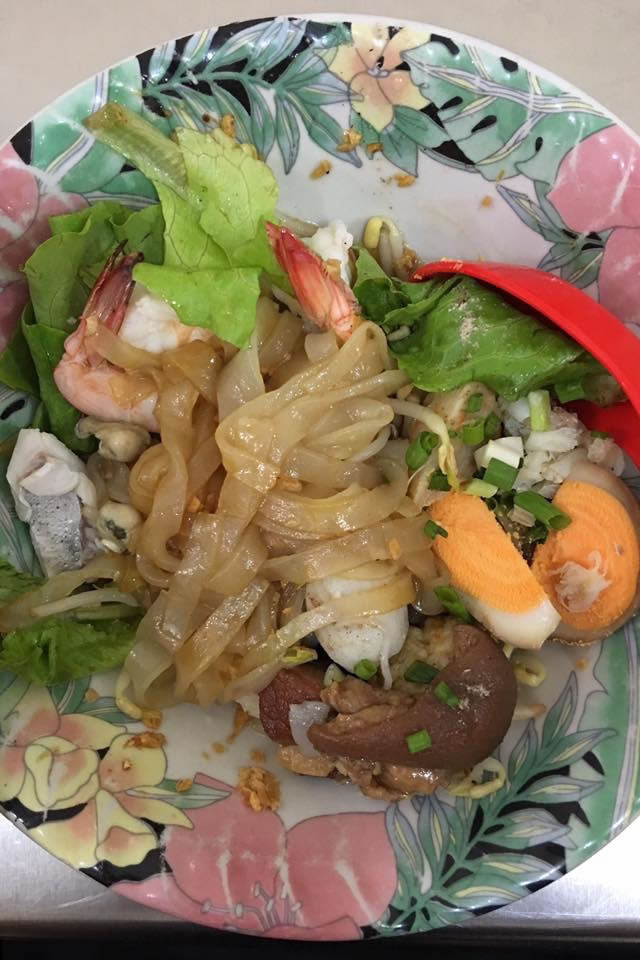 Unarguably the best noodles I have eaten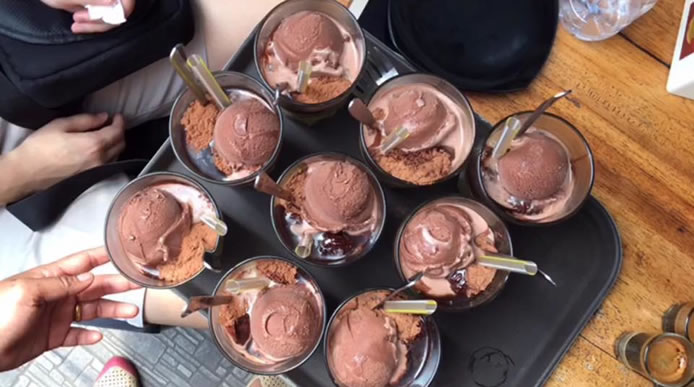 They call this Avocado Coffee, topped with a heaped spoonful of milo powder
In the same evening, we met with about 24 leaders of Elim Church, hosted by Pastor David, the senior pastor of the church. While the initial intent was to share with them on G12, Pastor Simon had a sudden download from the Lord to instead preach on the story of Jesus and the Samaritan woman at the well, sensing the crowd was not prepared to receive the message on G12. It brought me back to this verse:
"'For my thoughts are not your thoughts, neither are your ways my ways,' declares the Lord. 'As the heavens are higher than the earth, so are my ways higher than your ways and my thoughts than your thoughts." (Isaiah 55:8-9)
Indeed God is alive in us; while we may have our plans, God is the one who eventually controls the steering wheel, and our job is simply to obey.We all know the story of the Samaritan woman. The key message Pastordelivered is this: "We need the well in order to be well." Only God can quench the thirst in us, not theworld. The leaders need to draw from God, the source and well again before they can pour out to otherlives.
Pastor ended the session by prophesying over the Singapore team and the leaders of Elim church. On a personal note, I was deeply touched by the prophesy over Eadwine and myself that we will have a baby of our own. Not only did we receive the blessing once, but trice. The second time by Pastor Janice; while having her devotion the following morning, she was led to Genesis 18 and remembered us. She declared the promise of God over Abraham and Sarah over us, and prophesied by the same time next year, we will have a baby. The presence of the Lord was strong right there at the hotel lobby, and my tears couldn't stop flowing. The final time was by Pastor Ezra; he prayed over us at the end of Marriage Encounter, again to receive the blessings of a baby. Like a sponge, I was just absorbing in these promises, by faith and faith alone. My heart waits in anticipation and excitement of what is to come.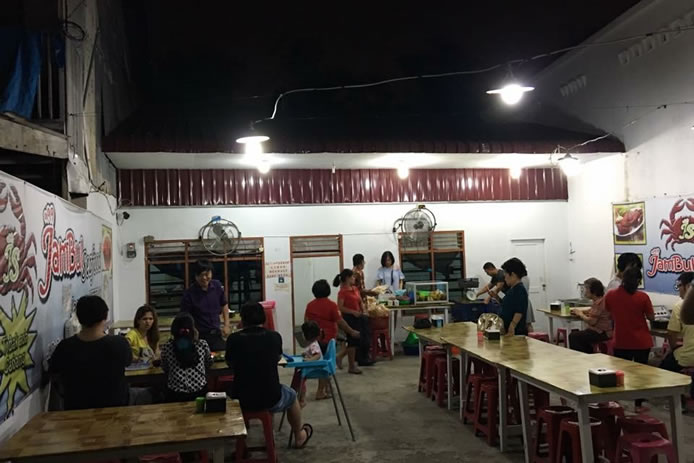 Day 2
Back at Elim church in the morning, Pastor met with the leaders of Elim Karos Church (Berastagi) for the first time to share his heartbeat on G12, reiterated the purpose and importance of being a G12 church. This matters because the session will set the direction Elim Karos heads towards, as well as order in the church before they grow larger. The leaders were urged to work as a team, not individuals, and to submit to leadership. They were reminded of their stewardship, that God's people are an entrustment they have been given, not ownership.
Using the story of the paralysed man and his four faithful friends, Pastor taught they should never give up in the face of circumstances and trials, but constantly find creative ways to overcome them, not forgetting the main ingredients of commitment, willingness to pay the cost and comradeship necessary to make things work, just like how the four friends went through extreme measures to ensure the paralysed man met Jesus.
The session also provided a platform for the leaders to discuss, pose questions and share their struggles in the midst of implementing G12. At the end of the session, I sensed and saw the change in the atmosphere and facial expressions of the congregation – the renewed confidence and passion to carry on the call again.
Day 3
Day 3 marked the first day of Marriage Encounter. We had a time of prayer prior to the commencement of the session, and immediately, I felt my spirit lifted.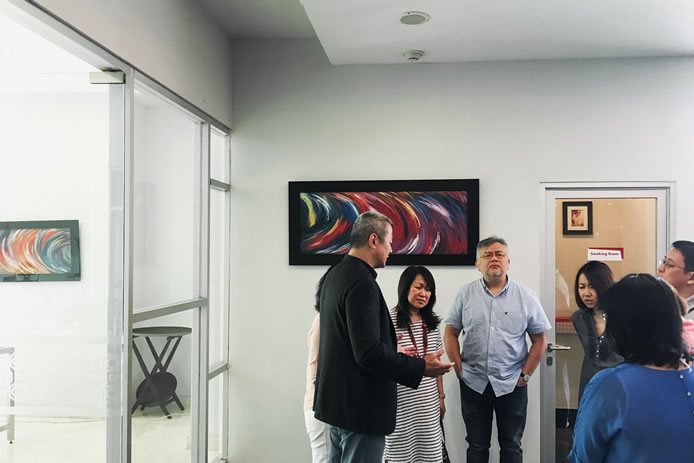 There were about 20 couples in the house, of varying age groups and backgrounds, but all came with one purpose in mind: To encounter God in their marriages. It did not take very long before ice was broken and guard was down in the new environment.
It was during the "Healing the Couple" session; Sam and Lisa were invited to share their powerful testimony on how their broken marriage turned around through Lisa's faithful prayers over the years. Not only did their marriage turn around, God also drew Sam back to him. As they continue on the road of recovery, may they always hold onto the love and grace of God.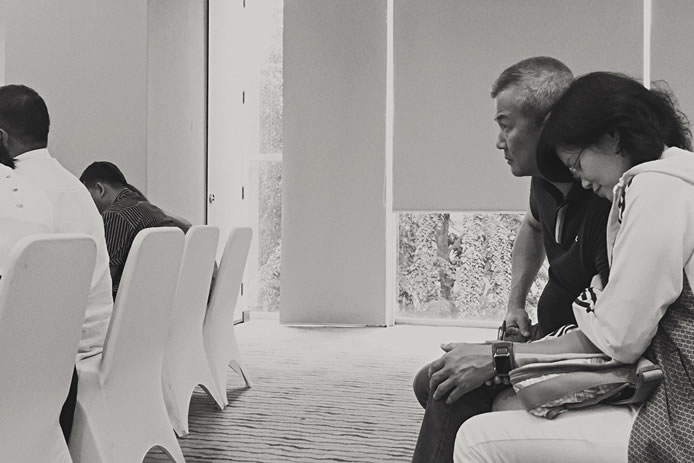 This session kick started the first ministry of Marriage Encounter; the washing of the spouse's feet. Though we were busy handing out pails of water, towels and tissues, my heart too was ministered in the midst of the logistics. As feet were washed and tears were shed, the walls between the couples crumbled too. The hugs at the end of the ministry were sweetest to me. I was reminded once more that God remains the foundation of my marriage. With him, I know I can have a fulfilling marriage.

What better way to end the day than with a candle-light dinner. The participants were gorgeously dressed for each other (I felt so under-dressed standing next to them).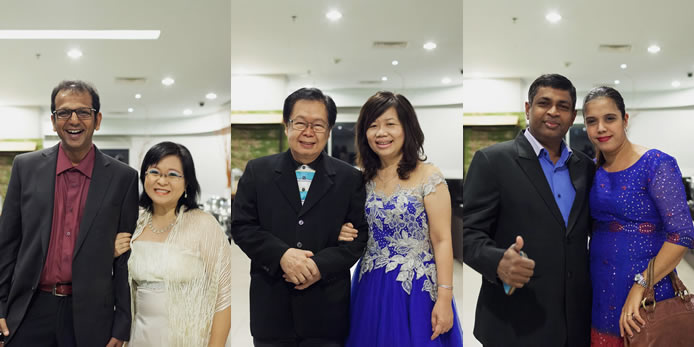 Day 4
Being long-time Christians, many of us seemed to have forgotten how to praise God. Thanks to Pastor, we learned again. Check out these happy faces during praise and worship. Indeed this is how true praise should look like – full of joy.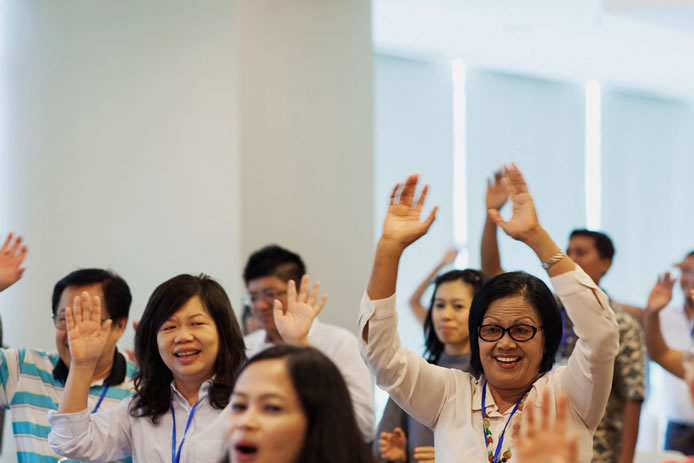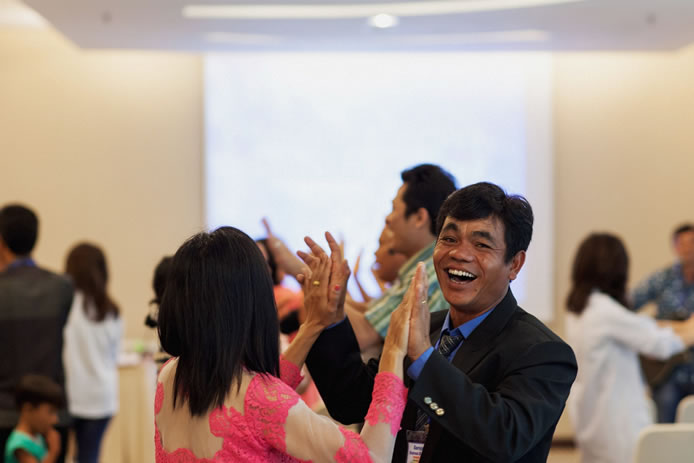 The key highlight for me was probably the moment before the actual session began. Pastor felt led to pray for both senior pastors of Elim and Elim Karos church for a time of reconciliation. It was a moment of surrendering all past offenses to God, releasing and receiving forgiveness, and choosing to reunite as fellow brothers and sisters in Christ. God is good, not only did He intend to work in the lives of the couples during the Encounter, He had the leaders of his people in mind too.

The entire Marriage Encounter came to a close with the exchange of vows and certificate ceremony. Though a short two-day session, I believe the participants have brought home with them at least one precious moment, and to me, that is enough. May this Marriage Encounter, the encounter of God, be the beginning of something beautiful for them in their respective marriages.
I will end off with a quote I am constantly working towards:
"You love your spouse best when you love your Saviour most."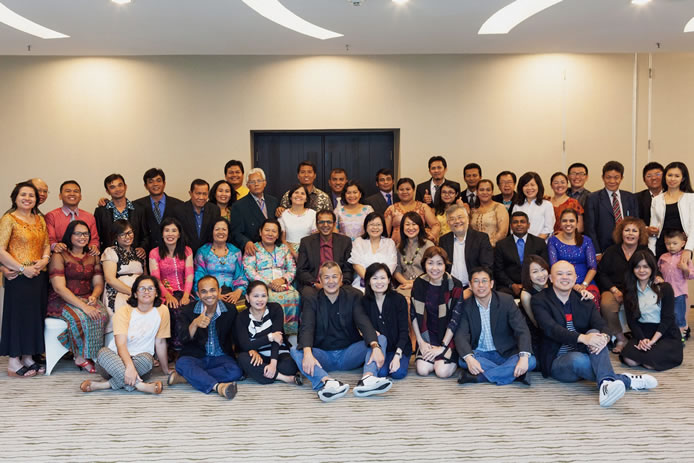 Special thanks to Eadwine, my husband and professional photographer with unbelievable talents (no, I'm not biased), for all the beautiful pictures taken during this trip. Because of you, not just the participants but everyone had something precious to bring home – memories.
Personal Reflection by Lisa Wong
We had a special opportunity to go on a mission trip with Pastor Simon and Pastor Marilyn to Medan. My husband Sam and I really did not know what to expect. We have been seeking God for direction and we felt it was time to "step out" to know what God has in store for us. My husband has been facing many challenges in his work but I was very encouraged to see him put aside everything to go to Medan. He was hungry for an encounter with God and he prepared himself by praying daily for the trip.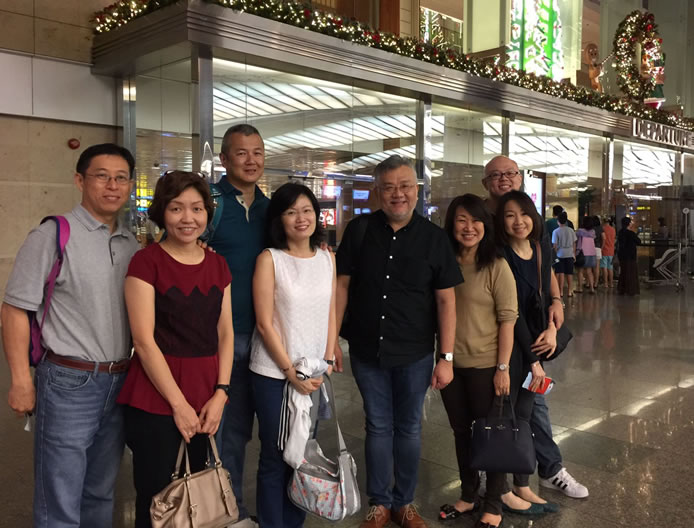 Be A Well
Our first visit was to meet Pastor David and his leaders at Elim Church in Medan. Pastor Simon shared a stirring message to challenge everyone to be a "well".
He strongly urged believers not to be "Convenient Christians" or "Crisis Believers". The former is comfortable and cruises along in the Christian faith while the latter approaches God only in times of trouble. We need to desire to be "Committed Christians" who will love and obey the Lord, regardless of circumstances. Many Christians are defeated as they do not know Christ has given a "well" to them. Like the Samaritan woman, Jesus is offering to give us His "well" of living water. If we have the "well" of Jesus in us, anyone who comes to us for a drink shall be well! 
Pastor Simon also highlighted the power of the testimony of a humble and honest person who gives glory to God. Everyone knew the Samaritan woman was immoral. However they were shocked when she was honest and humble, confessing her sins and giving glory to God for her salvation! And many believed Jesus because of her testimony.
God Is Looking At Our Faith
On the second day, Pastor Simon brought the team to meet with Pastor Ezra's 12 from Elim Kairos Church. The leaders had travelled two hours from Berastagi to come to Medan for the one-day meeting. Though they had travelled a great distance, they received us warmly and were full of energy during worship. Though I could not understand the Bahasa Indonesian worship songs but God's presence was tangibly felt.   
Pastor warned that leaders are prone to give up easily when they encounter challenges. In the story of the paralytic man who was helped by his four friends, we usually focus our attention on the paralytic. Pastor challenged us to consider the four men who broke the roof to bring their paralytic friend to Jesus. Against all odds, they persevered till they came face to face with Jesus. The first thing that Jesus commended was their faith! God is looking at our faith. Without faith, we cannot please Him. (Hebrews 11:6)
During the Q&A session, the leaders voiced their challenges and questions politely. They had implemented G12 for some time and there had been victories and setback. I learned quickly that faith does not mean that everything is a slam-dunk. You need persevering faith to make disciples. Though they'll have to continue to work through the challenges, I believe it was comforting to receive directions and encouragement from Pastor personally.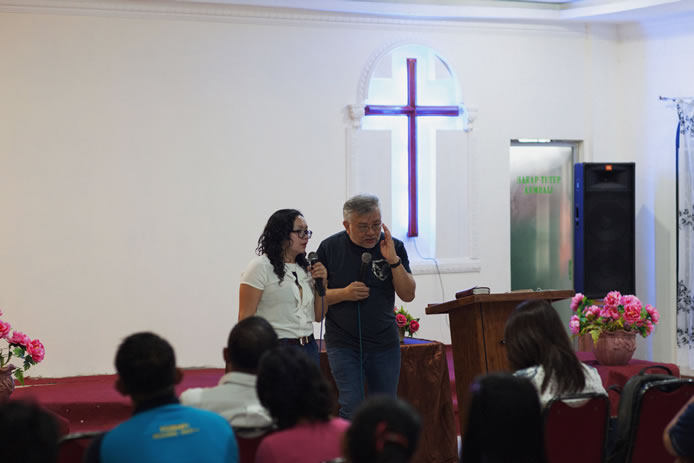 Faith Is Letting Go
For many years, I have desired to attend a Marriage Encounter with my husband. And this year the Lord miraculously opened the door for us to attend the Marriage Encounter in Medan. Before coming to Medan, a brother in Christ had given us a word: "Spirit of Unity".   
It has been a tough journey of faith for my husband and I as our marriage was at breaking point three years ago. We had been married for 19 years and over time we drifted apart and lived separate lives. For many years, we swept everything under the rug and focused all our attention on our children. Faced with a dead end, the Lord took me under His wing and directed me to pray and believe for victory. His word, especially Proverbs 3:4-5, sustained me. And the Lord miraculously restored our marriage through an unexpected twist. All glory to God!
During the Marriage Encounter, the Lord urged me "to let go and recommit" to my marriage again. God has done a mighty work to save our marriage but it does not end there; God wants me to walk in unity with my husband. Being physically together does not mean unity. We need unity in the spirit. As I repented, I felt an invisible barrier being lifted and my heart became alive again. Praise the Lord for the breakthrough!
We shared our testimony at the Encounter. After the meeting, two ladies approached me and shared how they are going through similar challenges. I pray that they too will experience breakthrough, as they place their trust in the Lord. 
"They trusted in You, and were not be ashamed." (Psalm 22:5)
Sam and I also had our first experience praying for the local Christians. I believe the Lord was teaching us to let go and yield to the leading of the Holy Spirit. There was a sense of joy and freedom as we leaned on the Holy Spirit. Praise the Lord!
A New Beginning
On the fourth day, the Lord impressed upon Pastor Simon to invite the senior pastors at the Encounter to pray for one another. It was a prophetic act to break the curse of competition and jealousy, and to birth love, trust and friendship. It was a significant moment when Pastor Ezra prayed for Pastor David to be the father of nations while Pastor Janice (Pastor Ezra's wife) blessed Pastor Naomi (Pastor David's wife) to be a mentor for the multitude of women in Indonesia. Everyone was moved by this incredible breakthrough gesture between the church leaders. We look forward to more churches following their example to unite and establish God's Kingdom in Indonesia. 
"Behold, how good and how pleasant it is for brethren to dwell together in unity!" (Psalm 133:1)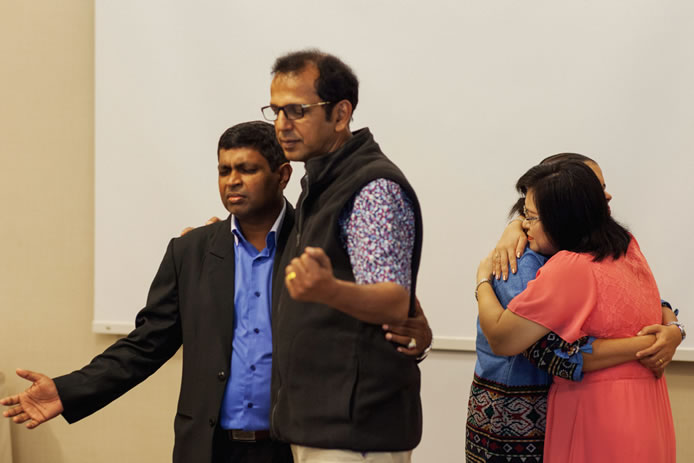 From left to right: Pastor David, Pastor Ezra, Pastor Naomi and Pastor Janice united in prayer
Go And Make Disciples Of All Nations
This trip has truly opened our eyes to see how God uses Pastor Simon and Pastor Marilyn to disciple the leaders of the nations. Pastor shared that the primary task of G12 leaders is to form the character of their 12. I believe it is human nature to resist change. It has to be a miracle of God for Christ to be formed in each of us. 
We are very thankful to God for this opportunity to learn from Pastor Simon, Pastor Marilyn, and the teams from Singapore and Indonesia. Though we were initially new to one another, but the Spirit of God united us with our newfound friends in Medan and Berastagi. We sincerely encourage our brothers and sisters in FCBC to join the mission trips to be a blessing to the nations and to witness the mighty work God is doing beyond Singapore. All Glory to God! Hallelujah!