With the blessings of Senior Pastor Lawrence and Nina Khong, Pastor Simon and Marilyn Yee together with seven couples (Edmund and Mun Lan, Keng Lim and Lai Cheng, Desmond and Julie, Jerry and Margaret, Patrick and Celine, Kenneth and Kim, Clare and Clement) met at Changi Airport at 7.00am on August 16, 2012, all ready to set off to Manila for the Marriage Encounter Weekend (MEW)! Two other couples, Chris and Doris, Jocelyn and Joseph went on August 17, 2012. Altogether there were a total of 10 couples and one child (21 of us) ready to be used by God to serve at the MEW! As Pastor Simon declared, we want to bring the SON (Jesus Christ), as well as the sun, to Philippines!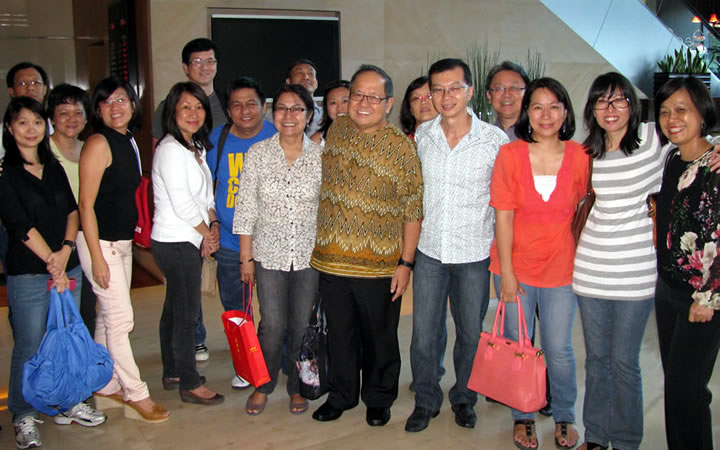 As the plane was approaching Manila airport, the flight was bumpy and there were dark clouds. But when the plane touched down, the sun shone brightly as we were warmly greeted by Pastor Vicky and her team, dispelling all our anxiety and fear from the negative reports that we read before coming. By God's grace, we have indeed brought in the sun! A new level of faith arose within us as we trusted God and believed that He will use each of us mightily in this MEW! After checking in to the luxurious Crown Prince hotel, the team had a high tea buffet with our Philippines host at a shopping mall! It was a restful and relaxing day for the team on the first day.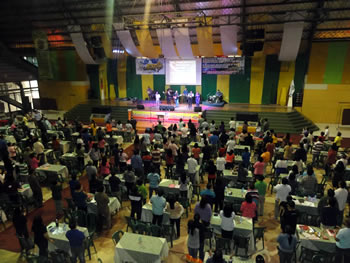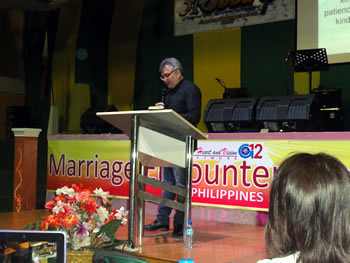 On the second day, the MEW began. There were 250 couples that attended the MEW. Pastor Simon taught the couples on six lessons on the first day. Before each session commenced, our Singaporean couples shared their testimonies. There was never a dull moment as our humourous pastor delivered his lessons, capturing everyone's attention as he preached his heart out! Throughout the day, you could constantly hear waves of laughter from the audience and of tears as each Singaporean couple shared their heart-wrenching testimonies!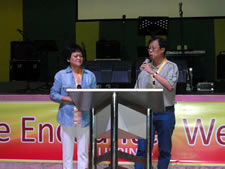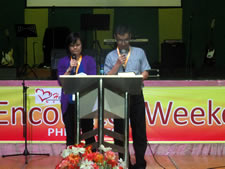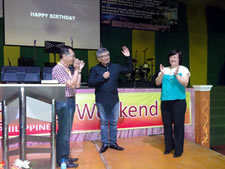 The congregation also sang "Happy Birthday" to celebrate Kenneth and Doris's birthday, which coincidentally happened to fall on August 17. It was delightful to celebrate their birthdays in such a unique way, with God's family, serving God's people, doing God's will!
At the end of the sessions, some of the couples testified on how they benefited from Pastor Simon's teaching and how the MEW changed their marriage!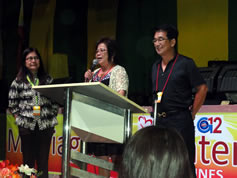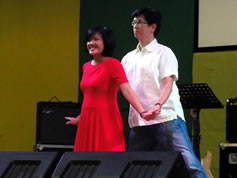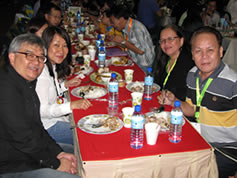 One of the couples testified that they attended Pastor Simon's MEW twice. Before the first time, the wife was the head of the household, but after attending the first MEW, she became a submissive wife as her husband took on the role to lead in their marriage. The husband shared that he took Pastor Simon's advice "If I change, everything will change!" to change their family structure! They are now enjoying their blissful marriage! Praise the Lord!
One of the highlights during the workshop was a vibrant dance item presented by our very own team members, Keng Lim and Lai Cheng! They showcased how one could have fun with your own spouse! After the workshop, we were served dinner by the church. Dinner was black pepper chicken with mixed peas. It was a very simple dinner but we felt humbled by the respect and sincere love the Filipinos had for our pastors and for us. As Pastor Simon rightfully put it, "During the early years it was Senior Pastor Lawrence who opened the door for us and over the years God has enabled me to establish a wonderful relationship with these pastors that we can get to where we are today." Indeed we were so honoured to reap the blessings from what our Senior Pastors have sown over the years!
The second day of the workshop also saw another round of success with Pastor Simon preaching the remaining lesson and four more couples sharing their powerful testimonies. Their powerful testimonies touched many hearts of the Filipinos as well as our own team members. Every couple also got to renew their marriage vows once again. There were tears of forgiveness and tears of joy as each couple looked into each other's eyes to recite their marriage vows.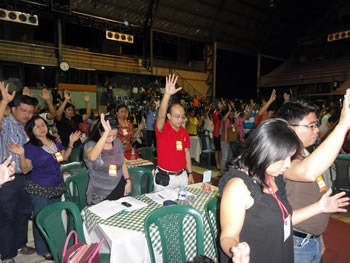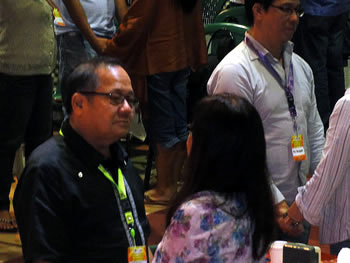 During the lunch break, Pastor Nel commented that this was her fourth time attending Pastor Simon's MEW, but she was still being ministered to by Pastor's teaching. It was a good reinforcement for her. She also overheard other church members commenting that they were touched by God and wished that more of their friends could attend this MEW. Pastor Nel was very thankful to the Singapore team, for making the effort to come to Philippines to minister to them!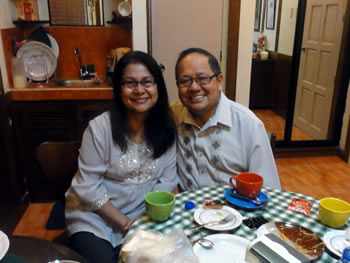 Pastor Vicky was very pleased with the success of this MEW, as well as the connection between the Singaporean team and the various Philippines pastors. The MEW has helped to engage her church's couples and families. She mentioned that her youth were growing quickly and she was concerned that the married couples and families were left out. The MEW was timely to challenge the couples and families to grow spiritually.
 
Pastor Simon ended the workshop by having all of us pray for the 250 couples present. The couples were so open to being prayed for by us. Both young and old couples, all lined up to be prayed for. Even the pastors came forward to seek for prayer from us! What a humbling experience it was for all of us to be used by God in such a mighty way!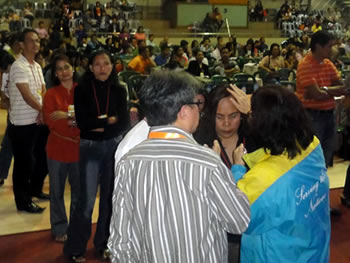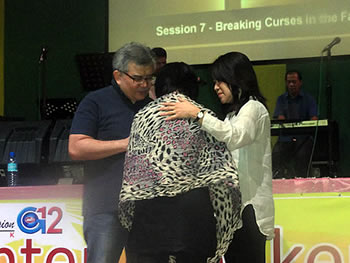 After the prayers, Pastor Vicky shared that she saw the vision of a rubber band binding all the couples together while we were praying for them! Pastor Vicky said that she is sure the marriage of these couples will never be the same again after this MEW. This MEW reinforced the marriage covenant of all the couples present. The Lord has chosen all these couples to attend the MEW and in turn their strong marriages will transform the nation! Hallelujah!
That evening, we hosted a Chinese dinner to Bishop Jonathan and Pastor Vicky at our hotel. We also celebrated the 22nd wedding anniversary of our lovebirds, Kenneth and Kim! Both couples were presented with a unique menu card for remembrance!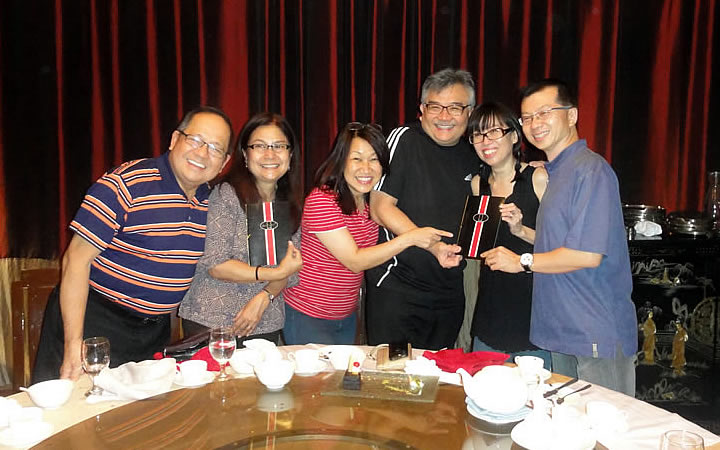 The third day fell on a Sunday, but it was not a rest day for many of the Singaporean couples, including Pastor Simon, as we had to preach at the Sunday services of various churches under the leadership of Pastor Vicky. Pastor Simon, alone, had to preach at three services at 8.00am, 10.30am and also 3.00pm! It was amazing to observe Pastor Simon preaching three completely different sermons at each of the services.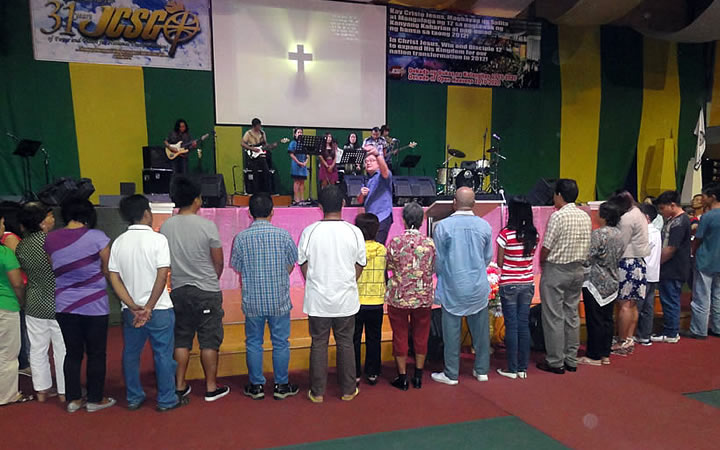 The rest of the team also came back sharing with joy and excitement how God has given them the rhema word to share with their congregation! The assignment of the couples to the various churches was indeed divine! Pastor Simon commented that he prayed fervently before assigning. Most couples shared that they were perspiring while writing their sermons but were glad to be given the opportunity to preach and bring God's word to the people of Philippines.
This trip to Philippines for the MEW has achieved the following:
Relationship between Pastor Simon's 12 and 144 improved as the team members became more united through serving and closer in knowing each other better
Gave the couples the opportunity to work together as a team to serve in the ministry, stronger bonding
Faith in God arose for each of us as we depended on God and the Holy Spirit to move out of our comfort zones to serve, to pray and to PREACH
Our marriages improved as our men rose up to be better leaders and lovers after the reinforcement from the MEW
Realigned our G12 Vision
Learned to honour our leaders more
Increased our love and compassion for others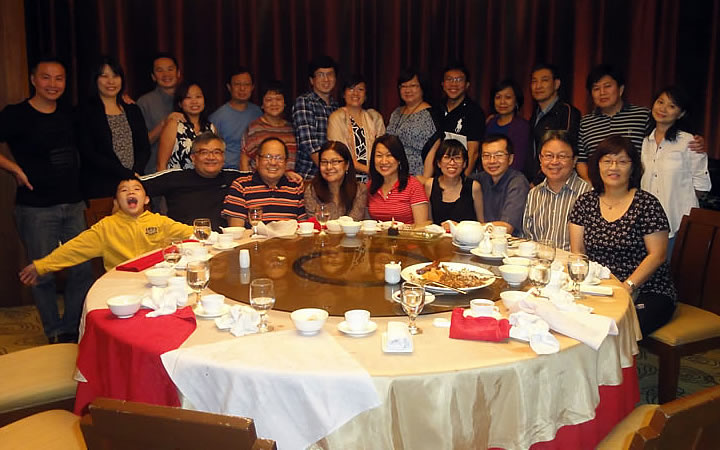 All glory to God!