Day 1
After weeks of planning and preparation for the trip, we were ready to set off for Timor Leste! Pastor Mun Tai and many of our friends came to the airport to send us off with prayers!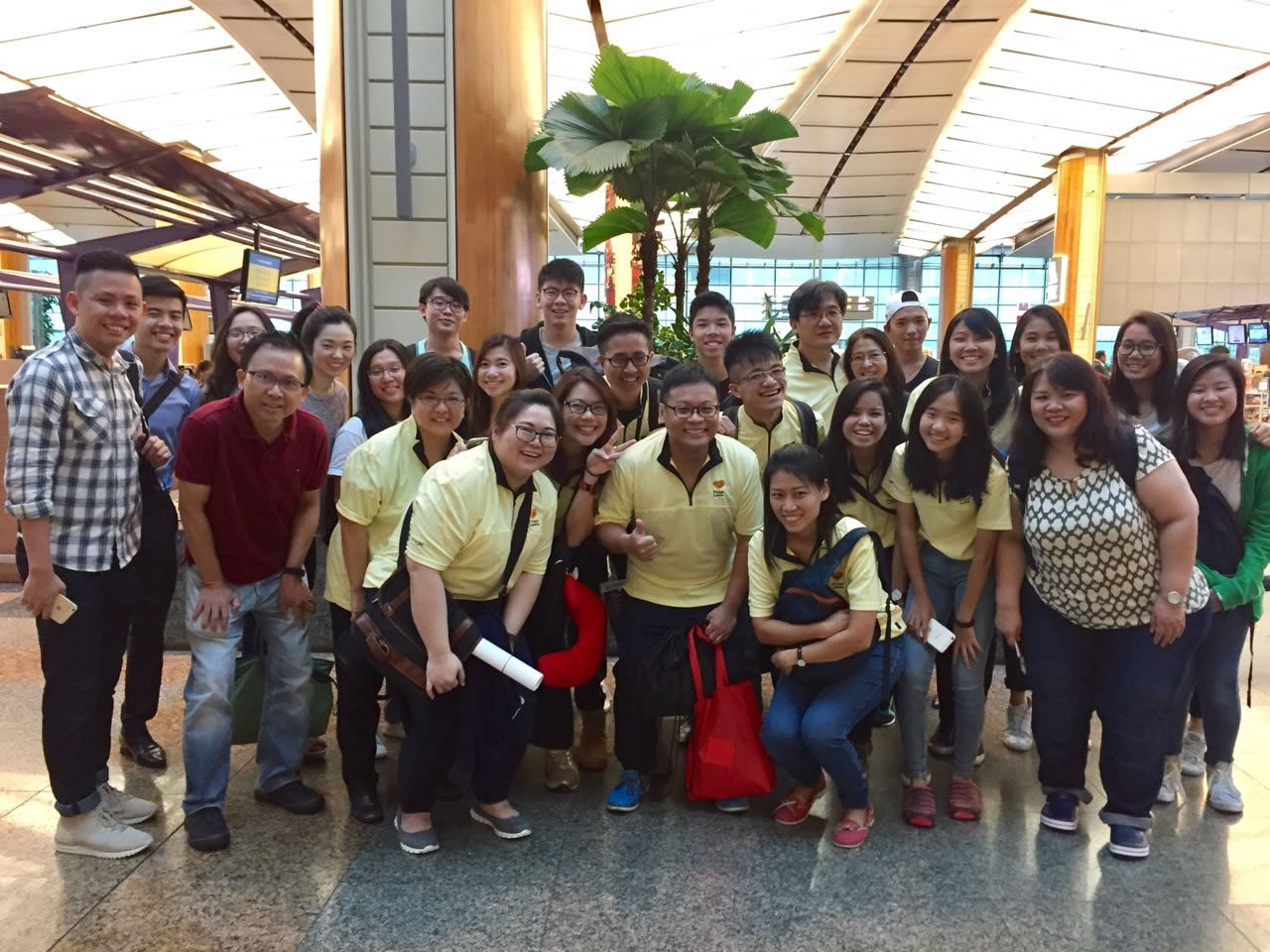 Our team of 13 members, with our family and friends sending us off.
At noon, we touched down safely in Dili where Pastor Catherine and Denise welcomed us warmly.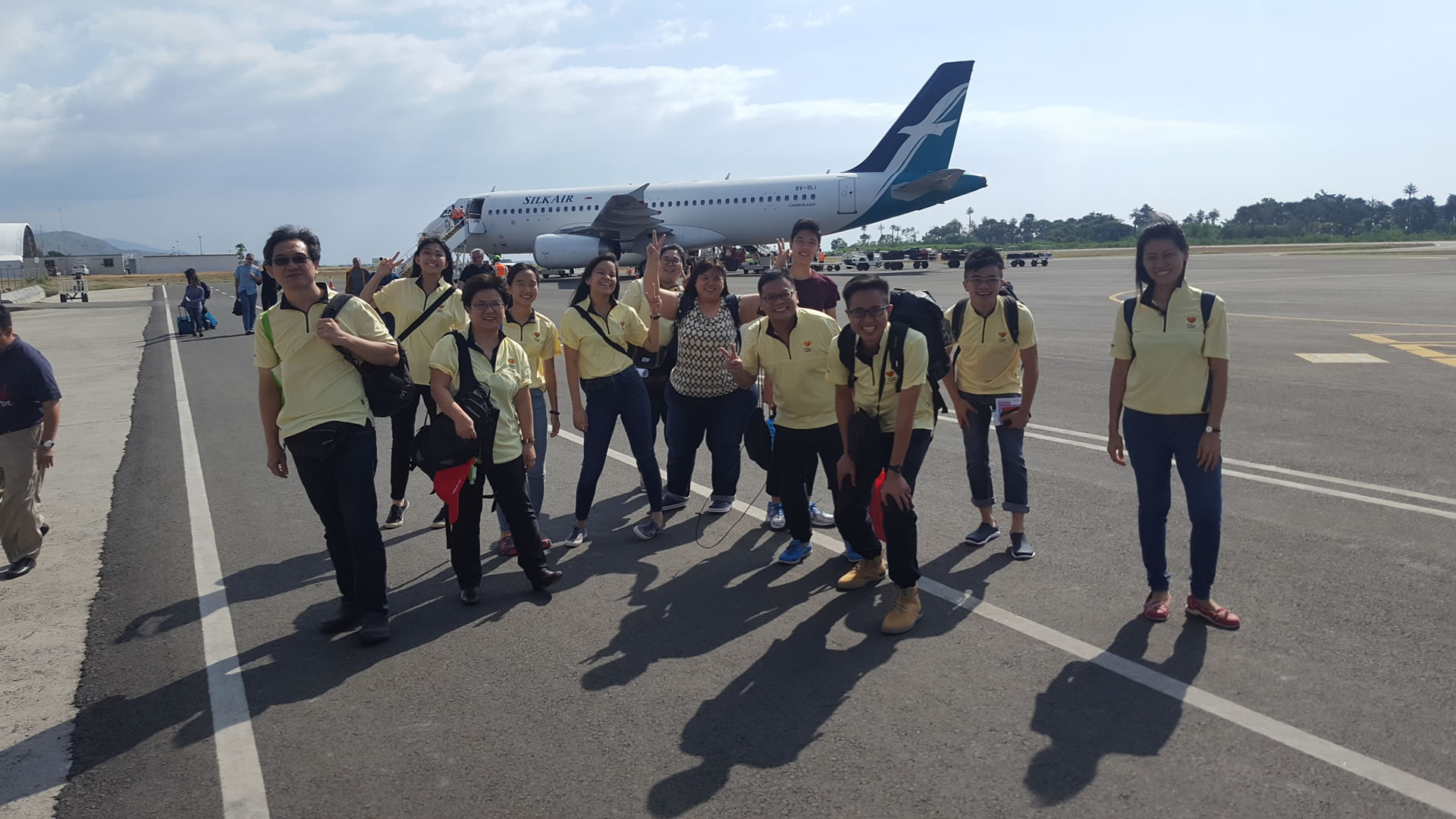 Safely arrived at Dili Airport!
We made our way to Faith House, where we were staying for the night, to put down our luggage before Pastor Catherine and Denise brought us out to Timor Plaza. After which, we prepared for the next day's travel and rested for the night.
Day 2
The next morning, we set off for Viqueque after breakfast. In spite of the bumpy ride, it was such a scenic drive where we took in all of God's creations.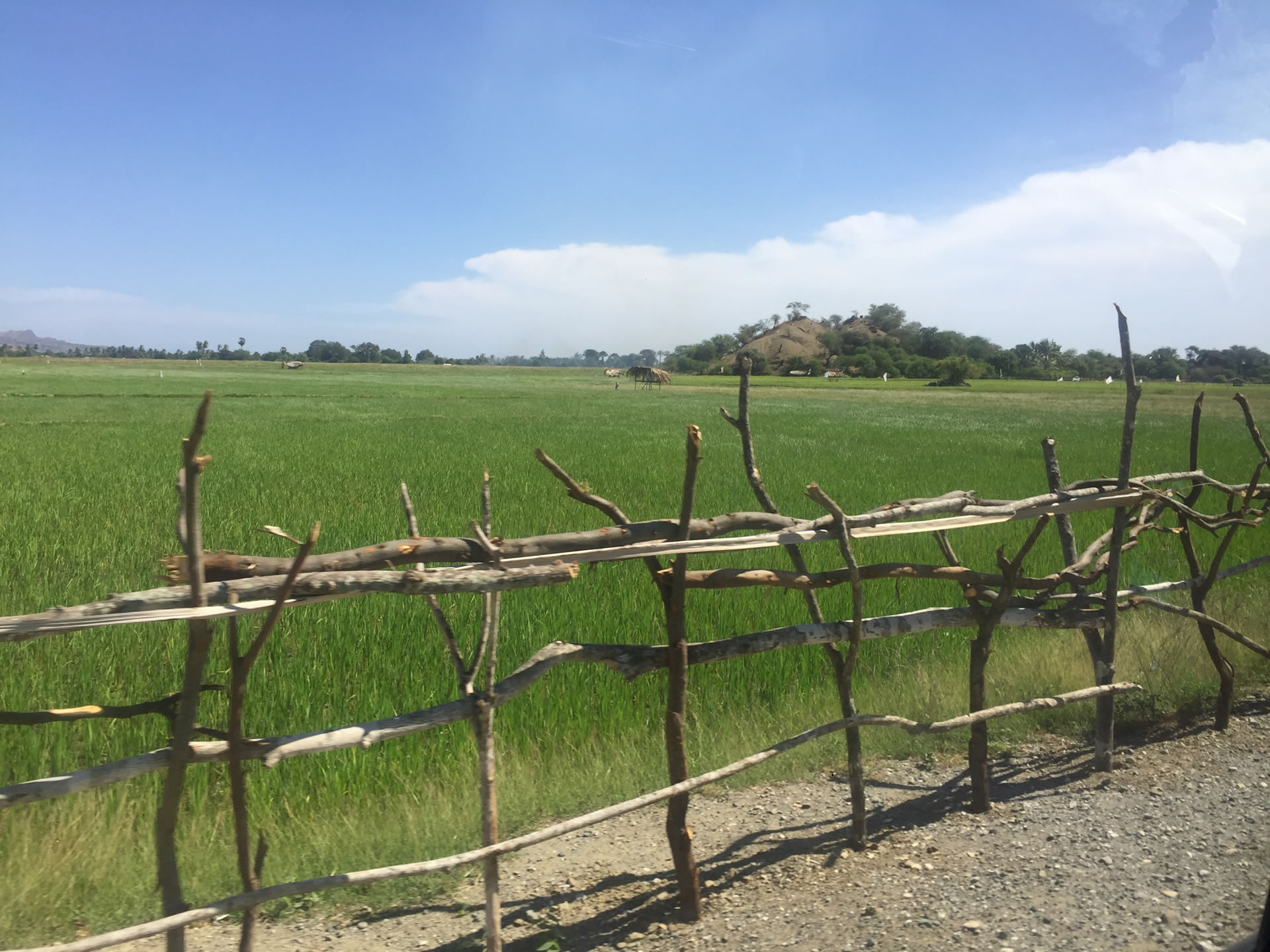 About two hours later, we stopped at Heartfriends Training Centre in Manatuto for a quick catch-up with Francis and Grace from St John St Margaret's Church, Singapore.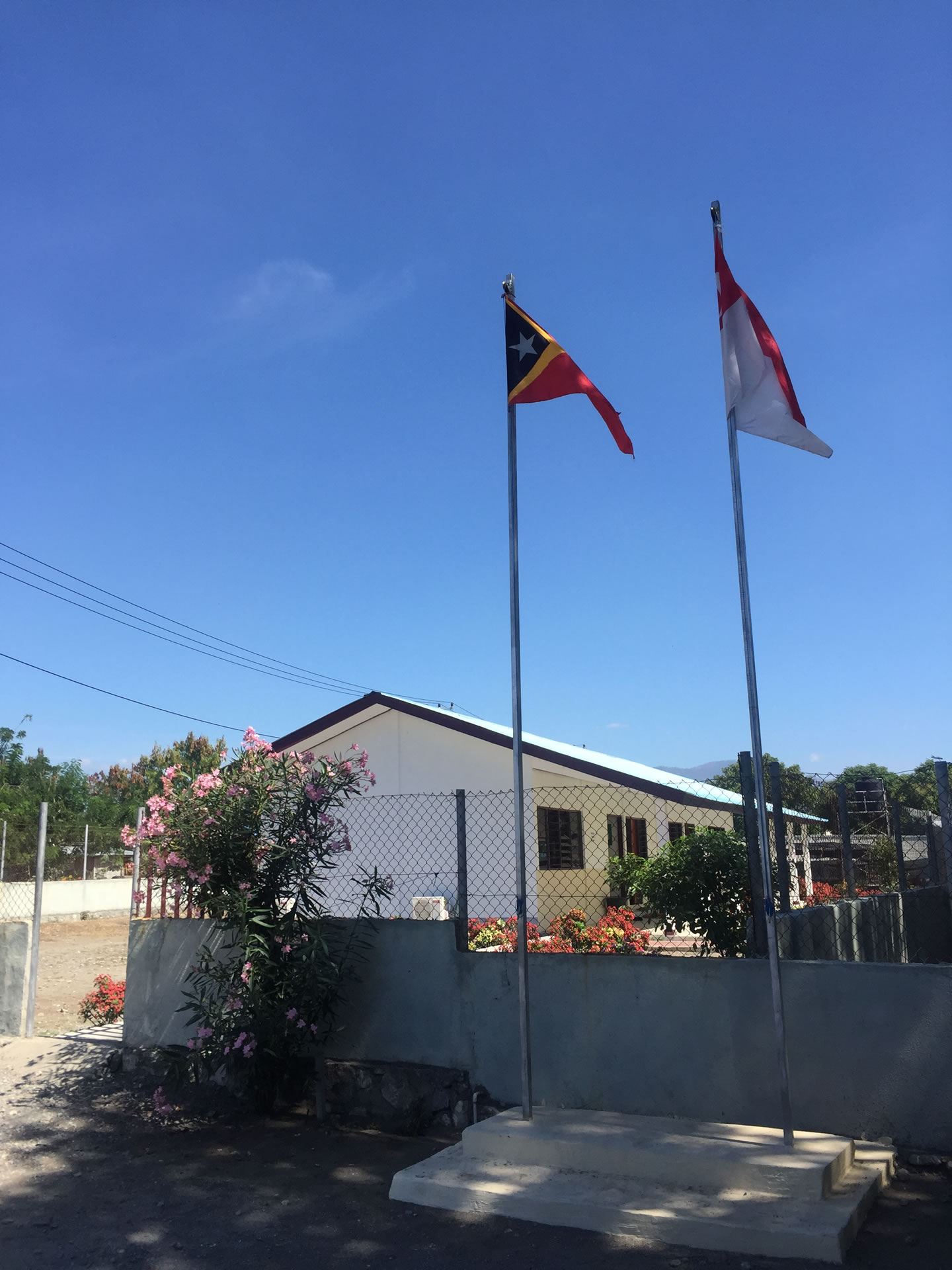 Heartfriends Training Centre, Manatuto
We then continued on our journey for another 2 hours before stopping for lunch in Baucau. Before reaching Viqueque, we had the opportunity to stop along the road for a view of these majestic mountains.

Despite the arduous journey, the long car ride allowed us to establish camaraderie with one another. We quickly learned that a few of our teammates have a natural sense of humour, including Pastor Catherine! While Pastor Catherine, Denise, Huiyi, Jason and Jonathan took turns to drive us, we cracked jokes and shared stories.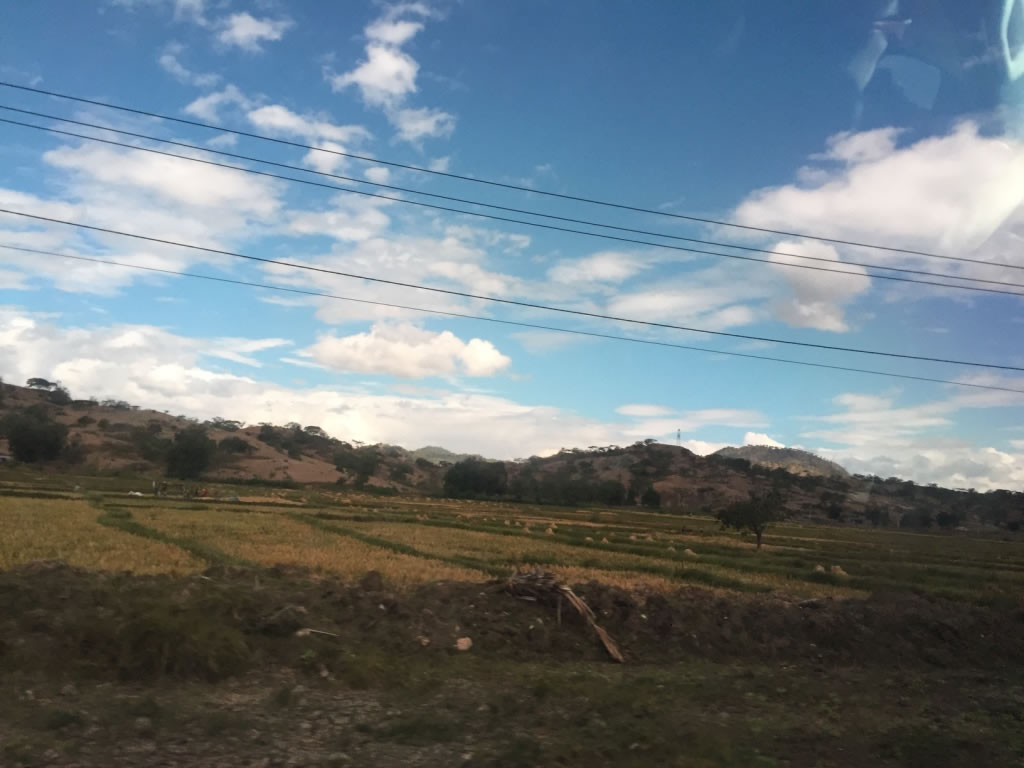 It was dusk by the time we reached Dream Centre, the place where we would be holding most of our programmes. After dinner, we checked in at Borala Motel nearby, where we would stay for the next few days.

The view outside Dream Centre
Day 3
We started the day with morning devotion, led by Syh Leong. He shared from 2 Corinthians 12 and 1 Corinthians 13:12.
"For now we see only a reflection as in a mirror; then we shall see face to face. Now I know in part; then I shall know fully, even as I am fully known."
He encouraged us to look at our own reflections and see how much the love and grace of God had changed us, and to affirm one team member at the end of the day.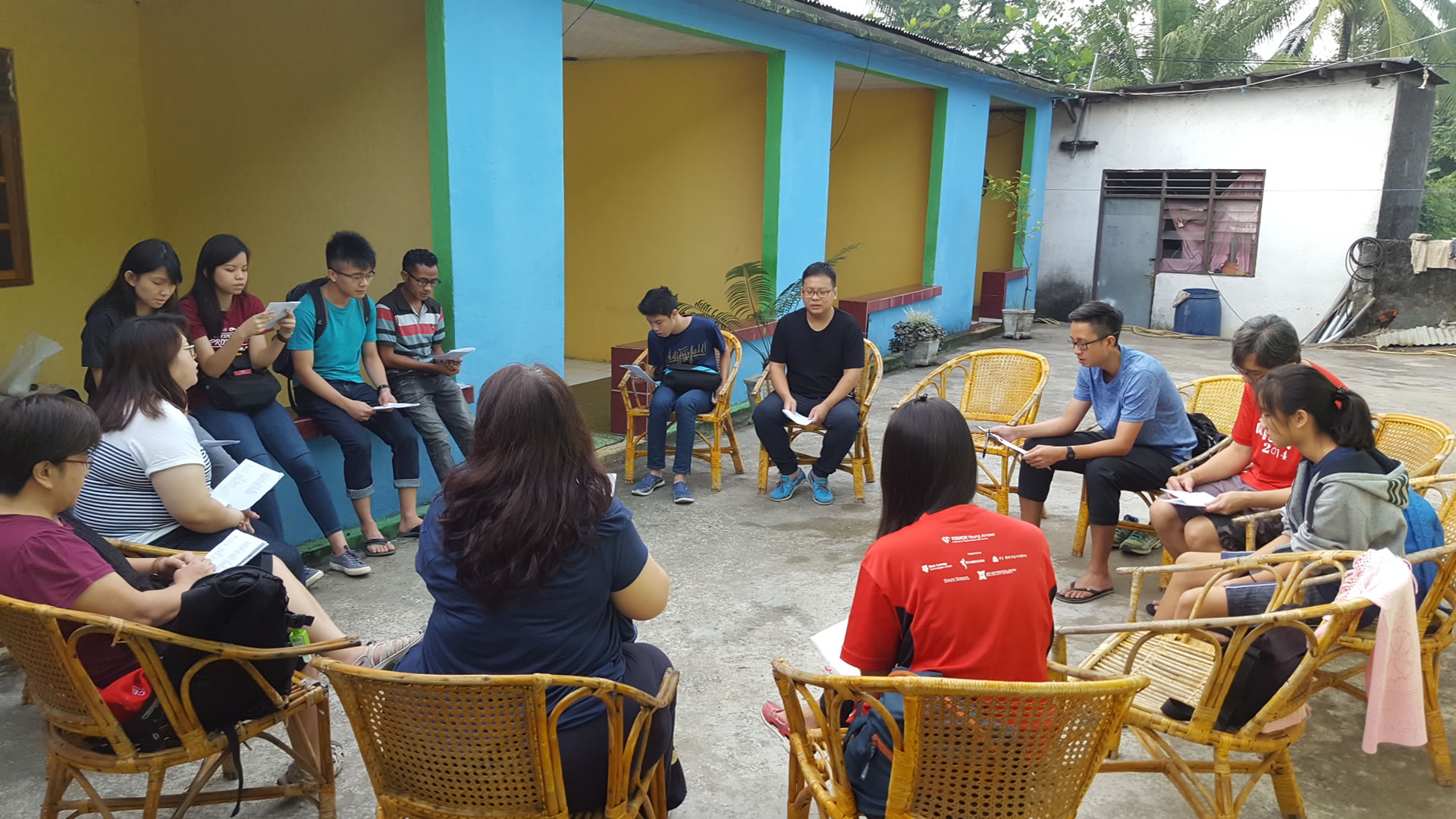 Morning devotion outside our motel rooms
We had a good time over breakfast after devotion and set off for Dream Centre.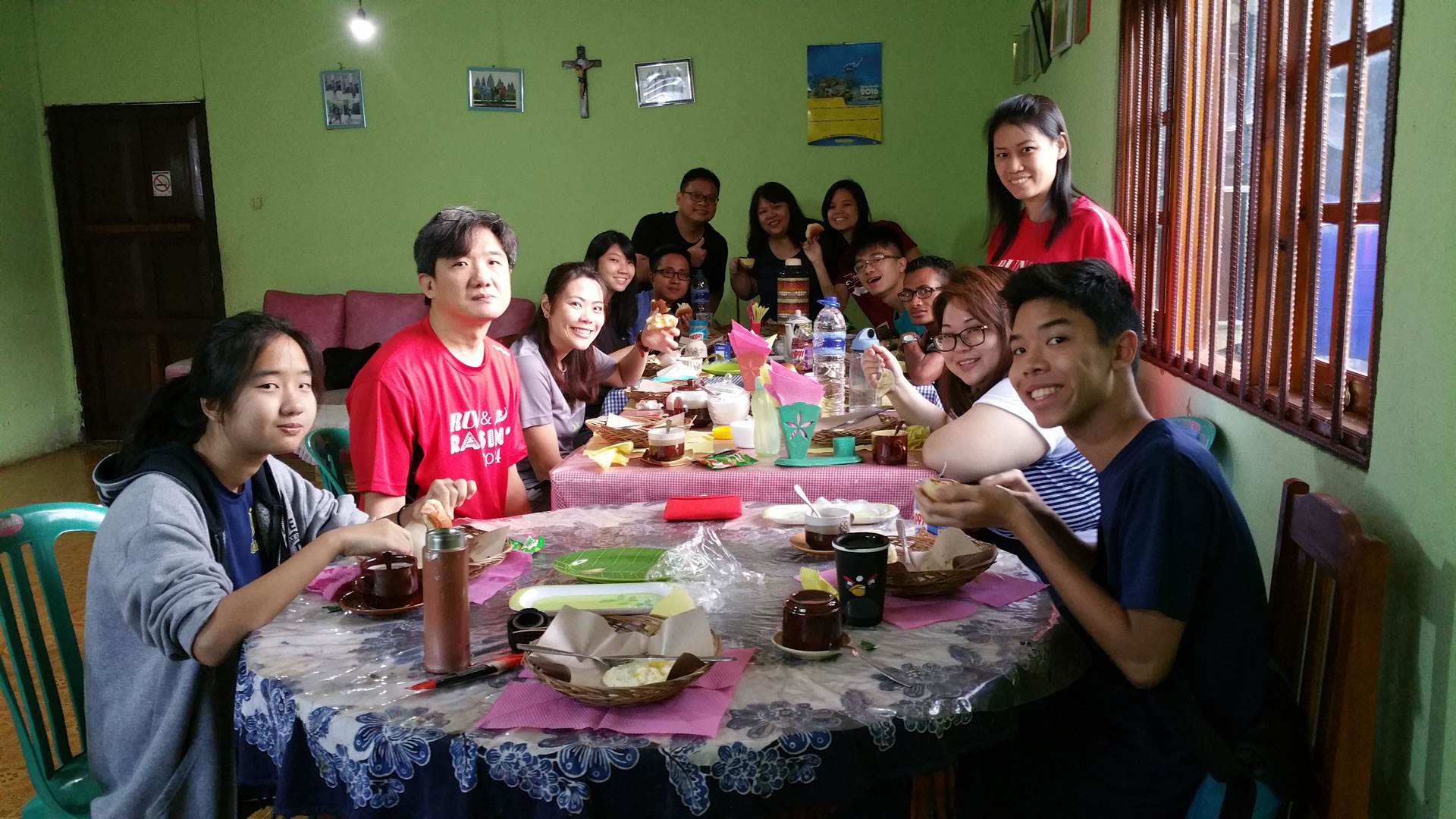 Having a simple breakfast at Borala Motel
There, we tried out the various station games that we planned for the youth outreach on Saturday. After lunch, we returned to Dream Centre to meet up with five Faith Youth Club leaders. Faith Youth Club and Faith Children Club were established by Pastor Catherine to train and disciple the next generation of youths in Viqueque. We shared with them our plans for the upcoming youth outreach programme which they had invited their friends for. We got to know each other quickly as we played the station games together.

5 Faith Youth Club leaders trying out one of the station games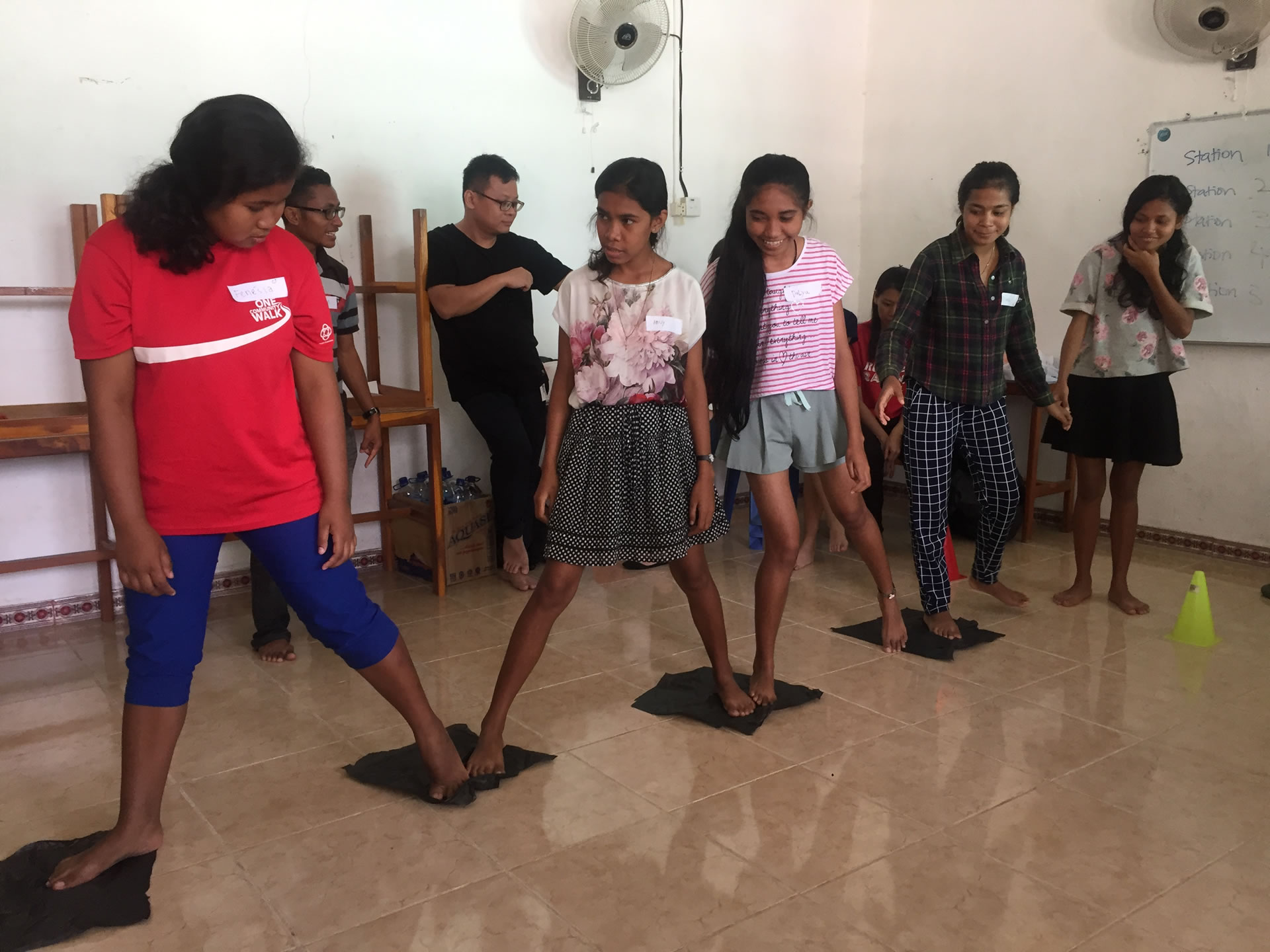 Trying out Cross the River, another station game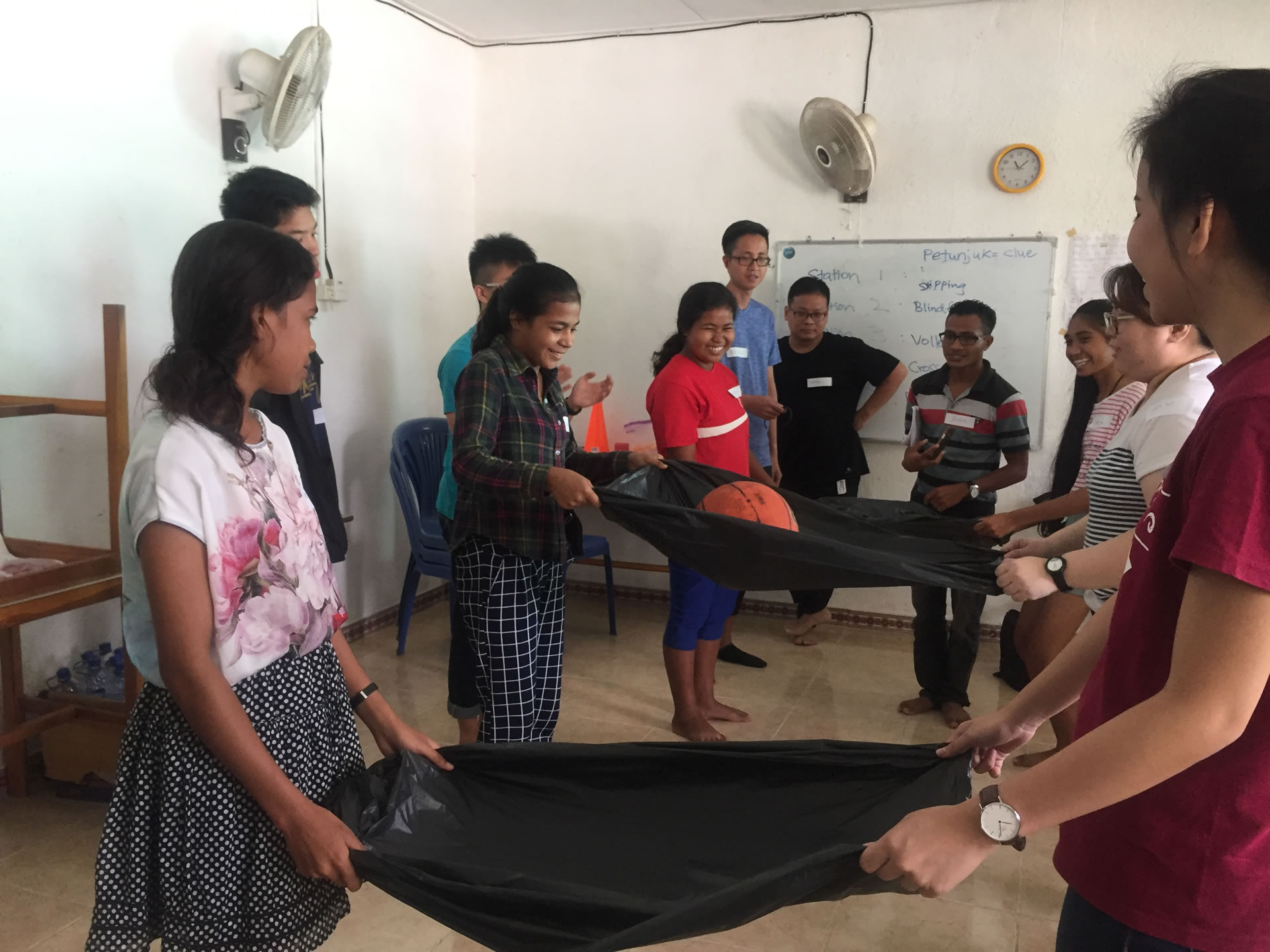 Playing Trash Bag Volleyball
It was a fruitful day as we finetuned the games for the actual day. We ended off the day with a sumptuous dinner and shared our reflections of what happened that day.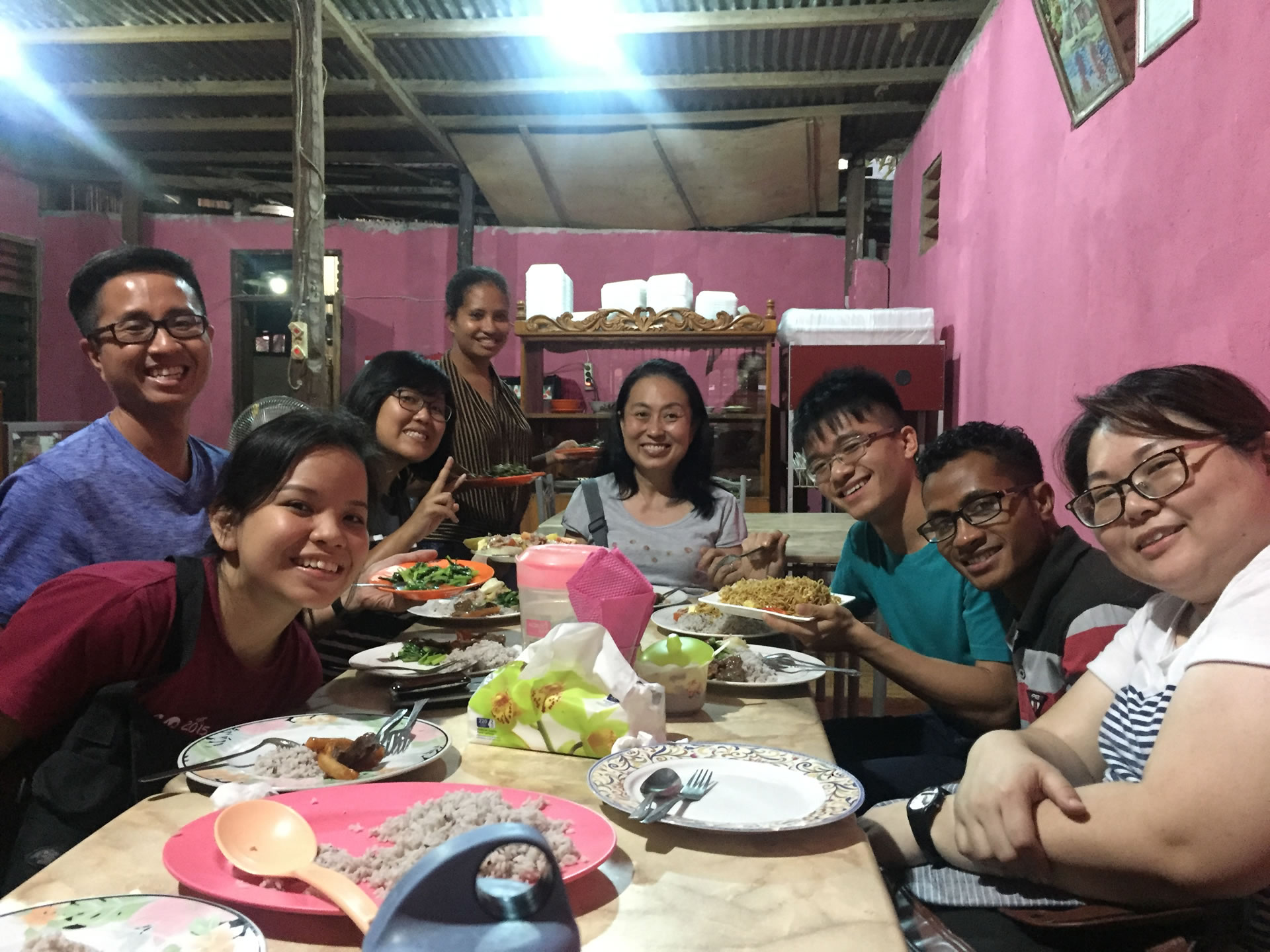 Dinner time!
Day 4
To start off the day, Melissa led the devotion for the team and shared from 1 Corinthians 12:12-27. It was a good reminder that everyone in the team was important. She encouraged us to take care of one another throughout the day just as God called us to in the Bible.
"But God has put the body together, giving greater honour to the parts that lacked it, so that there should be no division in the body, but that its parts should have equal concern for each other." – 1 Corinthians 12:24-25
After breakfast, we set off for the first stop. It took us about 2½ hours to get to Fatudere Village School; upon reaching, we could hear the hustle and bustle of the children as they ran out of their classrooms. They were all excited to begin Sports Day!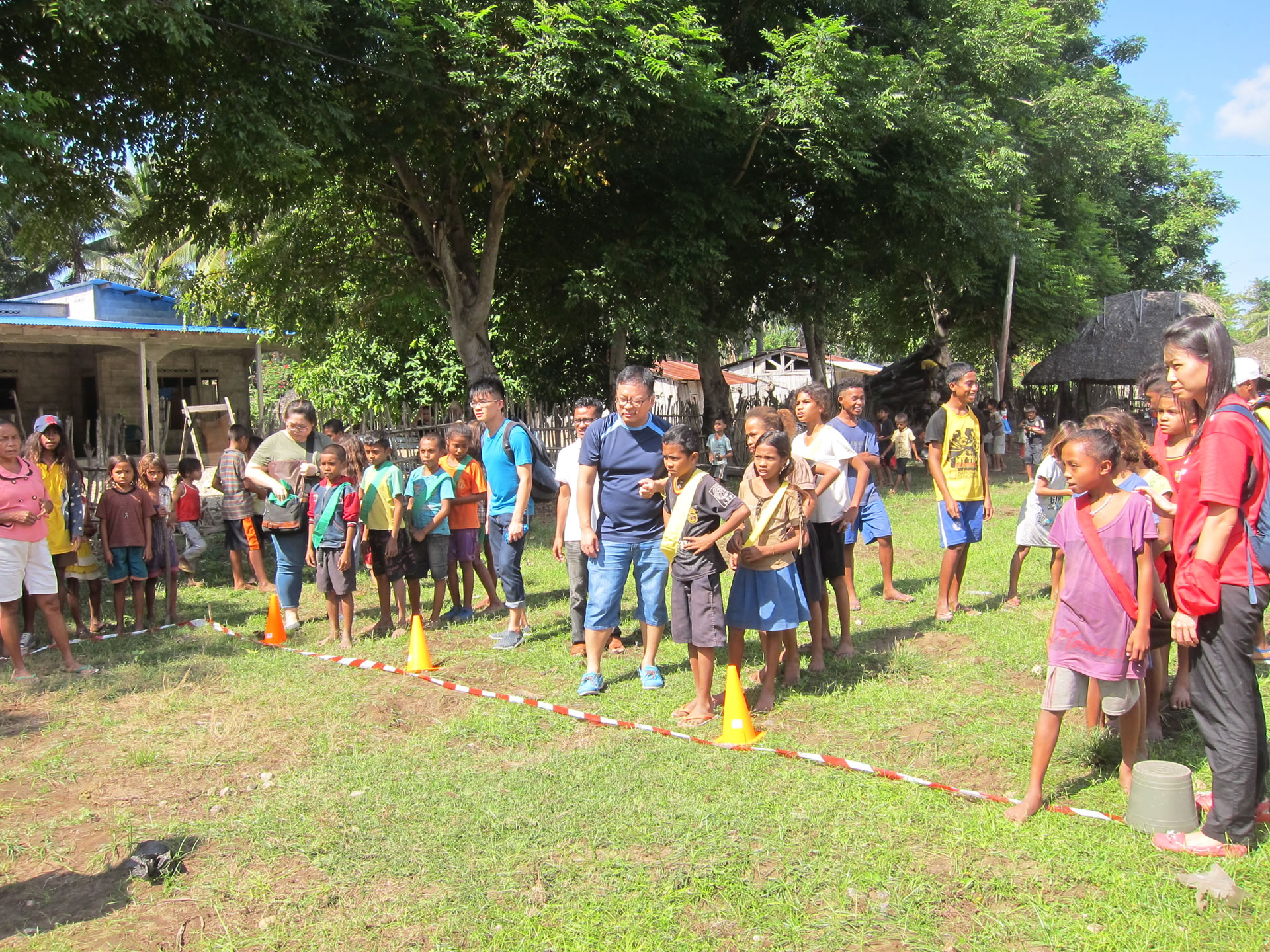 Getting ready for the game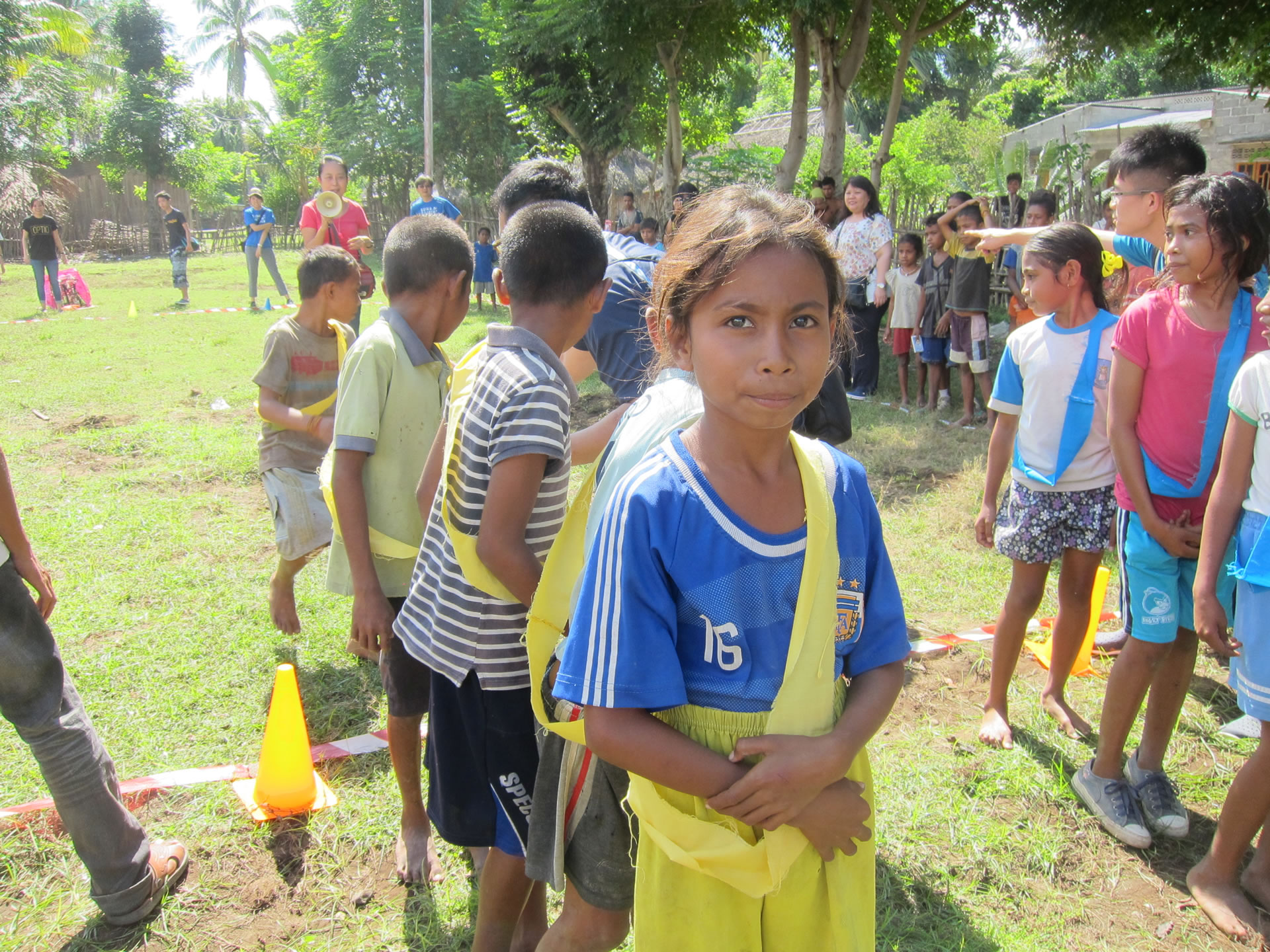 The challenge of running backwards
Even though we did not stay long in Fatudere Village School, we could tell that the children enjoyed themselves. We had to say goodbye to them and return to Dream Centre.
The Faith Youth Club leaders joined us after lunch and took us around Viqueque by foot to recce for locations where we could carry out the various station games. It was eye-opening to go around the town because it was a good opportunity to get to know the leaders, who also pointed out where they and their friends lived. As we walked around town, many residents saw us and we believed by faith that the recce would create buzz around town that we were organising a youth programme at Dream Centre.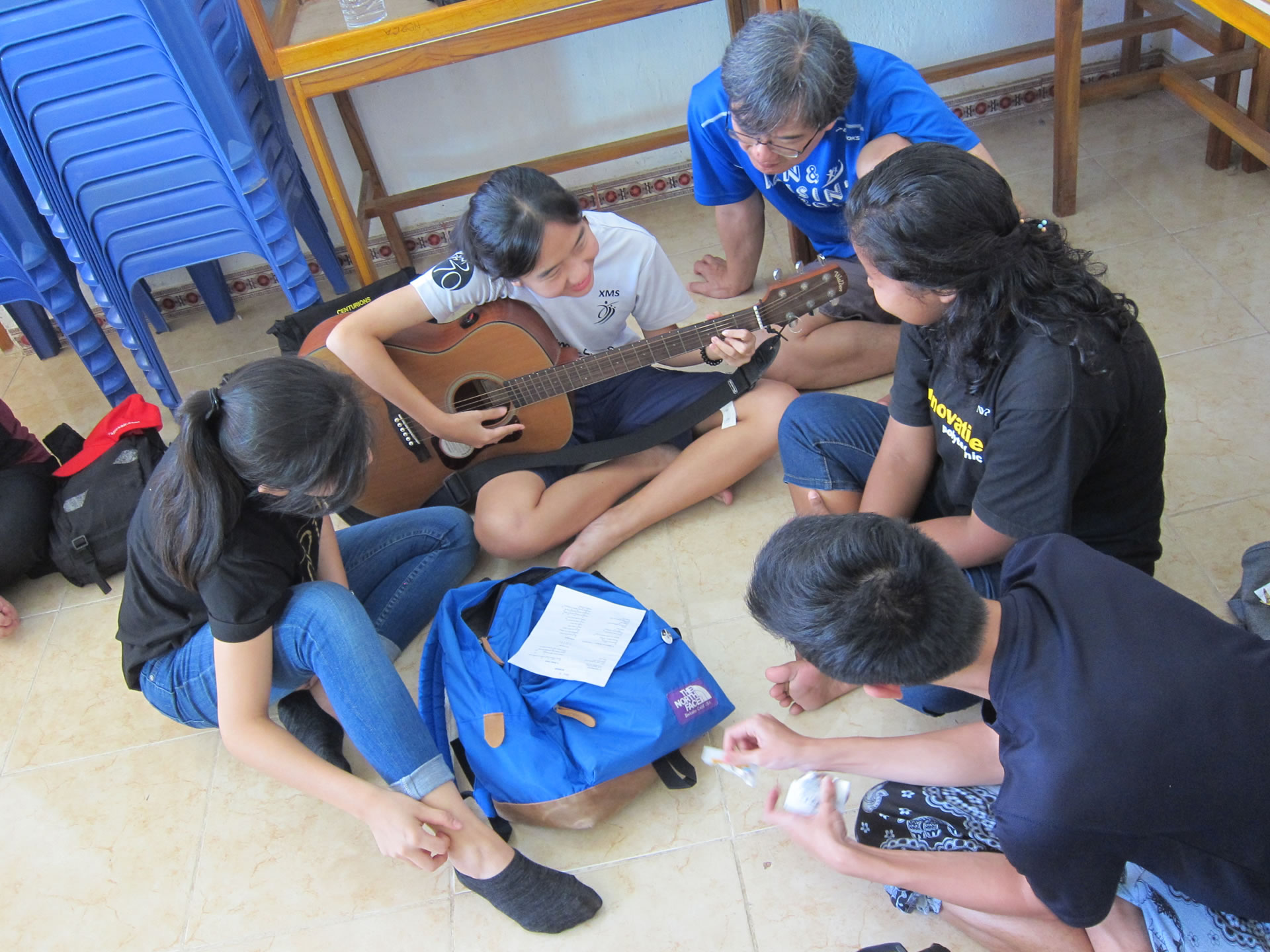 Having fellowship through music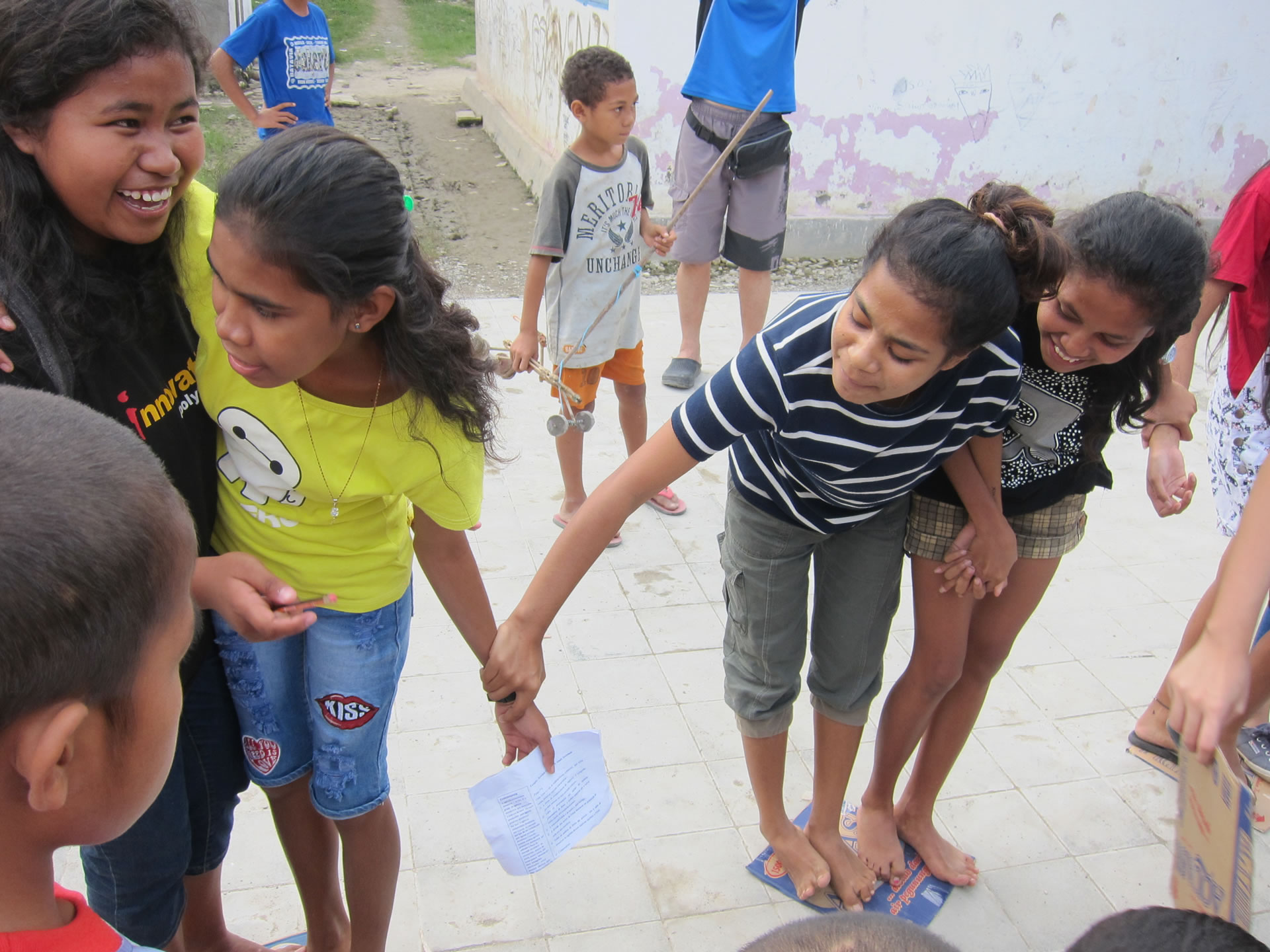 Trying out a station game onsite in the town of Viqueque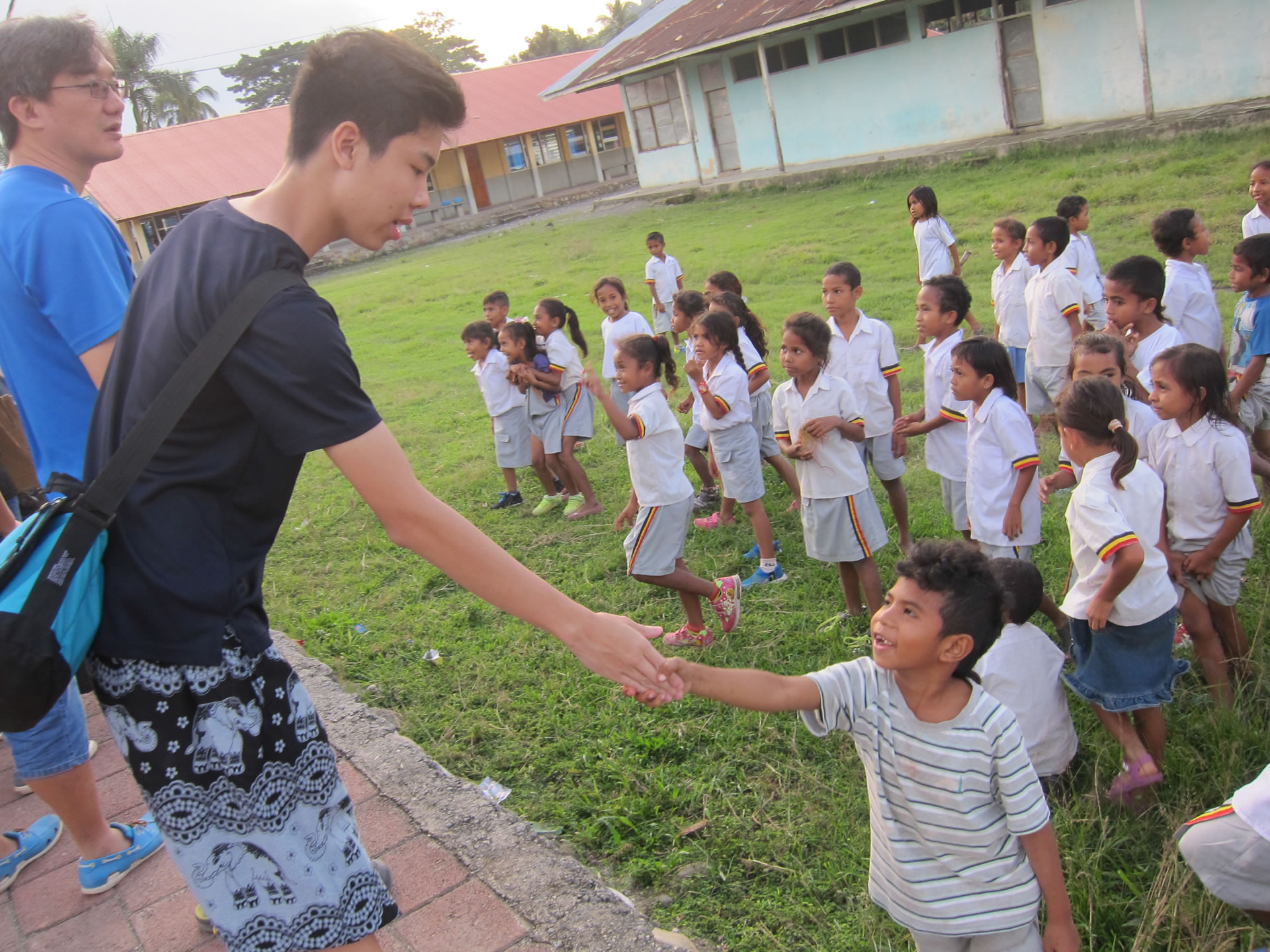 Ending the recce as we greeted a group of school children
Towards the end of the recce, Denise brought us to the main river in Viqueque. It was an amazing sight.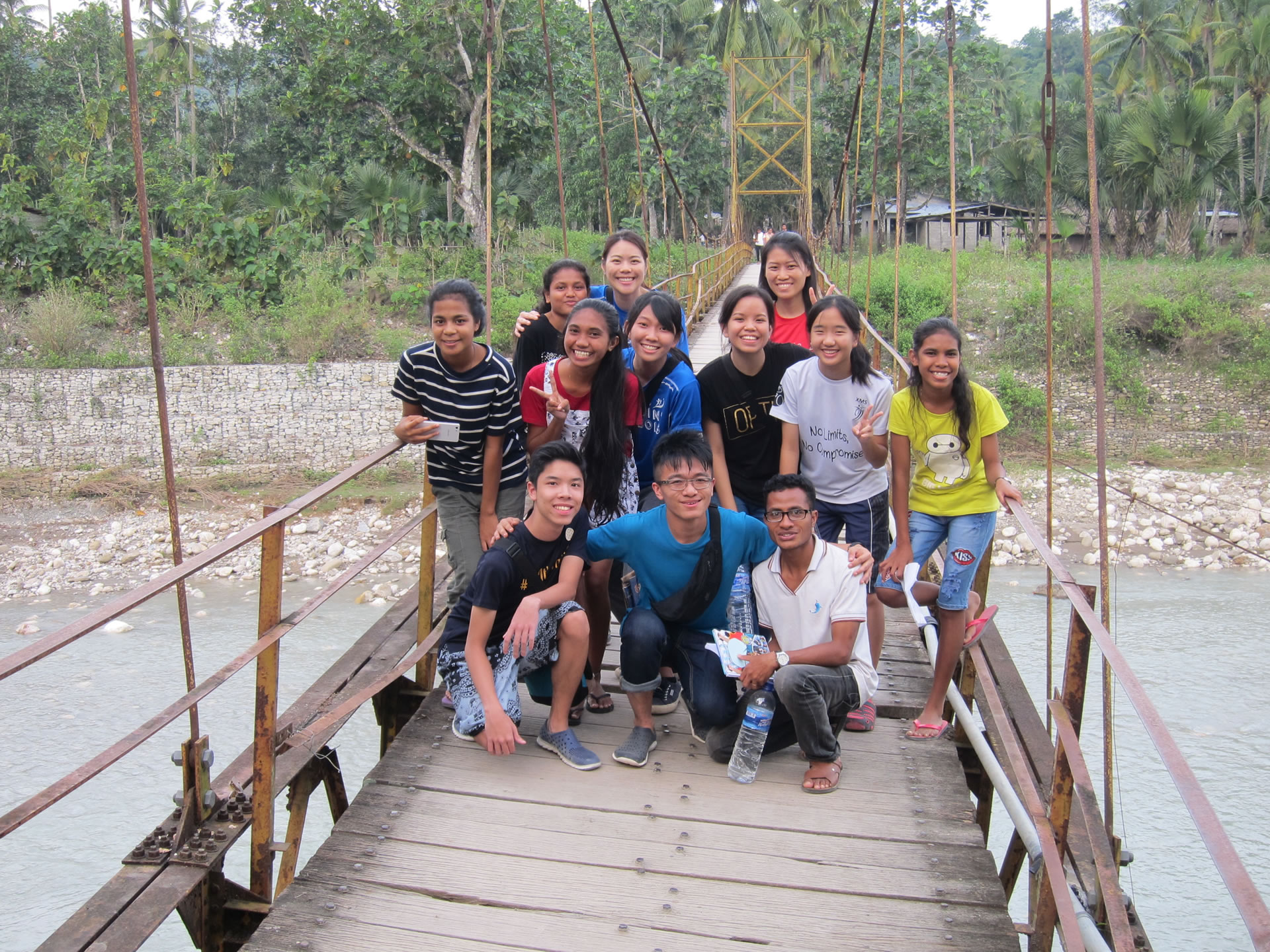 Time for a group picture!
Day 4 came quickly to an end as we prepared for the next day's programme in the night.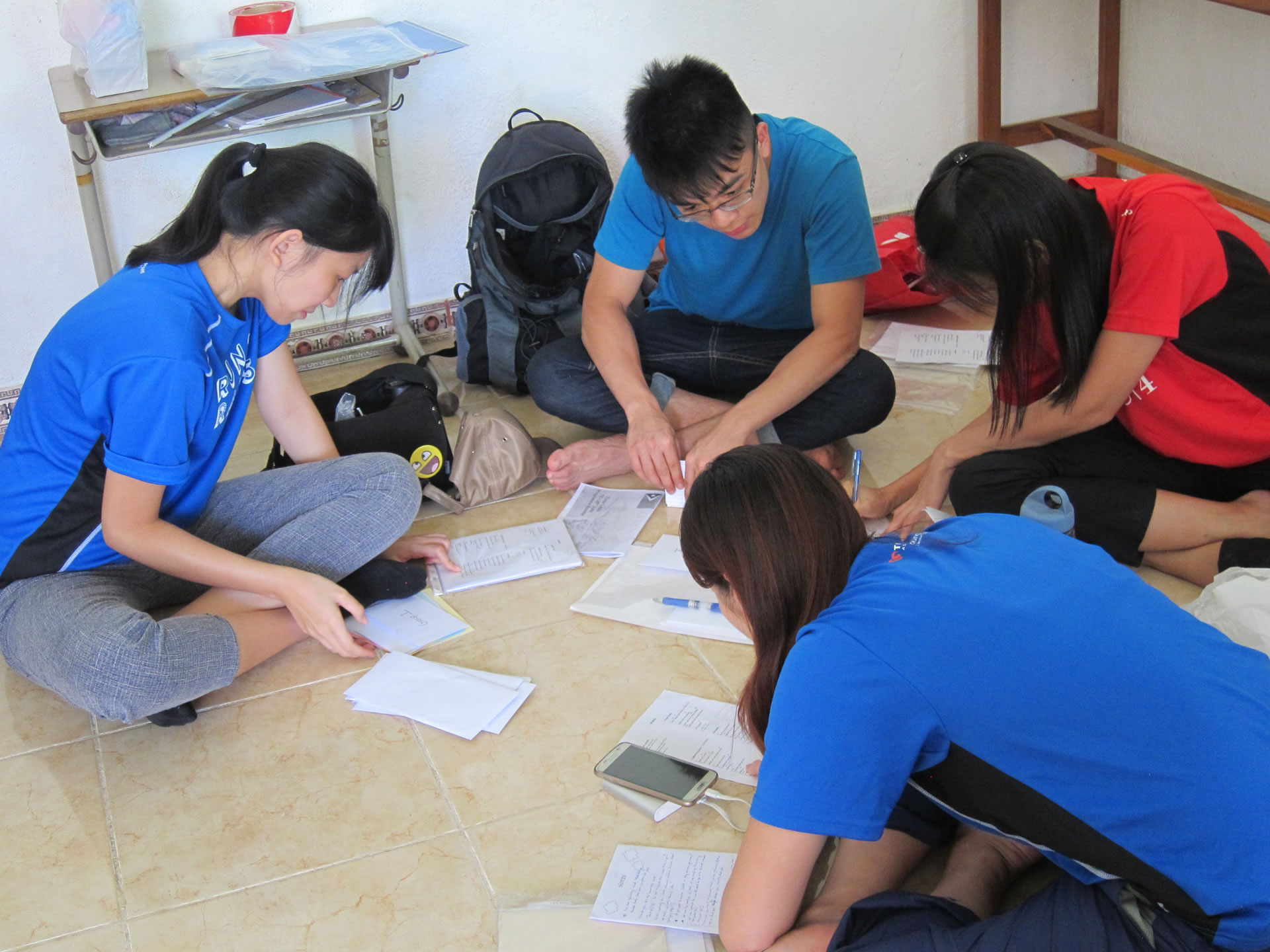 The youth programme committee preparing for the next day's outreach
Day 5
We reached Bibileo Village School bright and early on Saturday morning. The children welcomed us as we alighted. Level by level, the children participated in all the games enthusiastically.

Children from Bibileo Village School racing after their hula hoops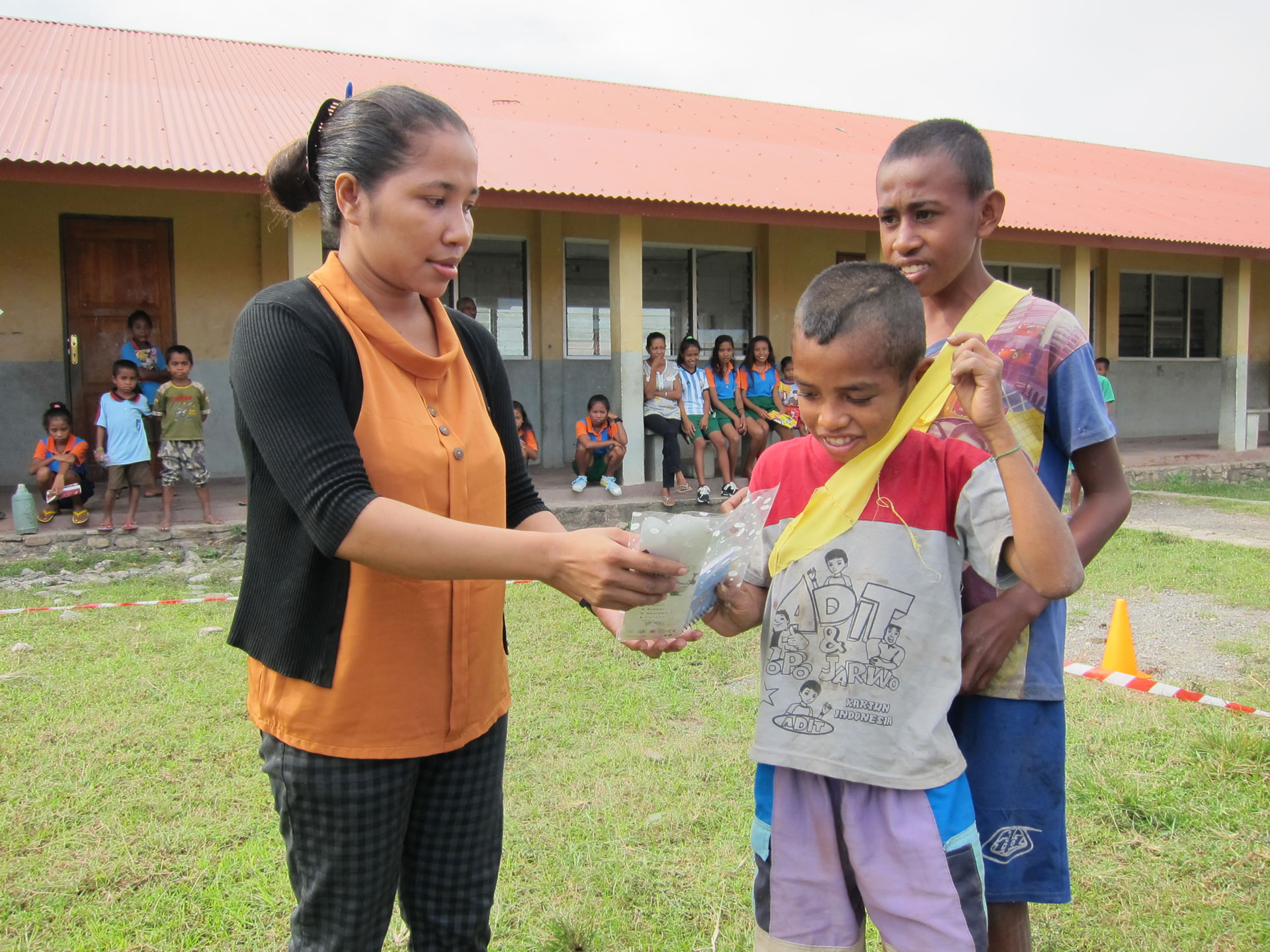 Prize-giving after the race
Just as we were about to make our way back to Dream Centre, one of the vehicles would not start. It turned out to be a blessing in disguise because we got to spend more time with the children, singing songs and playing games.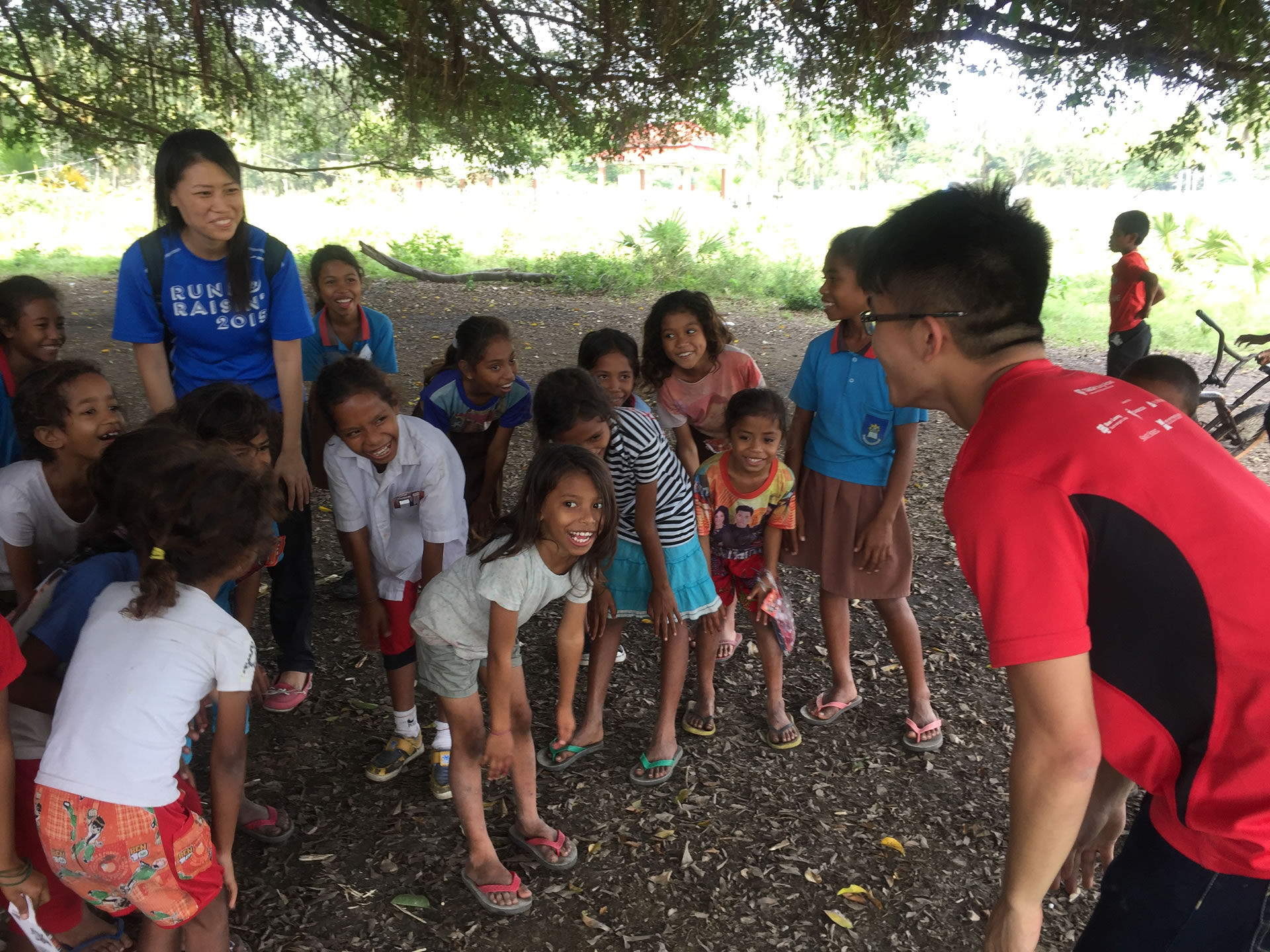 Playing Simon Says with the children

Group picture with an ancient tree
Despite the hiccup, the team believed that God would make it possible for us to return to Dream Centre in time to prepare for the afternoon programme.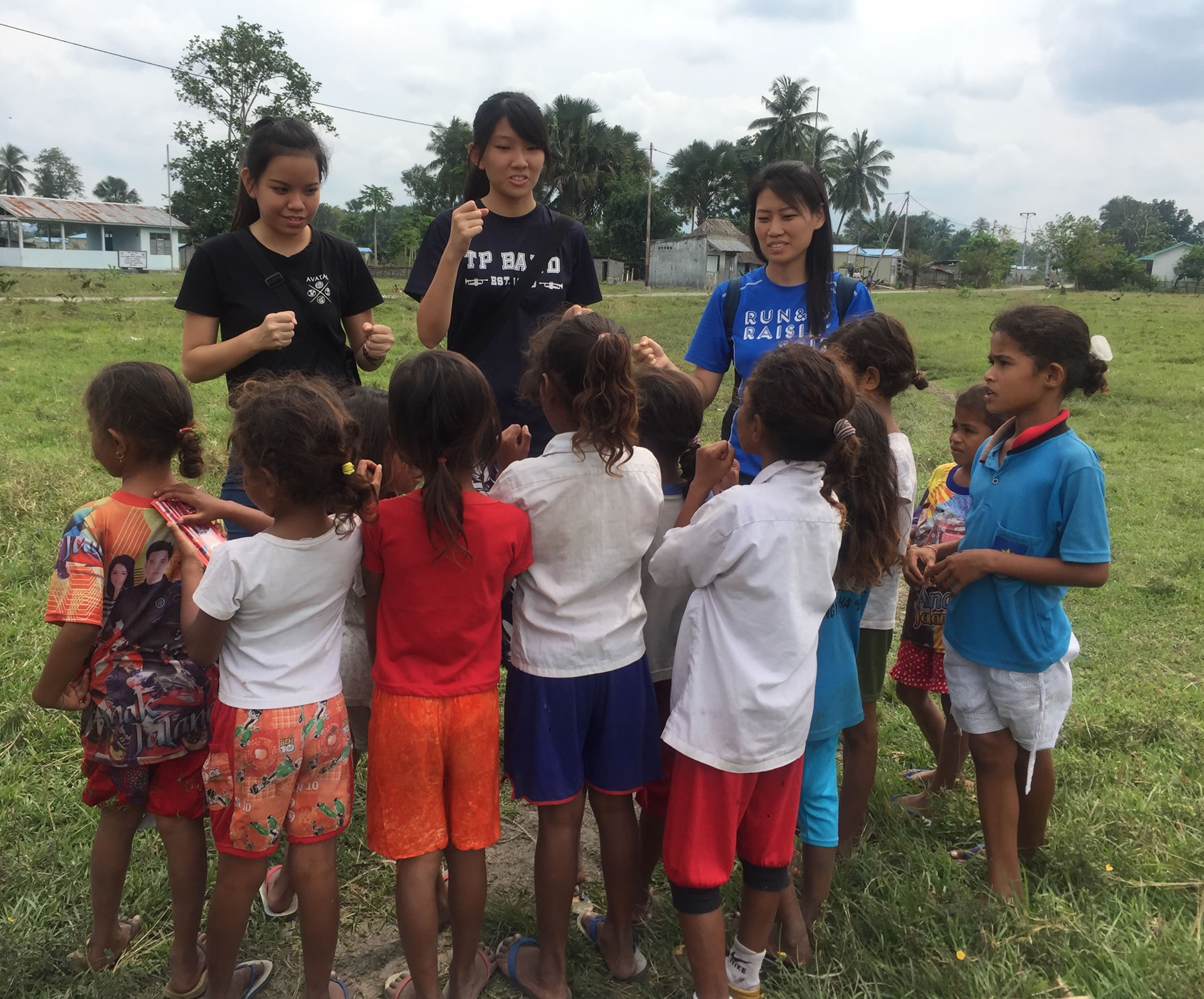 Teaching the children some simple songs with actions
After a quick lunch, it was time for the youth outreach programme! Operation Jer291112, which represents the dreams that God has for the next generation of Timor Leste, originated from Jeremiah 29:11-12 –
" For I know the plans I have for you," declares the Lord, "plans to prosper you and not to harm you, plans to give you hope and a future. Then you will call on me and come and pray to me, and I will listen to you.
During ice-breakers, the youths were asked to write down their names and dreams on a piece of paper given to each of them. The papers were then placed in a box. They were then told that their dreams were stolen and they had to recover them by getting clues from five station games, situated around the town.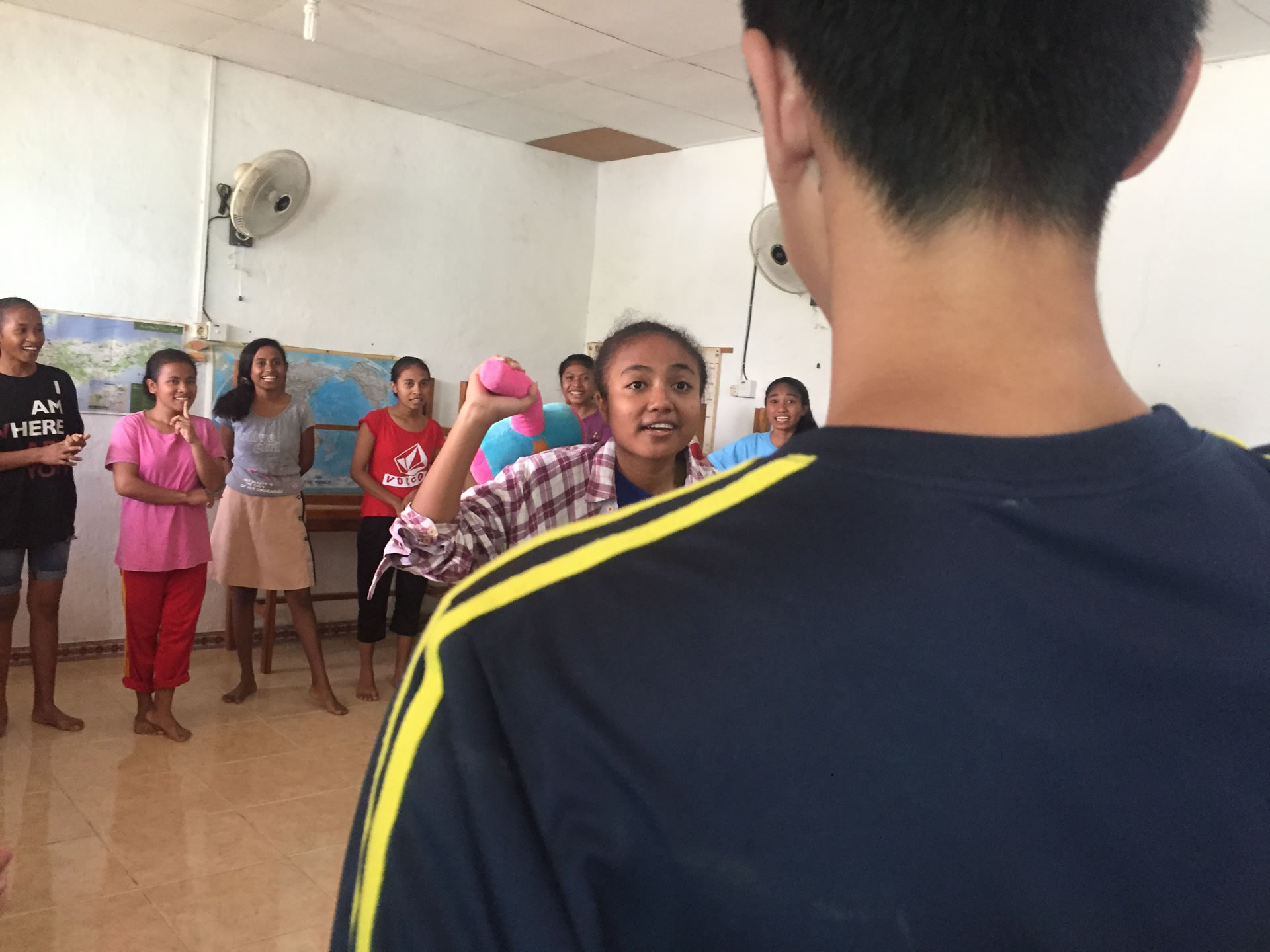 Playing Whacko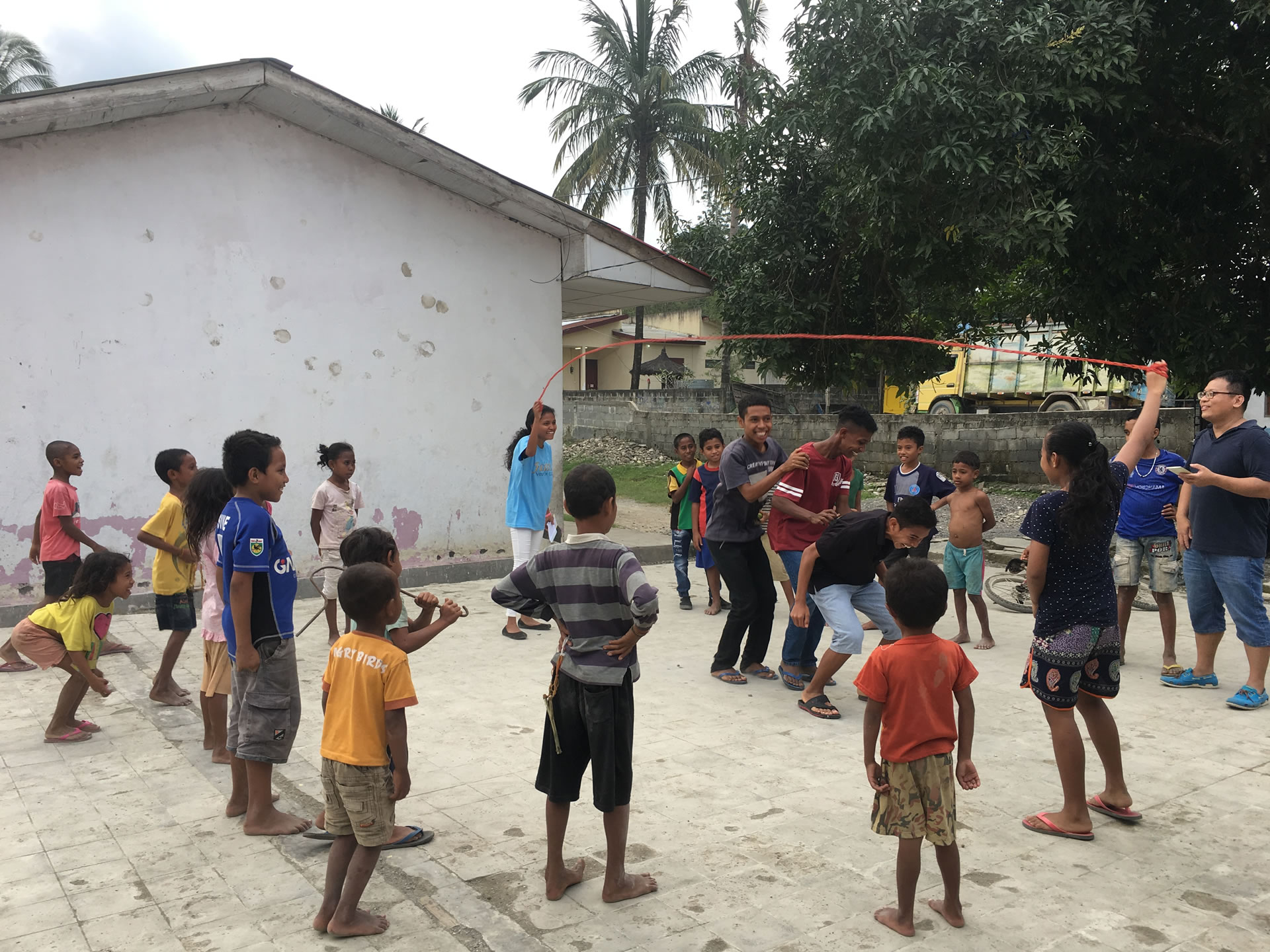 Station 1: Skipping (Aim: To finish as many skips as possible without missing the rope)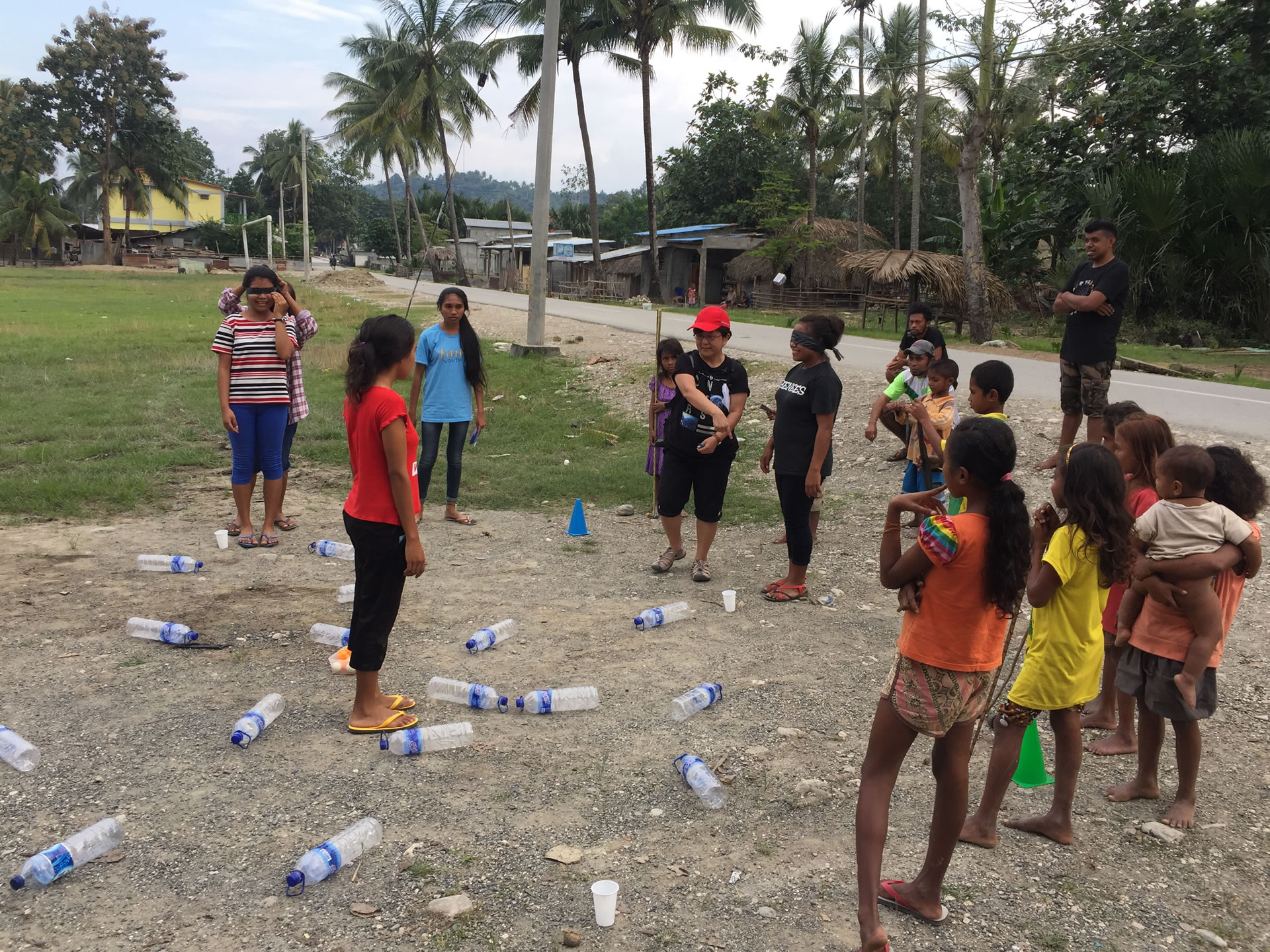 Station 2: Blindfold (Aim: To lead a blindfolded teammate through a maze of plastic bottles)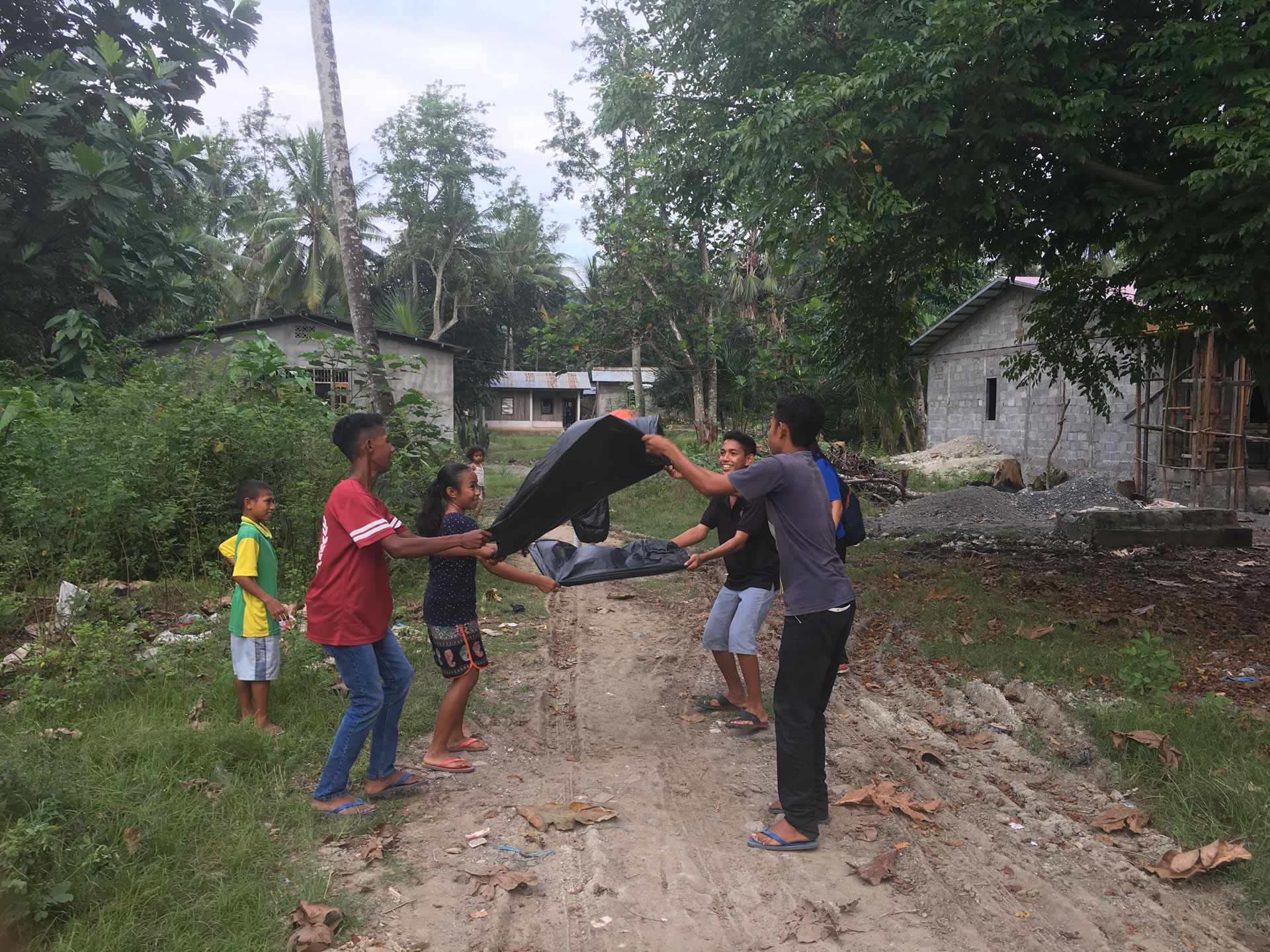 Station 3: Trashbag Volleyball (Aim: To pass a ball from one end to the other with trash bags)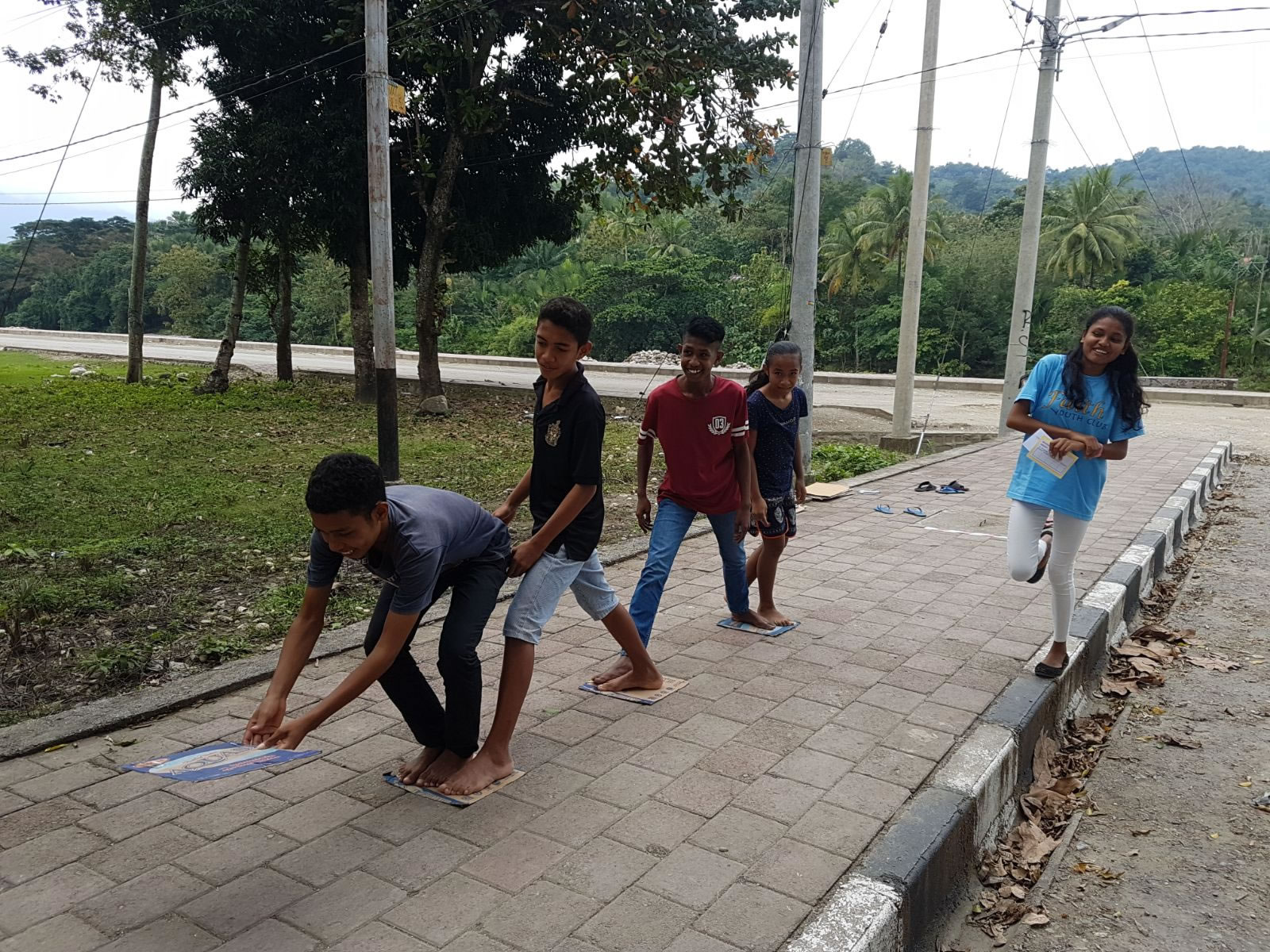 Station 4: Cross the river (Aim: To get from one end to the other on one condition – having a minimum of 2 feet on 1 piece of cardboard)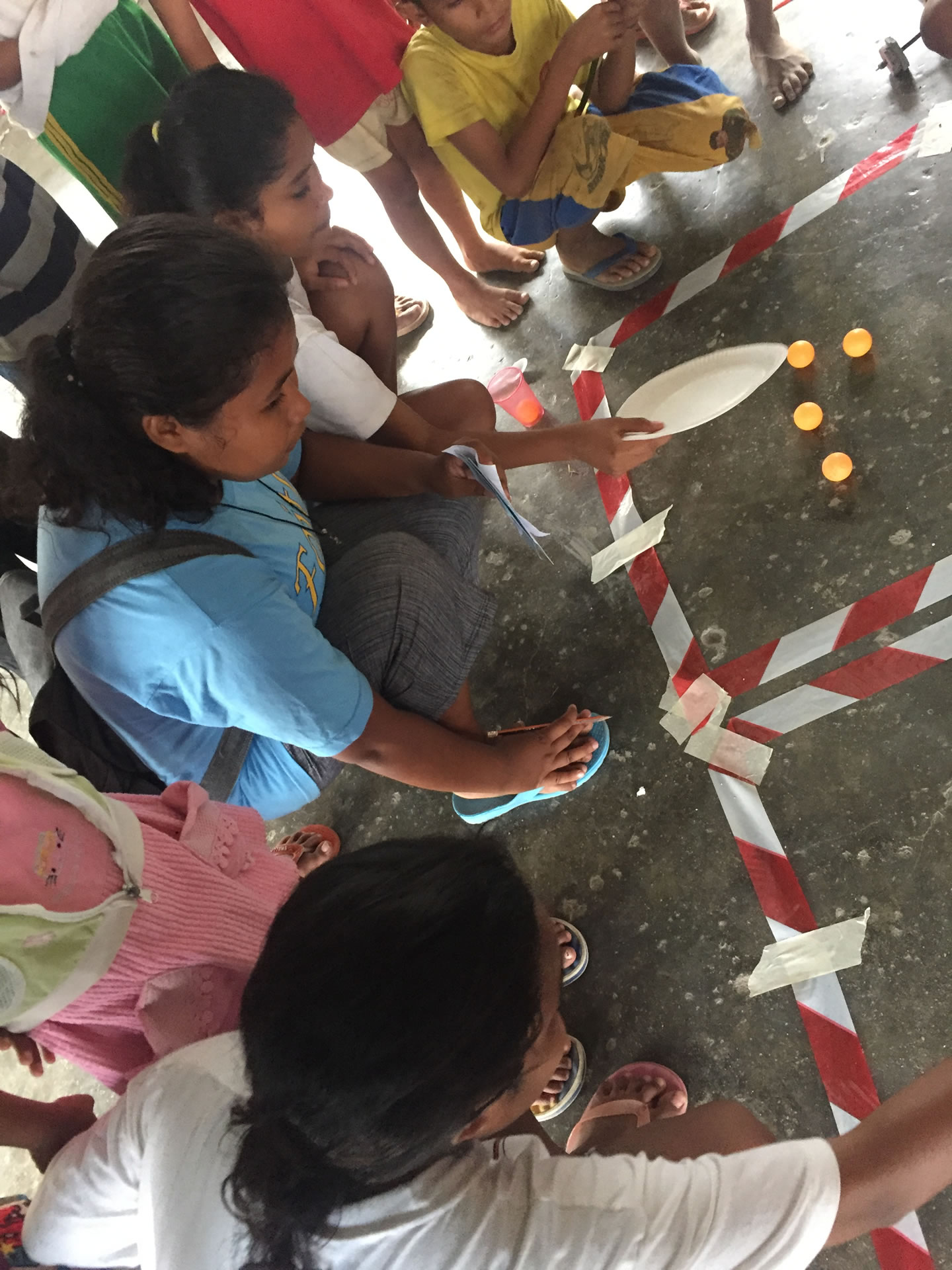 Station 5: One after another (Aim: To finish 3 mini-tasks with ping pong balls)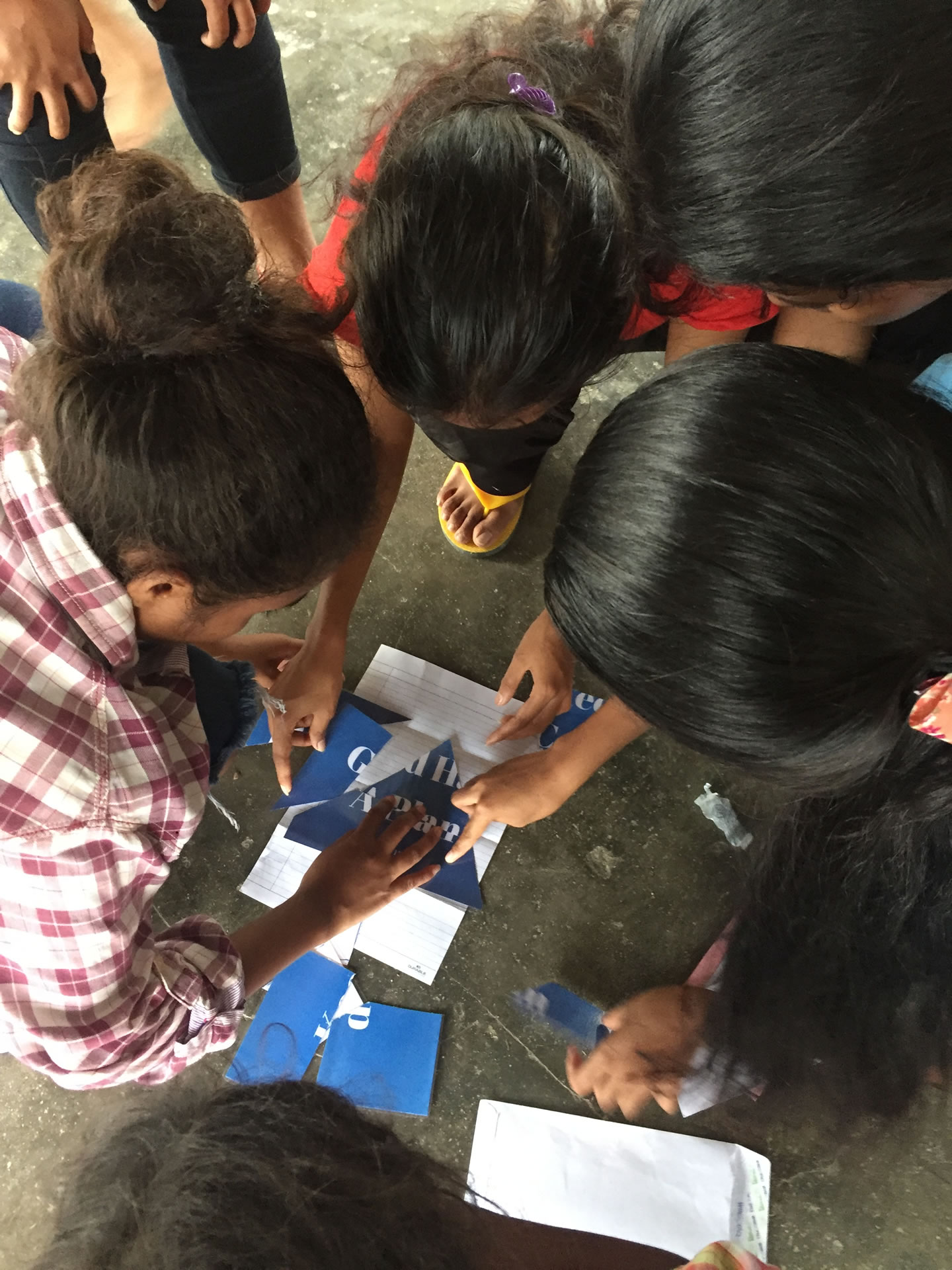 Piecing the puzzle together as a team
Upon finding the last clue, the youths figured out that their final destination was Dream Centre! This was where they would recover their lost names and dreams. Before they could enter Dream Centre to find the key to their box, they needed to read out Jeremiah 29:11-12 to Huiyi, the overall IC of the event.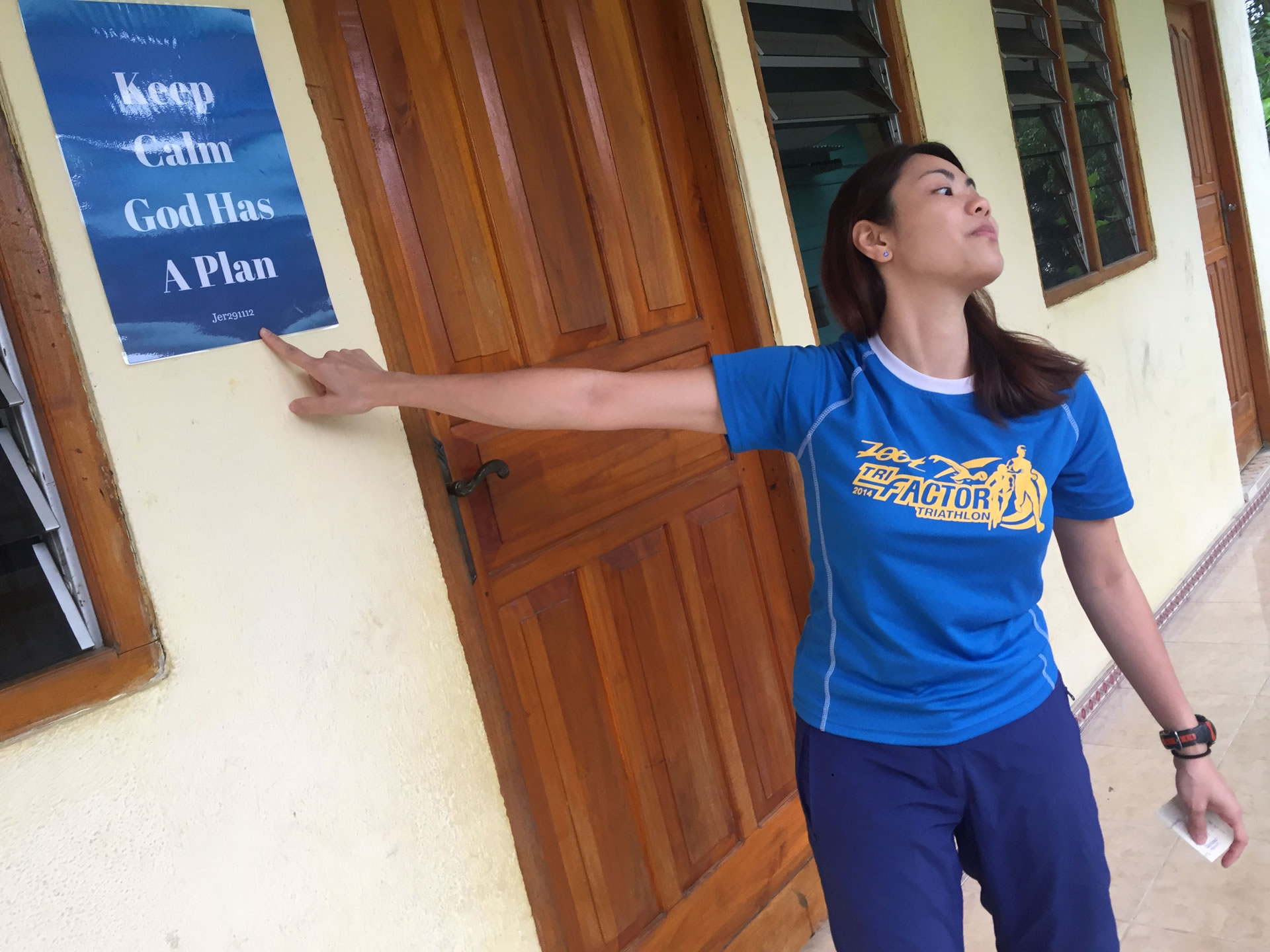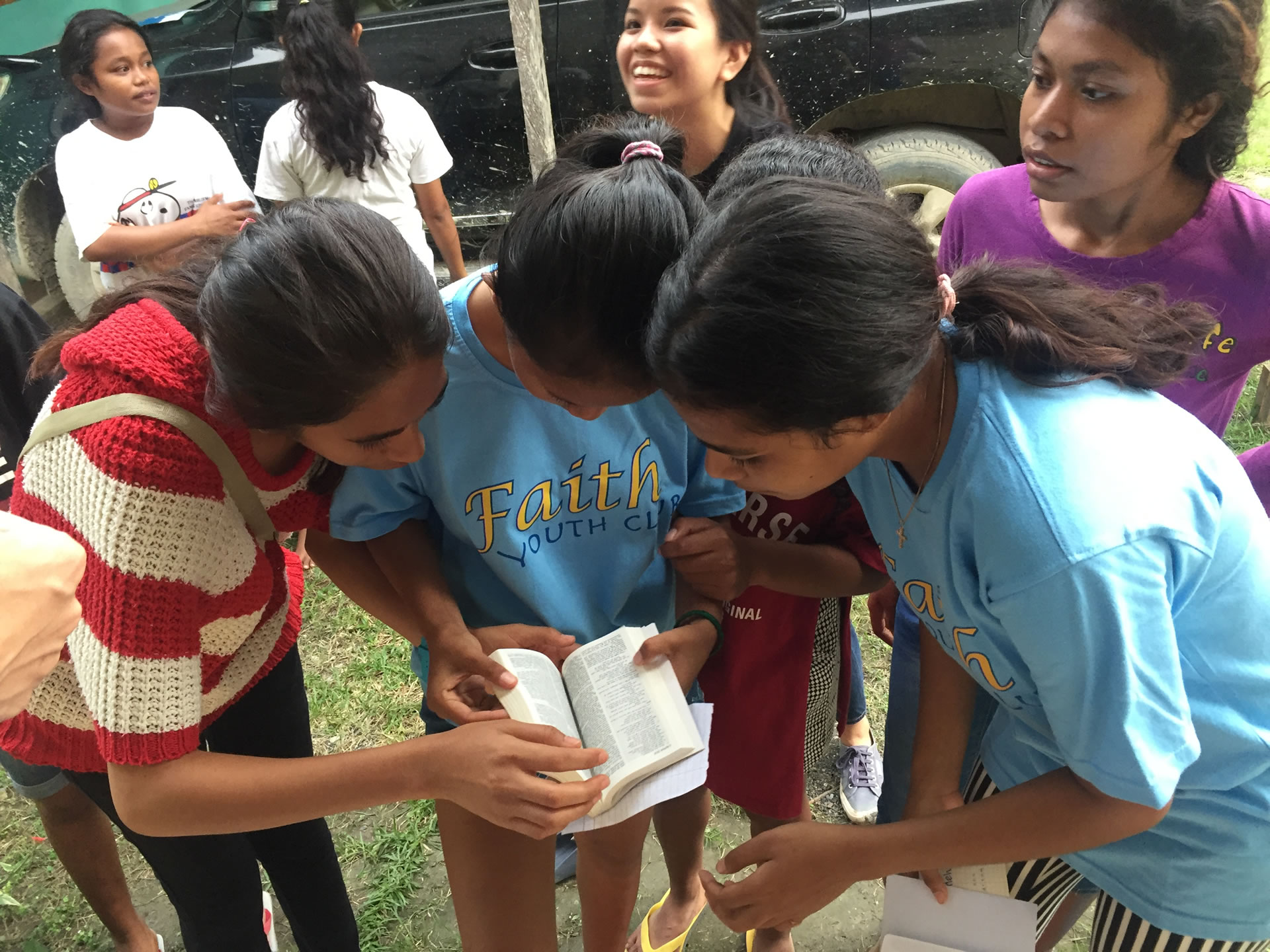 Reading Jeremiah 29:11-12 together as a team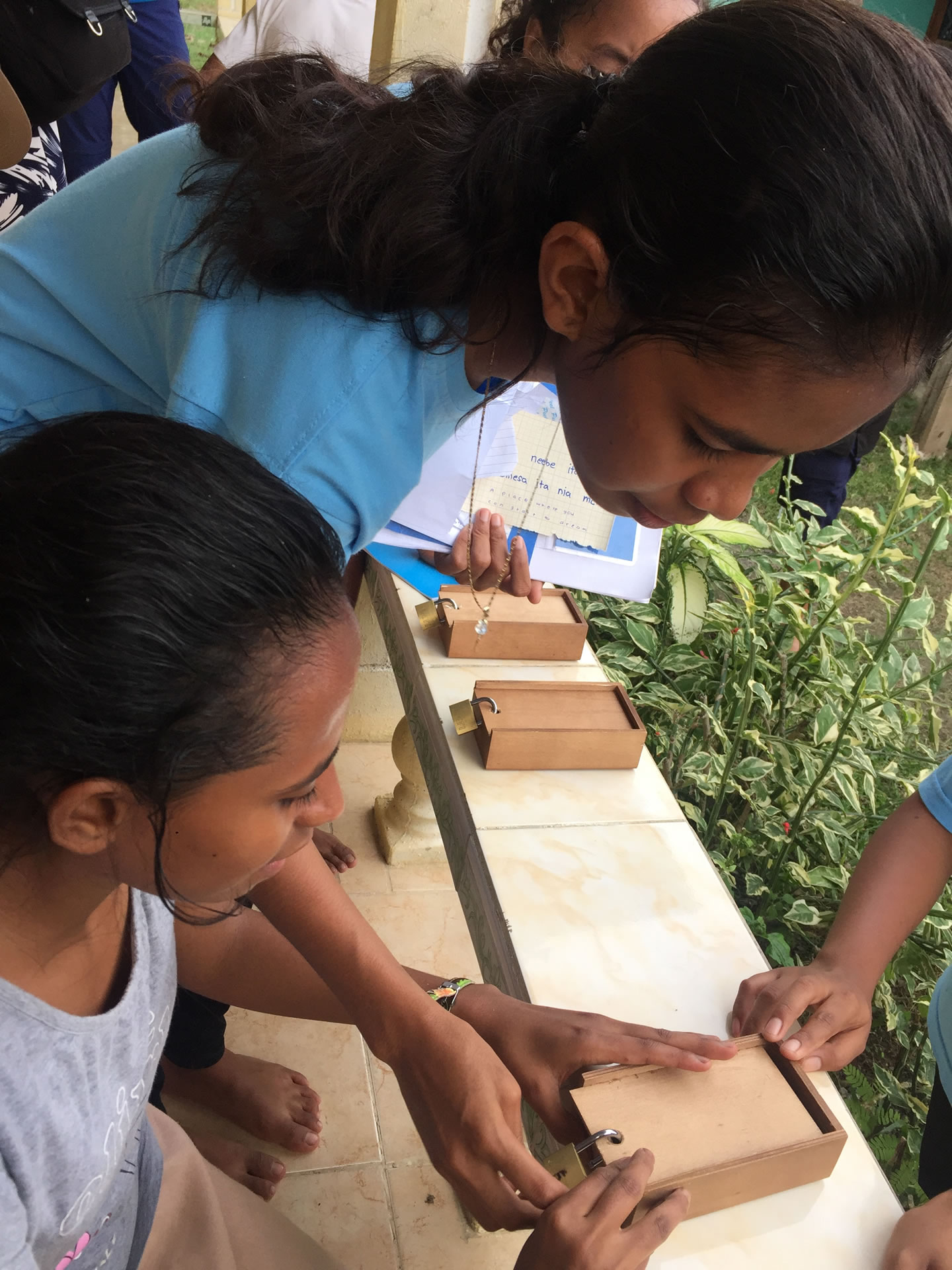 In spite of being tired, the youths did not give up on finding the key to unlock their dreams. They were exhilarated upon recovering their lost names and dreams.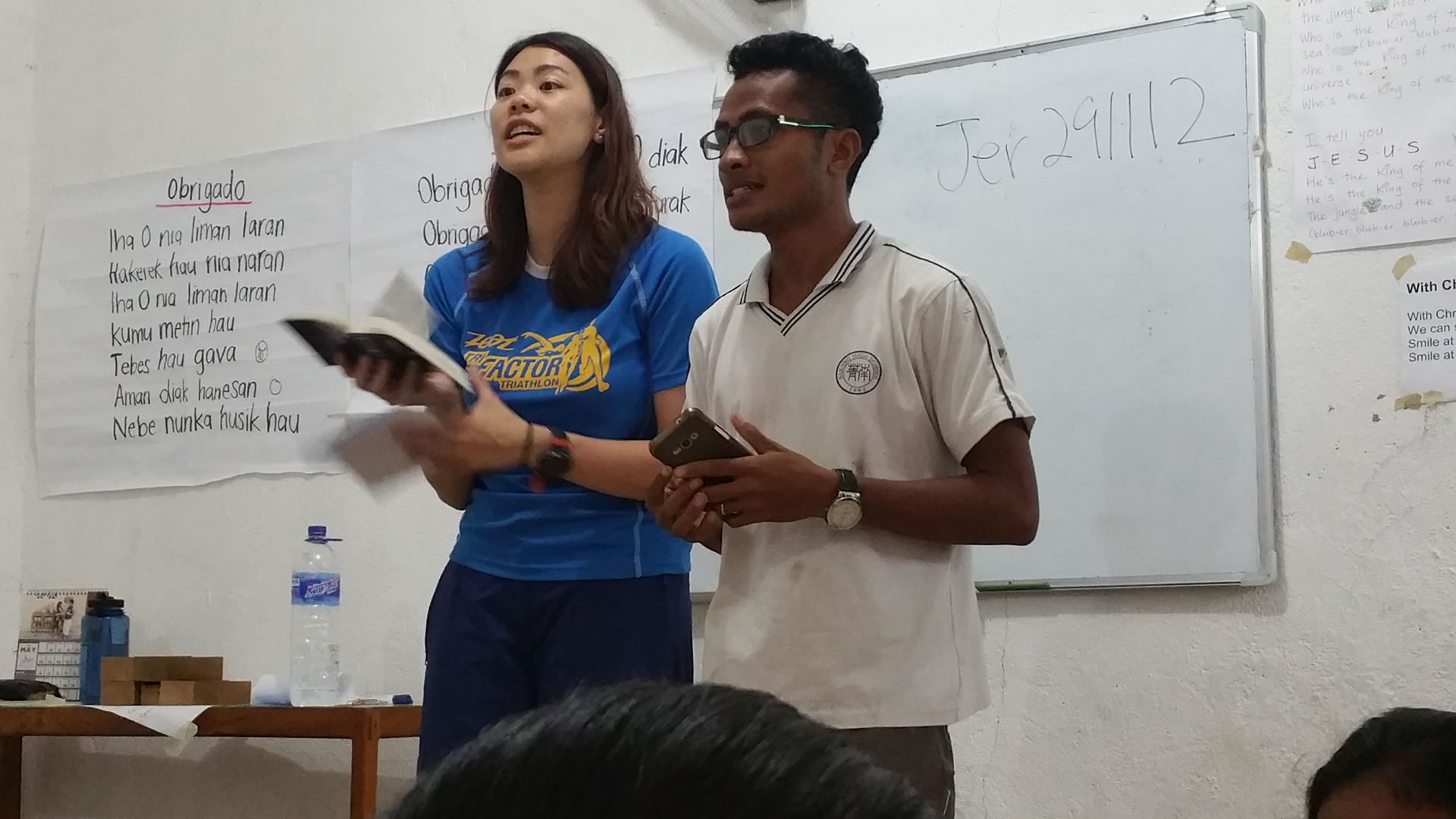 Huiyi then preached from Jeremiah 29:11-12 and invited the youths to enter into God's divine destiny by accepting Jesus as Lord of their lives. She also used the John 3:16 diagram to describe how God sent Jesus to die for our sins so that we may have an intimate relationship with God.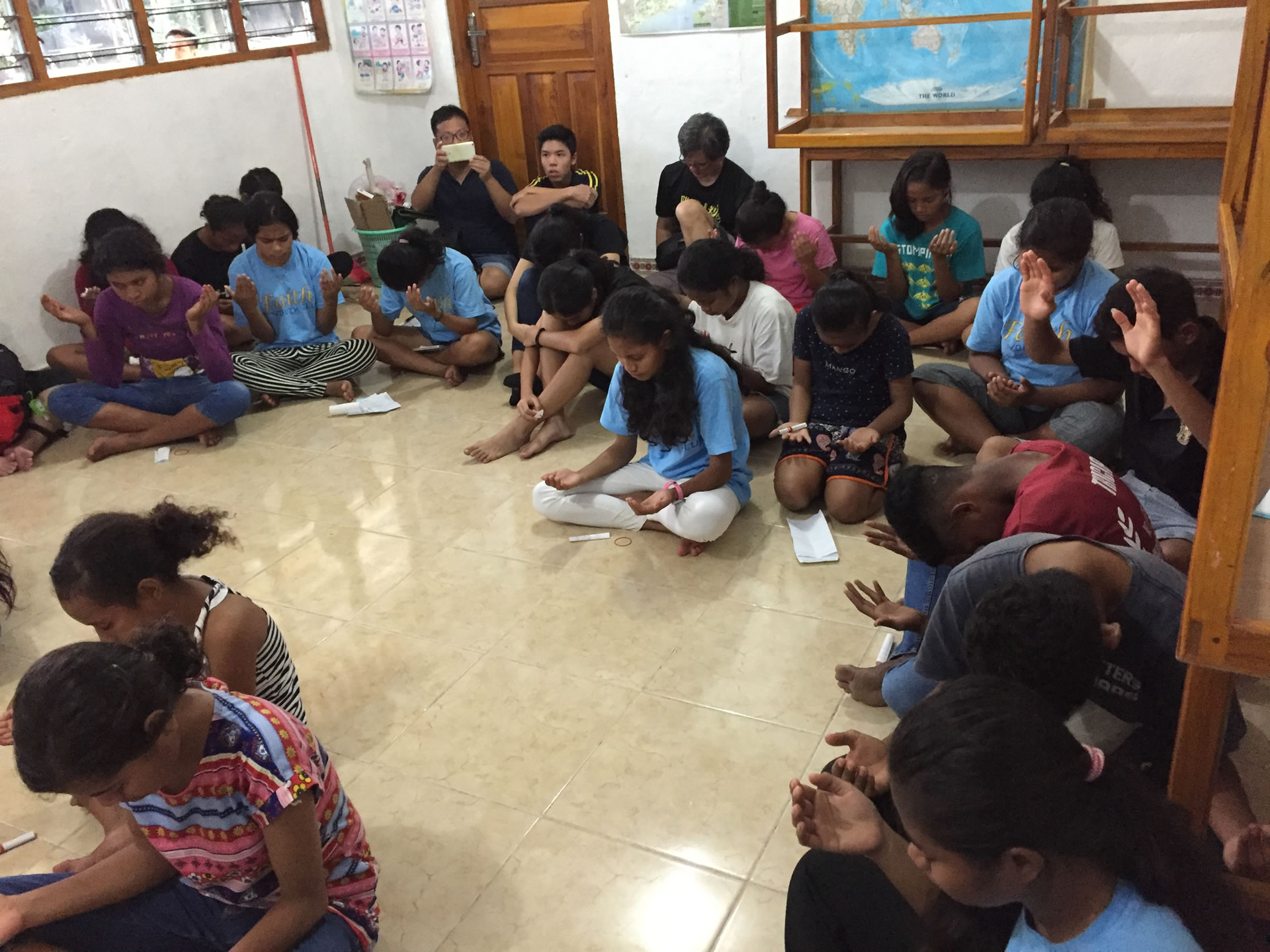 We could sense the Holy Spirit moving in Dream Centre as Huiyi shared. Many youths raised their hands to declare that they wanted their names to be written in the Book of Life.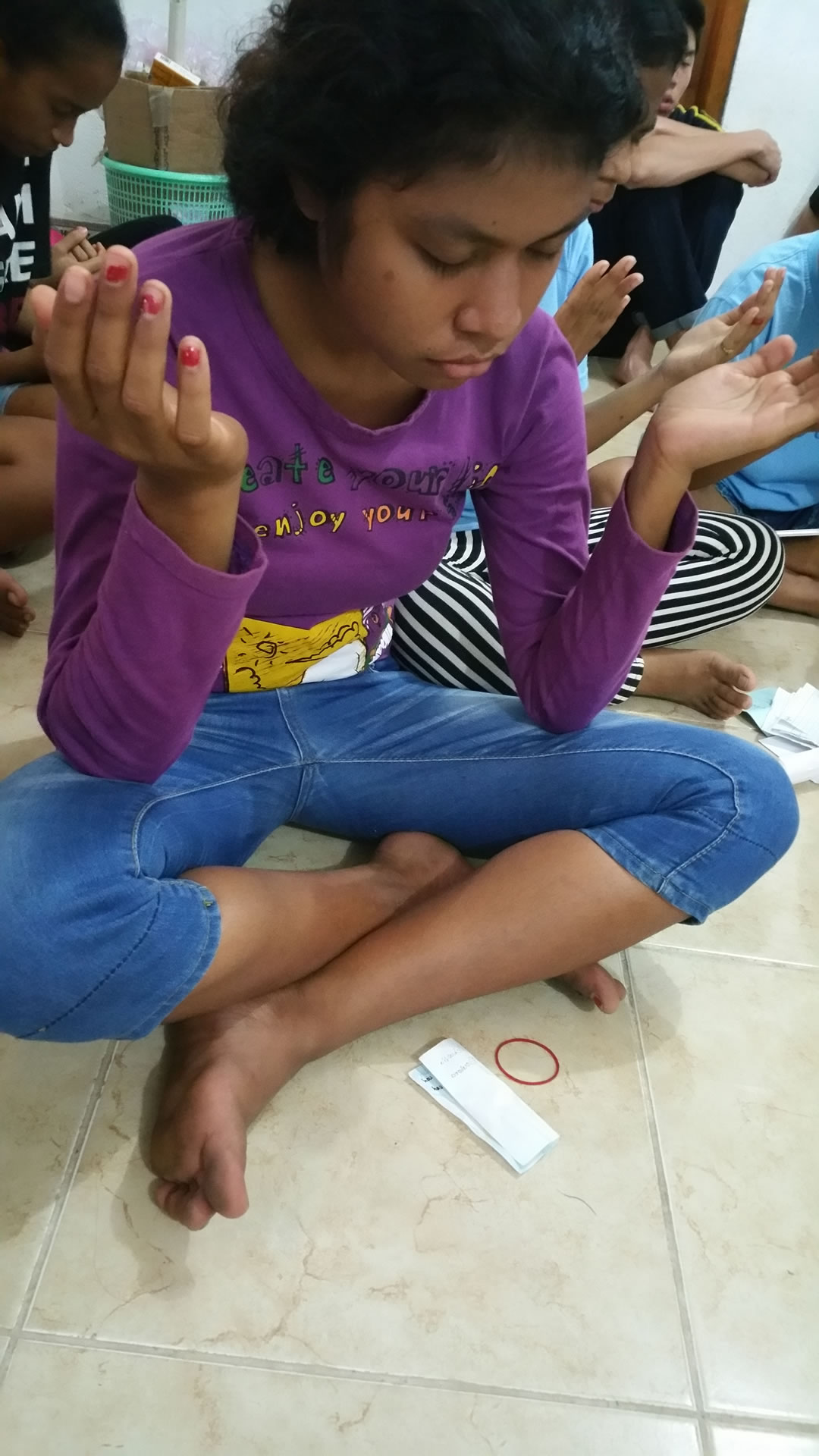 Concluding the event, the youths worshipped God with the song "Obrigada Aman" (Thank You, God). The presence of the Holy Spirit was so palpable as the youths sang with all their hearts to God. It was an unforgettable moment. We believed that God had sowed seeds of faith in many of the youths that day as the five Faith Youth Club leaders rose up throughout the entire programme.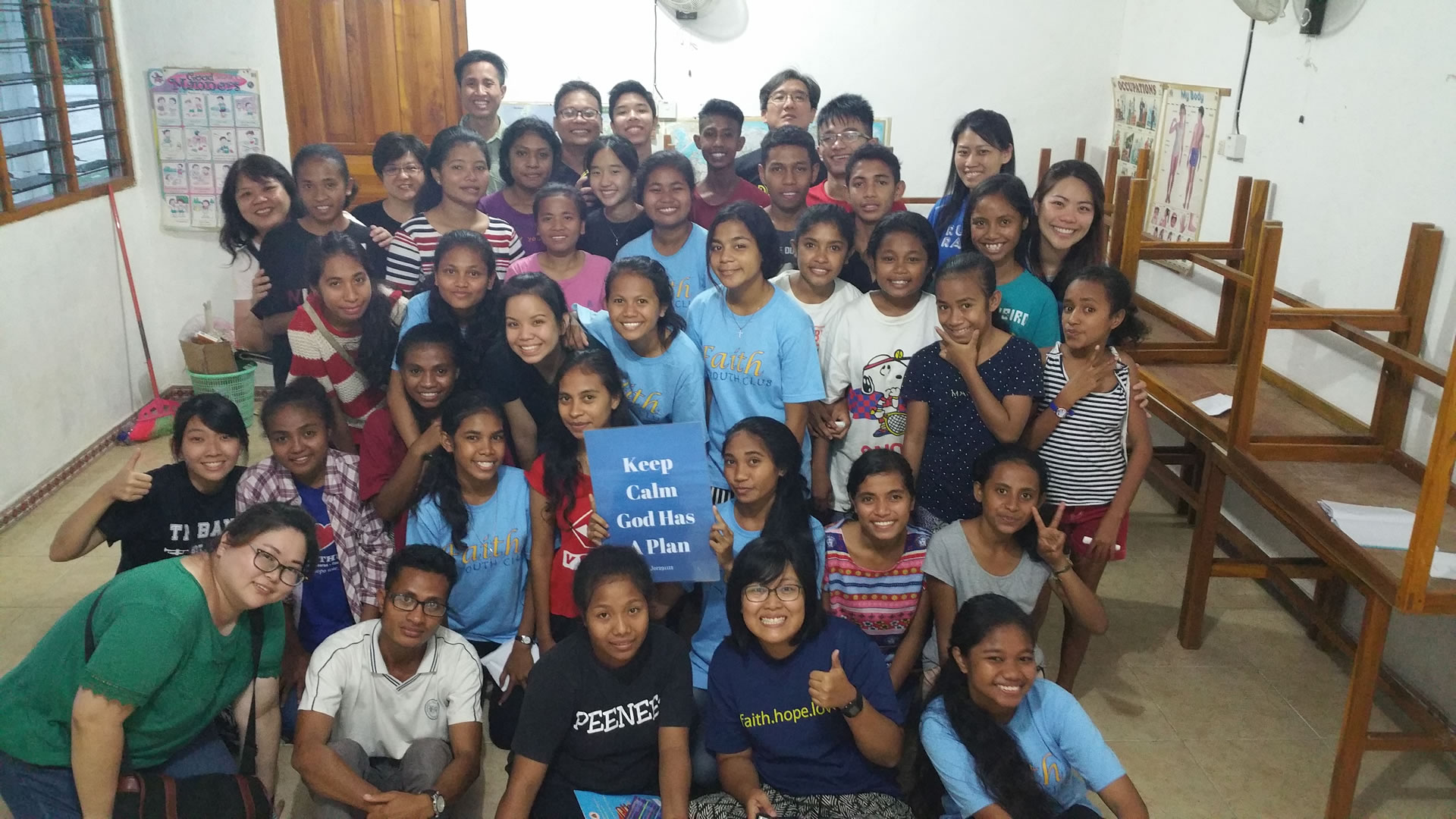 Day 6
Quek led the morning devotion and shared about true repentance. He told us that God had been showing him that repentance is not about actions but rather, the changing of one's thinking.
"You were taught, with regard to your former way of life, to put off your old self, which is being corrupted by its deceitful desires; to be made new in the attitude of your minds; and to put on the new self, created to be like God in true righteousness and holiness. Therefore each of you must put off falsehood and speak truthfully to your neighbour, for we are all members of one body." – Ephesians 4:22-25
We attended Vision Christian Church on Sunday. After worship, we sang "One Way" along with simple actions, to bless the local congregation.
As the local pastor started preaching, a few of us left to teach a group of children at Sunday school. The lesson was about Noah's ark and how God promised to never flood the earth again. After asking the children to pray and tell God the promise they wanted from Him, we ended the lesson with an art and craft activity where the children made a rainbow with coloured handprints!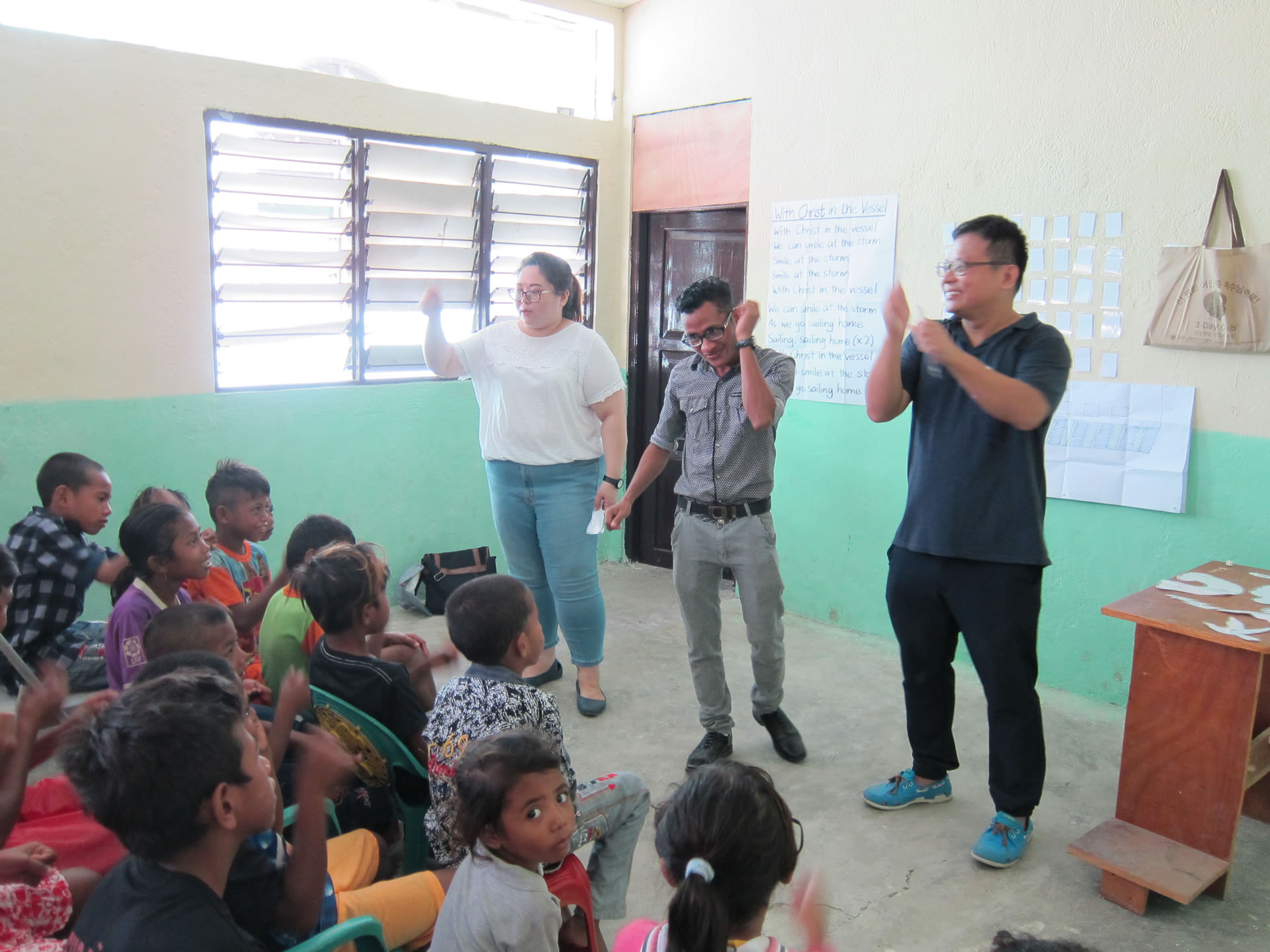 Sunday School at Vision Christian Church
Afternoon came sooner than expected and Dream Centre was quickly filled with more than 40 children! In order to break the ice, we played some games such as Simon Says and Scissors-Paper-Stone.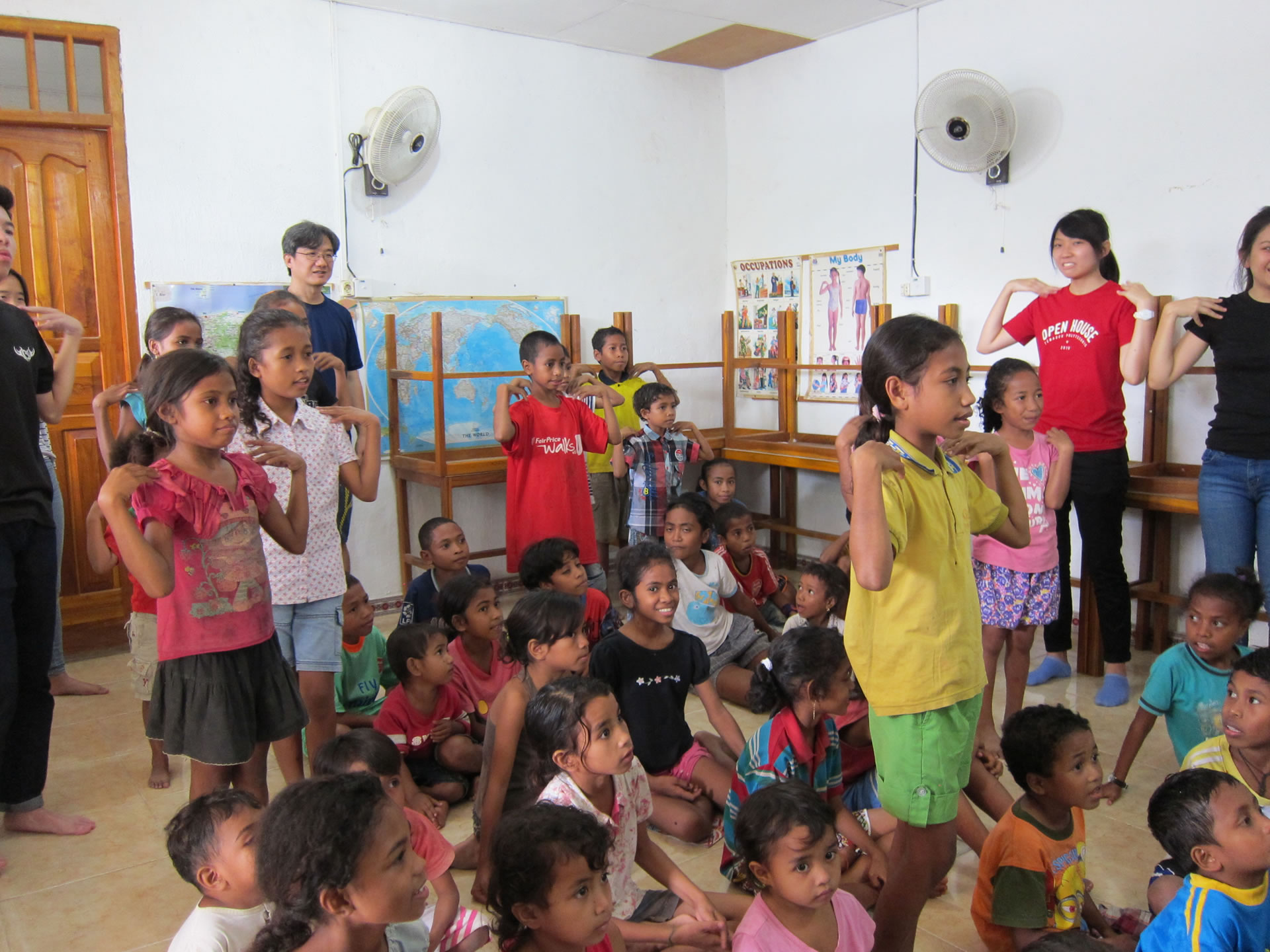 The last few contenders of Simon Says!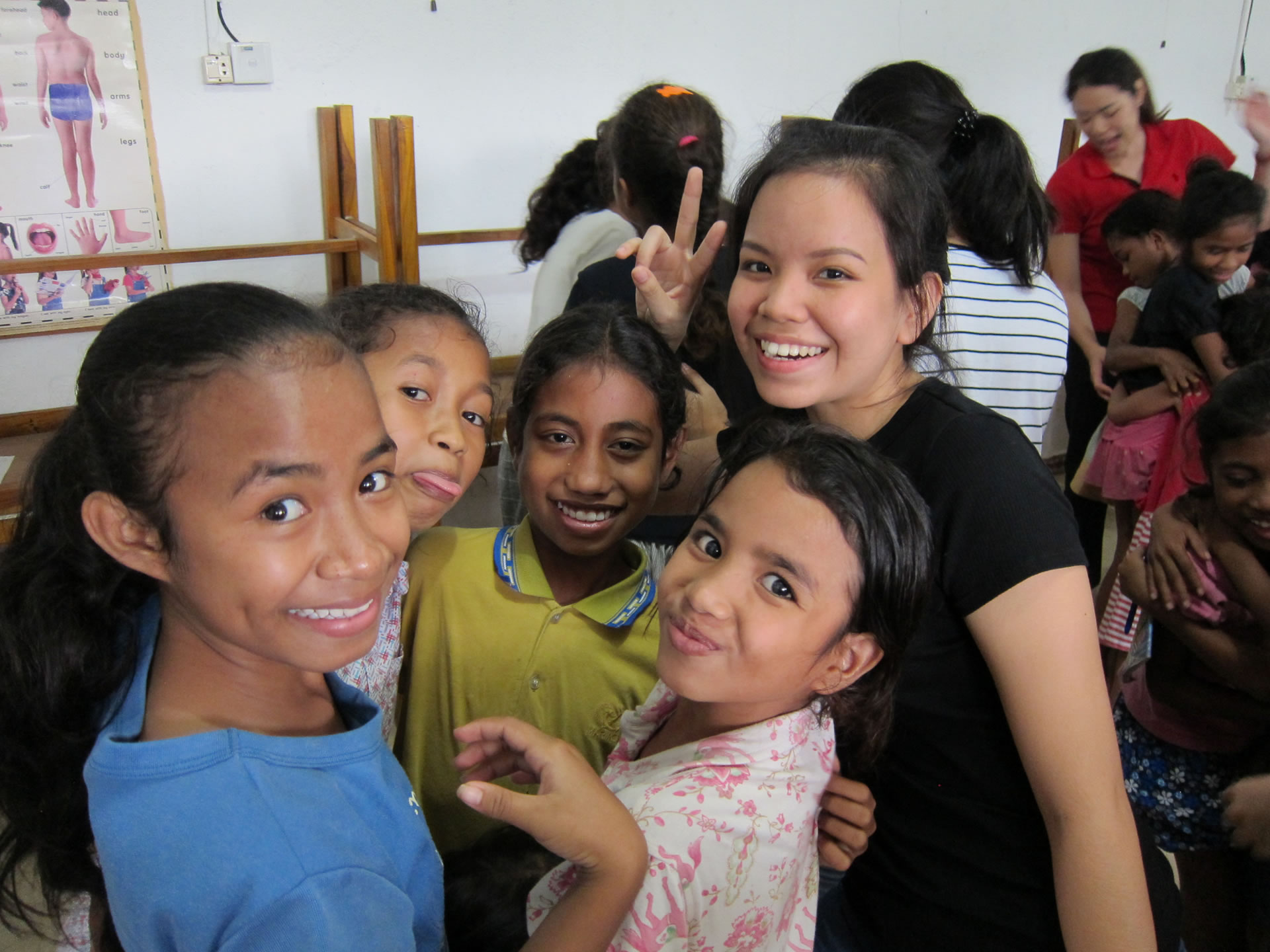 Holding on to each other as we played the Newspaper Game
The main event of the programme was a skit based on the story of how Jesus healed 10 lepers. We wanted to teach the children to be thankful to God and their family members who had done so much for them.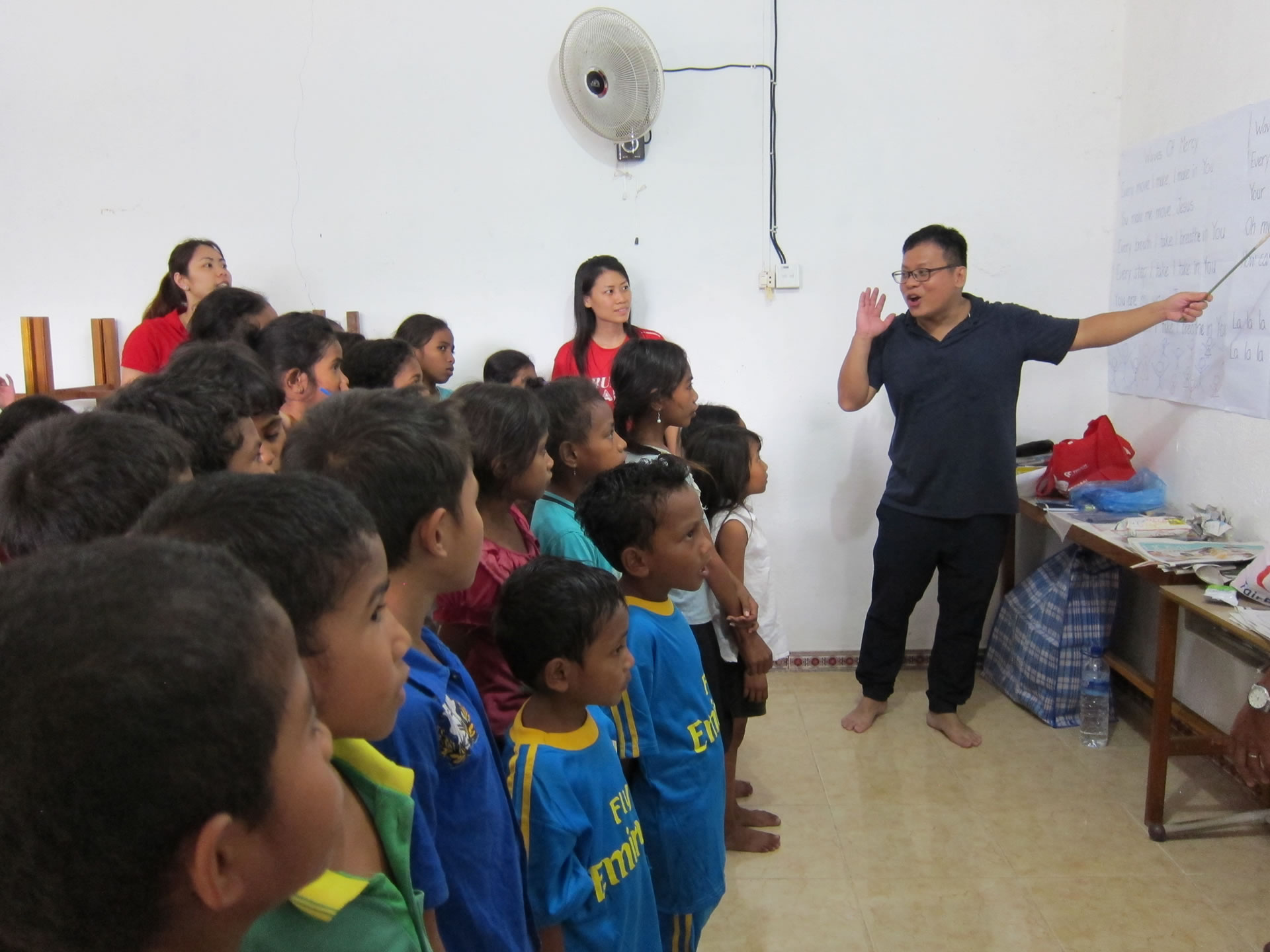 Learning a new song, "Waves of Mercy"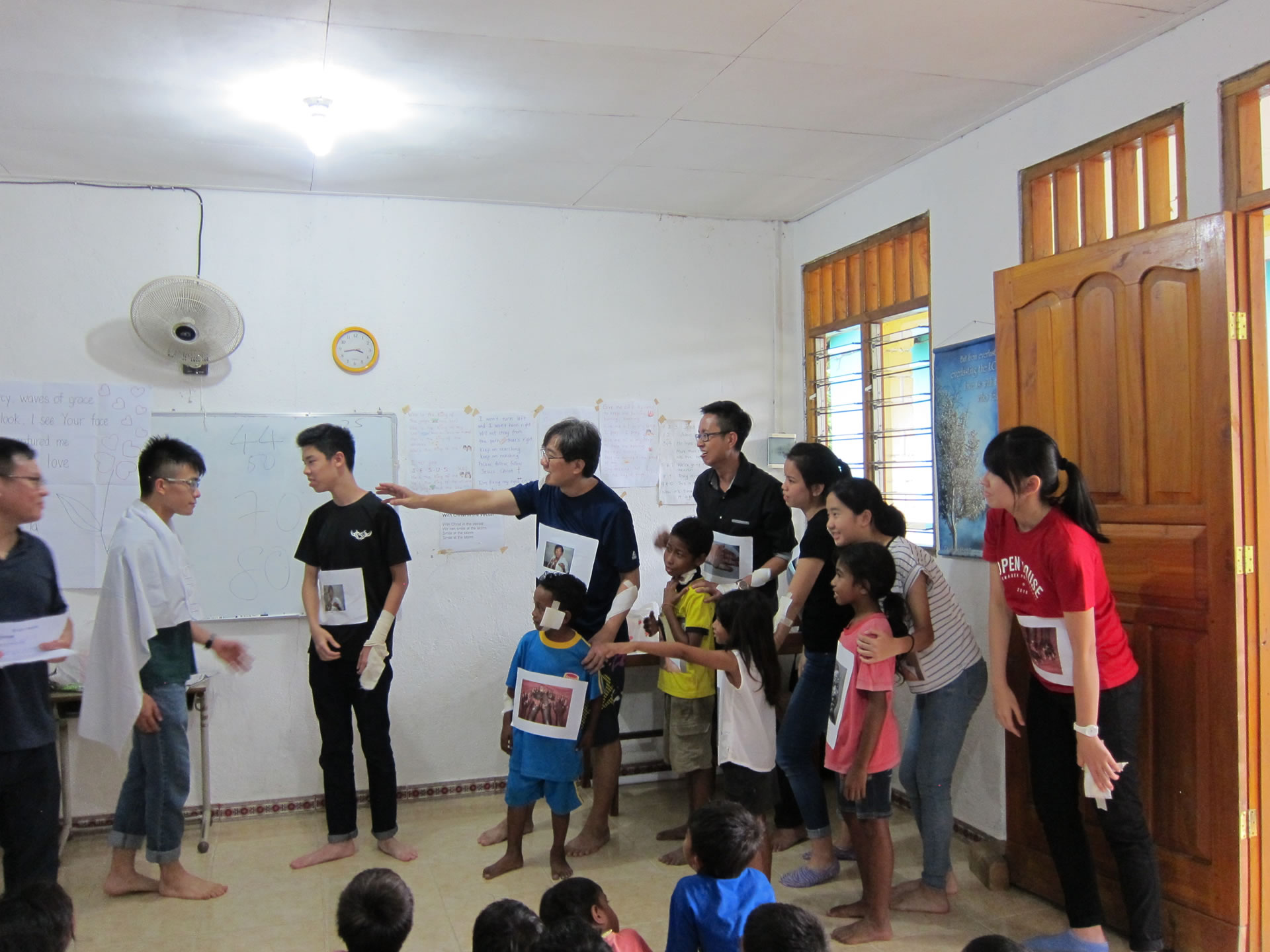 The 10 lepers who cried out to Jesus to heal them
We had the opportunity to pray for children who were sick that day and many of them received healing from God.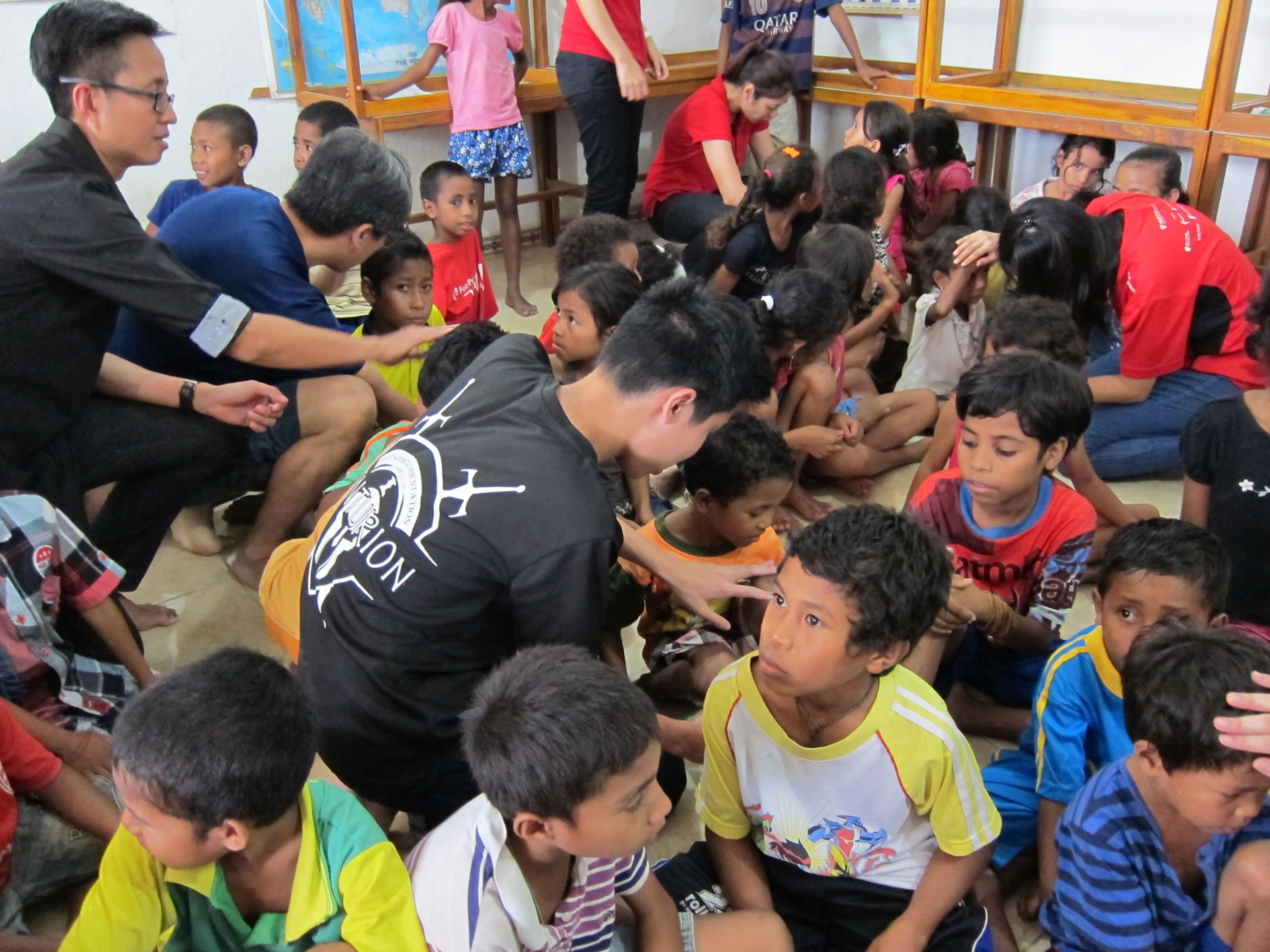 Praying for children who were sick
We concluded the programme with an art and craft activity through which the children learned how to make a card that they could bring home to express their gratitude to their family. It was amazing to see how the children were easily contented with making a simple card.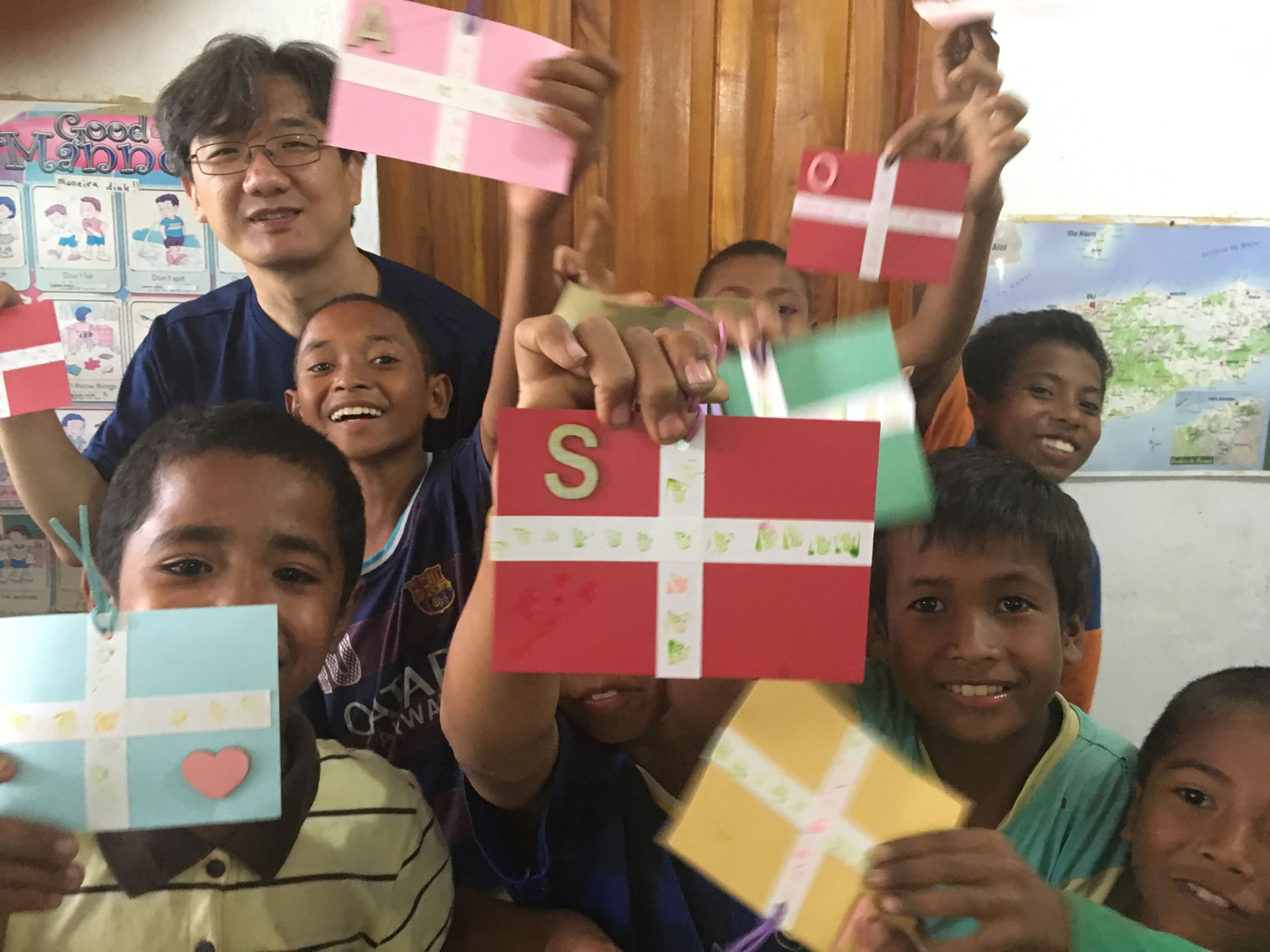 The children with their self-made cards
Day 7
Before setting off for Dili, Lay Leng led the morning devotion and continued on the topic of repentance. She shared with us that God had already put in her heart to share about the same topic even before Quek's devotion. Lay Leng reiterated how a change in heart would lead to a change in mindset, thereby resulting in the change of our actions. She challenged us to think about what was to come after Timor Leste, lest we allow this mission trip to remain a mere memory.
After our last breakfast in Viqueque, we commenced on our journey back to Dili. We stopped at the same mountainous area for some photo-taking before we continued on our way.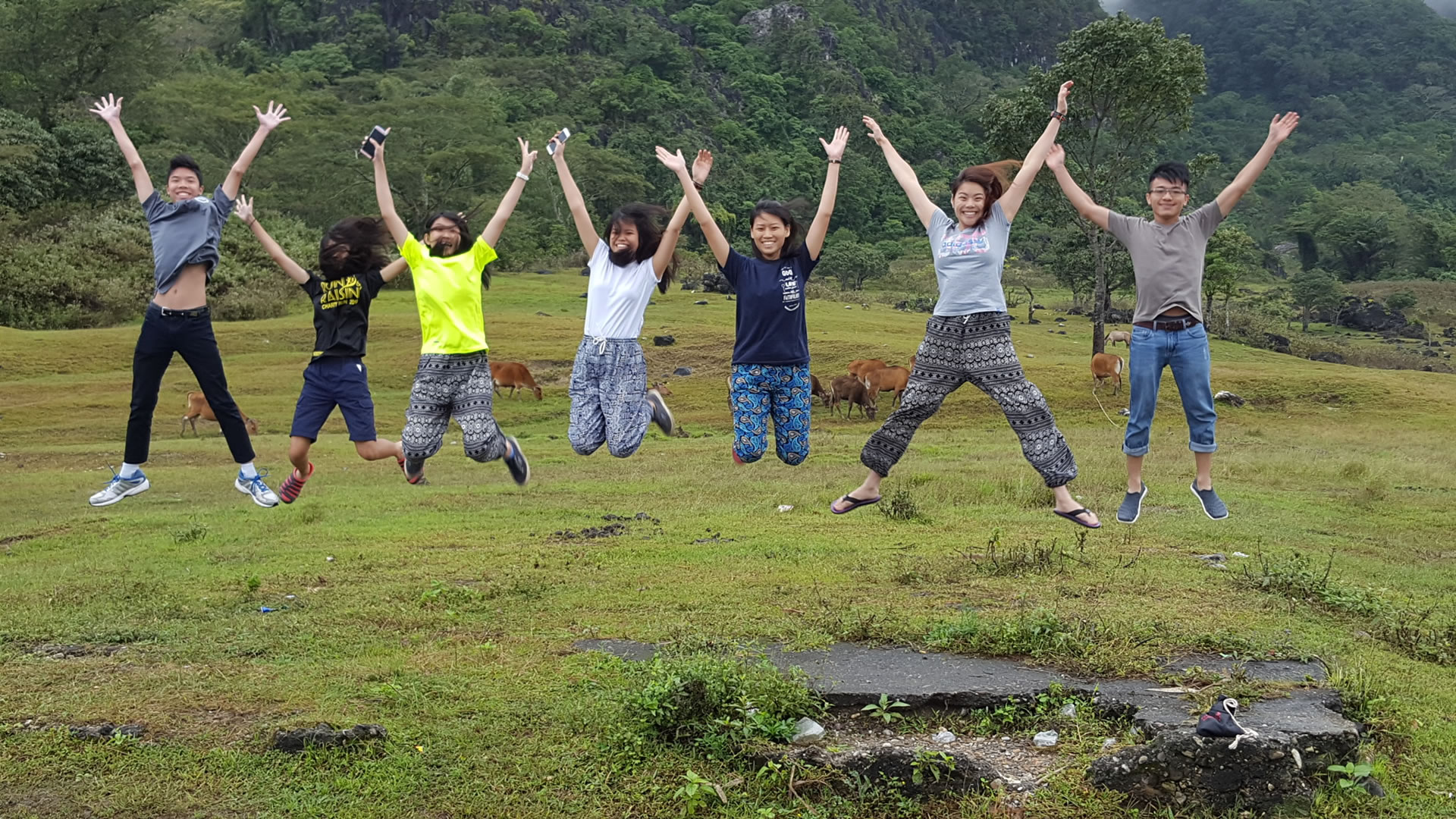 Time for a jump shot!
By dusk, we reached our destination and had the opportunity to meet with "Jesus" at Cristo Rei, Dili.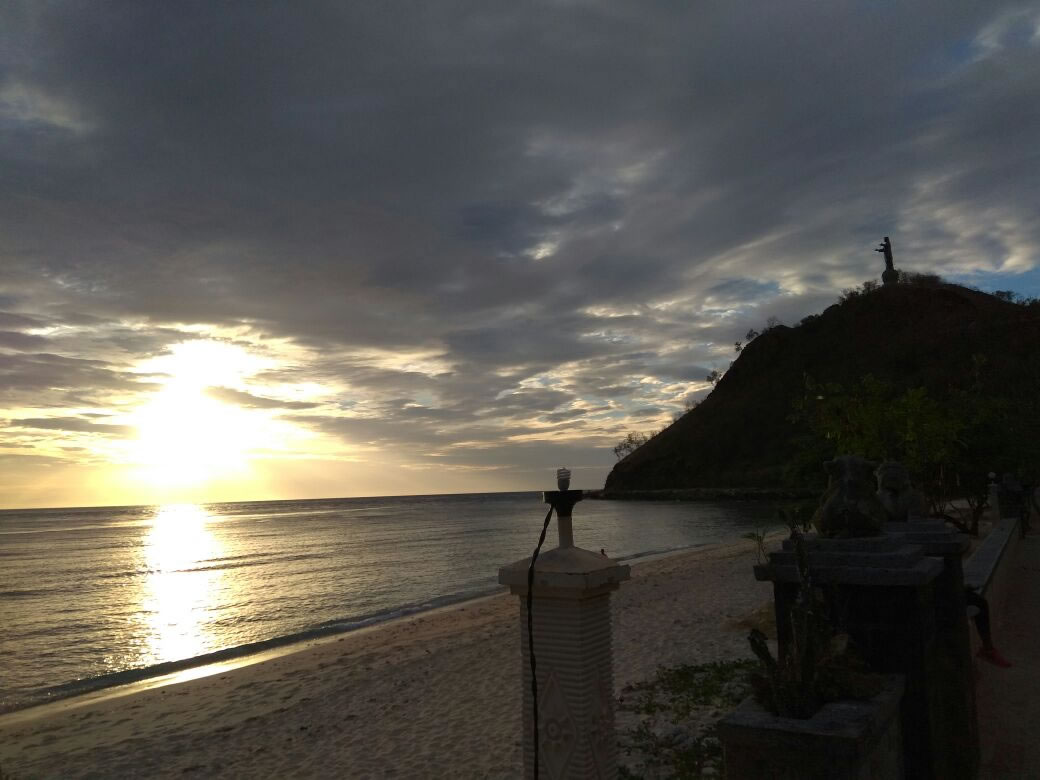 The "Jesus" statue at Cristo Rei, Dili

The phenomenal view reminded us to reflect on what God had done in the past few days.
Day 8
On the final day, Pastor Yolanda led the morning devotion and shared from Numbers 15:32-41. She reminded us that the Israelites were a forgetful generation and we need to remember what God has done by consecrating ourselves to Him. She encouraged us to think about one thing that we needed to commit to God who is the Lord of our lives.
Pastor Catherine and Denise brought us around Dili for a short time of rest and relaxation. After buying banana chips, avocados and soursops, we were ready to go home!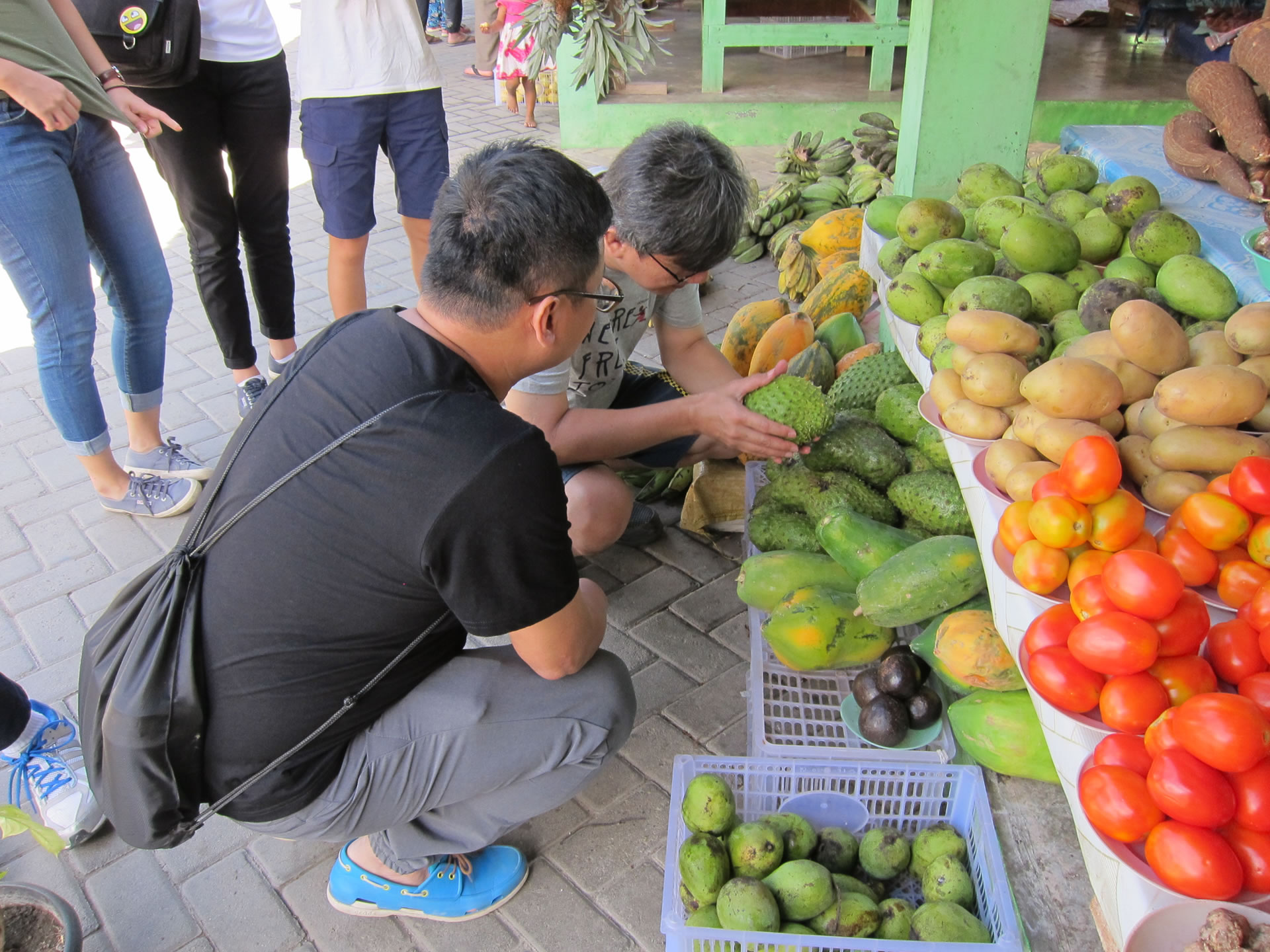 In spite of the short time we spent in Timor Leste, friendships were forged and fond memories were etched deeply in our minds. We will miss Viqueque, especially the youths and children that we served. It was time for us to say goodbye to Pastor Catherine and Denise.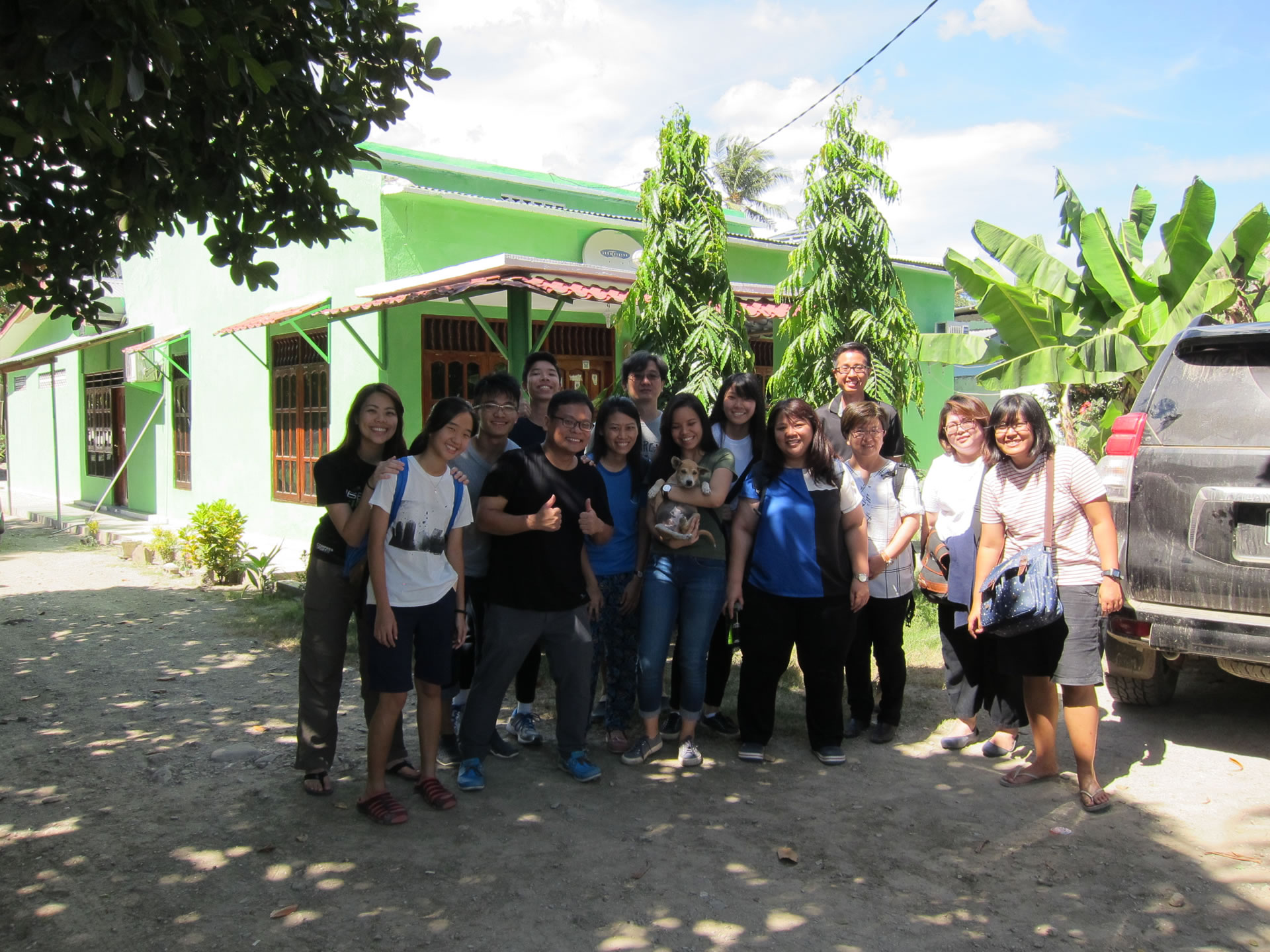 Outside Faith House in Dili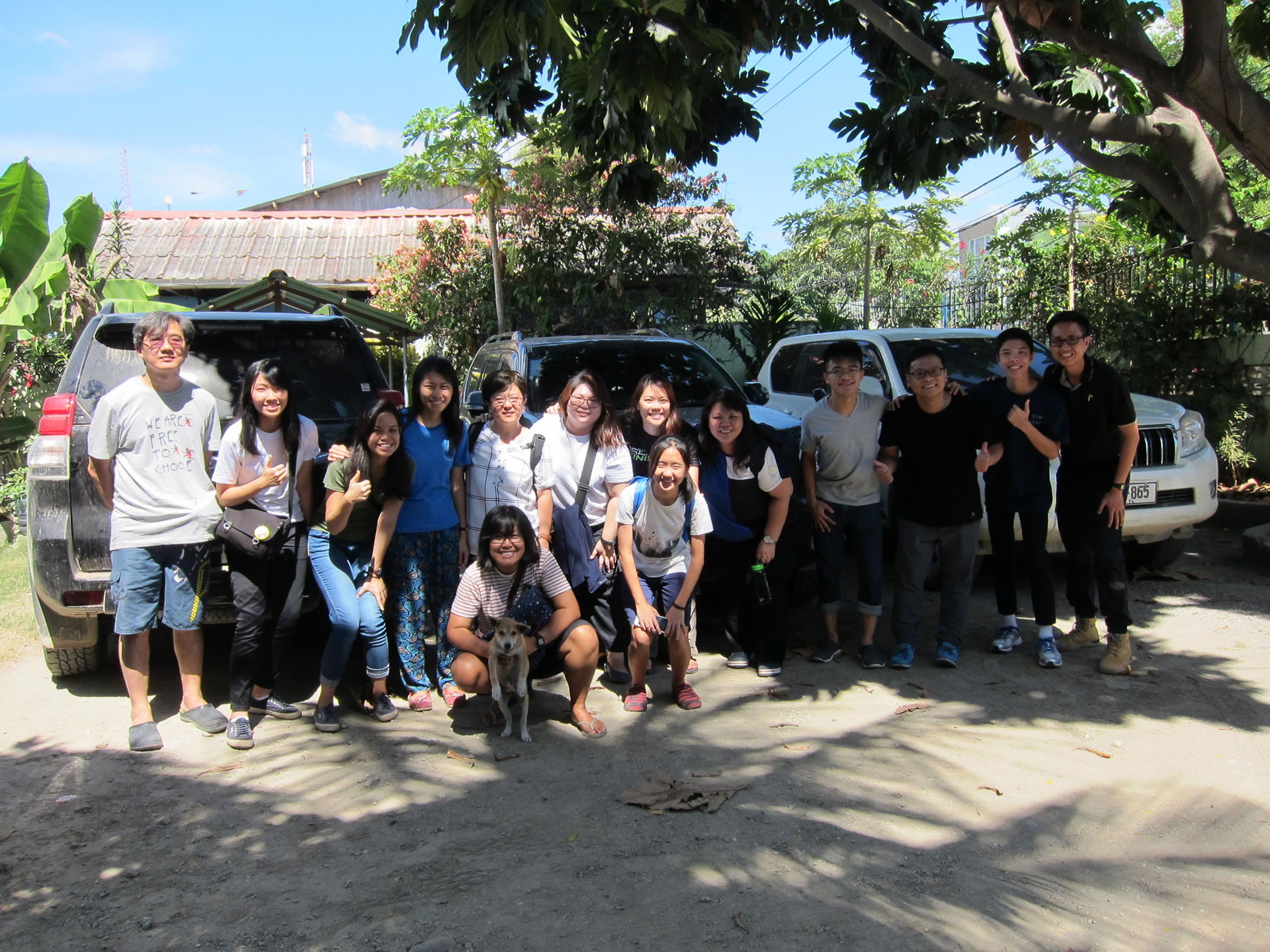 The cars that brought us to and fro Viqueque
We pray that God will continue to sustain Pastor Catherine and Denise as they serve the Timorese in Viqueque, and to renew them daily with His strength and hope! We also pray that God will continue to send more missionaries to Timor Leste to do His work, to prosper this land and His people.