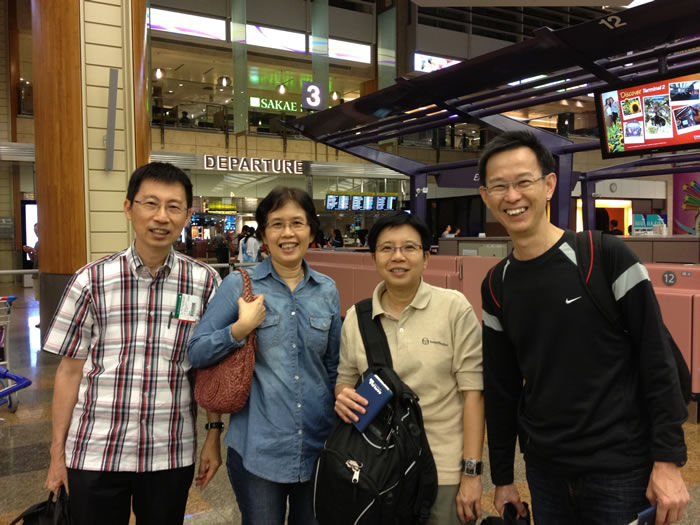 FCBC pastors' team at Changi Airport
This trip is FCBC's third trip to Bangladesh to promote and help churches implement the G12 Vision. Our first and second trips were in October 2011 and May 2012 respectively. This trip is perhaps todate, the most activity-packed and fulfilling. 3 FCBC leaders, Clement and Clare Lim, G12 leaders from Pastor Simon and Marilyn Yee's team, as well as Terrence Tan, G12 leader from Pastor Yong Tai Tong's Team, were present with us on this trip.

Clement and Clare Lim
We arrived at Dhaka on Sunday night. On our way to the hotel, we witnessed numerous trucks transporting cows into the capital for the Muslim Eid Ul Azha celebrations. This caused a major traffic jam and by the time we checked into our hotel, it was 2.00am, Monday morning. We rested briefly before waking up at 5.00am to pack, check out and head down to the airport to catch the early morning domestic flight to the city of Jessore. From there, we started on a two-hour drive to Khulna.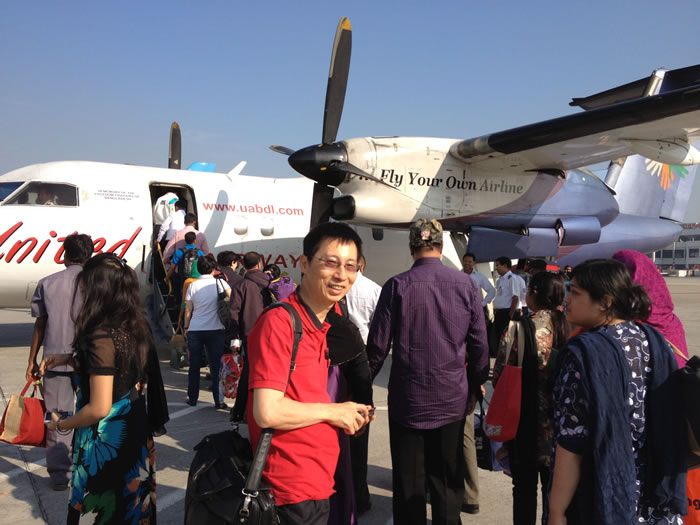 Pastor Richard Ong at Jessore Airport 
We arrived at the Christian Service Society and were met by our host, Pastor Jonathan Munshi, the Assistant General Superintendent of Bangladesh Assemblies of God. He was instrumental in bringing the G12 Vision into Bangladesh when he was the General Superintendent.  
After lunch with Pastor Jonathan Munshi, we visited his church, Shalom AG Church, as well as Touch Bangladesh, Shalom AG Church's outreach ministry. They minister to the poor and needy in the community. Some of their works include a youth hostel, orphanage work, a rehabilitation ministry for former prostitutes, as well as a kindergarten for children from needy families.
| | | |
| --- | --- | --- |
| Shalom AG Church Sanctuary | Touch Bangladesh | Youth Hostel |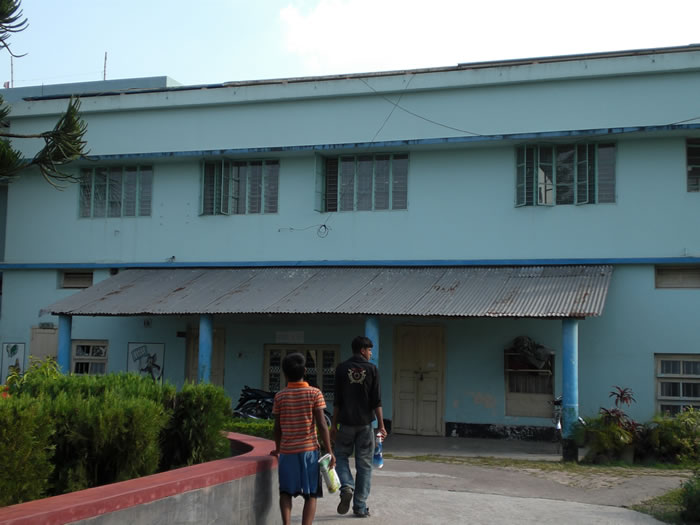 Building where orphanage work, rehabilitation for former prostitutes and a kingergarten for children from needy families is conducted 
We then returned to the Christian Service Society, where we had a time of consultation with 22 pastors, as well as a few of their spouses. Many had attended our G12 Seminar and/or Encounters in Dhaka in May 2011. At the consultation where 12 churches in the city were represented, 10 Senior Pastors (including Pastor Jonathan Munshi) shared their progress in cell formation and implementing the G12 Vision in their respective churches. It was very encouraging to hear of their desire to embark on the G12 Vision, although more assistance is certainly required to help these churches understand the cell church structure and implement the G12 Vision. Many of these churches still operate on a programme-based design, with a few small groups. We found that besides assisting them in launching the Ladder of Success, we also need to educate them on the cell church and conduct cell leaders' training.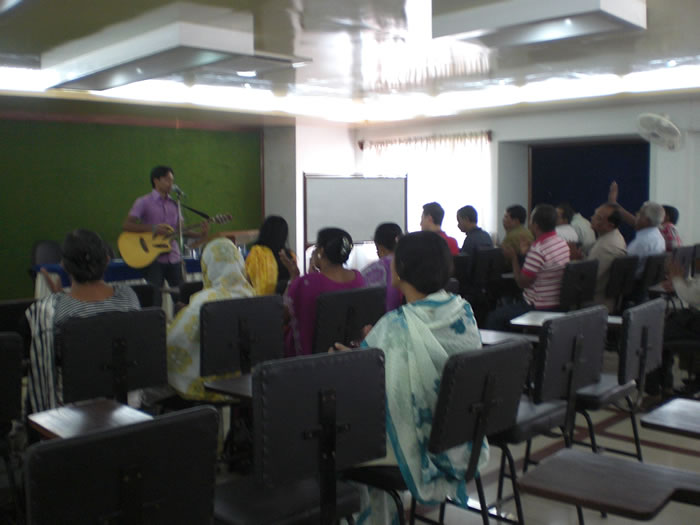 Pastors at the consultation in Khulna
At night, Pastor Richard Ong shared on the "12 Core Values of the G12 Church" at the opening night of a City Pastors' Conference that was held at the Christian Service Society (CSS). Out of the 60 pastors, including 22 of our own G12 pastors, present, many were hearing about the G12 Vision for the first time. This good time of seed sowing was arranged by Pastor Jonathan Munshi and his network of pastors from different denominations. 
On the third day, we returned to Dhaka, where we met with 3 Senior Pastors, Pastor Kalyan Biswas from Uttara AG Church, Pastor Binoy Saur from Mirpur AG Church and Pastor Nathaniel Munshi from Bethel AG Church. We met at the home of Terrence Tan, a G12 leader from Pastor Yong Tai Tong's Team who presently resides in Dhaka. There, we discussed their progress in implementing the G12 Vision in their churches. Terrence has been conducting cell leaders' training classes in Uttara AG Church and Mirpur AG Church since June 2012, and the response has been good – about 14 pastors, leaders and members from Uttara AG Church and 20 from Mirpur AG church attended the training. 
Pastor Binoy shared that he plans to start his cell group of 12 members after the October Encounters.   
While Pastor Nathaniel shared that he has been facing some opposition from his board members regarding his involvement in the G12 Vision. Upon hearing that, we prayed for him and his church that Satan will not use this to split the church. We also prayed for unity amongst the church board, leadership and members, and for them to support their Senior Pastor.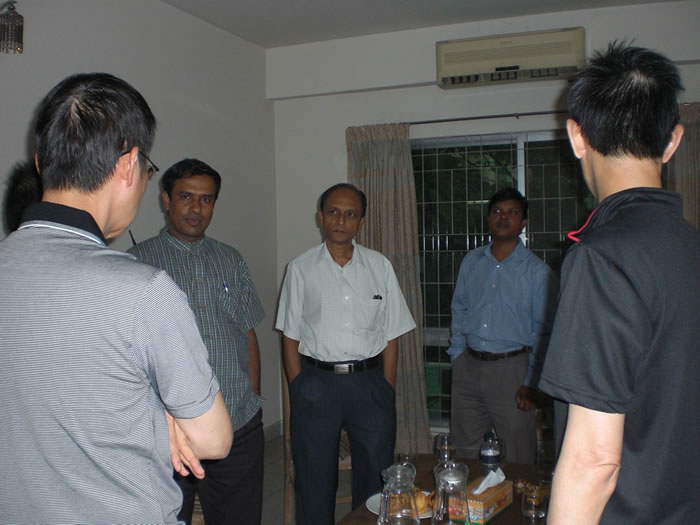 Consultation and prayer with the pastors from Dhaka
We conducted the Men and Women Encounters for the next four days at Uttara AG Church and Mirpur AG Church. In Uttara AG Church, about 28 men and 22 women from Uttara AG Church attended the Encounters and about 29 men and 51 women from Mirpur AG Church attended the Encounters. 
| | |
| --- | --- |
| Men Encounter | Women Encounter |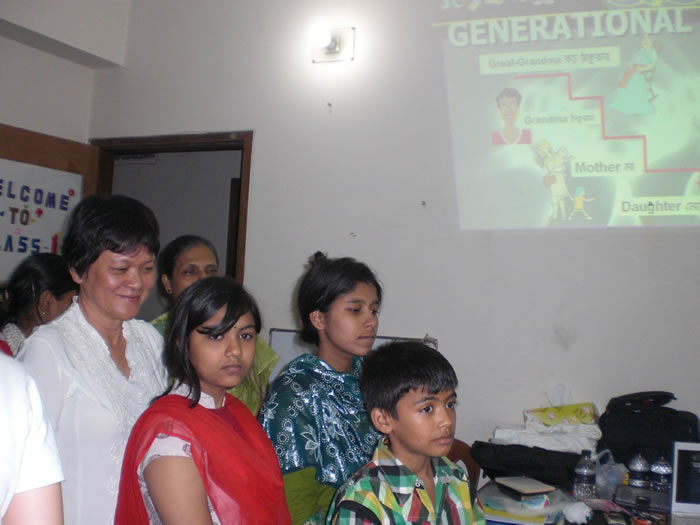 Clare Lim (in white) helping to teach at the Women Encounter
---
Here are some testimonies from the participants:
Mrs Seraphin (in green), the wife of an elder, at Uttara AG Church firmly believed that God would heal her of blindness in her left eye after a "Breaking of Curses" session. This blindness is a generational curse that has been passed down through the family. At the Encounter, she was very blessed and felt so much peace and joy in her heart.

---

Mrs Aloka (in turqoise), in her 70s, from Uttara AG Church, shared that she felt God's love throughout the Encounter. She was very sick before attending the Encounter, but during the Encounter, she felt God's healing power upon her and after that, she felt much better and stronger. 

Mrs Rani (in purple), who has been serving in Uttara AG Church as a leader, felt very tired physically and spiritually, but God refreshed her at this Encounter and healed her of her back pain. All Glory be to God!


---

Ela, from Mirpur AG Church, our interpreter who works in HSBC and ministers at the Christian Fellowship, shared that after attending our May 2012 Encounter and G12 Seminar, she was excited about the G12 Vision and the Ladder of Success. Thus, she started to share Christ and brought eight ladies to participate in this Encounter. Out of the eight, one was demonised due to the bitterness and anger in her heart. During the "Faith to Heal the Wounded Soul" session, she was delivered from the evil one and her whole countenance changed. As for the other ladies, they received the baptism of the Holy Spirit and the gift of tongues. Praise God!

---

An old lady, from Mirpur AG Church, received immediate healing – her sight was restored at the Encounter. She felt so blessed to experience the love and presence of God.

---

A brother, from Mirpur AG Church, received immediate healing from the pain and rashes on his knee. They vanished immediately after prayer at the Encounter.

---

Many men, from Mirpur AG Church, broke out in joy when they spoke in tongues for the first time. One of them had been longing for the gift of tongues since 1989!

---
We finished the Encounters at Mirpur AG Church in the evening and had a sumptuous meal before rushing to the airport for our flight back home. We touched down at Changi Airport on Sunday morning. 
In eight days, we had accomplished pastors' consultations in two cities – Khulna and Dhaka and conducted four encounters (two Men Encounters; two Women Encounters) in two churches in Dhaka. We were encouraged to see that the pastors we have ministered to were gradually catching on to the G12 Vision and were trying their best to implement the Ladder of Success in their churches.
All Glory be to the Lord!