by Denise Lim

Day 1 – October 15, 2013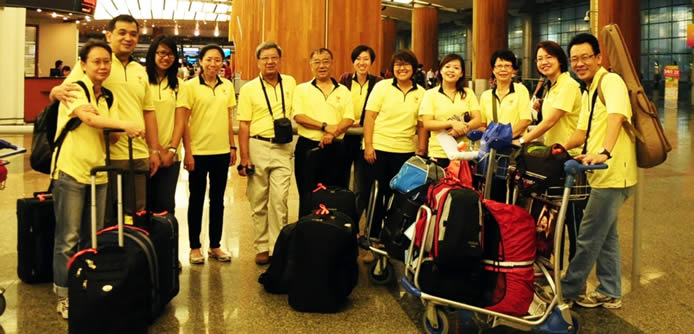 All 12 members of the Love Timor Medical Mission Trip left Singapore with bags of medicine and food for the Gideonites based in Timor Leste.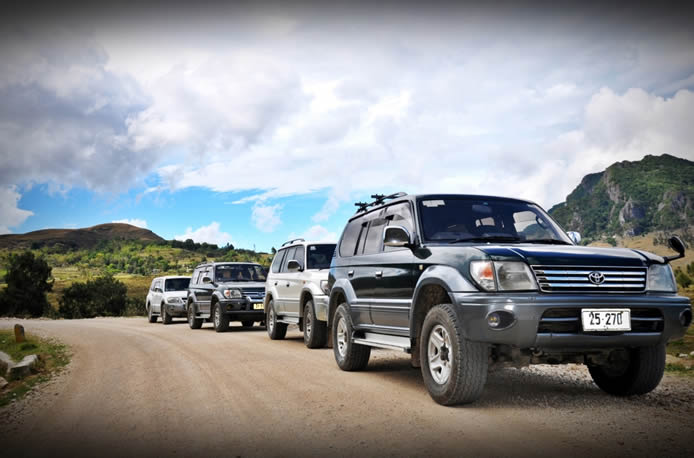 We reached Dili, the capital of Timor Leste, and was warmly welcomed by the Gideonites – Pastor Catherine Foo, Julie Teo and Low Hong Sang. From the airport, we headed out in an impressive entourage of four SUVs.
After dinner at a local restaurant, the team prepared the medical stocks required for the rest of the trip before settling for an early night, bracing ourselves for a six-hour ride to Viqueque the next day.
Day 2 – October 16, 2013


Bright and early the next day, the team gathered for breakfast and fellowship. After committing the day's journey to God in prayer, we moved off.

The scenery along the way was beautiful and majestic. We marvelled at this masterpiece of God's creation.
Before long, we arrived at Colegio Orfanato Sao Francisco Assisi in the village of Beloi, Viqueque. This was the convent we would be lodging in for the next five nights. We visited the mission house, home of the Gideonites, and the village's hospital. Along the way, we caught a glimpse of a rainbow, which was very rare! What an affirmation of God's love and covenant over this land as declared in Genesis 9:12-13, "This is the sign of the covenant I am making between Me and you and every living creature with you, a covenant for all generations to come. I have set My rainbow in the clouds, and it will be the sign of the covenant between Me and the earth".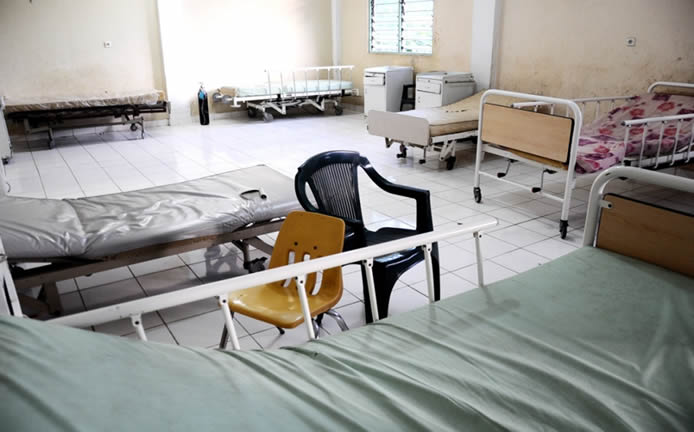 Arriving at the hospital, we were appalled by its dismal condition as well as the lack of experience of the staff, but accepted a request to perform a minor operation for a patient with a feet infection two days later.

Returning to the convent, we had dinner and commenced the children's programme. It was moving to hear the beautiful voices of the children sing praises to God. We ended the night with a soulful time of worship unto God.
Day 3 – October 17, 2013
We awoke the next day to an orchestra of cockerels, dogs, cows, goats and pigs surrounding the convent. After breakfast and devotion, we set out to visit an 'avoo' (old grandma/grandpa in Tetum language). A quick check brought a discovery of cataracts, which were blocking her vision and causing her to slowly lose her sight. She was given saline eye drops to ease the discomfort and the team prayed with the 'avoo', trusting God for His healing and comfort upon her eyes and His supernatural peace upon her.

From there, we departed for the sub-village of Horokuan to set up our first mobile medical clinic, which was by the roadside. As we served the villagers we observed that most families were quite fruitful in numbers with one family hitting the record of seven children and we had to take turns carrying their children so the consultation could carry on smoothly.

Back to the convent for the children's programme at night, we had an impromptu session of singing worship songs and classic songs from The Carpenters and Teresa Teng. It was a heartwarming time of fellowship for all of us and particularly so for the Gideonites, whom had dearly missed the company of the team.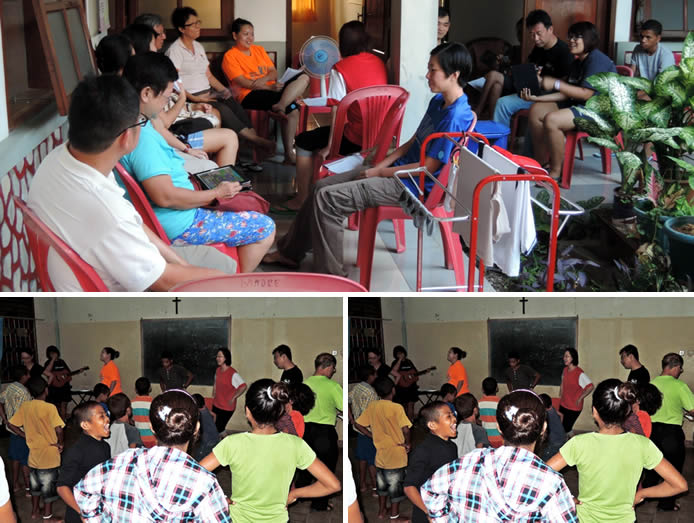 The children were entertained by Aesop Tales from one of our team members, Uncle James. After a fulfilling day serving the villagers and playing with the children, we went to bed contented albeit exhausted from the day's activities.
Day 4 – October 18, 2013

We set up a mobile medical clinic at the village of Fatudere. Before long, we had a long line of patients.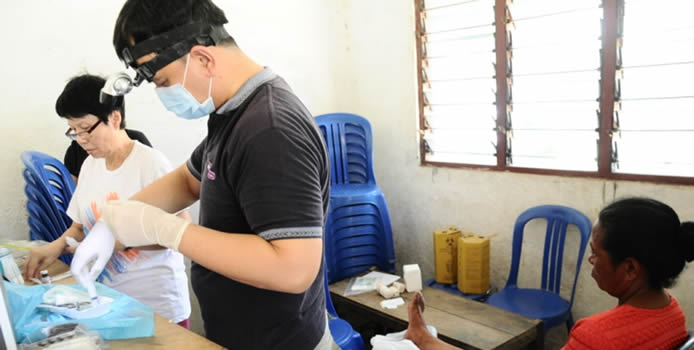 The doctors performed procedures such as extracting pus from a woman's ankle and operating on a man with a swollen foot. It was an eye opener for us to have the privilege to witness a doctor in operation.

That night, we once again had a great time with the children, especially when we pulled out the parachute. Uncle James shared the story of "Two Men and the Donkey" and the children related well to it.
It was a fun filled night with lots of laughter and joy with the children!
Day 5 – October 19, 2013

We headed to the village of Luca to set up our medical mobile clinic bright and cheery the next day. Like clockwork, we performed our respective responsibilities.

One of our patients was a boy who dislocated his arm a month ago. After an ultrasound, the doctors tried to set his bones in place, but despite trying their best, it could not be accomplished. It was heartwrenching to watch and we saluted the boy for his high threshold of pain. We prayed for God's supernatural healing to be upon him before sending him off with a lollipop.
For the children's programme at night, the children were taught the songs "God On the Mountain" and "Your Eyes", which they picked up quickly. After praying for them, we retired for the night.
Day 6 – October 20, 2013

It was finally Sunday – time for church! We attended service at a local church, and presented two songs to the congregation. Our other team members, Zandy and Denise, had a blessed time conducting Sunday School for the children and teaching them about the love of Christ through games, origami and a story.

After service, we headed towards the next village, Lugasa, where lots of villagers were awaiting our arrival. This time, Zandy and Emily were tasked to conducted activities with the children so they would not disrupt the procedures of the medical mobile clinic.
A mother brought her baby girl, with a deformed leg, to ask for help. Besides praying for the child, there wasn't much else we could do. It was an emotional sight especially for the mothers in our team who could empathise better.
That night, being our last night at Viqueque, we packed our medicine and equipment in preparation for our departure the next day.
The past five days of medical work was a humbling experience. We sacrificed our status and comfort in Singapore to joyfully give of ourselves with open arms and willing hearts to the Lord's people.
Day 7 – October 21, 2013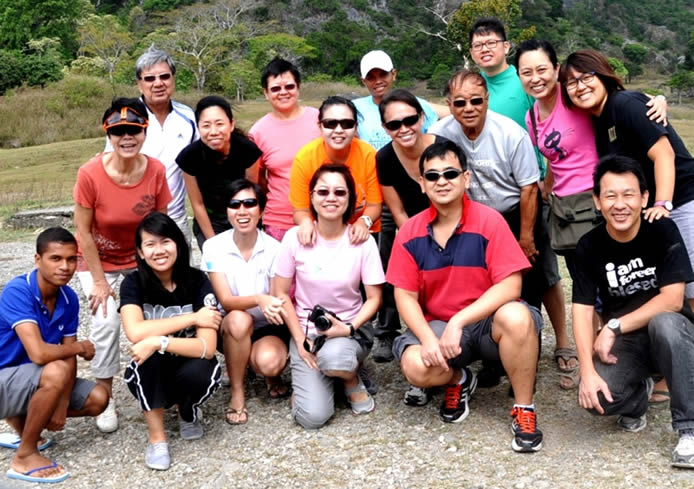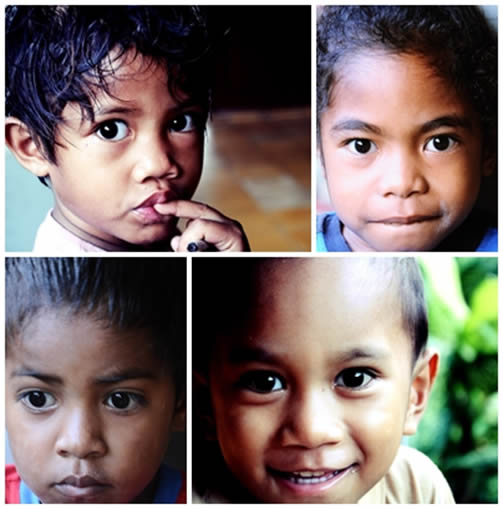 The team awoke early the next morning to spend our last precious moments with the children at the convent. Off we went on a scenic drive back to Dili.

On the way back, two of the cars' engines stalled but thank God, our team member, Francis, was able to repair one of them and we managed to arrive in Dili safely. We visited the statue of Jesus in Dili. It was an awesome moment taking in the magnificent view and praising God for His creation. It was also a moment of reflection of the team as some of us spent some time there.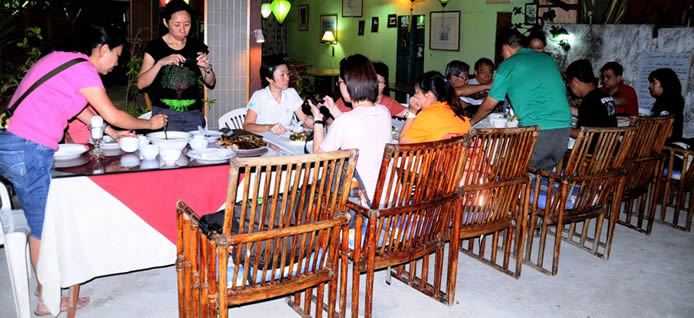 We had Vietnamese food for dinner in an alfresco setting with the sea breeze gently caressing our faces while drinking in the sound of the calm waves lapping the shore.
We retired to the hotel for a well-deserved rest after dinner.
Last Day – October 22, 2013

It was our last day in Timor Leste. We shopped at a local fruit market and lunch at a Singaporean-opened restaurant, which meant 'teh-si' for everyone!
After bidding farewell to our fellow Gideonite missionaries, we headed to the airport for our flight back to Singapore. Thank God for Pastor Catherine, Julie Teo and Low Hong San who are continuing the work in Timor Leste. We pray that the Lord will bless their hands and hearts as they continue to serve and touch the lives of the Timorese. Through them, there will be a mighty and fruitful harvest of people coming into the kingdom of God. You are a blessing, Gideonites!
Reflections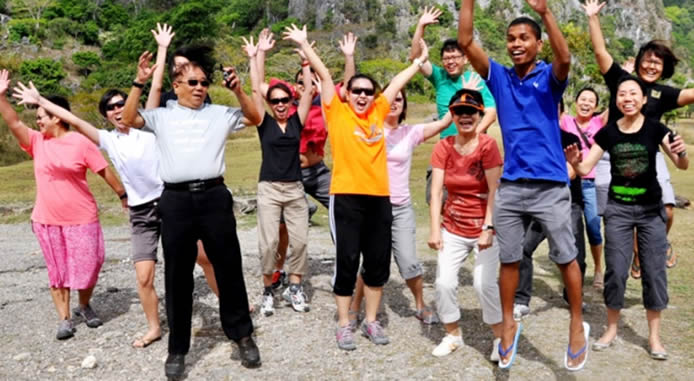 Zandy: The villagers seemed more open and receptive to us. They received us without reservation, knowing we really care and want to help them. The missionaries have done a great job serving the villagers and demonstrating God's love for the past years. Surely their labour was not in vain. The people are experiencing God's love, seeds are planted and it's about time to reap the harvest.

Denise: I began to understand better about the living condition and culture of Timorese as I got to visit different villages. It was a humbling experience observing how medical missions are done in villages. It was a sharp reminder to me that medical resources are readily available back in Singapore while the people in the villages are helpless medically. Indeed, we are called to serve for God has blessed us so that we can pay it forward to bless others in need.

Emily: During ministry time at Sunday service, we prayed for those who came forward. The presence of the Lord was very strong there and then. I was praying and blessing the locals both in English and in tongues. Despite the language barrier, we were together in the Spirit and in God's love. (Colossians 3:14)

Kedora: Towards the end of the Sunday service, an old lady walked up to me with a broad smile and gave me a big hug. Without hesitation, I returned a hug and her tears rolled down instantly. She began stroking my face, and my tears welled up. It was an amazing feeling beyond words could describe. The word 'love' flashed in my mind and I prayed for her. Indeed God is love. Regardless of the nationality and language barrier, love binds all together.

Li Li: It was an eye opener for me to see the living conditions of the villages and the orphanage. Initially, I faced some fears after signing up for this trip as friends and colleagues said the place was unsafe, very hot, with lots of mosquitoes and cockroaches, but I overcame all these. God is indeed good. I'm very blessed to be in this great and caring team. I enjoyed our fellowship together.

Audrey: By God's grace, I was given the chance to recall what I had learnt in my young nursing days, to assist surgeon, Dr Chang. One of the more rewarding incidents was when I had to clean up this baby girl's dermatitis rash on her neck. She was crying and screaming nonstop when her mother carried her in. But when I was cleaning up her rash, amazingly, she did not cry at all. Instead, she was smiling and almost fall asleep when I was about done. Indeed, it is to trust in the Lord with all my heart and lean not on my own understanding.